We apologize for the tardiness. The start of 2023 took us by storm and we decided to take a step back to reassess and strategize ahead of what should be an exciting Nollywood year, filled with a wide range of titles across several streaming platforms and other distribution channels.
Of course, we begin with January. Happy new year!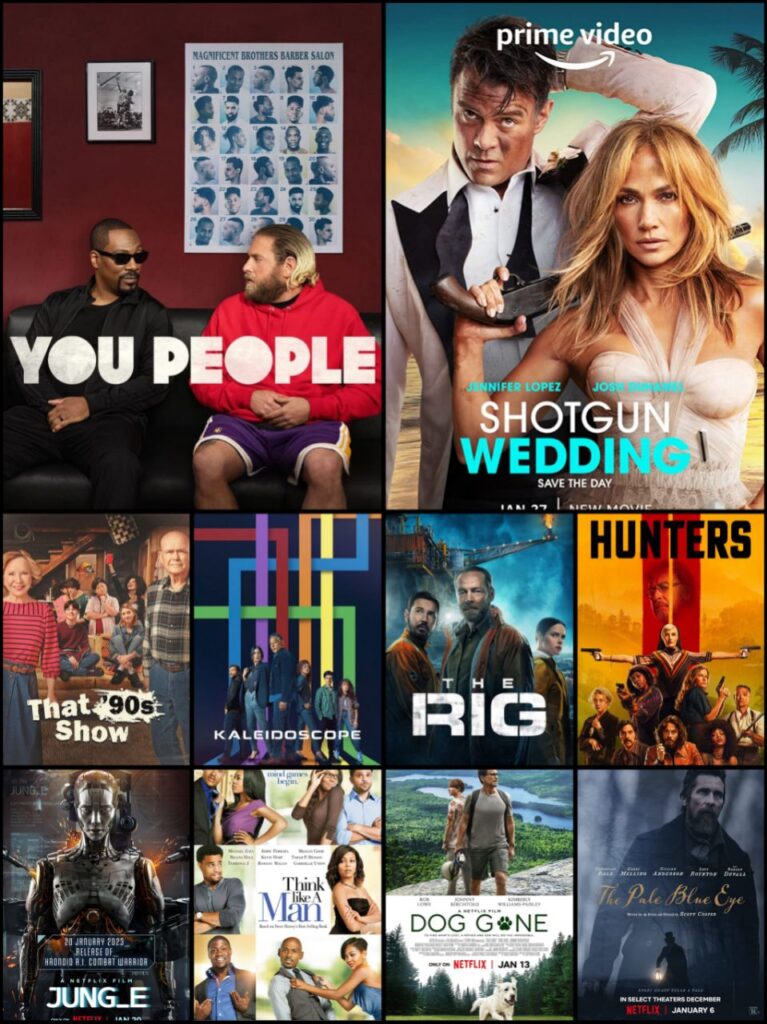 See the full highlight of movies and TV shows available to watch in Nigeria in January below.
Highlight of New Films in Nigeria in January
THE PALE BLUE EYE; Starring Christian Bale, a retired detective recruits an astute West Point cadet named Edgar Allan Poe to help him solve a grisly murder mystery at the U.S. Military Academy. On Netflix on January 6.

THE WAIT; Faith becomes a beacon for people struggling with family, career ambition and romantic longing in this adaptation of Yewande Zaccheaus' popular book originally released in 2021. Release date: On Netflix on January 13.

DOG GONE; When his beloved dog goes missing, a young man and his parents start an incredible search operation in order to be able to give him his life-saving medicine in time. On Netflix on January 13.

TO FREEDOM; Directed by Biodun Stephen, a grieving widower mourning the loss of his wife realizes a year later, everything is not what it seems, starring Daniel Etim Effiong, Osas Ighodaro, Jide kosoko, Elvina Ibru, Beverly Osu and Eso Dike. In cinemas on January 13.

THE TRADE: Formerly known as Nigerian Trade and based on true events, Jade Osiberu directs Blossom Chukwujekwu, Rita Dominic, Shawn Faqua, Stan Nze, and Gideon Okeke in this crime drama. In cinemas on January 13.

DISCONNECT: THE WEDDING PLANNER; In this Pan African romcom, after falling victim to a scam, a desperate man races against the clock as he attempts to plan a luxurious destination wedding for an important investor. On Netflix on January 13.

THINK LIKE A MAN; In this 2012 romcom, four women set out to solve their relationship problems using advice from a best-selling book. But the men in their lives are less than cooperative. On Netflix on January 15.

ALKHALLAT+; An anthology of social deception and trickery in four unlikely places. On Netflix on January 19.

PLANE; Starring Gerard Butler and Mike Colter, a pilot finds himself caught in a war zone after he's forced to land his commercial aircraft during a terrible storm. In cinemas on January 20.

JUNG_E; A Korean scifi action drama. In a post-apocalyptic 22nd century, a researcher at an AI lab leads the effort to end a civil war by cloning the brain of a heroic soldier — her mother. Release date: January 20 on Netflix.

BROTHERHOOD; Tobi Bakre and Falz star as twin brothers on opposite sides of the law in this crime drama directed by jade Osiberu released in 2022. It debuts on Amazon Prime Video on January 27.

SHOTGUN WEDDING; Starring Jennifer Lopez and Josh Duhamel, a couple's extravagant wedding is hijacked by criminals. As they save their families, they rediscover why they fell in love in the first place. To be released on Amazon Prime Video on January 27.

PRETTY EVIL; Starring Linda Osifo, Pere Egbi, Efa Iwara, Immaculata Oko and directed by Great Valentine Edochie. In cinemas on January 27.

ALL NA VIBES; A party takes a dark turn for three teens who are forced to question their futures — and friendship — when a politician's daughter goes missing. Release date: January 27, on Netflix.

YOU PEOPLE; Starring Jonah hill, Lauren London and Eddie Murphy, the romcom follows a new couple and their families, who find themselves examining modern love and family dynamics amidst clashing cultures, societal expectations and generational differences. Release date: On Netflix on January 27.
Highlight of New TV Shows Coming to Nigeria in January
KALEIDOSCOPE; A master thief and his crew attempt an epic and elaborate heist worth $7 billion dollars — but betrayal, greed and other threats undermine their plans. On Netflix on January 1.

WOMAN OF THE DEAD S1; an Austrian crime drama. When a suspicious car crash tears a woman's life apart, her quest for revenge ensnares her in a conspiracy reaching the highest levels of her small town. Release date: January 5, on Netflix.

GINNY AND GEORGIA S2; Release date: January 5, on Netflix.

COPENHAGEN COWBOY S1; A Danish crime thriller. After a lifetime of being sold as a human good luck charm, a woman with mysterious supernatural abilities seeks revenge against those who wronged her. Release date: January 5, on Netflix.

THE RIG S1; A group of workers on a remote Scottish oil rig are about to return to the mainland when a mysterious mist envelops them and supernatural forces take over. Release date: January 6, on Prime Video.

Vikings: Valhalla. (L to R) Frida Gustavsson as Freydis Eriksdotter, Leo Suter as Harald Sigurdsson, Sam Corlett as Leif Eriksson in episode 201 of Vikings: Valhalla. Cr. Bernard Walsh/Netflix © 2022

A KUNG FU PANDA: THE DRAGON KNIGHT Season 2; To find the legendary Tianshang weapons, big-hearted Po and the Dragon Knights journey across the world. But will they beat evil to the punch? Release date: January 12, on Netflix.

HUNTERS S2; Release date: January 13, on Amazon Prime Video.

SKY ROJO S3; Coral, Gina and Wendy have made a new life — and found love — in Almería. But with Romeo bent on revenge, their peace and quiet won't last long. Release date: January 13, on Netflix.

THAT 90'S SHOW S1; a comedy drama that follows up to That 70's Show, streaming on Netflix on January 19.

SHANTY TOWN; It follows the story of three Lagos State hustlers who unite to wage war against the biggest and most ruthless crime ring in the state, starring Richard Mofe-Damijo, Ini Edo, Chidi Mokeme, Nse ikpe-Etim, Sola Sobowale, Shaffy Bello, Ali Nuhu and Uche Jombo. On Netflix on January 20.

THE SINNER S4; Release date: January 20, on Netflix.

THE LEGEND OF VOX MACHINA S2; Release date: January 20, on Prime Video.

GRIND S1; A struggling woman, Tarela, has to navigate being a stripper in a Lagos night club. Three episodes will premiere on January 20 on Prime Video, while the rest will follow in a weekly format.

WURA; a Nigerian adaptation of South Africa's The River, set against the backdrop of the gold mining industry. It tells the story of Wura-Amoo Adeleke, a perfect wife, a loving mother of two, and the ruthless Chief Executive Officer of the fictional Frontline Gold Mine. In the eyes of her family, Wura is faultless and a saint, but when it comes to running her business empire, she is the ultimate iron lady who doesn't care whose ox is gored in her path to get what she wants. It premieres on Showmax on January 23. New episodes will be released four times a week.

KINGS OF JO'BURG S2; Release date: January 27, on Netflix.
Which of the film(s) and TV show(s) are you looking forward to the most? Did we forget any? Let us know in the comments below.
You can read the reviews to a number of the mentioned films and TV series during the month. Keep an eye out. You can subscribe to email notifications and follow us on our social media pages.
Track your favourite movies and TV shows using your phone calendar.