The major new Nollywood films to be released in March head to streaming. Up North director Tope Oshin leads Here Love Lies, a romance thriller; Walter "Waltbanger" Taylaur returns with crime-thriller Jolly Roger.
Showing in cinemas from March is a number of foreign franchise titles like Creed 3, Shazam! Fury of the Gods and John Wick: Chapter 4.
Some older titles will also be available to stream at your comfort, such as Bullet Train, The Batman, The Hobbit Trilogy and Spencer.
New TV shows to enjoy from around the world are Ghanaian Showmax original The Billionaire's Wife, an Abuja-set movie inspired by the everyday life of liberal Northern Nigerian women Beyond the Veil, and the final season of Succession.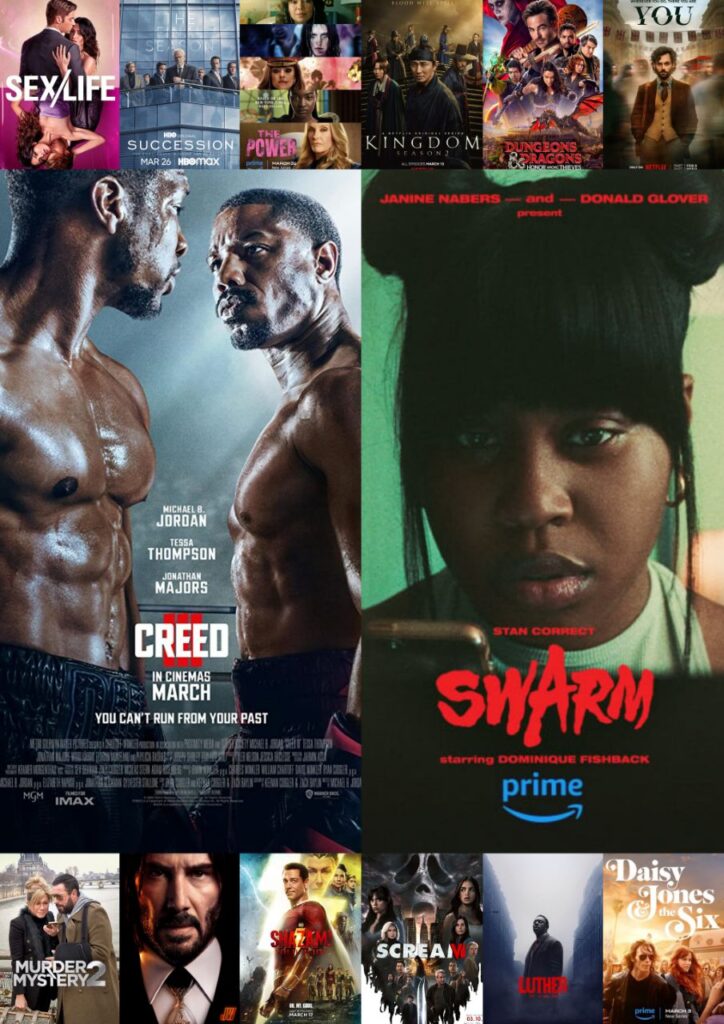 ---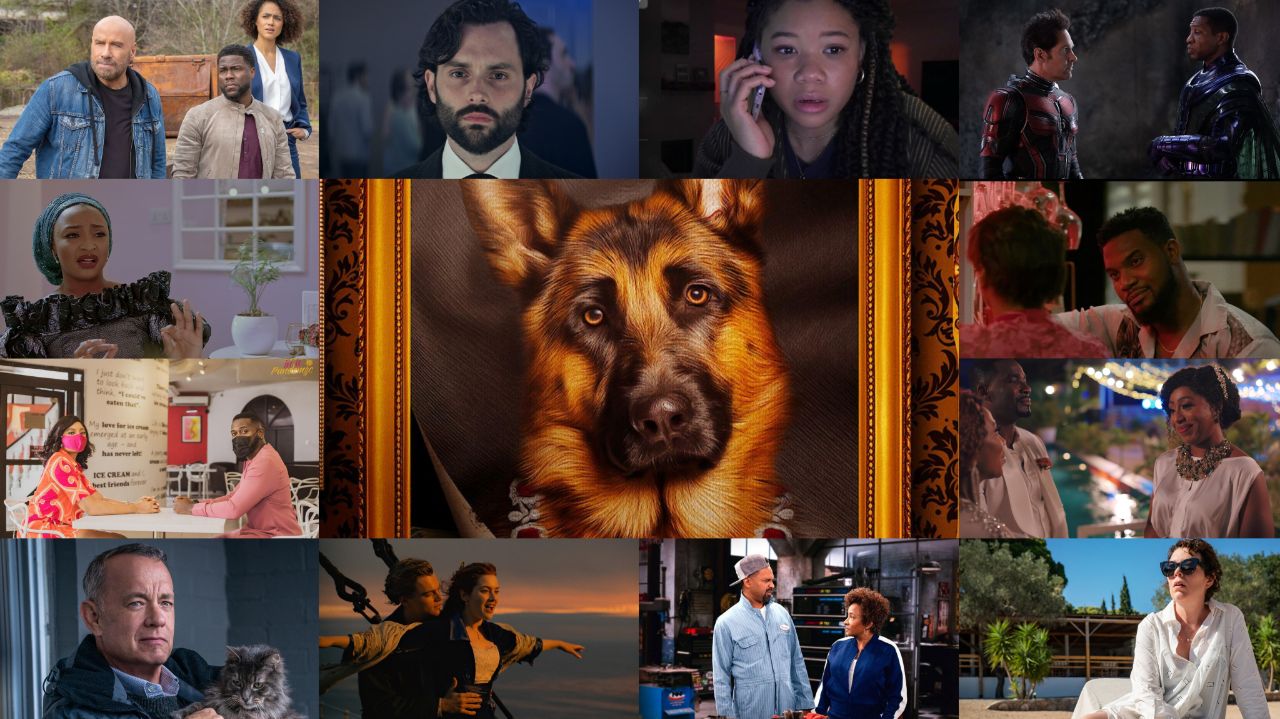 Movies and TV Shows Available in Nigeria in February
---
See the full highlight of movies and TV shows available to watch in Nigeria in March below.
Highlight of New Films in Nigeria in March
CREED 3; Adonis has been successful in both his career and family life, but when a childhood friend and former boxing prodigy resurfaces, the duel is more than just a fight. In cinemas on March 3.

Here Love Lies; In the pursuit of 'love and forever', single parent and Travel Blogger Amanda, embarks on a social media romance with Michael. A trip to the US to meet up for the first time opens up more doors than both anticipated. On Netflix on March 3.

BULLET TRAIN; Five assassins aboard a fast-moving bullet train find their missions have something in common. Release date: On Netflix on March 4/ On Showmax on March 6.

CHRIS ROCK: SELECTIVE OUTRAGE; Comedian Chris Rock performs a live stand-up special in Baltimore, Maryland. On Netflix on March 5.

SPENCER; Kristen Stewart was nominated for a 2022 Oscar as Princess Diana in this biographical drama set during the royal family's 1991 Christmas holiday at Sandringham House, as Princess Diana contemplates leaving the then-Prince Charles. On Showmax on March 9.

LUTHER: THE FALLEN SUN; Brilliant but disgraced detective John Luther breaks out of prison to hunt down a sadistic serial killer terrorizing London. On Netflix on March 10.

SCREAM VI; In the next installment in the Scream franchise, the four survivors of the Ghostface murders leave Woodsboro behind and begin a new chapter in New York City. In cinemas on March 10.

DO YOUR WORST; In this South Africa film, regret and redemption take center stage as Sondra, struggling actor and professional mess, faces the consequences of a lifetime of her own bad decisions. On Netflix on March 10.

JOLLY ROGER; One fateful night, an encounter at a police checkpoint manned by two drunk Officers sets off a chain of events that turns Brume and Najite's blissful lives upside down and leads them on a journey of greed, deception and murder. On Netflix on March 10.

SHAZAM! FURY OF THE GODS; The film continues the story of teenager Billy Batson who transforms into his adult superhero alter ego, Shazam, when he says the magic word "SHAZAM!". In cinemas on March 17.

STRANGERS; Forgotten in a remote village and battling a life ending disease, a young boy's future could change forever when people he has never met showed up. Is it too late? May be not? The 2022 Biodun Stephen-directed cinema film debuts on Netflix on March 17.

THE TRADE; Jade Osiberu's crime drama that follows an elusive kidnap kingpin will start streaming on Prime Video on March 17.

THE BATMAN; When a sadistic serial killer starts murdering key political figures in Gotham, the iconic comic book hero, played by Robert Pattinson, is forced to investigate the city's hidden corruption – and question his family's involvement. On Showmax on March 20.

THE HOBBIT TRILOGY; a series of three epic high fantasy adventure films directed by Peter Jackson based on the 1937 novel by J. R. R. Tolkien. On Netflix on March 21.

JOHN WICK: CHAPTER 4; The adventure of assassin John Wick continues. In cinemas on March 27.

Fantastic Beasts: The Secrets of Dumbledore; Albus Dumbledore and Newt Scamander gather more comrades-in-arms to take on Wizard Grindelwald and his followers. On Showmax on March 27.

A Collection of 6 short films across 6 African countries, reimagining African folk tales will be released on March 29 on Netflix.

MURDER MYSTERY 2; Full-time detectives Nick and Audrey are struggling to get their private eye agency off the ground. They find themselves at the center of international abduction when their friend Maharaja, is kidnapped at his own lavish wedding. On Netflix on March 31.

Dungeon and Dragons: Honor Among Thieves; A charming thief and a group of unlikely adventurers embark on an epic quest to recover a lost relic, but things go dangerously wrong when they clash with the wrong people. Release date: in cinemas on March 31.

DIFFERENT STROKES; Directed by Biodun Stephen, Different Strokes follows the story of four friends who share one goal and an unwavering commitment to achieve it. They however realise their aspiration requires more than just a shared goal. Release date: March 31, in cinemas.
New TV Shows Coming to Nigeria in March
SEX/LIFE Season 2; On Netflix on March 2.

BEYOND THE VEIL; It follows the lives of five women living in Nigeria's capital city, Abuja as they navigate work, love, family and friendship. On Prime Video on March 2.

THE BILLIONAIRE'S WIFE; a 10-part drama series that follows Adepa, a 19-year-old woman from the slums of Ashaiman who marries an old billionaire with the aim of turning her fortunes around, only to find out that being a billionaire's wife is the toughest thing she's ever done. On Showmax on March 2.

DAISY JONES AND THE SIX S1; Following the rise of rock band Daisy Jones and The Six through the '70s LA music scene on their quest for worldwide icon status. On Prime Video on March 3.

ANNE BOLEYN S1; The final months of Boleyn's life, her struggle with the patriarchal society of Tudor England, her desire to secure a future for her daughter Elizabeth, and the brutal reality of her failure. On Showmax on March 6.

THE ENGLISH; The film follows a woman who seeks revenge on the man she blames for her son's death. On Showmax on March 6.

YOU S4 (Part 2); The concluding part of the fourth season of YOU. On Netflix on March 9.

CHUCKY S2; After his diabolical plan to invade America's children's hospitals was foiled in Season 1, Chucky now seeks revenge on those he holds responsible, who are now his sworn enemy. On Showmax on March 10.

THE FLIGHT ATTENDANT S2; The HBO series returns for a second season with Kaley Cuoco braving sobriety as she tries to clean up the hot mess she's made of her life… while moonlighting as a CIA asset. On Showmax on March 13.

TED LASSO S3; On Apple TV+ on March 15.

SHADOW AND BONE S2; On Netflix on March 16.

SWARM S1; An obsessed, Houston-based fan goes to increasingly violent lengths for her favourite R&B singer, in this new series created by Donald Glover and Janine Nabers. On Prime Video on March 17.

THE GOOD FIGHT S6; The sixth and final season of the Emmy-nominated legal drama finds Diane back on the associates' floor and haunted by an uneasy sense of déjà vu, with everything from Roe v Wade to voting rights and Cold War aggressions making a comeback. On Showmax on March 17.

ADULTING; Set in Johannesburg, the series follows four varsity friends. Their strong bond has held them together even as their journeys in life have taken them in very different directions. Theirs is the bromance of the decade. On Showmax on March 20.

THE KINGDOM S2; On Netflix on March 22.

LOVE IS BLIND S4; On Netflix on March 24.

SUCESSION S4; The family dramedy returns on March 27 on Showmax.

UNSEEN S1; Cleaning house has never been this deadly. The series premieres 29th March on Netflix.

THE POWER S1; A group of teenage girls mysteriously develop a special power that allows them to electrocute people at will. THE POWER premieres on March 31 on Prime Video.
Which of the film(s) and TV show(s) are you looking forward to the most? Did we forget any? Let us know in the comments below.
You can read the reviews to a number of the mentioned films and TV series during the month. Keep an eye out. You can subscribe to email notifications and follow us on our social media pages.
Track your favourite movies and TV shows using your phone calendar.