As the month of love, February will be offering several romance-themed titles in cinemas and on streaming services available in Nigeria.
Elevator Baby director Akay Mason returns to cinemas with Love in a Pandemic, Kunle Remi will star in Baby Maker, a romantic drama heading to Prime Video; and Before Valentine's, a 2022 February release, will make its streaming debut a year after on Netflix, where brand new EbonyLife film A Sunday Affair, starring Nse Ikpe-Etim and Dakore Egbuson-Akande, will begin its run on February 14.
Love is Blind reunion debuts this month on Netflix, Titanic will be re-released in cinemas and the Marvel Cinematic Universe forges ahead with Antman and the Wasp: Quantumania.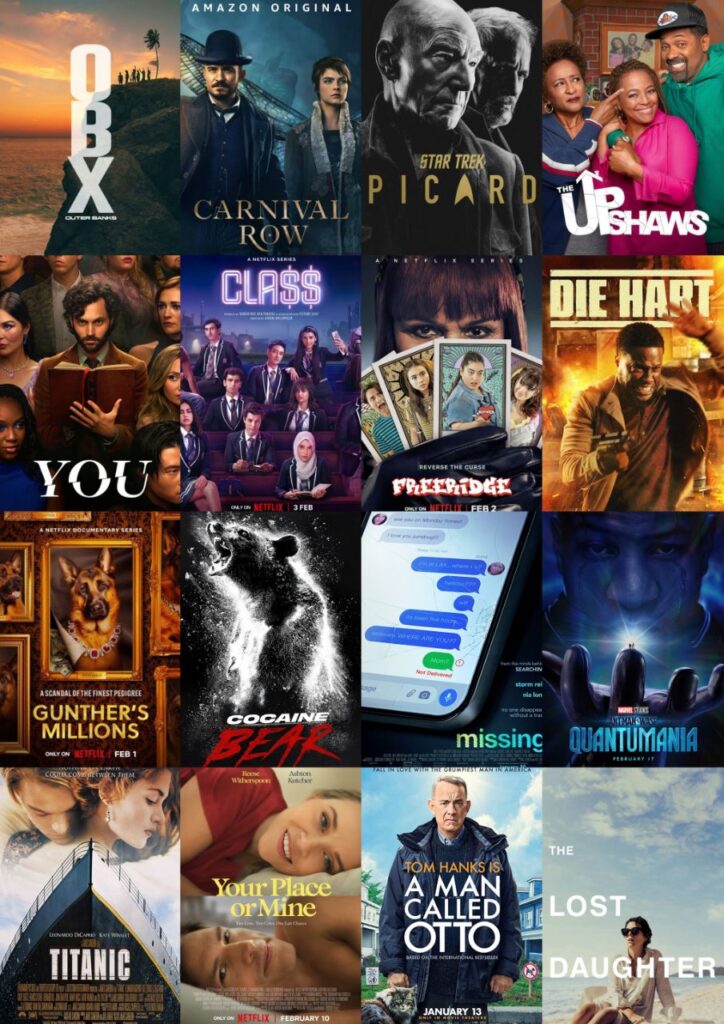 See the full highlight of movies and TV shows available to watch in Nigeria in February below.
Highlight of New Films in Nigeria in February
THE LOST DAUGHTER; The Lost Daughter centres on Leda, a woman alone on a seaside vacation, who becomes consumed with a young mother and daughter as their compelling relationship unlocks memories of the terror, confusion and intensity of early motherhood. On Showmax on February 2.

BABY MAKER; Starring Kunle Remi and Adaora Udeh, Mofe and Nasa are on the verge of ruining their long time friendship when Nasa conceives the child she decided to have with her best friend Mofe after a failed IVF. On Prime Video on February 3.

BEFORE VALENTINE'S; While preparing for the most romantic day of the year, four hairdressers at a Lagos salon face wild dramas in their love lives and their families. On Netflix on February 3.

DARK OCTOBER; After being accused of theft, four university students in Nigeria were killed in a mob attack that sparked nationwide outrage. Based on a true story. On Netflix on February 3.

A MAN NAMED OTTO; Otto is a sorehead who gave up life after losing his wife and wants to put an end to it all. When a young family moves in nearby, he finds an equal partner in the quick-witted Marisol. In cinemas on February 3.

10 DAYS OF A GOOD MAN; A lawyer-turned-private investigator takes on a missing persons case and embarks on an unexpected and life-changing search. On Netflix on February 10.

YOUR PLACE OR MINE; When best friends and total opposites Debbie and Peter swap homes for a week, they get a peek into each other's lives that could open the door to love. On Netflix on February 10.

LOVE IN A PANDEMIC; Starring Nancy Isime, Deyemi Okanlawon and Teniola Aladese, the romantic drama follows the story of Bolanle who meets Alex, the man of her dreams but how does their new flame survive the uncertain world of a pandemic? Release date: February 10, in cinemas.

MARRIED TO WORK; An overly ambitious consultant pretends to be married to her bitter boss to impress a Nigerian investor in order to save the company from bankruptcy. On Netflix on February 10.

TITANIC; the 1997 classic starring Kate Winslet and Leonardo DiCaprio will be re-released in cinemas on February 10.

SOMEBODY I USED TO KNOW; Alison Brie and Jay Ellis star in a new rom-com directed by Dave Franco. On Prime Video on February 10.

An outdoor movie night taking place at the new culture studio Ibadan on February 12.

A SUNDAY AFFAIR; Lifelong best friends Uche and Toyin fall for the same complicated man, which tests their loyalty to each other as they face a heartbreaking revelation. On Netflix on February 14.

PALAVA!; Richard Mofe Damijo stars as Osa Wonda, a high-life musician in the middle of a resurgence whose life is turned upside down when a scandal is revealed on the eve of his 60th birthday. The family comedy debuts on Prime Video on February 17.

ANTMAN AND THE WASP: QUANTUMANIA; The Further Adventures of Ant-Man and the Wasp in the Marvel Cinematic Universe. Release date: February 17, in cinemas.

ALL OR NOTHING; February 17.

MISSING; After her mother disappears, a young woman tries to find her from home using the tools available to her online. In cinemas on February 24.

COCAINE BEAR; It tells the story of a drug smuggler whose plane crashes with a shipment of cocaine found by a black bear who eats it. In cinemas on February 24.

DIE HART; Die Hart sees Hart playing a fictionalized version of himself, as he sets out to pivot away from being pigeon-holed as a comedy wingman to being taken seriously as an action movie star. Kevin Hart attends 'action hero school' run by Ron Wilcox, played by John Travolta, where he attempts to learn the ropes on how to become one of the industry's most coveted action stars. Release date: February 24, on Prime Video.
Highlight of New TV Shows Coming to Nigeria in February
GUNTHER'S MILLIONS; A dog with a trust fund isn't the strangest part of this story. Gunther's eccentric handler also lived a luxe life — with a cult-like entourage. On Netflix on February 1.

FREERIDGE S1; Four teen friends work to reverse a curse after a peculiar old box seems to bring misfortune — and more — into their lives. On Netflix on February 2.

THE PLAN S1; A young widow asks her two best friends to help hide her late husband's stolen cache of gold from the authorities – but can they be trusted to protect it? On Netflix on February 3.

HARLEM S2; . After blowing up her career and disrupting her love life, Camille (Meagan Good) has to figure out how to put the pieces back together; Tye (Jerrie Johnson) considers her future; Quinn (Grace Byers) goes on a journey of self-discovery; and Angie's (Shoniqua Shandai) career takes a promising turn. Together, they level up into the next phase of their careers, relationships, and big city dreams. Release date: February 3, on Prime Video.

CLASS S1; Three students from a poor neighborhood join an exclusive high school for Delhi elite where dark secrets and rumors ultimately lead to murder. On Netflix on February 3.

YOU S4; Starting anew in London, Joe vows to bury the past and be his best self. But on the rocky road to redemption, a new obsession starts to take hold. On Netflix on February 9.

LOVE IS BLIND: AFTER THE ALTAR S3; On Netflix on February 10.

AFRICAN QUEENS: NJINGA; From Executive Producer Jada Pinkett Smith comes a new documentary series exploring the lives of prominent and iconic African Queens. The first season will cover the life of Njinga, the complex, captivating, and fearless 17th century warrior queen of Ndongo and Matamba, in modern day Angola. The nation's first female ruler, Njinga earned a reputation for her blend of political and diplomatic skill with military prowess and became an icon of resistance. On Netflix on February 15.

THE UPSHAWS S3; Still striving for success and surviving every mess, the Upshaws face a series of obstacles that put their resilience — and relationships — to the test. On Netflix on February 16.

STAR TREK PICARD S3; Patrick Stewart reprising his iconic role as Jean-Luc Picard, which he played for seven series on "Star Trek: The Next Generation," and follows this iconic character into the next chapter of his life, in the final season of the show. On Prime Video on February 17.

CARNIVAL ROW S2; Carnival Row picks up with former inspector Rycroft Philostrate a.k.a. Philo (Orlando Bloom) investigating a series of gruesome murders stoking social tension. Vignette Stonemoss (Cara Delevingne) and the Black Raven plot payback for the unjust oppression inflicted by The Burgue's human leaders, Jonah Breakspear (Arty Froushan) and Sophie Longerbane (Caroline Ford). Tourmaline (Karla Crome) inherits supernatural powers that threaten her fate and the future of The Row. And, after escaping The Burgue and her vengeful brother Ezra (Andrew Gower), Imogen Spurnrose (Tamzin Merchant) and her partner Agreus Astrayon (David Gyasi) encounter a radical new society which upends their plans. With humans and fae folk divided and freedom on the line, each hero will face impossible dilemmas and soul-defining tests in the epic conclusion of Carnival Row. On Prime Video on February 17.

OUTER BANKS S3; New adventures take the Pogues to the Caribbean and far beyond as the friends are pulled into a dangerous rival's hunt for a legendary lost city. On Netflix on February 23.

THE CONSULTANT S1; The Consultant is a twisted, comedic-thriller series that explores the sinister relationship between boss and employee. When a new consultant, Regus Patoff (Christoph Waltz), is hired to improve the business at the App-based gaming company CompWare, employees experience new demands and challenges that put everything into question… including their lives. On Prime Video on February 24.
Which of the film(s) and TV show(s) are you looking forward to the most? Did we forget any? Let us know in the comments below.
You can read the reviews to a number of the mentioned films and TV series during the month. Keep an eye out. You can subscribe to email notifications and follow us on our social media pages.
Track your favourite movies and TV shows using your phone calendar.