We want to crown the Binge Master. Have you got what it takes?
Are you a fan of Money Heist? Think you know so much about The Office? Do you think you know your Nollywood stars and movies? Are you a Marvel/DC universe maniac? Can you hold your own with Hollywood movies and sitcoms? How familiar are you with What KeptMe Up? 
The Binge Life is an original quiz show by WhatKeptMeUp. It will take place over three days; April 15, 17 and 18 — an Easter weekend event, via IG live sessions on our Instagram account (@wkmup), 5pm daily. 
April 15 will be the Opening Night. April 17 will be Harry Potter Day where all questions are strictly based on the Harry Potter series. On the final day, April 18, two people (partners) will be allowed to play — in what is known as Partner Day, for siblings, couples and friends who can decide to form a team.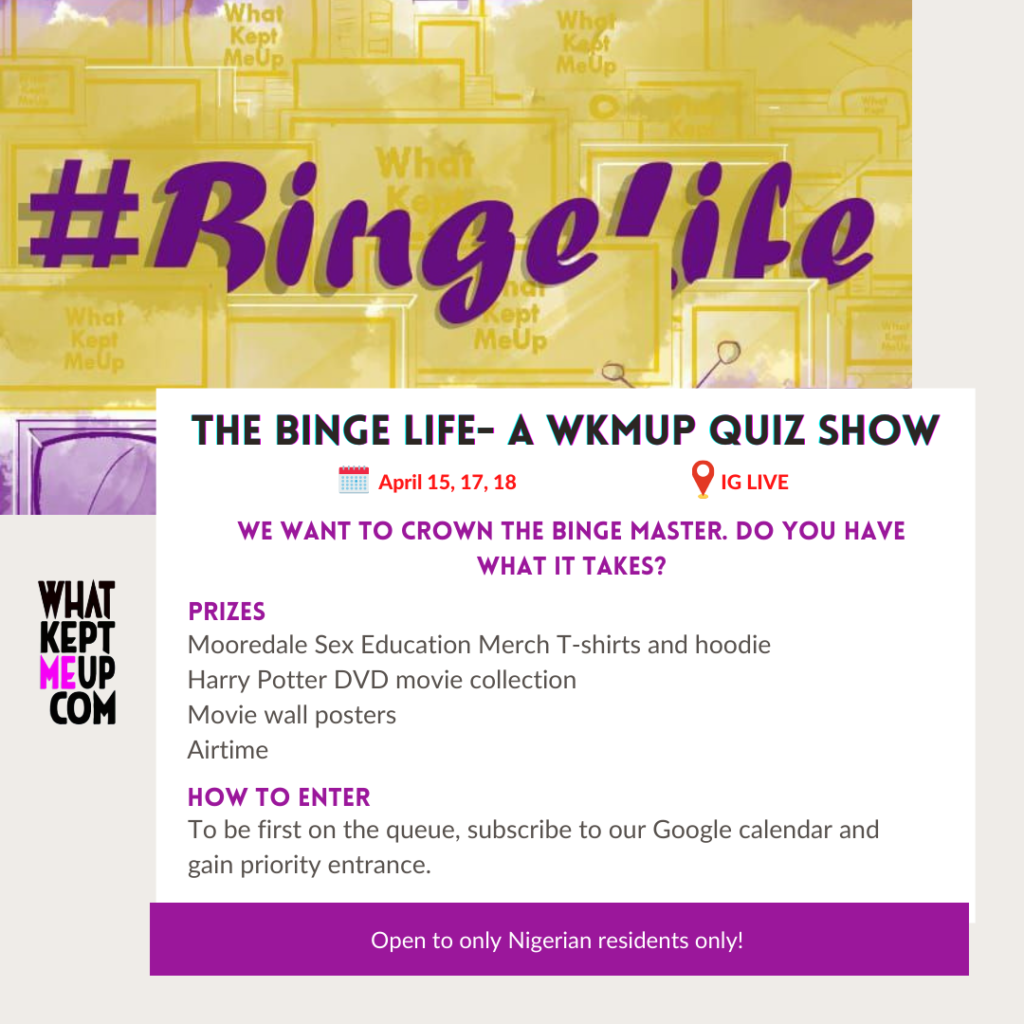 How To Participate in The Binge Life
To be first on the queue to be considered as a contestant, all you have to do is subscribe to WKMUp's Google Calendar. On the three evenings, there will be 3-5 contestants each. Two will be picked from our subscribers and the 1-3 others will be selected randomly during the live quiz. 
There will be five categories/segments for the quiz:
True or False Questions
Name Name Name (non-multiple choice questions)
How Well Do You Know Your Stars?
It's A Number Game! (numbers/figures/digits related questions)
How Well Do You Know WKMUp? (WKMUp-related questions)
Each player has 15 questions to answer, 3 per category If you get a question wrong, you do not stand a chance of winning the grand prize, but you go home with airtime nonetheless. 
There are 4 lifelines for the quiz show:
Ask The Audience
Request an extra Hint
Draw Another Question
Pick My Category (only available after question 10)
Each player can only use 2 lifelines and can only use each lifeline once.
Prizes
For every correct question — from 1-10, you win N100 airtime.
from 10-15, you win N1000 airtime.
If you answer all questions 1-15 correctly, you win the airtime + one of the grand prizes of the evening (a wall poster, Sex Education t-shirt, Harry Potter DVD collection; or a Sex Education hoodie! )
This quiz show is open to everyone. Gifts can be redeemed by Nigerian residents only.