The makers of Over The Bridge are thrilled to announce that Over the Bridge will have its world premiere in the UK in partnership with BEYOND NOLLYWOOD New Wave Nigerian Cinema, PICTURE HOUSE CINEMAS and DARK MATTER on the 18th of October 2023.
The fantasy drama directed by Tolu Ajayi follows Folarin (played by Ozzy Agu), an accomplished investment banker with a beautiful wife, prestigious connections and a life most people can only dream of. When a high-profile government project he managed goes awry, he starts to question everything he has ever believed to be true.
Written and produced by Tosin Otudeko, it also stars Segilola Ogidan, Joke Silva, Deyemi Okalanwon, Chimezie Imo and Paul Adam.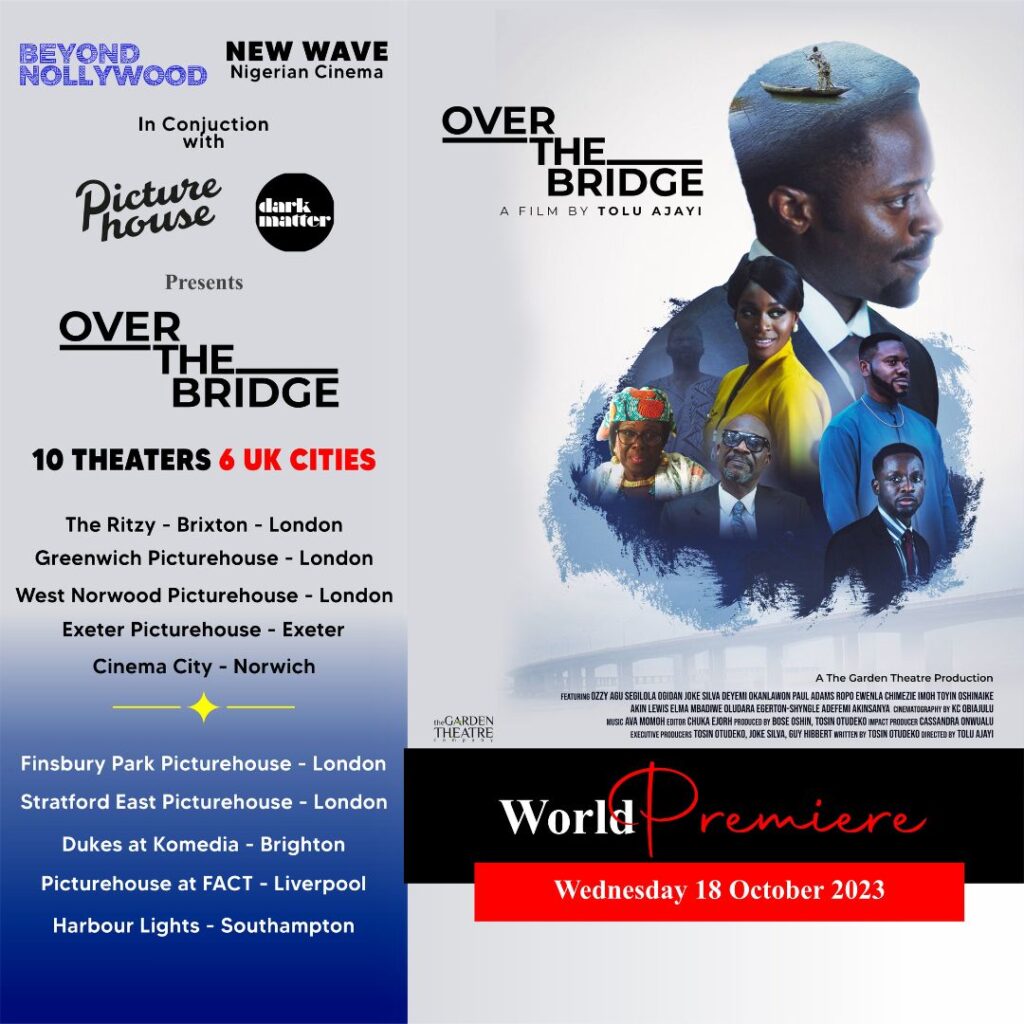 This special screening will take place in 10 theatres across 6 cities:
The Ritzy – Brixton, London
Finsbury Park Picturehouse – London
Greenwich Picturehouse – London
Stratford East Picturehouse – London
West Norwood Picturehouse – London
Dukes at Komedia – Brighton
Exeter Picturehouse – Exeter
Picturehouse at FACT – Liverpool
Cinema City – Norwich
Harbour Lights – Southampton
You can book your tickets now on Picture House site.
Beyond Nollywood is a prominent and influential international platform that showcases New Wave Nigerian Cinema and filmmakers. It was created by renowned British festival Curator, Nadia Denton. Nadia is the daughter of Menelik Shabazz, a Barbados-born British film Director, Producer, Educator, and Writer, acknowledged as a pioneer of independent Black British cinema. Beyond Nollywood aims to enrich world cinema, increase international industry and audience awareness of Nigerian filmmakers and support the growth of a thriving Nigerian film culture.
Beyond Nollywood has been showcased at Film Fest Dresden (2023), London Short Film Festival (2020) , Film Africa (2020, 2022), Brazilian African Film Festival (2020), Berlin, International Film Festival Africa Hub (2019), University Arts London (2019), ENCOUNTERS Short Film and Animation Festival (2018), International Film Festival of Rotterdam (2018) and the British Film Institute (2014, 2016, 2018).