The much-anticipated heist thriller Charlie and The Boys directed by Sele Got is set to premiere in Nigerian cinemas on September 29, 2023. Starring veteran actor Kanayo O. Kanayo, along with Tina Mba, Seun Ajayi, Loud Voice, and Erica Bale, Charlie and the Boys offers more than just the star power of the titular lead. The film promises a hearty dose of humor as it unfolds the tale of Charles "Charlie" Omokwe (played by Kanayo), a skilled thief recently released from prison, as he reunites with his crew to steal a priceless 14th-century artifact while avoiding the relentless pursuit of the law, as a revenge against the man who betrayed him
In this exclusive interview, Director Sele Got and co-stars Seun Ajayi and Erica Bale, who respectively play Kozo Junior and Juliet, talk about their experience during the film's production.
Evidently, the trio enjoyed their time on the welcoming set, but their experience with Kanayo O. Kanayo (fondly called KOK), who plays the titular character, is what particularly stands out. Ajayi reveals that the veteran, who exudes wisdom, is nothing close to the popular stock ritualist characters we mostly see KOK play on screen, saying "He would show me the memes and laugh it off. It's something that he demystifies on a regular basis." Director Got, on the other hand, says his concern is the audience thinking that KOK's character in the film uses "jazz" to pull off some things. Viewers might have to suspend their belief for some heist tricks, and they should have no worries about jazz being used.
Also, the cast and director highlight their challenges, their fun moments in making the heist drama, and what the audience can expect from Charlie and the Boys, while weighing in on the debate of the place of comedy in serious films.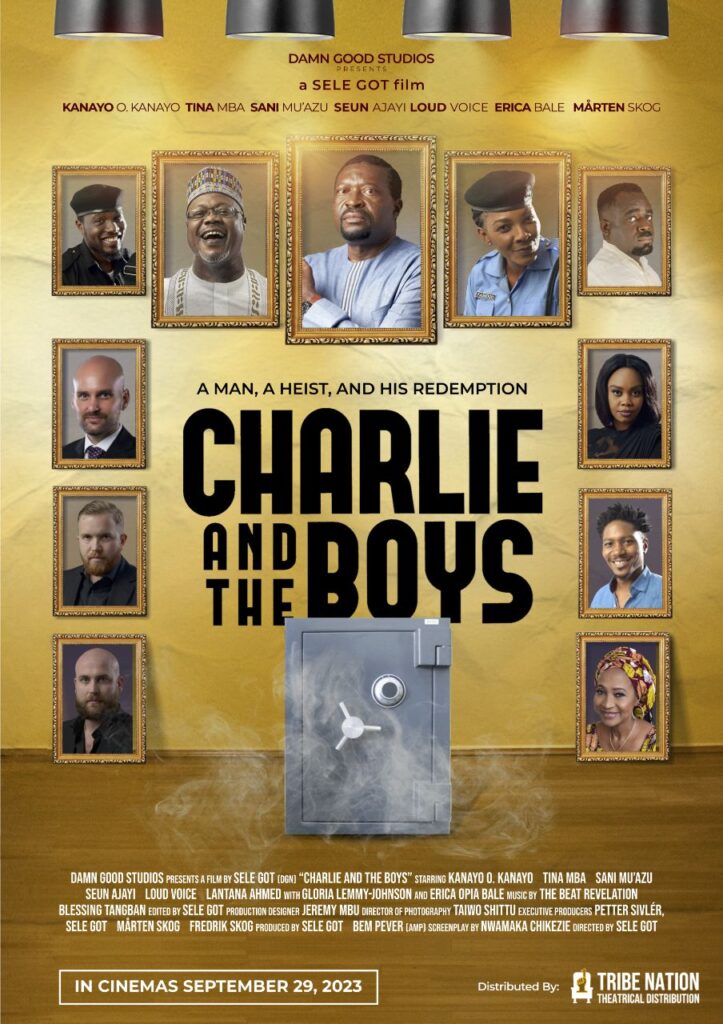 This interview has been edited for length and clarity.
How was your experience working on Charlie and The Boys?
Erica: It was fun, I must say. Everyone was so chill and easygoing. There was nothing like "I'm an A-list actor" or any issue of pride or ego.
Seun: I would say the same. It was the first time that I was shooting in Abuja. So, it was a different experience. Things were not moving as fast as they would in Lagos. The environment was easier to shoot in, and the production did not have as many hitches in exterior scenes as I'm used to in Lagos. The people on set had a good sense of humour. It was still a very enjoyable experience. I enjoyed working with Erica, Kanayo O. Kanayo (KOK), and Loud Voice. KOK and I always used to do taxi rides together to the hotel and back. It was really enjoyable.
Sele, how was your experience working on your first feature film?
Sele: It was very enriching. There were things I would never have been able to achieve in short films that I did here, so there were a lot of firsts for me. It broadened my experience working with A-list actors and managing the whole process.
What then would you do better in your second feature film?
Sele: I would definitely have more rehearsals with my actors and take more time with the pre-production. This first experience has taught me how to talk better with the actors. I will work on having a team that is in sync with what needs to be achieved each day at the scale it needs to be achieved. I would have a solid 360-degree plan even before starting.
A ton of films are shot in Lagos. Seun, how refreshing was it for you to have worked on this in Abuja? Did it affect the way you played your character?
Seun: Just being in a relaxed environment really helps. It was not just about the environment, but working with those people on set really helped. There were good vibes from Loud Voice, KOK, and even the director and producer. When a problem needed to be sorted out, there were no egos involved. It was a positive working environment, so it was easy to stick to my character. I was one of the set clowns actually, and that only happens when I am in a relaxed environment. As a result, I always wanted to come back to Abuja to shoot.
Sele, Charlie and the Boys was also shot in Dubai. What were the hurdles you experienced while filming in a different country? And did the location make you change some of your directorial choices?
In filmmaking, you can try to restrict the story but for me, it is important to follow the story and let it breathe. So, that took us to a lot of locations. From the [end of the] production team, it was our job to make it logistically possible. We expected challenges, but we knew what needed to be done. For example, on the last day, we were meant to shoot in a market and when we got there, the management reneged on the agreement. While the team went to shoot elsewhere, someone else was looking for another market we could use. That was one of the complex things that happened on the shoot. Most of the drama happened on the last day. That same day, when we got to one location, it didn't pan out to be how we imagined it to be. Again, actors were putting pressure, reminding the team that it was the last day of work. Panicking doesn't take you anywhere, so you just have to calmly work with what you have. We did the best we could. This was an easy shoot, in the sense that we wrapped at 7 or 8 pm on most days. We wrapped at 12 am only on one or two days. The team had fun on this project and we did our best.
As the actors, were there any specific challenges or highlights while filming that you'd like to share?
Erica: I wouldn't say I had because I am already a daddy's girl. I just channeled that in and made it work. No challenges in terms of the crew, co-actors or script.
Seun: One of the challenges for me was working with a real-life stand-up comedian. In the film, we are supposed to be funny guys but Loud Voice is a professional comedian so we had to work together to make sure everything worked well in each scene without looking competitive. If one person tried to be funnier than the other, then it would have been counterproductive. I tried to be the actor in a funny scenario that had good timing so that we were both funny.
Also, my character Kozo is also supposed to be a sculptor in the film. So I had a little challenge with that because I didn't know I was meant to do some real-life sculpting until a day before the shoot of the scene. But, it worked out in the end.
Erica: I remember now that one challenge I had with Seun is that he has such a mean laugh. There was a scene where he laughed in my face and it was so hard to keep a straight face.
Seun: Even Loud Voice was faced with the challenge of not hitting me while laughing.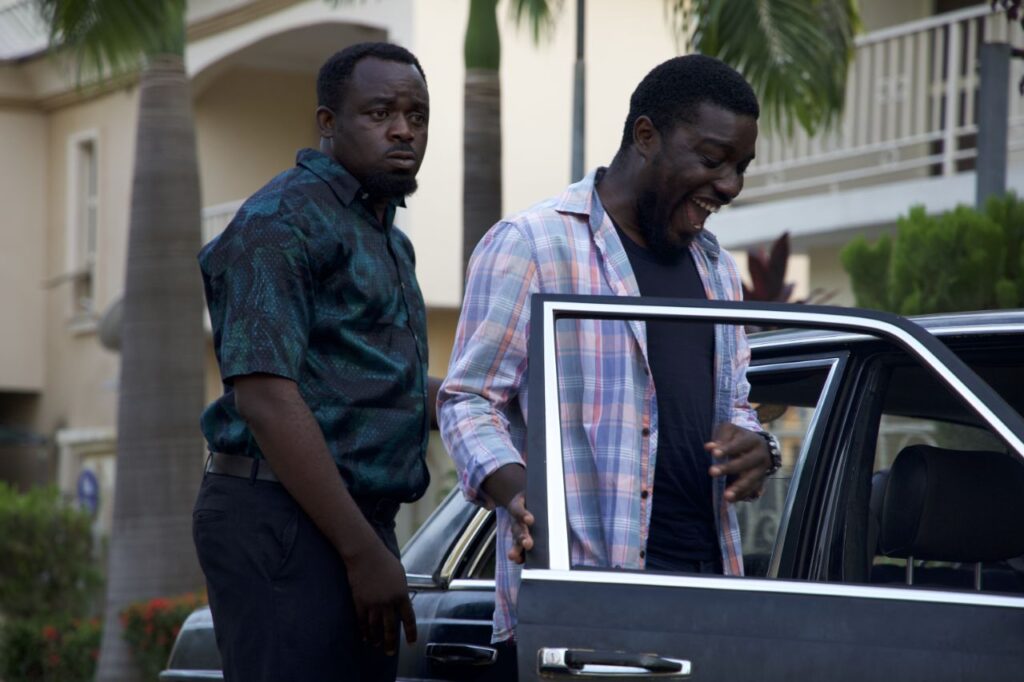 Sounds like you had a lot of fun on set. Who was your favorite actor to work with?
Erica: That's a very tough question because my husband was my co-actor. Everyone was so amazing to work with. KOK plays my dad, and we had conversations both on set and off set, so we bonded really well. I also bonded with Seun even though we had only two scenes together. There was a lot of bonding, so I wouldn't say I can pick a favorite. Everyone was cool. 
Seun: KOK during our taxi rides had a lot of wise words for me, and those were real-life moments. But in the scenes, when it came to making the magic, it was Loud Voice that was my favorite. We played roles together the most, and he had good comedic timing and is a good actor as well. We fed off each other really well.
Sele, who was the most fun actor to work with?
Sele: I have none because once I am on set, I am very serious. I wasn't looking at it through that lens, really.
Erica, what was it like working with your husband, Anaba Wachuku, for the first time in a film?
Erica: It was easy because we had talked about how to go about it, and there was already a natural connection to being a couple. It just flowed as love interests in the film.
Seun, you play Kozo Junior in the film. Can you shed light on the character and what we should expect to see from him?
Seun: Kozo is a character who is trying his best to be Charlie's protégé. Everything Kozo Junior tries to do is to impress Charlie. Charlie is Kozo's dad's old friend, so this affects the relationship between Kozo Junior and Charlie. Kozo is a funny guy who has good intentions for himself. He is also hiding the fact that he has a major crush on Charlie's daughter. There is also a bit of coming of age, where he tries to find himself.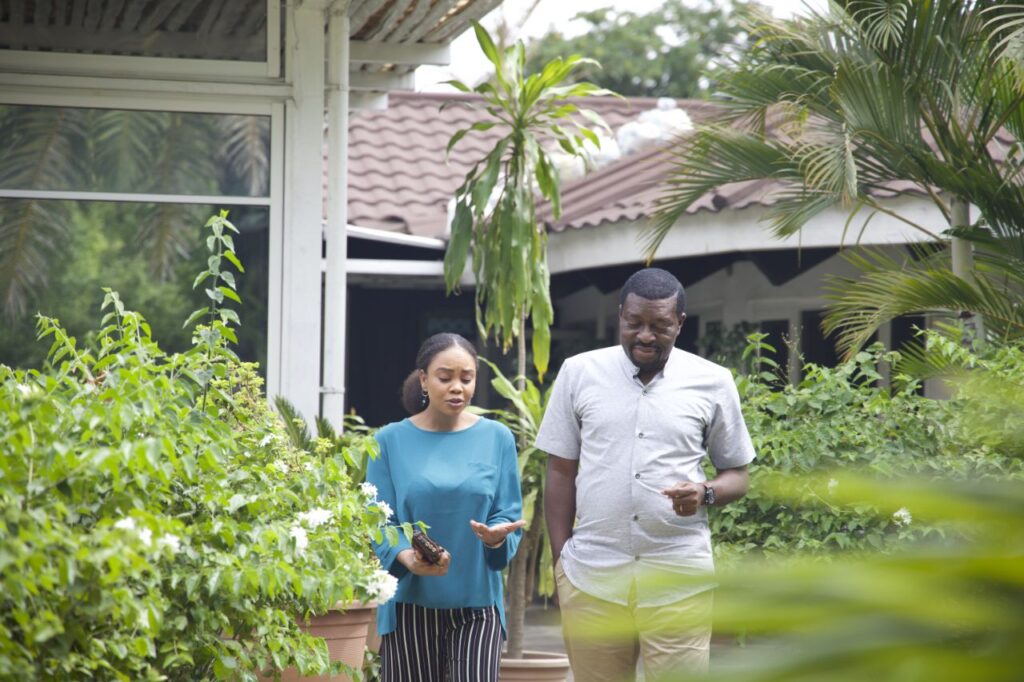 Erica, what can you tell us about Juliet's character, aside from being Charlie's daughter?
Erica: Juliet is an only child, and she is a daddy's girl. She works in corporate Nigeria, and she missed the presence of her dad while he was in jail. So, she is very excited when he gets out, and she is about to get married. Kozo has a crush on her but she is looking forward to her big day. She is somewhere in between serious (like her dad) and playful (like her mom).
Did any of you have to see any heist or crime drama in preparation for this project?
Seun: The heist in the film comes with a wide range of emotions, especially while the characters involved are in awkward and funny scenarios while the heist is going on. I can't say that I did a study, but I can tell you that a good reference is Tower Heist which stars Eddie Murphy, Ben Stiller, and Cassey Affleck. So it's that kind of heist where there are funny characters who are fish out of water. They need to run a heist, but there are all kinds of funny stuff happening while that is going on. Study-wise, what we had to do was to know ourselves and the characters we were playing, so that in the exchange, we could mine what is funny, what is interesting and what works for each scene.
Sele: Growing up, I used to read a lot of espionage books. I think I have developed this love for police procedurals. An interesting fact is that everything I have shot has elements of the police in them. I am fascinated by people's choices and their relationship with the law, including the grey areas in how the police handle certain things. I watched Tower Heist which has Eddie Murphy in it. I also saw Ocean's Eleven and Ocean's Twelve, as well as Baby's Day Out and Home Alone.
Do you have a favourite heist drama and character?
Seun: There were a couple of heists in the Fast and Furious series, so I would say F9 is one of my favourites. Our film is classified as a heist film, but it is funny.
Erica: Mine is Ocean's Eleven.
---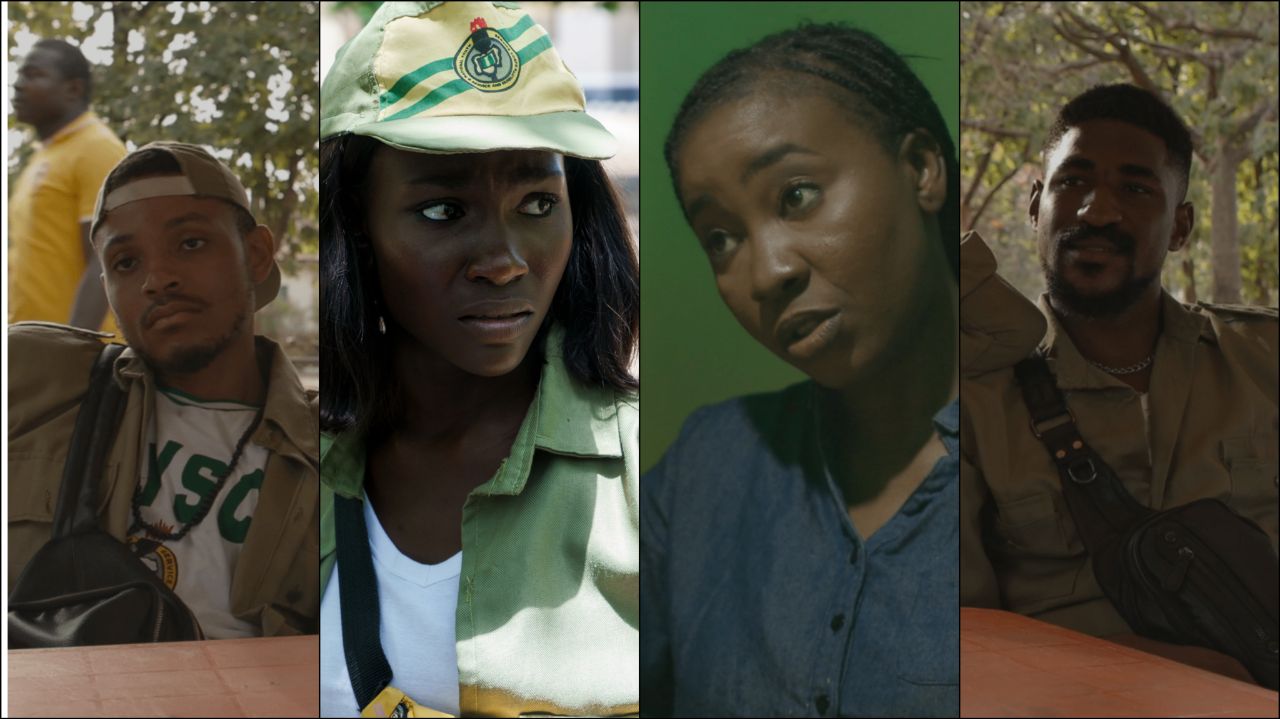 Watch Trailer: 'Finding Idara', Mystery Drama Web Series Directed by Sele Got, Now Streaming on YouTube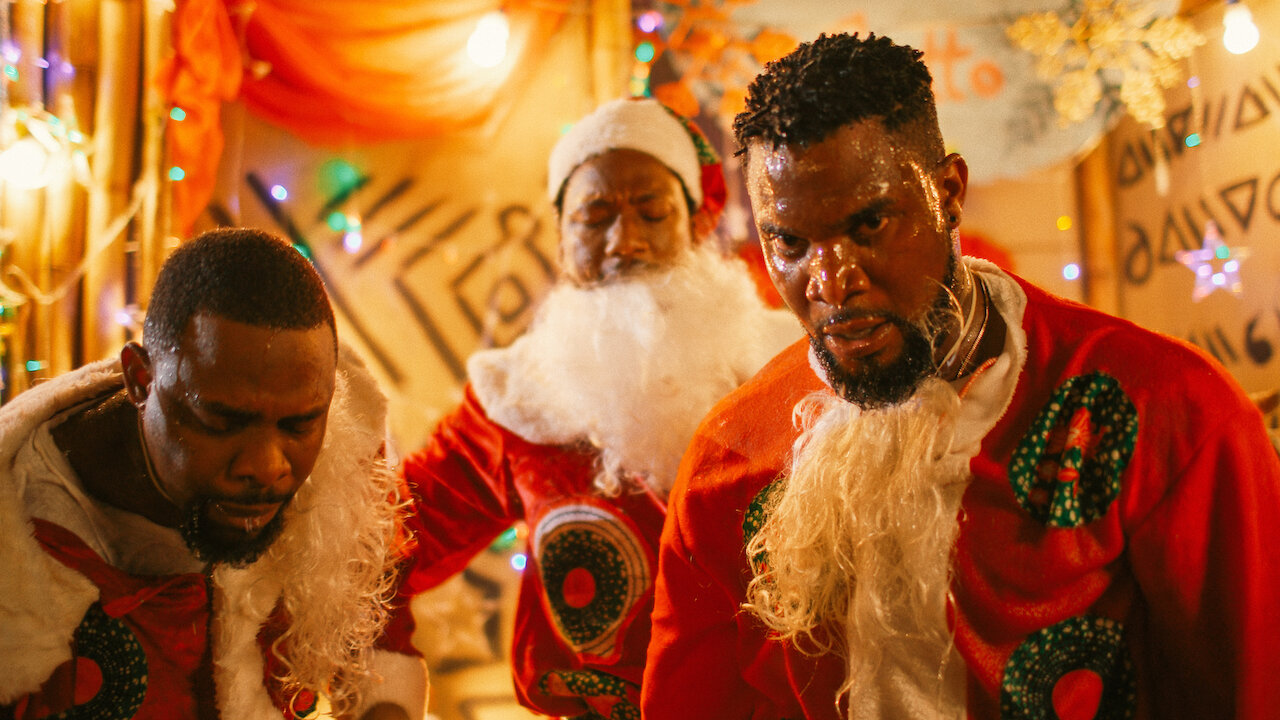 Highest Rated Nollywood Netflix Originals, According To IMDb
---
What was it like working with Director Sele Got?
Erica: He is a very quiet and reserved person. There were times you wouldn't even know he was around. He just watches and observes quietly. I didn't witness any sentiment or fight on set. The personality of a director affects the flow of everybody during the production, so that made the production really chill.
Seun: Sele was easy to work with. When he wants to direct you, he calls you aside to have a conversation. He doesn't do it from behind the camera. Sometimes, it's much better when the director makes close contact with you and intimates you on what exactly they want. When direction is done from behind cameras, an actor who doesn't have a lot of experience, or who still has difficulties being vulnerable before a lot of people would withdraw, because they are being instructed so publicly that they become too self-conscious. But if the director comes to you and lets you know their confidence in how you are going to execute, it makes things easier. So, I like that about his style.

Was there a form of freshness he brought as a first-time feature film director?
Erica: I would say yes, his approach was different. You could tell. And he made the good choice of having a good team. So everything worked out really well.
Seun: It's true. A director is as strong as his team. Even with big personalities, he let them know that he was the one captaining the ship. People tend to step out of their roles when they have a director who is chill. But I saw him take action and take care of business, so I respect that about him. He got the job done as a competent director, so it didn't feel like there was anything lacking.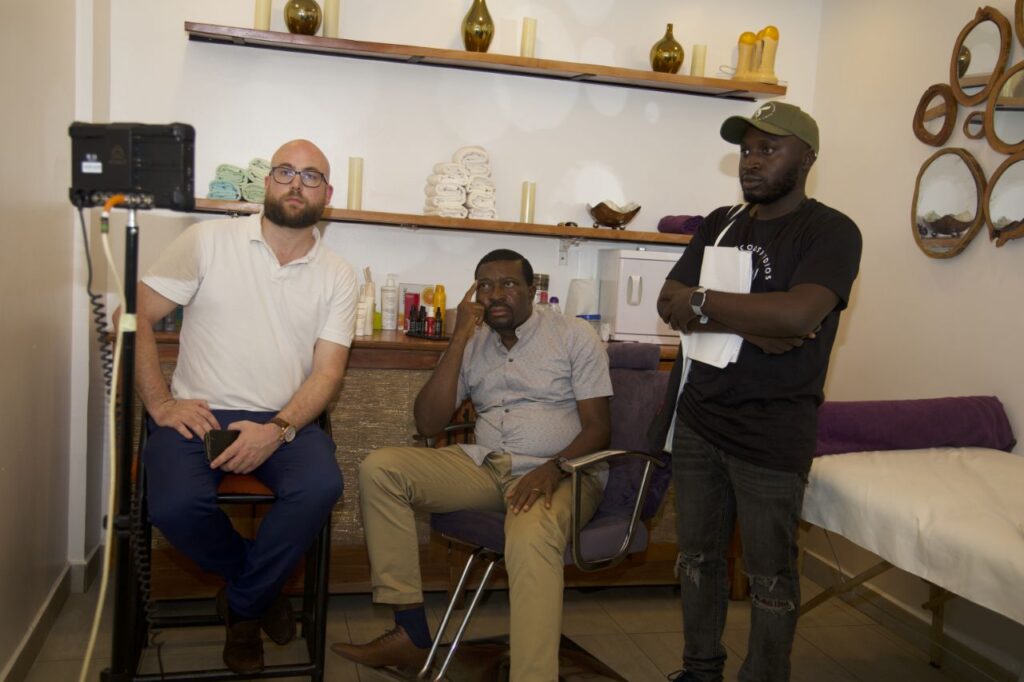 What was the experience on set with veteran actor KOK?
Seun: He takes the lead quite well, and he doesn't suffer fools. He is a playful man, but he takes work very seriously. So, you have to come with your A-game and have to know your lines and blocking. You don't want him irritated by the fact that you are drawing everyone back. He will call you out very publicly. Sometimes, even with the director, he will be like "These were the instructions you gave me". He remembers everything. He is that guy.
Erica: I agree with everything Seun said. KOK can be having a small talk, but once the camera rolls, he gets very serious. If you are caught lagging behind, you are going to get in trouble with him. The fact that he is KOK already puts you on your toes, and then the fact that he is going to call you out if you mess up makes you bring your A-game.
Did Kanayo's previous roles as the stock "money ritualist" character influence him being cast as a lead in this heist film?
Sele: Kanayo's career speaks for itself. I think my concern with his role in the film is the audience not thinking it is 'jazz' he is using to pull off some of the things he does in the film.
Were there any myths about him that were debunked, especially since he plays the stock "ritualist" roles in previous films?
Sele: Before shooting this film, I didn't really know him, so I didn't really have pre-conceptions. As the days unfolded, we got to work better. It was a great collaboration and we talked about breaking down the scenes well. Even in spite of over 30 years of experience, he wasn't rigid. He always listened.
Erica: There is nothing ritualistic about him. He is just a regular man.
Seun: He is just a regular man. The funny thing is he made jokes about all the memes. He would show me the memes and laugh it off. It's something that he demystifies on a regular basis.
Erica: He always told good stories about his early days and said wise words every time he heard "cut".
Seun: He was a library of history.
When people say films like this do not need to have comedy in them. What are your thoughts on such opinions?
Seun: It depends on what the vision of the producer and director is. A lot of the times, we assume that we know exactly what they want. If they want to make a drama and decide to input some elements of comedy, then it's their prerogative. I don't think that we should put limits on people. Yes, there are some dramas that don't have comedy in them, and there are comedies that don't have any serious moments. I just feel like life is a mix of emotions. On the day that you lose a loved one, you might still crack a laugh. I don't think life is devoid of things like that. It's when things like that happen that I laugh the most. And sometimes, for Nigerian producers, it is a marketing strategy. You put someone you know people want to see in a film. People's intentions are different, but let us just enjoy the films.
Erica: I agree with Seun because, like he said, life is a balance of emotions. Even when you are making a sad film, there will be times when you have to laugh. It doesn't necessarily mean that it is a comic film, but there are just those moments of laughter. Every film has a love story; it may not necessarily be between a boyfriend and girlfriend. It may be between a father and daughter, just like this one. The story of love is in every film, and that doesn't make it a love film; love just better drives the story. After all, it is what makes the world go round. So, those funny moments don't necessarily make it comic. 
Is there anything different or fresh we should be expecting from Charlie and the Boys, considering crime films are gaining popularity in Nollywood?
Seun: I can tell you that it is a story about second chances as well. It's a tale about a man that a lot of people have given up on and he's trying to become relevant in their lives again. He tries to find a second chance in the eyes of people who love and respect him.
What are the key takeaways from the film?
Erica: Love always wins. For you to give someone a second chance, you have to love them. So I would say love conquers all. It also brings out certain lessons and emotions. It teaches giving people the chance to be heard.
Seun: The film has a combination of people who can be easily misunderstood and written off. But behind the guys we see as riffraffs, lowlifes and nobodies, there is a story behind how they became what they are. So before you pass judgment, learn to get what the backstory is. It would help you make better judgment.
Sele, you state on your LinkedIn that you're inspired by nature, the human mind and seeking new perspectives. What new or fresh perspective should the audience look forward to while watching this film, considering crime dramas are the thing now in Nollywood?
Sele: A new perspective this film brings is showing that one thing can be both good and bad. The nuance in morality. A situation or person can have different sides and that is fine. It's not about making judgment, but the nuance of that particular situation that informs how characters are perceived. Another fresh perspective is at the end of the film, the audience will ultimately decide whether Charlie is a good or bad person.
So the ending is open-ended?
Yes, it is.
Okay, we will be looking forward to that when we see the film. Thank you.
---
Charlie and the Boys premieres in cinemas on September 29. Distributed by Tribe Nation Theatrical Distribution.
Sponsored content.
---
Share your thoughts in the comments section or on our social media accounts.
Sign Up: Keep track of upcoming films and TV shows with Google Calendar.