Mami Wata has been charting its own course across the world, taking off at the prestigious Sundance Festival in January. The film boldly adopted a remarkable uncharacteristic trait along the way and dared for more, winning the World Cinema Dramatic Special Jury Award: Cinematography for Lilis Soares' efforts— it soared.
For its feats and unending accomplishments, the journey of CJ 'Fiery' Obasi's Mami Wata is commendable for many reasons. One particular reason is the infectious success that transcends the Nigerian filmmaker, looking closely at the career trajectory that Obasi has had. It has been unhurried, intentional and filled with purpose, which other filmmakers of similar creative intent in the country can imitate.
---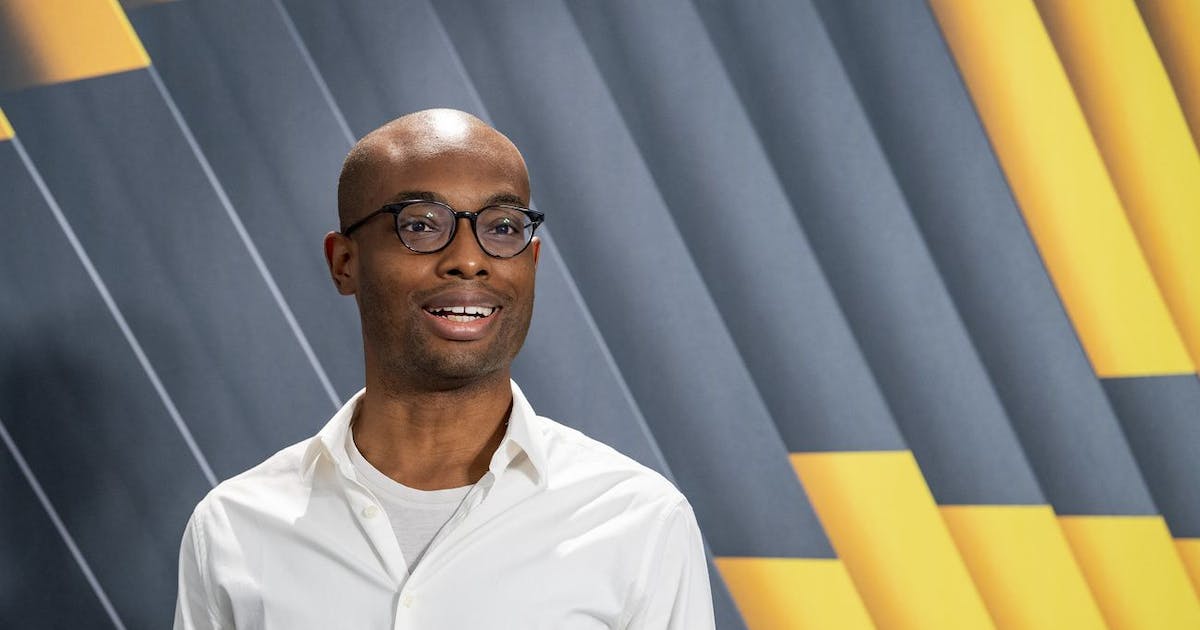 From Expansive Experiences and Genetic Roots to their Influence on Storytelling, Michael Omonua Gives Insight on Missing Pieces in Nollywood
---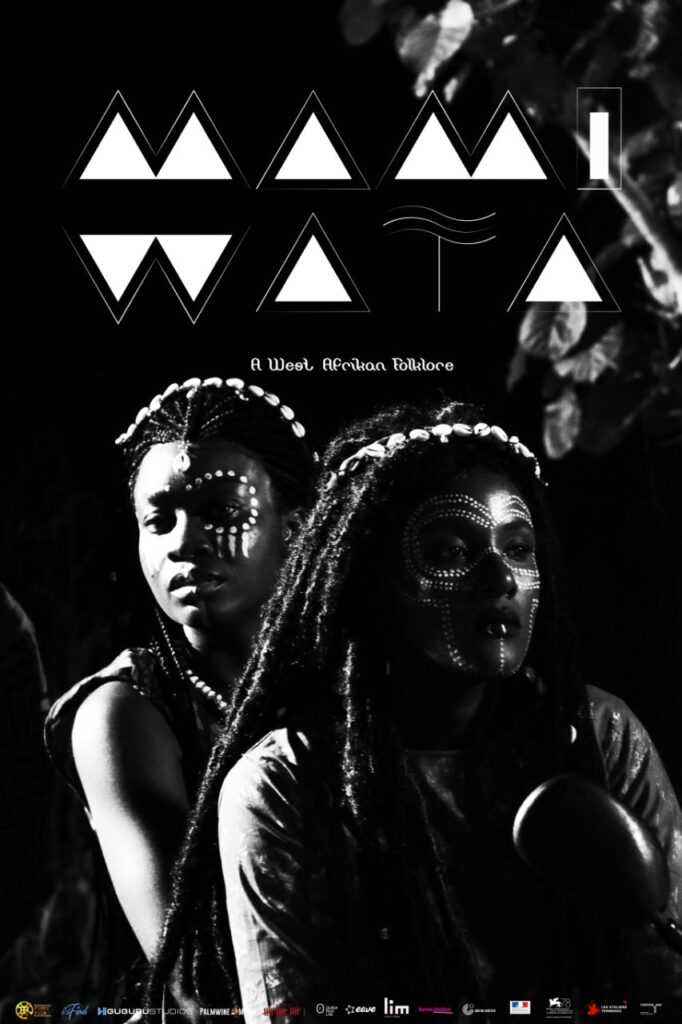 Borrowing this functional quote once again by Taiwo Egunjobi, "In a game of ladders, this national milestone moment signals the next level, a collective win and a pathway of possibilities; with a process that is clearly verifiable." For an indie filmmaker who swam insistently in opposing direction against the commercial tide of the industry, Obasi's vision and persistence are now reaping fruits, with more news yet-to-be-announced but expected, hinted by the filmmaker's meetings with certain top level filmmakers, producers and studios.
On his terms, he has achieved this, not forgetting the crucial support and producing skills of his frequent collaborator and partner Oge Obasi, who equally has a story to tell about the success of Mami Wata. As the first contact with CJ's many ideas, she saw the potential in the film from the first day, as she got a glimpse of the logline from his Notes app. The story, the themes and the potential universal appeal convinced her. The challenges that sprung up in her head were production and funds related. "You know, sometimes you come across a brilliant idea, and your only concern is how to secure funding, and ensure successful distribution. It's not that the idea is bad; it's just that you have to consider numerous factors from a producer's perspective," she admitted in an interview with WKMUp. "Our previous projects, which were either low budget or zero budget, limited our opportunities despite some promising offers because of quality control. With Mami Wata, I was determined to make it as best as we could, so my focus was on ensuring the highest possible quality. I believed it could go very far, and I didn't want anything to hold it back."
Mami Wata had to be able to withstand the distance she was confident it would run with a higher quality of production than Ojuju and O-Town, two projects executed on a shoestring budget and imparted them with lessons for the road. This is a "verifiable" path that younger filmmakers looking to make films on their own terms can follow. With CJ's Sundance selection earlier this year, he was the first homegrown Nigerian to have their film at the festival. At Sundance, he received rave reviews from audience and critics alike. But soaring at Sundance was only the prelude of what has been months-long of a global festival route for Mami Wata.
An overview can be seen below: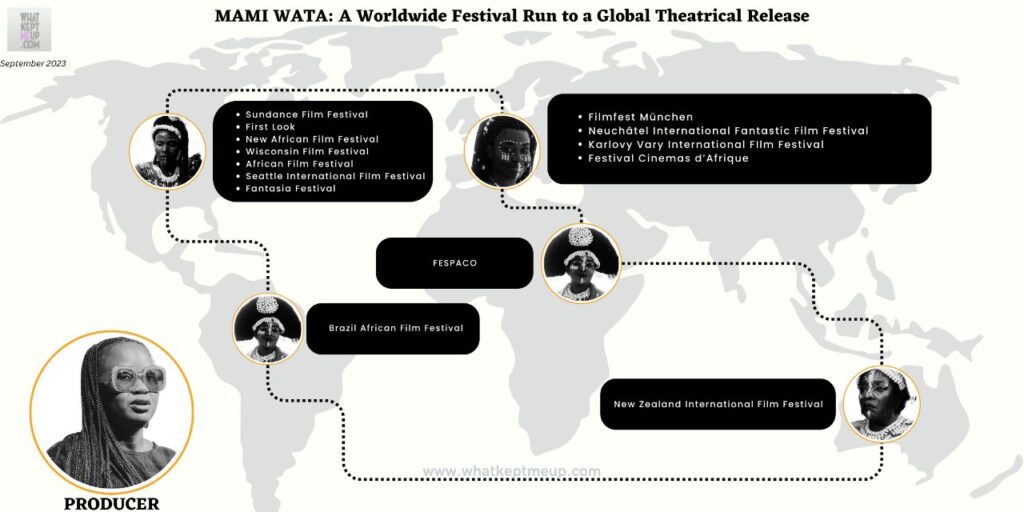 Africa
Festival panafricain du cinéma et de la télévision de Ouagadougou (FESPACO), where Mami Wata won African Critics Award, Cinematography Award, Production Design Award
Europe
European Premiere at the Filmfest München
Swiss Premiere at the Neuchâtel International Fantastic Film Festival
Czech Premiere at the Karlovy Vary International Film Festival
Festival Cinemas d'Afrique in Lausanne, Switzerland
North America
Sundance Film Festival, picking up the World Cinema Dramatic Special Jury Award for Cinematography.
New York Premiere – First Look 2023
DC Premiere New African Film Festival
25th Wisconsin Film Festival
African Film Festival New York
Seattle International Film Festival
Canadian Premiere at the Fantasia Festival
Australia
Australian premiere at the New Zealand International Film Festival
South America
South American premiere at the Brazil African Film Festival
Other Screenings
The 31st Annual Nix-Mann Lecture, where a screening of Mami Wata took place
---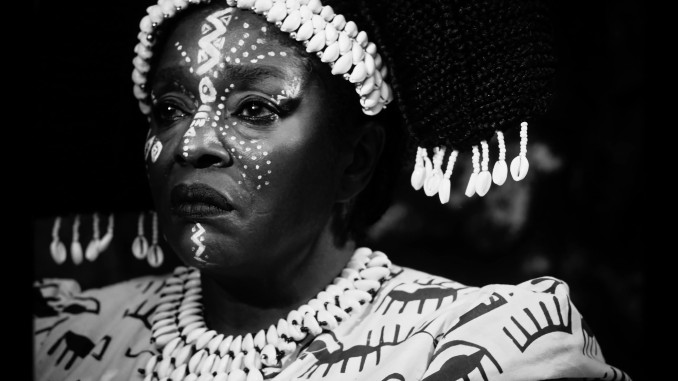 'Mami Wata' Sundance Film Festival Reactions and Reviews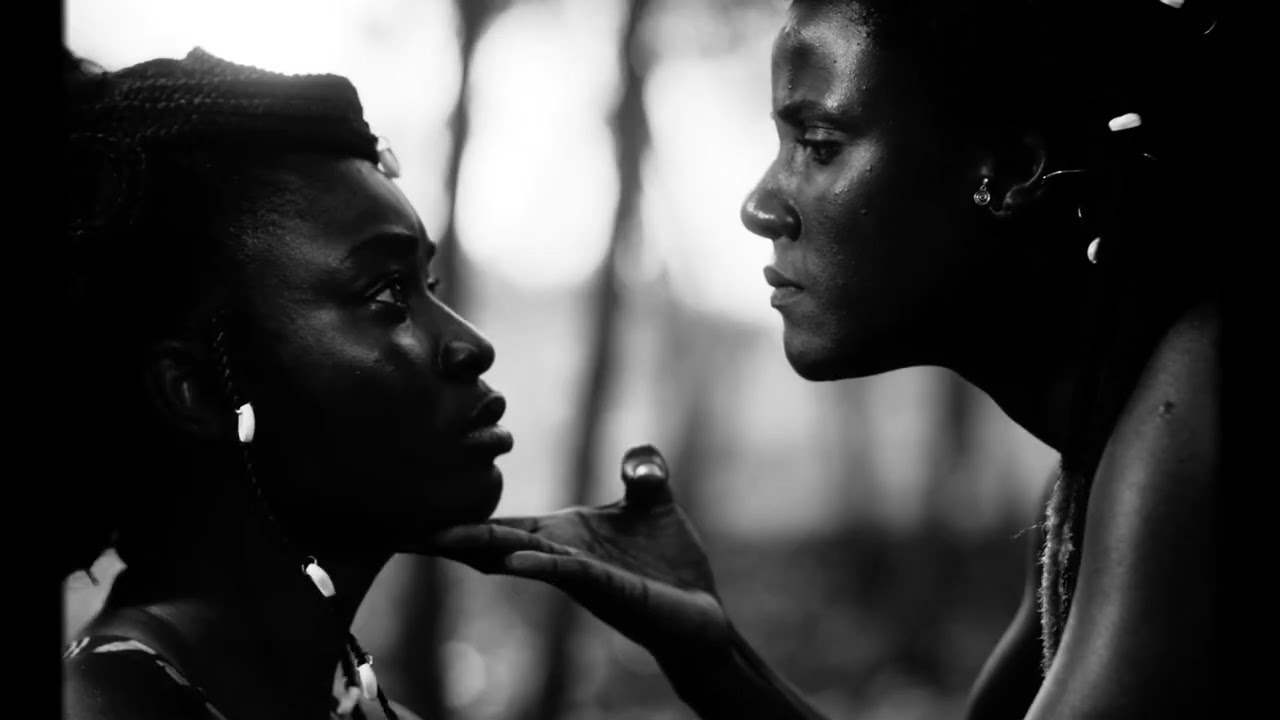 'Mami Wata' Review: A Cinematic Triumph of Visual Splendor and Cultural Conflict
---
For such dreamers, one wonders if Sundance had always been on their vision board. The prestigious festival, serving as a launching pad for Quentin Tarantino, Paul Thomas Anderson, Wes Anderson, Ryan Coogler and Nikyatu Jusu, continues to be a dream destination for emerging indie talents in the film industry. An encounter with a festival programmer in 2019 would give them the motivation they needed, but the dream had been with them way before then. "In 2016, the idea emerged to submit Mami Wata to Sundance. Each year, we aimed to shoot and submit, but it didn't materialize until 2021 when we finally shot it," Oge Obasi revealed. "Throughout, Sundance was our sole focus, never considering other festivals."
Before the above festival run that will still continue concurrently with upcoming theatrical releases, a film had to be made: developed, written, shot, and so on, while hoping for the least setbacks along the way, for an idea that came to CJ like a vision.
Charting the film's genesis since 2018, Mami Wata went bare into the process like any indie filmmaker with limited resources but their art would. They participated in labs and workshops across the world. In order to get the funding for the standard that Oge hoped for, they had to jump through a number of hoops. Mami Wata being a different film technically, aesthetically and narratively from this part of the world, famed for Nollywood, deterred potential European investors. "The project always stood out, but nobody wanted to give money," Oge said in our interview. With the common "no offense" prelude, they got responses like, "We are familiar with the types of films produced in Nigeria, and this project is quite different from what we usually see. If it were a South African film, we might consider it." The experience which pulled her away from home for a while was not entirely pleasant.
With no template to follow anywhere, they were charting a path that will now help other aspiring filmmakers in Nigeria who hope to tell such stories. The Obasi's wouldn't take no. They pushed harder. They were dreamers. The production pitching and workshop experience would equip Oge with some crucial skills along the way. "I adapted to the industry's dynamics, understanding its advantages and disadvantages, learning to communicate effectively," Oge said as she recalled meeting other international filmmakers who had a working system in place to push them further. "I realized our immense value despite local challenges. This experience taught me international business and pitching skills, eliminating my fear of money."
An overview of their production path can be seen below:
Ouaga Film Lab (2018), a film incubator that facilitates access to national and international cinema funds, where they received the first positive reaction to their project and won the Less is More scholarship and EAVE prize.
Less is More (2019), a European Development Programme for limited-budget feature films.
Durban FilmMart at the Durban International Film Festival (2019), where Oge Obasi pitched at a finance forum and they won the Sorfond Award, a Norwegian South film fund.
Casting call began late 2020. They received over 600 submissions across West Africa.
Shooting took place in early 2021.
It did not end there.
Venice Production Bridge and Final Cut Venice, both at the 2021 Biennial Venice Festival, where support is provided to filmmakers still in production of their films to facilitate market access
FESPACO Prix Red Sea Film Festival (Late 2021)
The Swiss fund Visions sud est (2021 December), supported with CHF 20'000 for postproduction fiction.
During its festival run, it was announced that Mami Wata had been picked up for distribution in North America by Dekanalog and for UK distribution by Aya Films.
When the Sundance Selection was announced in late December 2022, it was also revealed that the film would be distributed by FilmOne in West Africa. This was a pleasant surprise announcement for many viewers and industry commentators who were familiar with the past reluctance of Nigerian distributors to pick up a film that doesn't cater to the mainstream market. "I never worried about it," Oge said about the distribution. They had already mapped out their plans. Any other channel that opened up would only be an added benefit for all the work they had put in so far. Something else beyond their film and their own success was crucial. "It really was important for me that this film opens up doors for other people, as I am aware of the challenges in the industry. Filmmakers often grapple with a disconnect between their work and aspirations, seeking something more in a landscape that doesn't quite align with their vision," she proudly said.
The early distribution pickup by FilmOne signals a changing landscape where they are more open to giving a chance to films outside the usual mainstream offerings. "I think it is just like the way filmmakers are also in a state of exploration, seeking ways to align their vision with market demands. It's an ongoing experiment," Oge said. Everyone is surely watching closely how this expands the market despite high ticket prices and the poor economy.
The online reaction to Mami Wata has been great so far, with a specific audience ready to finally watch the film when it becomes available in Nigeria. "I know they are going in with expectations and I hope they come out pleasantly surprised," Oge said. "Foreigners often wonder and ask how the Nigerian audience will receive it, and my response is, 'I don't know.' But I hope those who watch it love it and feel proud to talk about it."
Yeah, we are surely full of surprises out here.
Another reason she is managing her expectations is because of the uncertainty about the technical capacity of our cinemas. Many cinemagoers have often complained about the inadequate sound system and screen technology. Oge Obasi has ensured that they made the best quality film possible and now they are reaching the stages that are beyond their direct control. "My heart is intact. I'm hoping for the best and prepared for whatever comes," she said.
A film requires going on a journey with many people beyond their life partner. Other people have to come on board for a successful production. But Oge would be careful of the people she gets on the journey with next time. Beyond CJ's money lessons, she would also learn to be more hardened despite not being a fan of such personality trait. "I've learned that not every person on a journey wants to reach the destination; some aim to derail it. Laser focus is essential, regardless of others' intentions," she advised. It has been a voyage for Mami Wata. Lessons have been learned. New habits have been formed. And the filmmakers will certainly go again on other projects, which CJ has teased on Twitter to already be developing.
On a potential Oscar run as Nigeria's submission for the 2024 International Feature Film category, the experienced producer is calm since it once again falls under the things she can not control. Nonetheless, Oge admits it would be a great thing to happen. "I don't know who else is in the running, so I don't know what to compare to. But it would be great. It would be a very amazing thing to happen." A decision is expected to be made by the Nigerian committee on September 17. With an already critically acclaimed film on our hands and the potential to reach for more on the big honours stage, there is a chance for us all, not only the film and the filmmakers, but the entire industry to break certain barriers, forging new paths that a film from this side of the world can dare to take.
As already announced by CJ 'Fiery' Obasi, Mami Wata will also be released theatrically in the United States, UK, Switzerland, Nigeria and 10 Francophone African countries before the end of 2023. As a gift that keeps on giving, Mami Wata has clearly provided the industry with an oasis of rejuvenation.
Mami Wata premieres in Nigerian cinemas on September 8. Read our review.
Switzerland theatrical premiere: September 21.
North America theatrical premiere: September 29.
UK theatrical premiere: November 17.
Germany and Austria theatrical premiere: January 11.
And the festival run still continues…
Share your thoughts in the comments section or on our social media accounts.
Sign Up: Keep track of upcoming films and TV shows on your Google calendar.
UPDATE (07/09/2023): An old version wrongly stated the Switzerland premiere date. It has now been updated.