The Africa Magic Viewers' Choice Awards (AMVCA) is Nollywood's most revered award. Not many would like to admit, but it is—like many other things in the industry— unsurprisingly problematic. Since there is not much to analyze about the nominated and winning films of the 8th edition, here we go with tackling these problems. With these proposed suggestions, let's have in mind that we are trying to create an award ceremony where fashion commentators have lesser relevance than film commentators. Both can exist, but it has been the other f word than what the actual f word of the night should be.
Beyond commentary on how an attendee's head gear shouldn't injure another attendee due to its size, many others want to dissect why a film or actor has bagged the biggest award of the night, whether for certain political reasons or intelligent artistic reasons, and not for questions like "did you vote?"
No filmmaker can exactly come out to speak against it; this is a filmmaker and actor's chance of getting the "award-winning" title added to their biography. And when they're not the ones giving a winner's speech, it's an industry colleague or "friend" up there and they don't want to come off as haters.
Dear silent majority (we suppose) out there somewhere hoping for more, you're welcome. Maybe this helps you speak out. Let's get to it.
---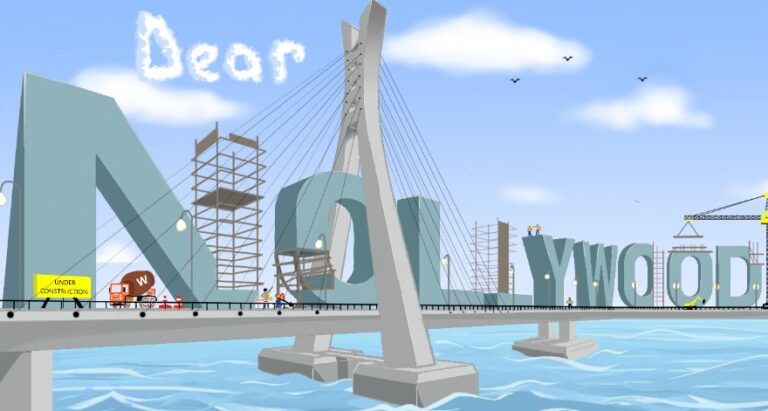 In Praise of Criticism: An Open Letter to Nollywood
---
Kindly remove the recently added social media content creator category.
What is it doing there in the first place? No offence to those creating content and making us laugh all year round in the midst of our nationwide troubles, but this isn't where you belong, except I'm missing something from AMVCA's mission and vision as a body. An awards event can be created specially for these amazing creators, but they shouldn't be here. This is a dangerous precedent in an industry where a popular filmmaker was fiercely defending skits as cinema on Twitter. That's another topic for another day.
Revamp the categories.
At the moment, there are 33 categories at the AMVCA— 12 public voting categories, mostly filled up with the acting categories and 21 non-public voting categories—capturing the awards as a viewers' choice. Revamping the categories means separating TV from film. It just can't work any longer with more content being produced in both worlds. Web series and TV could belong to a category while film (whether streaming or cinema) has its own category. It's unfair to a writers room of 10 people competing against a single head who's just made their first film— just a scenario, not trying to create drama. 
Make the rules public and clearer
I'm sorry, but your rules are fuzzy. Kindly make them clearer. Some people genuinely want to understand it all, from the nomination process, to voting process, to winning a plaque—we want to understand the whole process. In the non-public voting category, who constituted the voting panel of judges headed by Victor Okhai this year and how did they vote? This information is not boring to some of us. Let us get in on the fun.
Embrace critics, Nollywood press and filmmakers themselves
The aim here isn't to insert a personal gain for critics. Hear me out again, it's all for the best. There's no well-functioning government without the press. The press serves as a watchdog. The same applies to a well-functioning film industry, the press should be one part of the whole cog. That's one of the jobs I'm fulfilling with this unsolicited essay. I'm holding the awards body accountable for their whole process which I believe could be done better. Embrace the aforementioned stakeholders—critics not left out—as members of the panel of judges, and the press to carry the public along. Kindly act like they're there and they exist. Sadly, the fall of this would be the lack of structure in the first place.
No to audience voting
Well, I can see it in your name but it's clearly not working. If audience voting really has to stay, it could be reduced to best dressed of the night for live viewers to participate and the newly added social media content creator category (which shouldn't even be here as previously mentioned). But stop hiding behind the facade of "did you vote". Yes, there are non-voting categories. But who are those involved in this voting, beyond the announced head judge? Better still, share results after the event. Or no, let actual professionals just do the picking and voting. No offense to public voters who vote, but I can't trust your judgement in this case as it's been proven over multiple years in the industry.
An operational website that's frequently updated.
This should be independent of MultiChoice or DStv's website. Don't show any bias. This website should contain your history, mission, vision for the industry. Also, an archive of images and winners from the past events, fun facts, and statistics, thus helping stakeholders understand the whole process. The process is meant to be clearly understood, isn't it?
Celebrate the movies and nothing but the movies. 
The week leading to this year's awards night included various events beyond film. These events included a runaway show, a food festival, a cultural day, amongst others, although organisers still managed to have space for screenings and a content market day. With the listed events that overshadowed film celebration throughout the week, a visitor would think he was at the MET gala or a food convention. Let film be the main focus of the night (and week) and let other things be the side attractions. Why are we here? For movies! Then show us! 
Broadcast beyond TV
With the entry of streaming services in our region, and more movies on these platforms, global fans also want to enjoy this as a live programme, actively taking part in the celebration of the best of movies that they enjoy. So, why not broadcast it on YouTube or on Showmax or anywhere else for more people to access? Open it up for more people to participate. The world is getting bigger, don't localise yourself…and don't move to Atlanta.
Maybe these are all qualities of an authentic film award body that we are still lacking in the industry, and not necessarily an AMVCA problem, which might still rightly be within their vision as the name implies.
Nollywood to the world, giving films automatic "masterpiece" labels for attempting to tell a decent story won't cut it. We want to celebrate quality storytelling, filmmaking, the minds behind it and the arts as a whole. Filmmakers won't take this well. If they do, it won't be out in the open. It might be difficult to believe because it is campaign season, but one thing I can promise everyone is that I'm on your side, most importantly the side of those who want to celebrate the arts of cinema and TV.
As Oris asserts in a feature that tabled displeasure over questionable nominations in 2018 on BellaNaija, "over the years the Africa Magic Viewers' Choice Awards (AMVCA) has shown it is not interested in assessing elements of quality filmmaking. Instead what it seeks to do is stamp celebrities with the title "award-winning", it makes one question the genuine interest and motives of this award body, if any of these suggestions aren't taken to heart. 
It's a shame that people actually look forward to the fashion more than the celebration of film itself. The moment that happens, something, which requires urgent fixing, has gone wrong somewhere. Congratulations to every winner so far. Landing a place on the nomination list is a thing to be proud of in the first place since the fate of many categories lie in fans' hands, making us question if it's a popularity or an actual creative contest. As it is widely said and as it most fittingly applies here, EVERYONE is a winner. At the end of the day, the problems of the AMVCA are connected to a larger industry problem. In a recent interview, Isaac Ayodeji regarding screenwriting problems in Nollywood suggested that larger industry problems need to be addressed first for changes to actually touch screenwriting, possibly likewise needs to happen for our awards to be great again.