Written by Faith Oloruntoyin and Ikeade Oriade.
---
"Over the years, writing has proven to be a very powerful tool that has influenced how we see the world today. From stories running circles in our minds, to the ones that made it to the pages and to the screen, we can see clearly that it starts from the heads of the writers," Kelvin Amamize, winner of the best screenplay award at The Annual Film Mischief, shares as he explains screenwriting as a bedrock art for filmmaking, "without this, there would absolutely be nothing to see on the screens. Many fail to see the importance because no one gets to see the war and victories on the raw pages but the glamor the director puts on the screen." Despite such significance attached to screenwriting, we clearly also have seen over the years in Nollywood, that he who it starts with becomes he who is less important or recognised. For those still in the dark, screenwriting is the art of crafting a story into a script, it is the foundation for any production at all; it's what makes the rest of the crew exist, but even with this creative art being a significant ingredient in the filmmaking process, screenwriting still seems to be greatly underappreciated, an opinion Ifeanyi Chidi Barbara (Love Like This), a serial TV head writer with over 50,000 minutes of TV under her belt and a jury at the just-concluded festival, also echoes, "the script is the film. It is surprising that people do not understand this, but there is no film without a story and a script."
---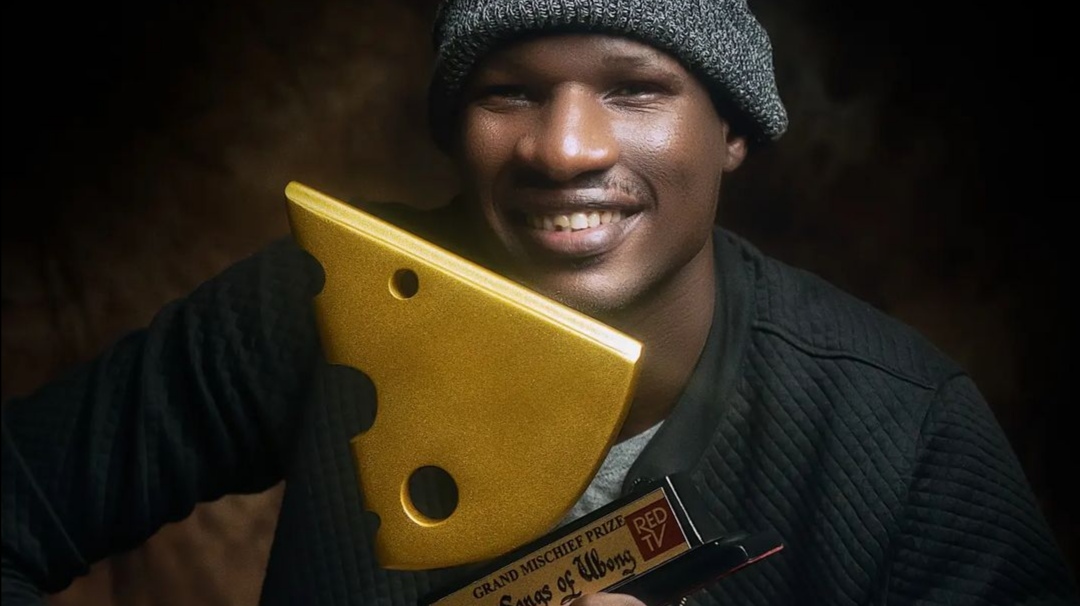 The Annual Film Mischief 2022 Awards: 'Songs of Ubong' Wins Grand Cheese Prize, Kelvin Amamize Takes Top Writing Prize
---
With the laid argument of Nollywood's current condition with scriptwriting, one might wonder what exact problems exist in the field and how it varies from TV to cinema projects; whether scriptwriters in TV—covering cable and web series—are treated better than those who work in film, usually cinematic ones. Isaac Ayodeji (In Ibadan), who has written in both worlds—most recently a co-writer on 2021's Dwindle—believes there are no differences, since both sides are run by the same set of creatives (writers included), accompanied by "the same flaws and battles." Some of these "battles" include screenwriters being paid peanuts, lack of ample writing time and oftentimes a stark difference in the released film and original script. While a film being different from the script isn't a rarity—even in other structured film industries—nevertheless, it is quite rampant in Nollywood whereby the writer is not carried along, a singularity, Amamize praises director Tosan Ayanfulu, for "carrying him along" on the festival film, Reflections, both reaching a compromise on what made it to the screen despite the number of cuts that had to be made, since some screenwriting elements "gives a director the leverage to pick up a script and interpret it the way he deems fit."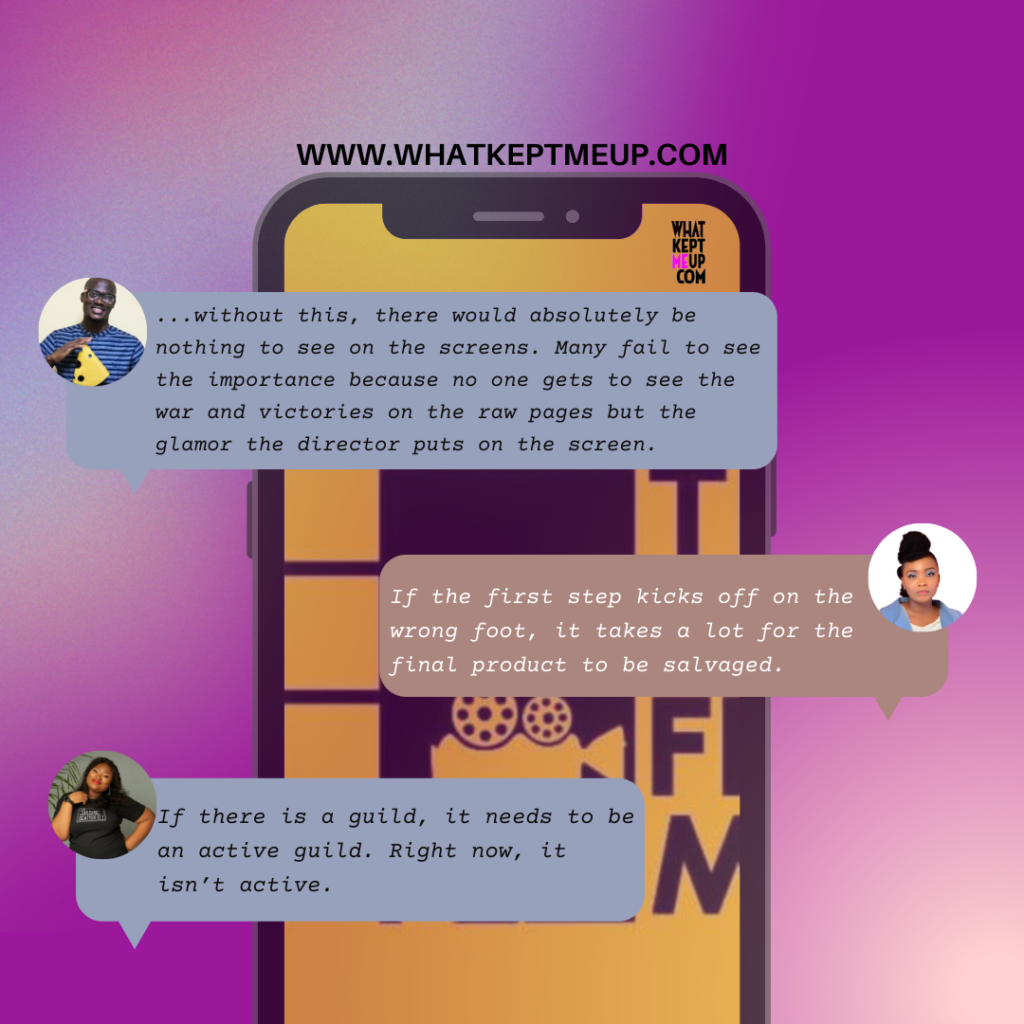 So, how does a TV writer compare the TV and cinema clime of Nollywood? Experienced TV writer Ifeanyi Chidi Barbara, who's worked on AfMag's Riona and Battleground, holds a contrasting opinion, citing "structure," "collaboration," "respect" and "better pay" as values that place TV culture ahead, adding that the utmost joy in writing in the TV sphere is being "appreciated by the audience" and having one's TV shows being religiously followed over multiple years, an example being when she watched AFMag Riona finale "in a cinema full of screaming fans." Examining the most cited problem in Nollywood—structure—would we say the actual challenge is the absence of it or rather the neglect of those structures; one of which is a "guild", expected to be a body of people under the same career umbrella such as scriptwriters who come together to have a unified body fighting for various causes. In Nollywood, the guild has been called out many times for its ineffectiveness and even as far as its unknown existence to the people it's expected to serve. Ifeanyi Barbara, who views For Maria Ebun Pataki as the best written Nollywood film last year, raises, "if there is a guild, it needs to be an active guild. Right now, it isn't active," one in many other possible measures that will take a long time to fix the underlying issues.
While many have argued that, yes, screenwriters provide the knitted stories, some people in the industry think the execution is more important, and this has led to many movies having a stellar cast, great equipment, amazing sound, perfect lighting, great editing but a poorly crafted story which has been the recurring flaw in numerous Nollywood films from a persevering critic's perspective. In a recent interview, indie director Taiwo Egunjobi (In Ibadan) emphasized the importance of storycraft as the industry seeks to move to the next level, with the arrival of streaming alternatives hoping to take our stories global. Many Nollywood enthusiasts hope that this new development will gear for more structurally crafted stories thereby leading to more attention on scriptwriters, script editors and other analogous roles and their remuneration, or will this just be a long road to a global shame.
---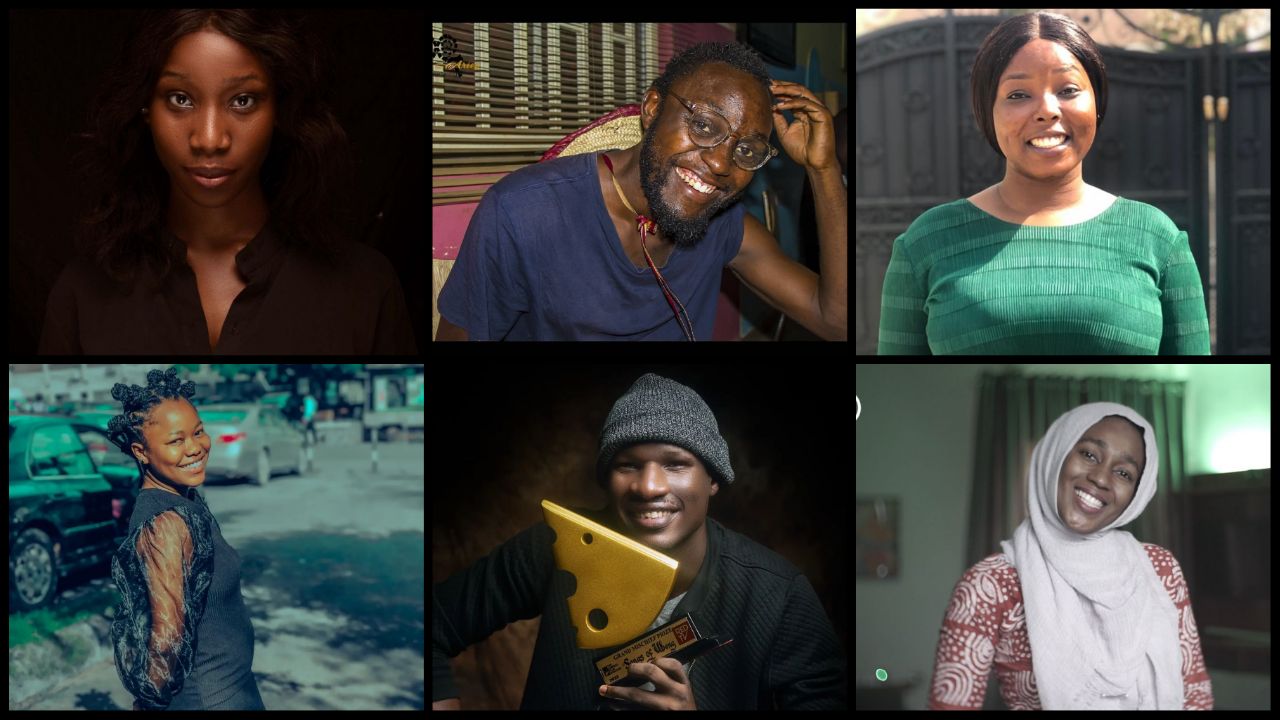 Film Mischief 2022: "Less is More" Standout Stars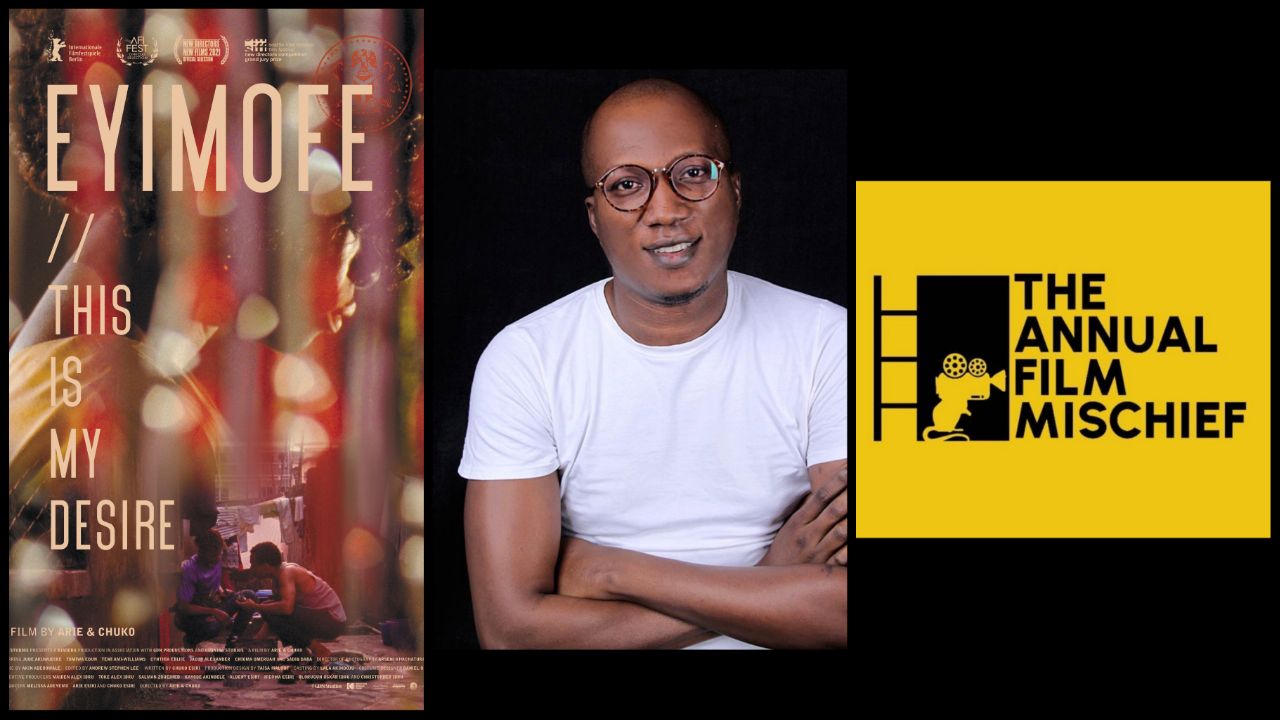 Film Mischief 2022 | 6 Questions with 'Eyimofe' Co-Producer Adé Sultan Sangodoyin: Producing a Critically-Acclaimed Story, Film Festivals as "Conveyors" and the Industry's Emerging Talents
---
In this era of Nollywood, the focus has now shifted from the important aspect which is to tell great stories to focus on anything that rakes in money, often referred to as 'cracking a formula'. Everyone, even including the serial couch potato, knows that Nollywood has a lot of potentials, as its feeder society Nigeria has great stories that are yet to be unraveled. Resident critic for The Film Rats Club Osamudiamen Joseph shares, "screenplays are the lifeblood of mainstream motion pictures. Audiences, particularly in Nigeria, have shown time and again that they are ready and capable of being fed complex, compelling stories. The movie industry cannot survive on 'vibes' or formulas anymore. Change will come when we value screenwriting and screenwriters as an integral part of the filmmaking process."  But the reality is that even with an untapped source of stories being available and its audience being fit to receive it, we are met with a dispassionate culture which results in half-cooked stories, which actor-writer Temi Fosudo (In Ibadan) equally believes the audience hates, "storytellers shape the taste of the audience. The only thing the audience hates is being intellectually insulted by the storyteller." In this glam-over-substance era, we are left with unsatisfied audiences and content that cannot be presented globally, when effective scripting is actually one tool that can change the way the world perceives Nigeria and Africa at large, according to Margareth Egbuchulam, screenwriter on The Samaritan, The Audience Cheese Pick at the festival.
Highlighting a quote by John Truby on the need to take screenwriting more seriously, Osamudiamen, who is a big fan of Eyimofe's writing, says "screenwriting is the hardest craft in the world. Especially today, where audiences have already seen every possible scenario a dozen times over. There's bite-sized content on social media. Games are getting more and more immersive. If the art of filmmaking will not only survive but thrive, and continue to remain an integral part of the way our society tells stories, then we need to pay attention to screenwriting." With this, we realize that the problems of repetitions in Nollywood storylines, that is, two or more films having the same narrative but different titles, are serious craft issues that could be partly caused by a lack of motivation stemming from previously stated problems: the meager pay given to screenwriters, little time frame to deliver, supposed "audience's taste based on formula" and writers having to juggle various career roles in order to meet up with needs screenwriting can't cover. Hence, important questions: how does Nollywood plan to keep stories fresh amidst competing, alternative storytelling channels? How does the industry hope to unearth other untold stories that are deemed as out-of-formula? What would be the roles of screenwriters? And lastly, how can they be empowered?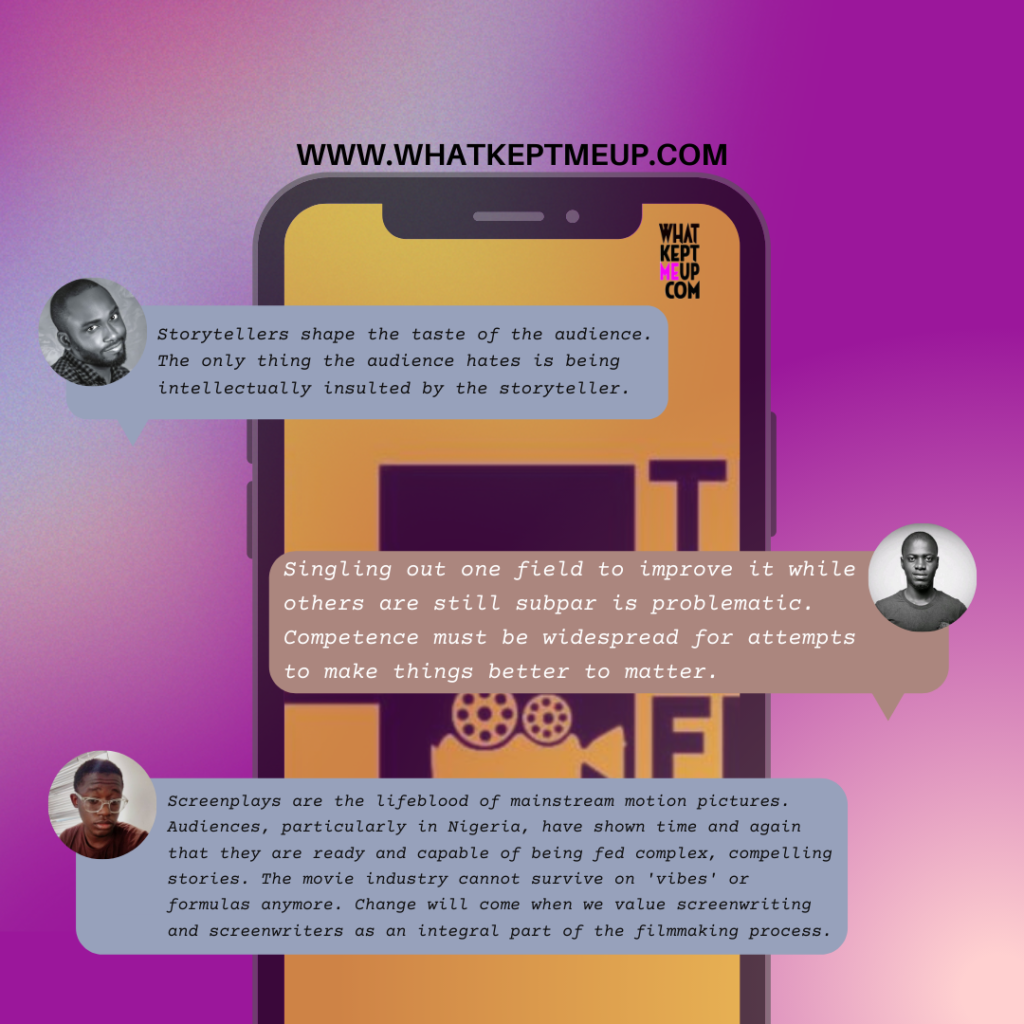 Simply identifying these problems doesn't make them disappear, but providing a way out of this plague does take us one step forward. For a start, Osamudiamen would like to see more initiatives like Albantsho—one of the festival sponsors—to help budding screenwriters. Amamize, who also applauds the writing in Eyimofe, shares that more light should be given to screenwriters through more award categories, as well as a podium to share their views. Egbuchulam shares similar thoughts with Amamize, expressing "more spotlight should be shone on the writers, especially at awards shows. More categories should be opened up for us", adding that, "there should be a standardized payment plan for screenwriters in the industry. This way, the rights of writers are protected. Screenwriters are not an afterthought. We are the sauce!" Proffering a more blanket solution for the entire industry, Ayodeji, naming Inwang's Lockdown and Esiris' Eyimofe as the best written 2021 Nollywood movies, explains that "singling out one field to improve it while others are still subpar is problematic. Competence must be widespread for attempts to make things better to matter," while he understands that this is an industry not used to changes, but it'd be important to change certain typical aspects of the industry to spur growth.
Before stepping out of the tunnel into the light, screenwriters have found solace in various ways, to remain sane in this atypical industry. "Three years ago, I'd be up in arms trying to fight for my 'rights'. But I'm too tired these days. It's a problem that keeps happening over and over," Issac Ayodeji reveals about sour experience(s) in Nollywood. As much as people want to speak up, a good number are tired of fighting and now approach it differently. Explaining further, Ayodeji says he has become calmer in certain areas where many would still be fighting to gain control, such as, credits omission, which he thinks doesn't stop him from adding to his CV. And dealing with significant differences in what he's written and on-screen work, he just hopes for the best these days while "seeking solace in personal projects and collaboration with friends, where the writing is respected and the script is the template it's supposed to be." Citing Eyimofe as the best-written film in 2021, Temi Fosudo (Griot) shares that lucky writers are those who can be selective with the gig they take on, while having other things going for them as filmmakers in the film industry. He, for example, finds himself as an actor and producer, who also rents out filming equipment; Isaac Ayodeji is into producing; Ifeanyi Chidi Barbara started off as a producer and also directs; Margareth Egbuchulam is a budding director; and Kelvin Amamize is currently learning the ropes of directing—which are all other important parts in the completed construction that a film is, borrowing lasting notes from an analogy by Fosudo:
 "I like to compare screenwriting to the blueprint of an edifice. Without it, the builders are more than likely to construct a shabby mansion. A screenplay has many moving parts that must be considered at every point up until the end, which makes it an extremely arduous task. Every brick, and every pillar, every corner and every slope must be considered and weighed to ensure the house is properly built to last. But indeed it is merely a blueprint and not the building itself. The production team takes the blueprint and uses it to build the house."
As Egbuchulam echoes in her own comments, "If the first step kicks off on the wrong foot, it takes a lot for the final product to be salvaged," once again clearly indicating the value of screenwriting. Since the foundation matters most, then more attention, time and finance should be invested into ensuring it is well-planned for and excellently laid.
---
The Annual Film Mischief is a hybrid festival celebrating quality low-budget Nollywood films. It took place March 17-20.

Join the conversation on Twitter: #TAFM22