Eva Ibiam is a fast-rising actress in Nollywood. Her works have ranged from playing extras to minor roles in Gidi Up, Rumor Has It, Officer Titus, Skinny Girl in Transit and now a major role as Teni in Love Like This. 
Created by Lani Aisida, Love Like This tells the story of various individuals in a close group of friends and their journey to finding love, dealing with heartbreak while discovering themselves. The first episode kicks off with Nimi (Nonso Bassey) being left at the altar by his fiancee Abiye (Chisom Agoawuike). Eva Ibiam's Teni plays a binding role of cousin to Abiye and a friend to Nimi, a conduit between this recently split couple. Teni also finds herself in a bit of a mix as she likes Nimi but has another guy, Chidi (Jay Charles Ujomu), with whom she has a sexual relationship, falling for her. Eva Ibiam, who teases another upcoming Netflix project, finds herself in the middle of this 12-episode drama as Teni.
---
Ndani TV's 'Love Like This' Recap: Season 1, Episode 12, "Closure" (Season Finale)
---
In this brief interview, Eva Ibiam touches on Teni's complex personality, her season 2 predictions and has a recommendation for fans of The Office. 
What did you make of Love Like This story when you first read the script and what would you say makes this love story different from other love stories ever told?
When I first read the script I was super excited. During the table read with the other actors, the director and the writer, I think I was probably the loudest person in the room. (laughs) I was so gassed we would read it chapter after chapter and after each episode, we would analyse, so many questions would come up because the show actually raises many questions and we almost didn't get through the whole script because we were so excited. I was like what kind of person is this character for goodness sake but I was really excited.
What I think makes it different from other love stories is that it's complicated, it's complex, and we are dealing with flawed human beings. There is no one that is perfect, there is no one human being that is pure, and it is no 'damsel in distress that falls in love with a Knight in shining armor' story. It is people finding love in the most awkward of places and in hopeless places. Also, I don't think it's that predictable. I saw different fan theories of how they thought it would end, but it's not the most predictable storyline. So it's just a nice one where you are actually navigating people's lives and the mistakes that they make in trying to find love and relationships.
2. Which Love Like This character do you resonate with and why?
I can't think of any character I resonate with. Everybody's brain is touching,  let me just put it that way (chuckles). Well, I'm going to be biased, let me just say Teni because I believe she is strong.  It's not easy to have to hide emotions or not be vulnerable and at the same time you are fighting your own battles but you still try to be there for people that you love. But I think she is someone that actually really tries to be there for people that she cares about. You see her running around trying to fight Abiye's battles whether Kamal or any other person while checking on Nimi too. She has her own demons, for sure but she is a strong-willed person and that's the kind of person you want in your corner cause she would fight for you.
3. We have a theory that Teni intentionally crashed Abiye's wedding because she had always been in love with Nimi. So, as the chief bridesmaid, she did her thing by booking a hotel where Kamal would be. What's your take on Teni's character, past and present? 
So that fan theory actually blew my mind when I was reading it that Teni planned the whole 'whatever whatever', which doesn't seem right to me because I don't think this character is that dubious. Secondly, Abiye made choices that she made, right. Teni didn't carry her and drop her on top of Kamal. Kamal showing up was actually a coincidence and if you remember there was a point Teni was actually yelling at Kamal, that if it was you would you leave your job and come back to look for her. I don't think she set up anything, I think it was just fate of chance.
 And concerning her past life, I feel she has had her own fair share of being hurt and that's why she is not the kind that is easy to open up. Maybe she has probably been heartbroken before or just hasn't had love work out in the way that she would want so she would rather remain very guarded with her emotions. For her, we see that a physical activity like sex is just a casual thing. Two people can just meet up and pleasure themselves and carry on with their day, it doesn't mean they have to be star-crossed lovers. 
---
Kanayo O. Kanayo, Bimbo Akintola, Nengi Adoki & More Join TNC Africa's 'Little Black Book'
Our 5 Favourite Nollywood Web Series Couples
---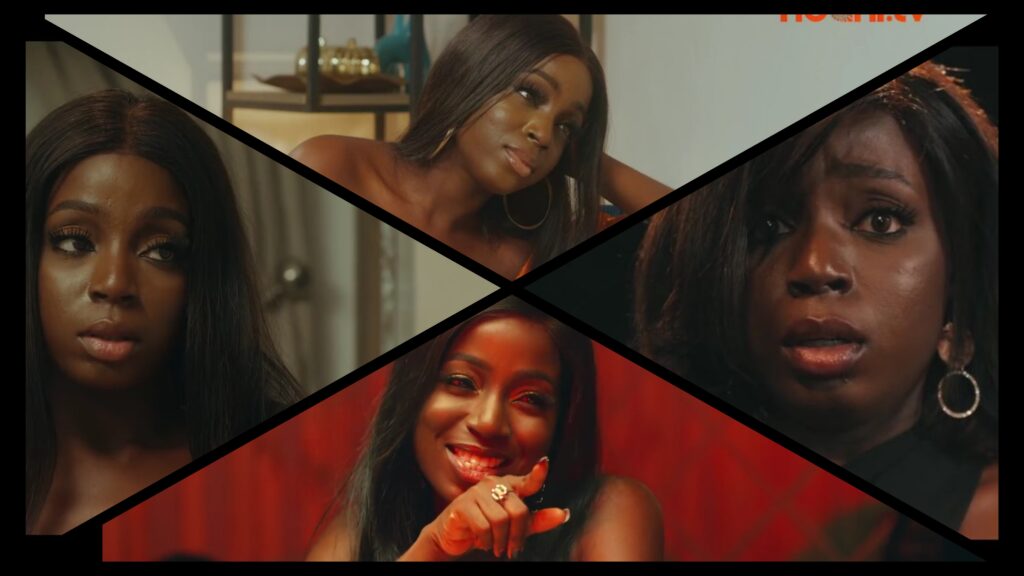 4. Where do you see Teni ending up at the start of a potential second season (with or without a boo) and what would you like to see explored in the character?
I don't know, there are so many ways. I have pictured so many and I honestly can't predict how things would end for Teni. Personally, I don't fancy the options that she currently has. I would rather have a whole different new guy, less complicated, come into her life and do things right. I don't think she should be with the playboy cheater nor do I think she should be with the hurt, insecure, emotionally damaged ex-fiancé of her cousin. I mean she seems like a strong black woman, she deserves someone that can take care of her and spoil her. Maybe she should date Nadia's dad or something if he ever comes into the picture. Let her give us some drama, do you get me. Honestly, I don't know how it would end up. But the only thing I am really worried about is her relationship with Abiye, which is going to be tainted. The storylines where a man comes between two girls isn't something I like very much and I really hope their relationship will survive whatever it is that they are experiencing right now.
5. Are there upcoming projects that you can share with us and the role you will be playing?
Yes, I have a few (chuckles) I don't know whether you guys have been seeing this popular reel on Instagram that goes, "I don't like to talk about things before they are finished but so far it's a masterpiece." So yeah, I have a couple of things that have worked on that should be coming out soon, Glamour Girls on Netflix and another project on television. On Netflix, in June, you should see my face and hopefully, you recognize me because I play a completely different character from the one I have played or from whom I am in person. So, yeah I'm excited for those.
6. What's currently keeping you up? Any movies, TV shows, podcasts and/or books that you can recommend?
I just finished a show on Netflix, Savage Beauty. I'm so obsessed. I have always been obsessed with South African TV and it just catapults me to like a different side of entertainment from their culture, to their language, their scenery, their acting, to the cinematography, it's just so amazing. Savage Beauty is a story about revenge and that now set me on a spiral. I am watching another South African film called Jiva! which is basically like an African Step Up, some people trying to win a dance competition.
As far as podcasts are concerned, my favourite podcast is called "Office Ladies". If you are a fan of the The Office, then you would really love this by the actresses Jenna Fischer and Angela Kinsey. They play Pam and Angela on The Office and they drop episodes that I listen to weekly. And I am currently reading a book by Yung Pueblo. 
NdaniTV's Love Like This is currently available on YouTube.