It is easy to fall in love with characters. This love morphs into a desire for more when they wrap up a season. Many Nollywood web series lovers can't get enough of some favourites and we find ourselves stalking the viewing channels for these web series, including our favourite actors' and actresses' personal pages for a scoop on something more.
---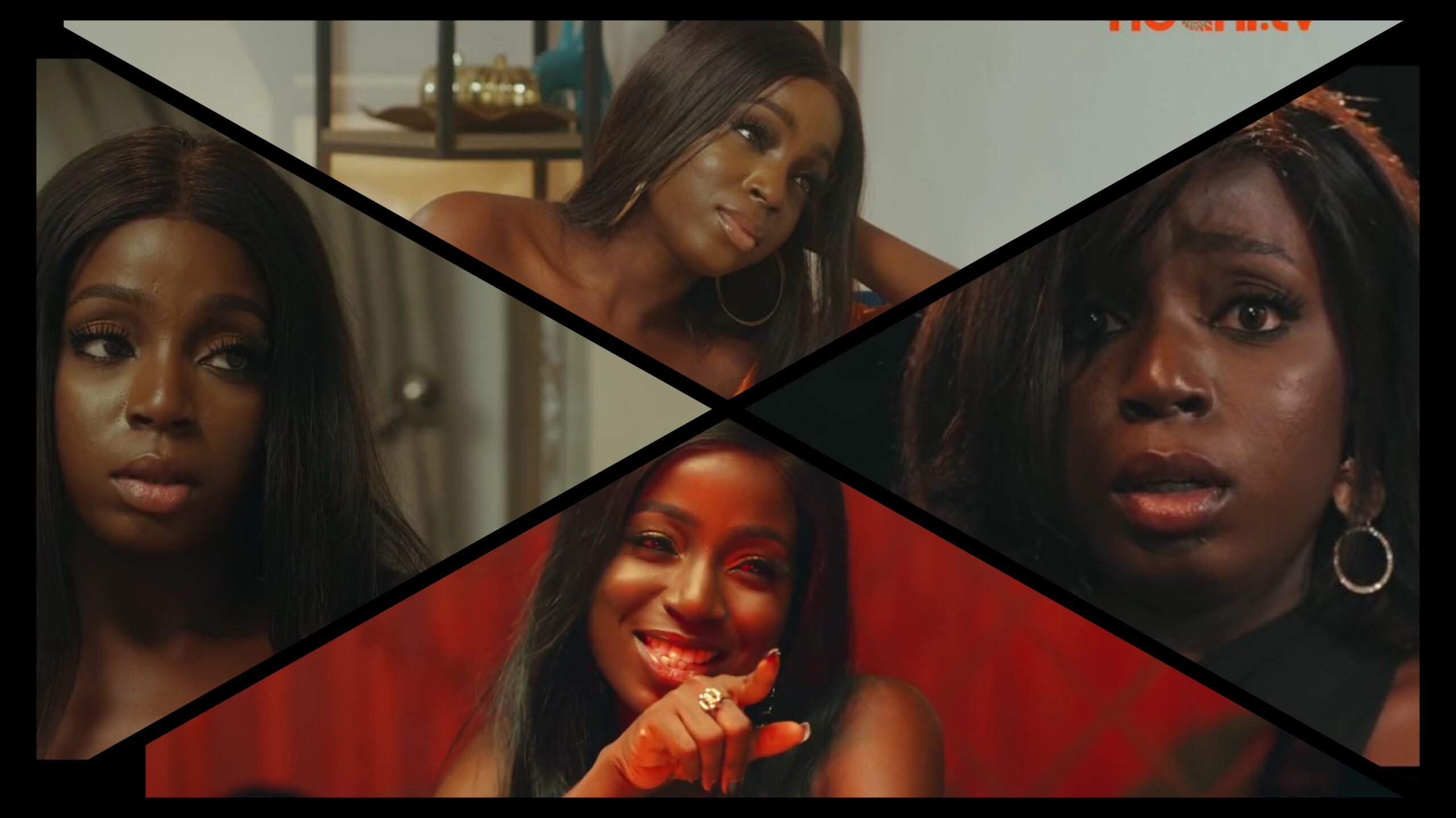 6 Questions With Eva Ibiam: 'Love Like This' as a Different Love Story, Teni's Personality and Her Upcoming 'Glamour Girls' Role
---
So, here are 4 Nollywood web series, with no renewal information in sight, that have us still thirsty for more:
Money.Men.Marriage
A quite recent release from Laced Up Production, a film production company owned by Temidayo Abudu, daughter of film producer Mo Abudu. M.M.M series tells its story through the eyes of Marion (Arese Emokpae), a young aspiring writer who is trying to find her footing in the city of Lagos. We are further introduced to the lives of four other gorgeous ladies who we follow on their journey of three M's: Money, Men and Marriage.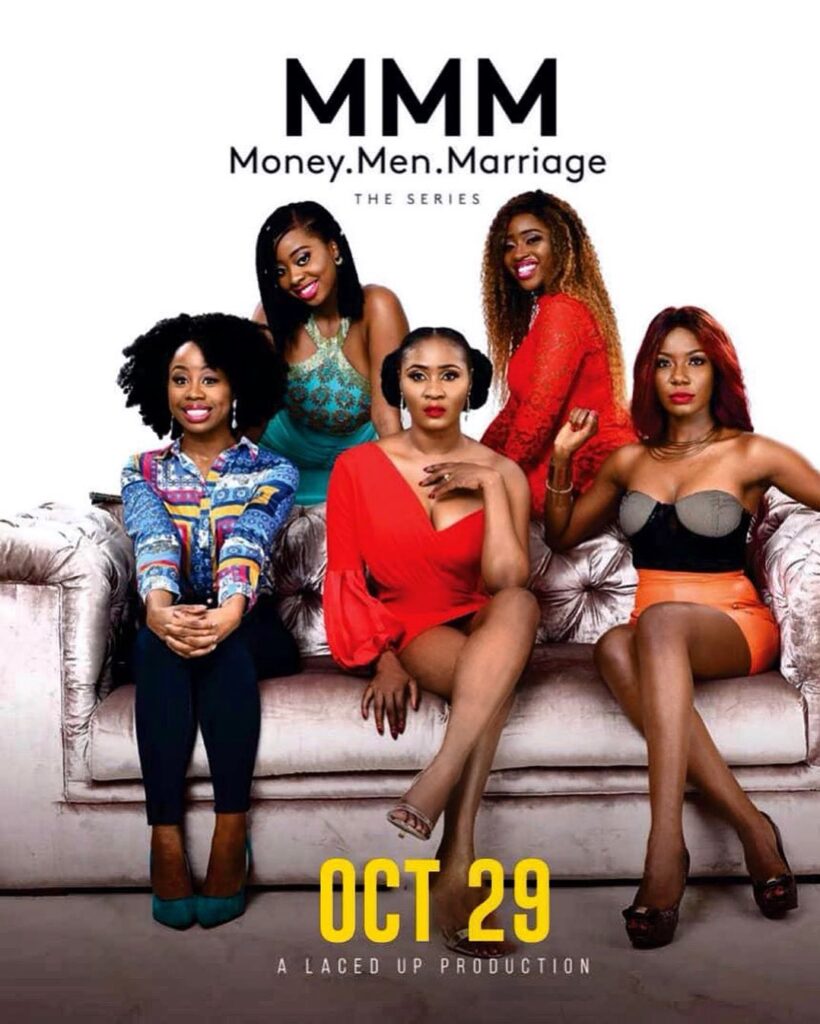 This series rounded off its first season some months ago, but we are already thirsty to know more. The first season ended with Suzi (Toni Tones) calling off her engagement, Esther (Chinasa Anukam) still pushing to get back with her ex, Lola (Adebukola Oladipupo) getting something she had always wanted but is conflicted on what to do, Kimi (Rachel Anthony) trying to start a modeling agency, and Marion's blog finally getting the big recognition. However, things go cold as the details of what Marion's blog is about become known to her four friends. We are excited about the possible drama brewing in the life of these ladies and can't wait for another season.
MTV Shuga Naija
An absolute favorite. MTV Shuga Naija is an installment of the MTV Shuga Chronicles which is told across multiple African countries like South Africa (Seasons 5 and 7), Kenya (Seasons 1 and 2), and finally, Nigeria (seasons 3, 4, 6 and 8). MTV Shuga Naija tells the story of love while it addresses other essential sex educational topics in general. Shuga Naija further tells the story of youths and teenagers in the city of Lagos and how they deal with love, sex and relationships. Although it is a bit of a wide scope to get into the fine details in this article, I will tell you why it has us still thirsty.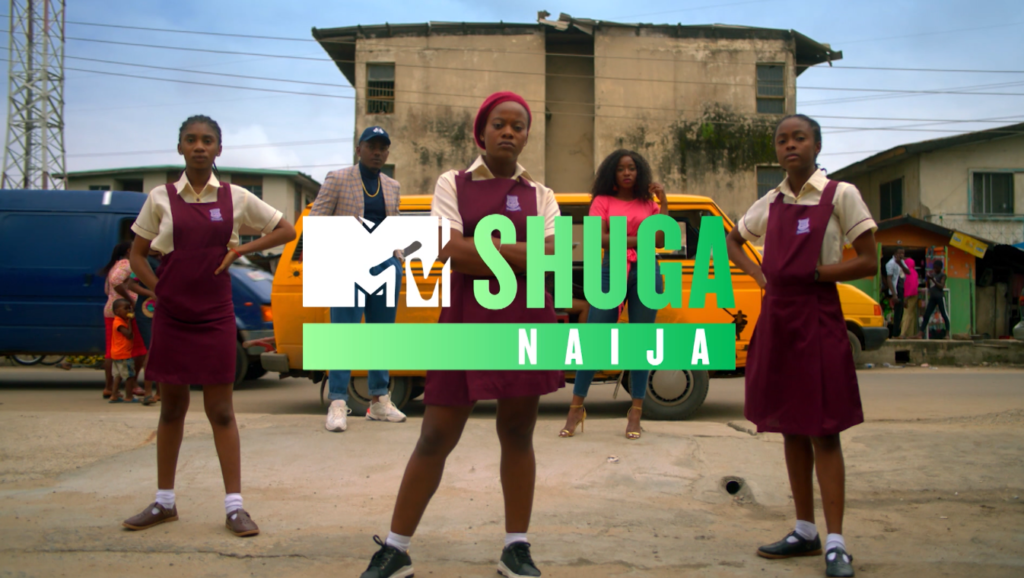 Shuga Naija raised crucial topics that no one was talking about at that time and sadly are still not being talked about enough now. Topics like sex education, child marriage, rape, legal handlings of rape cases, youths' struggle for survival and a lot more. Yes, season 8 ended triumphantly but definitely on a sad note for some whose lives would change drastically by the verdict from the various situations posed before them. We really want to see more of this series that tells the story of love while also keeping viewers educated episode after episode about crucial topics that need to be discussed and not hidden away.
---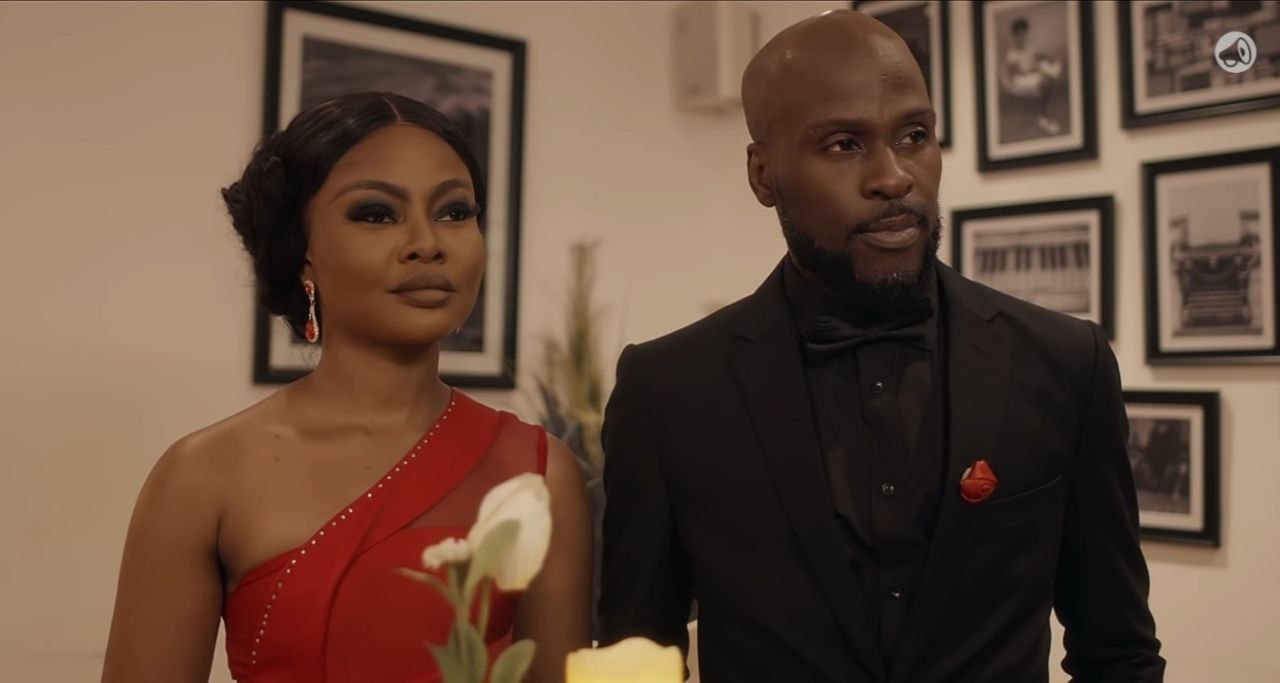 Our 5 Favourite Nollywood Web Series Couples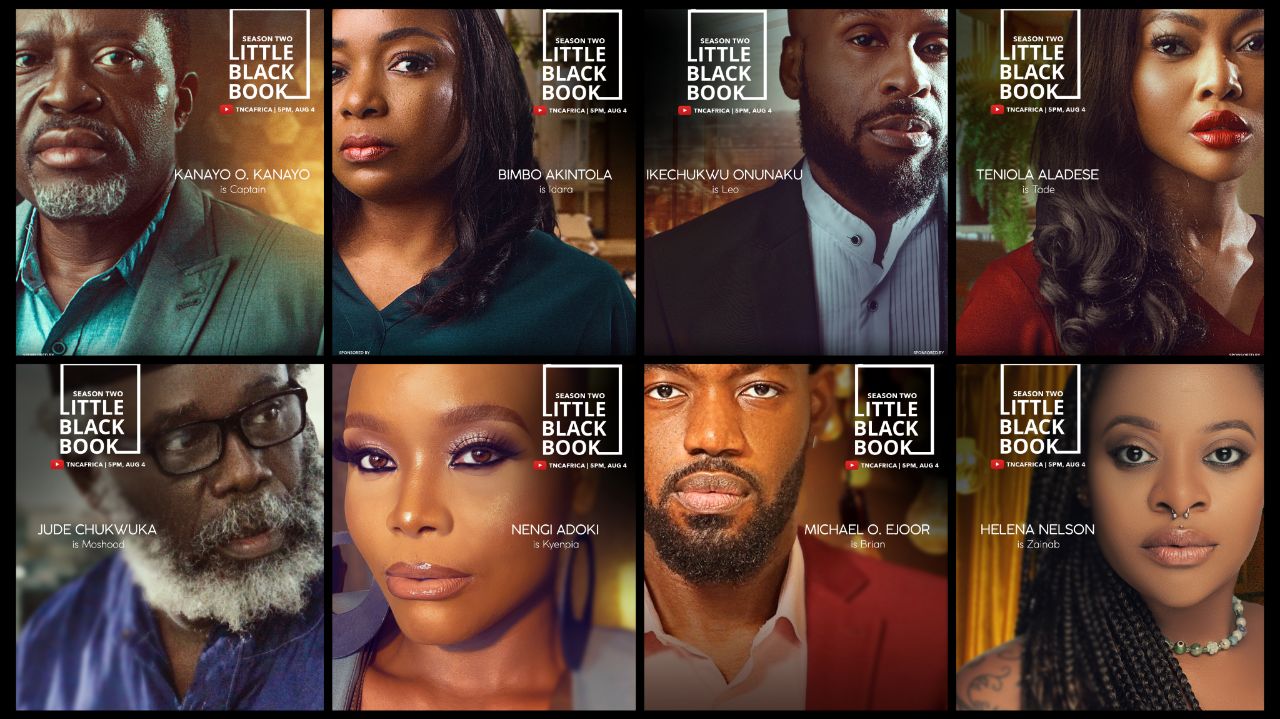 TNC Africa Announces 'Little Black Book' Season 2 Premiere Date, With Character Posters Release
---
Phases
Ndani TV has given us quite a number of captivating and interesting series which we wished never ended and this is one of them. Written by Lani Aisida (Love Like This), Phases centers around the dynamics of friendship and relationship through the eye of Sunkanmi (Tosin Ibitoye), a young man trying to secure funding for his start-up while also trying to find love. Season 1 introduced us to the pact between Sunkanmi, Tunde (Tomike Adeoye) and Gbubemi (Asa'ah Samuel) who go through a journey of friendship and most of all their romantic relationships. Sunkanmi, a tech guy who still maintains being a virgin struggles with finding love, his friends task themselves with finding him a girl so seriously till he finds himself in an entanglement in which he dates Naomi (Elma Mbadiwe) yet likes Ini (Bukola Oladipupo). Gbubemi on the other hand seems to be a pro at getting ladies at his beck and call, and Tunde who is getting prepared for her wedding catches the husband-to-be Jeje (Tobi Bakare) cheating.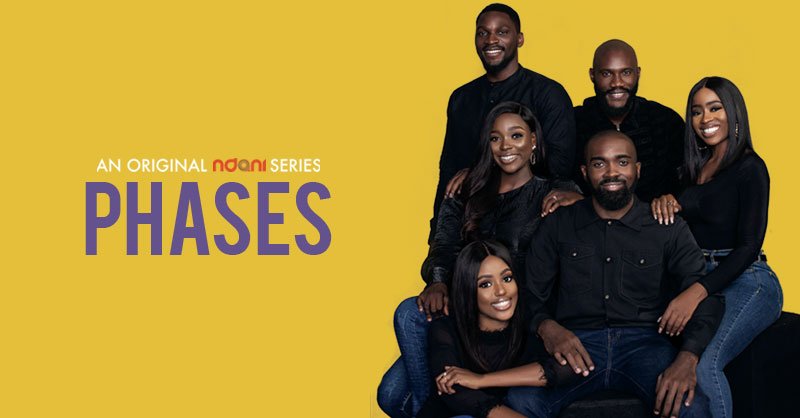 Season 2 concluded in August 2020 in a quite suspenseful and dramatic way, with Gbubemi finally ending the friends with benefit tangle with Ini, while Tunde and Jeje seemingly patched things up. Finally, Sunkanmi who is with Wande (Shalewa Ashafa) seemed ready to go to any length to make things work but the second season's finale ended with him kissing Ini, who finally confessed how she felt about him. It is getting close to 2 years with no hint of a third season on the way. There is so much drama we look forward to and we are definitely thirsty for this one.
Rumor Has It
 I would have my head chopped if Rumor Has It wasn't included on this list. Definitely another exciting one from Ndani TV. Just as the name implies, the 3-season YouTube series shows the dynamics of how rumors play out in the city of Lagos. The series begins with a controversial blogger Obi (Uru Eke) who gets the tables turned when her life becomes the center of the hot rumors spreading around. In season 2, Obi's assistant, Ranti (Jemima Osunde) takes over the blog from her and becomes even more vicious in her search and craving for hot rumors. A couple, Dolapo (Linda Ejiofor) and Franklin (Mawuli Gavor), become a big center of Ranti's blog and a psychopath is killed in the process, while Ranti is arrested by the police.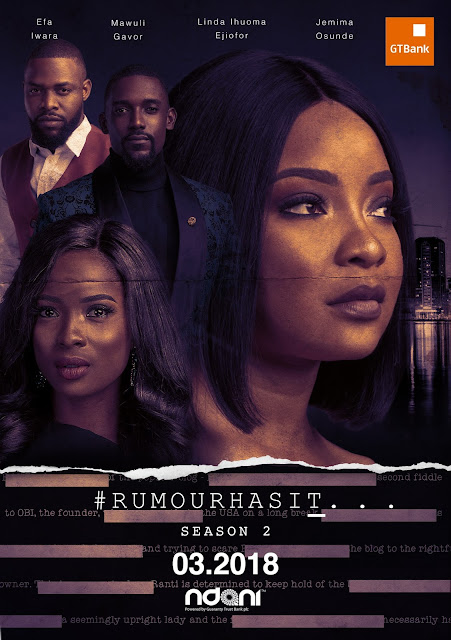 However, season 3 came with less juice as it centered around the now released Ranti who seemingly wants to do a good thing to make things right. This time the hot rumor is about Toju (Ozzy Agu), a successful and well-known businessman who has had to go through the death of two wives, which the world and Deda (Olumide Oworu), his second wife's younger brother, consider suspicious. Deda seeks to know the secret behind a room he has been forbidden entry to and spreads lies of what the content of that room could be as well as how Toju has had the death of his two wives. Toju finds love again with a daring Nnena (Elma Mbadiwe) but things soon get wild when Nnena is found dead in Toju's boot. The search for the killer begins, an innocent man is almost sentenced and the real murderer is soon revealed to be someone close to the affairs. Ranti on the other hand wants to sell the blog as she is tired of the constant deaths. But we are definitely thirsty for more rumors.
Share your thoughts in the comments section or on our social media accounts.
Keep track of upcoming films and TV shows with Google calendar.