In the heart-wrenching psychodrama 4:4:44, which is inspired by a true event, we witness an extraordinary love story between a couple: a wife grappling with mental illness, and her devoted husband facing public scrutiny for diverting community health trust funds to cater for his wife's medication and well-being.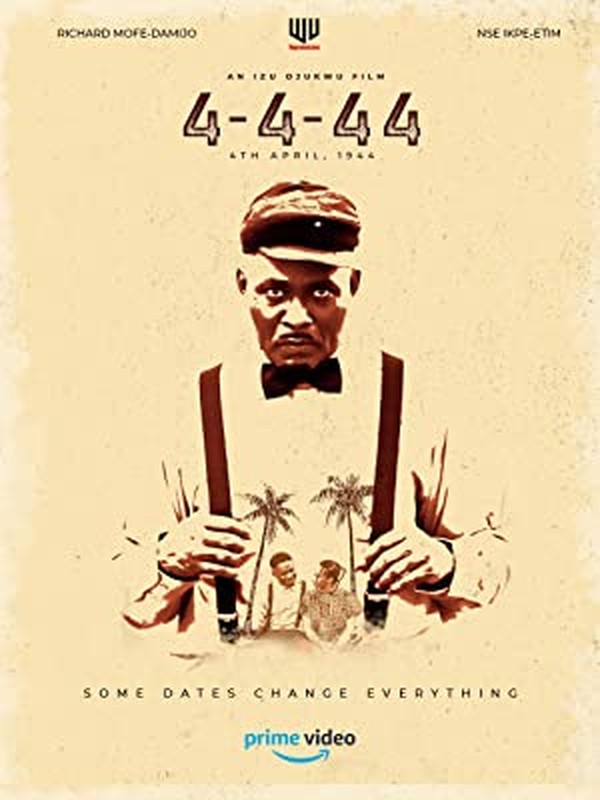 Directed by Izu Ojukwu (Amina), the love story in 4:4:44 is with a gleam of dark, malevolent eyes, and loyalty. Set in the early 1940s to the 60s, we revisit the turbulent marriage of Hillary Nweke and Theresa Izuoba Nweke, who are played by Seun Akindele and Richard Mofe-Damijo, and Efe Irele and Nse Ikpe-Etim at various stages of their glorious love lives.
After a couple of months at sea, Hillary, a seafarer, returns home to visit his parents. Hillary isn't willing to marry and is more focused on his job. All that changes when he sees Theresa, a love at first sight. He declares his love to her and she reciprocates his passion for her. As their love blossoms, they spend a lot of time together, exploring new adventures, and making promises to love each other forever. A few days later, Hillary returns to his job on the ship but promises Theresa that he won't stay longer than expected. When he returns, he has resigned from his job to build a life with her and dedicates his money and effort to better their community.
Envy and wickedness serve as the dark, undercurrent plot that drives the conflict that ultimately leads to the tragic event on Hillary and Theresa's wedding day on the 4th of April 1944. Ndidi (Blessing Onwukwe), Hillary's callous aunt, poisons Theresa's water with lead to punish Hillary's father for his refusal to provide her with money to start a business. This element adds a layer of depth to the narrative, highlighting the harsh realities of human nature and the destructive potential of jealousy.
The screenplay, written by Ufuoma Metitiri, balances character development with the exploration of turbulent marriage and struggles. The pacing allows for a gradual unfolding of the story, giving us time to connect with the characters on a profound level. The central theme of unconditional love and hatred for Hillary's father is beautifully interwoven. Hillary and Theresa's love is powerful and heartfelt, showcasing their unwavering support for each other despite the adversities they face. Although, at times, the dialogue seems a bit forced, its occasional good humour and poetic mood add depth to the interactions between the characters.
The chemistry between the protagonists, especially the portrayal of the older versions, is palpable, adding a layer of authenticity to their characters. Nse Ikpe-Etim's schizophrenic performance as the older Theresa is nothing short of extraordinary. She truly captures the complexities of her character's mental illness and emotional travail, all through motherhood and marriage. Starring opposite her is Richard Mofe-Damijo (The Black Book), who offers a decent portrayal of Hillary but his occasional languid interpretation of some key scenes slightly marred what could have been a great performance. 
Seun Akindele as the younger Hillary and Efe Irele as the younger Theresa aren't convincing as a couple. Though both actors enact their roles with no theatrics, their vapid performances are the result of their lack of chemistry. Idorenyin Essien's Veronica, Hillary and Theresa's eldest child, is introspective and admirable. Her observations offer insight into the characters' inner worlds, bridging the emotional and thematic gaps between scenes. Essien's remarkable outing shows that she is a promising actor in the making.
---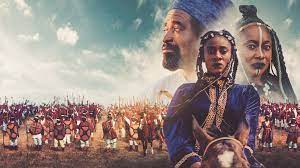 'Amina' (2021) Review: Izu Ojukwu's Flailing Historical Epic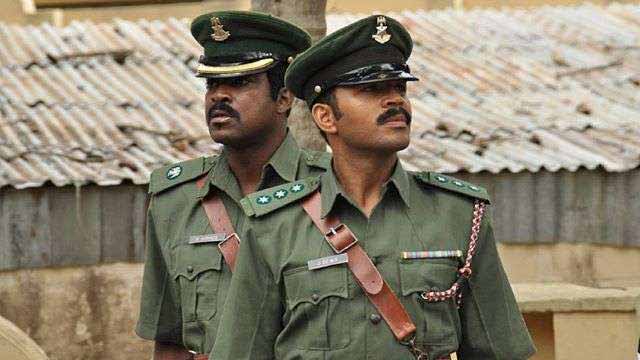 Movie Review: '76', Starring Ramsey Nouah and Rita Dominic
---
Izu Ojukwu's films stand out because of the intricate storytelling and rich historical context. Like many of Ojukwu's films, the historical context of this film is well-established; he nicely creates an impressive image of the period through the location, costumes, and production design. However, his narrative and directorial approach ruin what could have been a great film. The use of structural flashbacks in a movie is tricky. If properly done, it could serve as a brilliant stylistic approach. If badly done, it could mar the clarity of the film. Izu Ojukwu's blend of structural flashbacks in the first and second acts ends up flawed and confusing— making it hard to keep up with the narrative timelines.
Also, the lead poisoning incident, which happened on 4th April 1944, is a pivotal moment in the film, a sordid turn of events that symbolizes the malicious intent that drives the story, a powerful metaphor for the poisoning of Hillary and Theresa's once-idyllic lives. Since the titular date is a crucial anchor that holds the story, the event should have been carefully staged and made memorable. But the manner in which it is rushed distorts the purpose of the story.
In a muted and poorly executed scene, we see how Ndidi gives Theresa a glass of water to drink. In the subsequent scenes, with an overtly expository voice-over narrative, Veronica tells us that Theresa is poisoned by lead and also explains the noxious effects of lead poisoning. In another head-scratcher, Izu Ojukwu's decision to display the incident in Theresa's head during one of her manic episodes shows his unbelief in the audience to grasp Theresa's plight, so he decides to bring the haphazard images on screen for us to see. And Peter Kreil's (credited as Pit Kreil) camera work lacks strong features or characteristics and offers no distinct angle to the story.
The traditional approach in Nollywood to portraying mental illness can be harmful, as it can contribute to the stigmatization of those affected. Within the context of Nigerian society, this film holds a mirror to the often neglected issue of mental health by adeptly navigating the complexities of mental health struggles and portraying them with a sensitivity that avoids sensationalism. Through subtle nuances in the victim's behaviour, we witness the weight of a mental health illness, humanizing the victim's experience and emphasizing the importance of empathy. It confronts prevailing taboos and misconceptions, encouraging much-needed empathy and dialogue. By placing Theresa's journey at the forefront, the film addresses the broader need for mental health awareness and advocacy in Nigerian communities.
4:4:44 is an affecting exploration of mental health, anchored by decent performances and a nuanced portrayal of unwavering loyalty. It serves as a cultural touchstone, urging Nigerian society to confront the realities of mental illness with compassion and understanding. Though Izu Ojukwu isn't at his best on this, the film is not only an addition to his works but also a significant contribution to the broader discourse on mental health in Nigeria.
4:4:44 is available on Prime Video.
Join the conversation in the comments section or on Twitter.
Sign Up: Keep track of upcoming films and TV shows on your Google calendar.
Side Musings
Nkemjika's (Chiwetalu Agu) navigation to hold Hillary accountable for the misappropriation of the community health centre funds provides needed pressure to the plot. But his stalking and attempted humour to lighten the film's sullen mood seems awry.
Michael Pankyes John is brilliant as the younger Vincent and Hillary's cousin. He should be given more chances to act.
What exactly is the purpose of the introduction of Broda Shaggi and Teni (The Entertainer) in the closing scenes? Is it to provide a jubilatory mood for the somehow pitiful film?