Might Abiye be slowly eating a highly anticipated worse meal?
 As the title already implies, the double date is the only event that takes place across this bottle episode, featuring the lover pair, Kamal and Abiye alongside the forced lovers, Teni and Chidi. It vexed me that an entire episode focused on these duo pairs providing nothing new that wasn't expected already. 9 episodes in and major questions surrounding Teni, which we could have gotten closer to in this episode, are still left unanswered: what is the mystery behind Teni's love life? Who does she secretly have feelings for? Is there a history of heartbreak that is still yet to be addressed? How many episodes do we even have left? Why is love like this? (pun intended)
---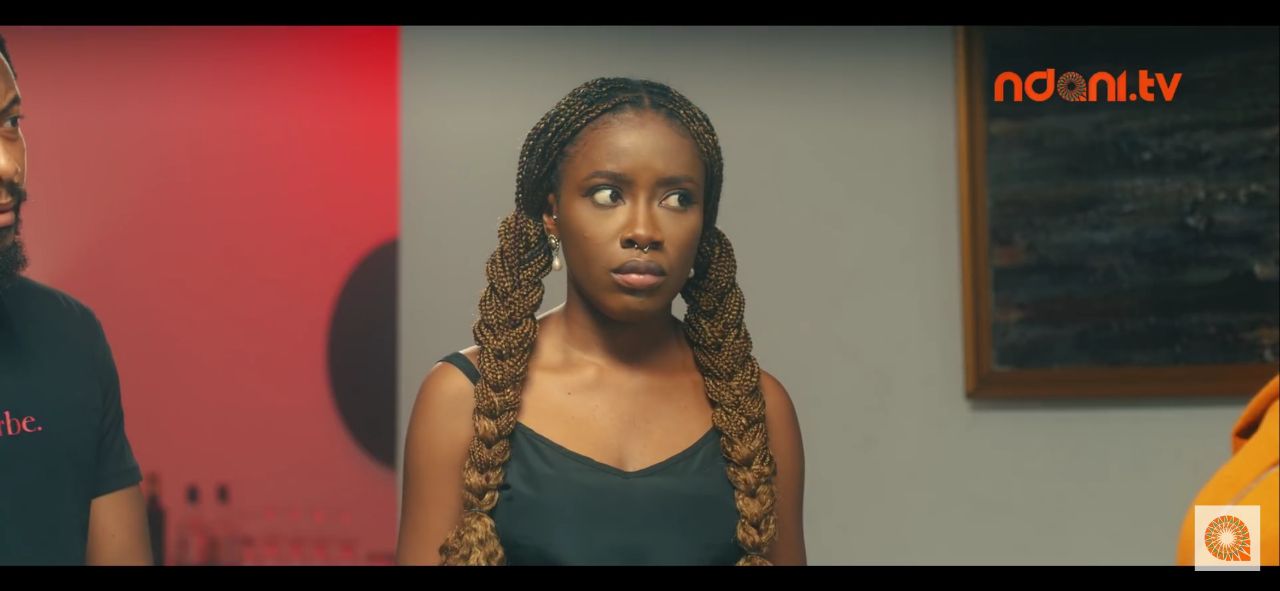 Ndani TV's 'Love Like This' Recap: Season 1, Episode 8, "Do The Right Thing"
---
Love Like This episode 9 begins with the men's arrival as they pick up the ladies for the date. Kamal is welcomed by Abiye before presenting flowers while she hints at a surprise she has planned for later that night. On Chidi's arrival, Teni teases him about not getting her flowers but it seems that her appearance leaves him mesmerized. They all proceed to the restaurant as the pairs drive separately. Teni insists on Chidi not acting like they are a couple and Chidi still finds Teni difficult to understand.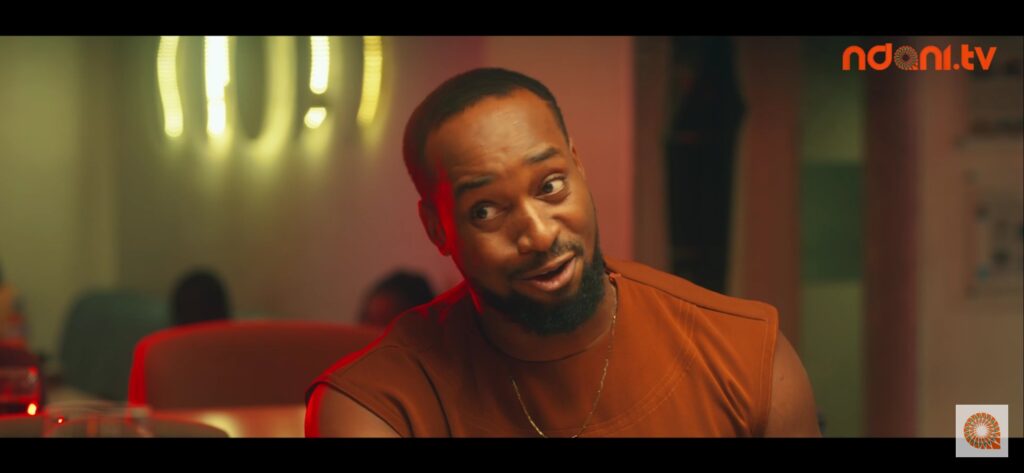 It's all laughs, wide smiles and questions being thrown around until Chidi mentions the viral scandal of a lady dumping her fiance at the altar. Chidi goes on and on without reading the expression on everyone's face and things soon get awkward with Abiye walking off their reserved table and Kamal following after her. Still seated at the table, Teni soon reveals to Chidi that Abiye is the lady in the viral video, which stuns him because he was unaware about that. Well, would we say Chidi's mouth slip is because Teni has been super tight-lipped on her life and people around her or just a consequence of Chidi's habit of talking too much. Honestly, this side of Chidi that raps a lot is one I didn't take close note of and I am starting to replay other scenes in my head and have come to the conclusion that he certainly has a careless way with words and timing.
Kamal comforts Abiye who struggles with forgetting what she did. But Kamal reassures her that she did what was best and he would always be by her side as they soon return back into the restaurant. The next thing that happens set me off.  Abiye calls unto Teni who seems lost in her thoughts as the others discuss. Teni stands up a few seconds later teasing Chidi as she walks away and this action is expected to be a signal for a meet up in the restroom, which we soon find out after she beeps his phone. Teni appears very intense as she drags Chidi in and tries to get down to action. But Chidi wants more, something meaningful and this desire sends the moment down the drain and into the ruins, according to Teni. Chidi professes his affections to Teni who seems not to understand or have the right response to all that he said. 
---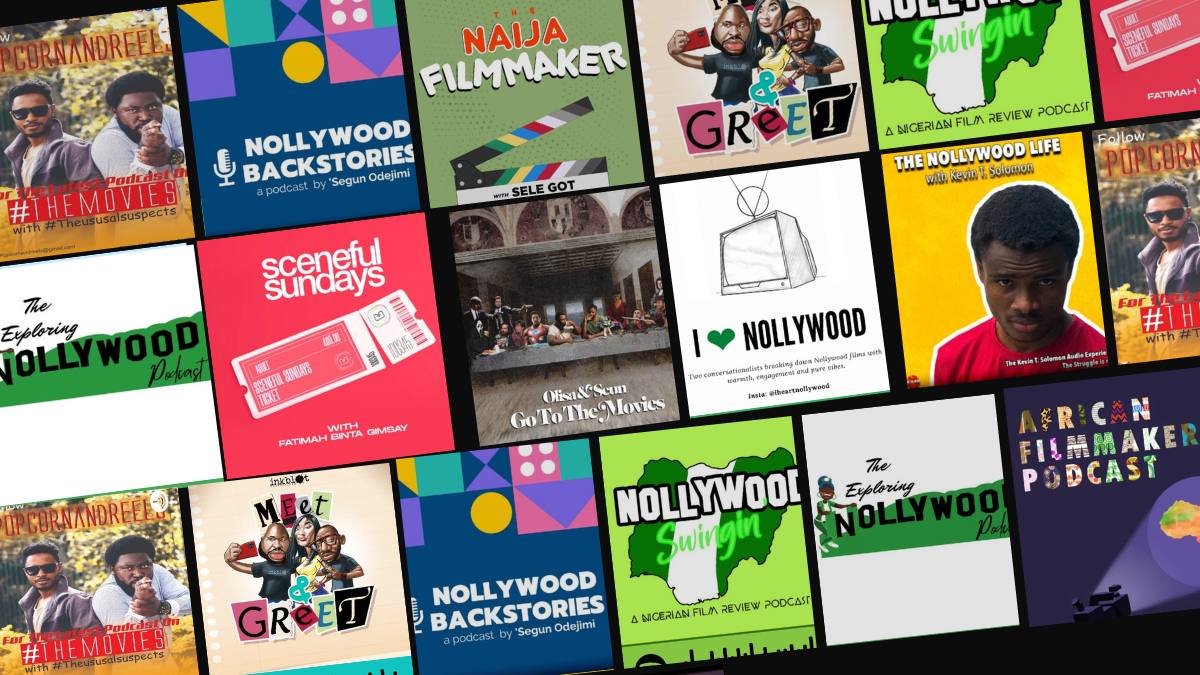 11 Nollywood Podcasts to Add to Your Library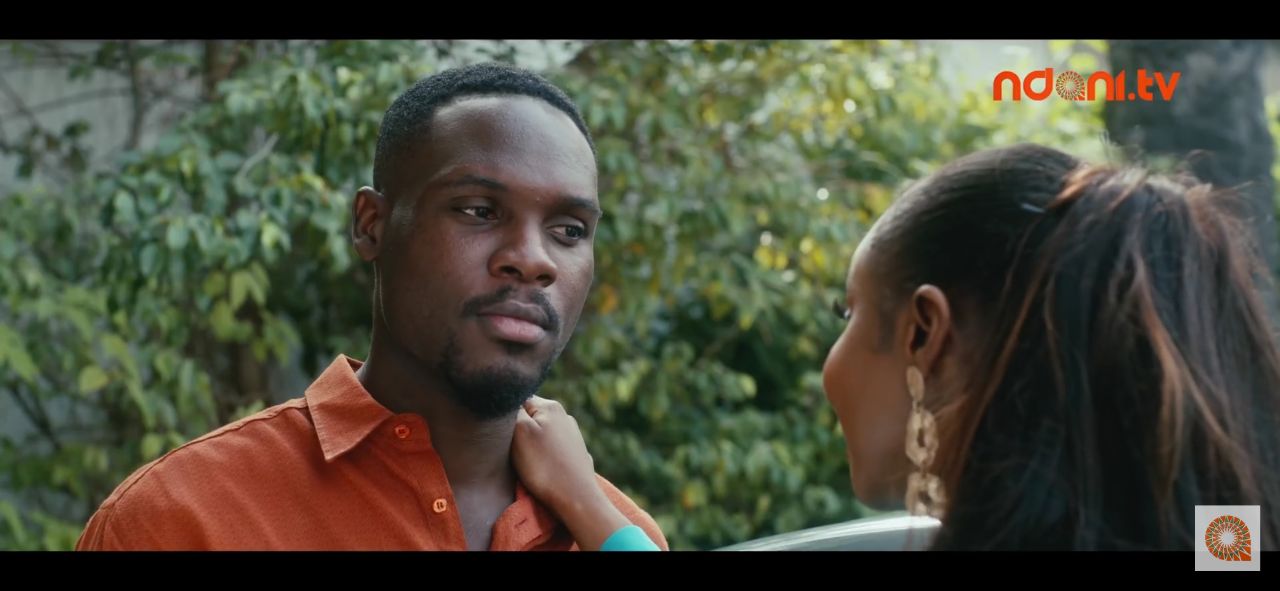 Ndani TV's 'Love Like This' Recap: Season 1, Episode 7, "Insecure"
---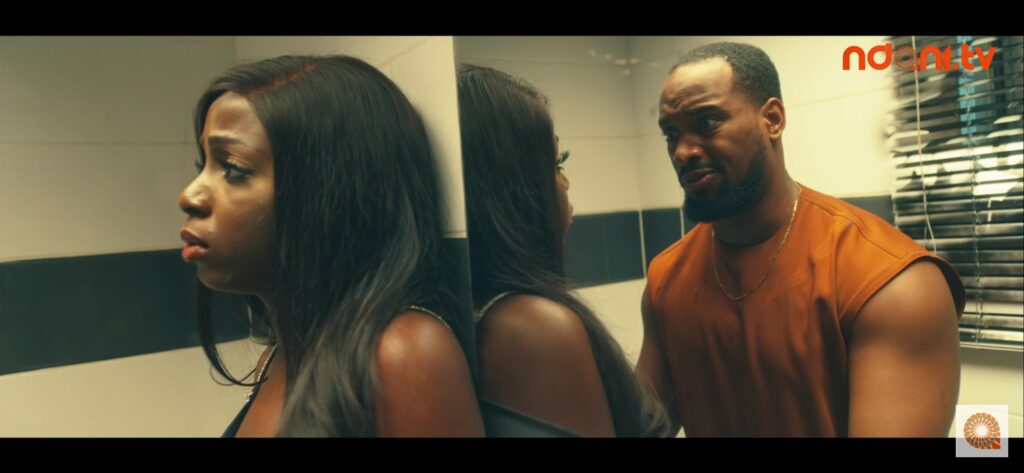 What is really going on here? Do people just zone out and zone into sexual desires in seconds and who exactly does she like cause it certainly doesn't look like it is Chidi. Being the ninth episode, one would expect that we would gradually be getting closer to a reveal which could be argued that it shouldn't have dragged this long. 
They return back to their seats in turns and it appears that the meal isn't still ready. Another explosive change of reaction is also about to happen as the food arrives after the long wait and Kamal's order is mixed up. Kamal explodes in a matter of seconds and everyone including Abiye is shocked by his reaction. He harshly refuses the offer for rectification and goes to the restroom while the others go on to eat. Abiye and Kamal return home with long faces based on how the night went, but trust Kamal to give us a bomb as he declares being hungry, wanting Abiye to cook noodles for him even after she had offered to exchange her meal with his at the restaurant. Kamaaaaaaaaaaaaaaaaaaaaal!
I thought we would end there but Abiye does prepare the noodles. We get a glimpse of an array of intimate toys that are revealed by a disappointed Abiye whose earlier hinted plans have gone to ruins. Now I don't get it, they claim to have been together for quite some time before the initial split and even though we can't know someone entirely, this new side of  Kamal is definitely leaving Abiye in shock and I question this. Surely, they have gone on several dates, surely she has seen him interact with people, so why is there this big shock and why is this side just being introduced with no previous subtle hints at all which is a wide drift from quiet to explosive. Make it make sense in the possibly fewer episodes we have left.
Love Like This episode 9 was directed by Adeola Osunkojo and written by Lani Aisida.
Rating: C
Share your thoughts in the comments section or on our social media accounts
Keep track of upcoming films and TV shows with Google calendar
Side Musings
I definitely want to see what is to come about Kamal's explosive side and Abiye's reaction to it.
So much confusion with this Teni character.
Nice one from Chidi, certainly knows how to set an atmosphere on flames with no caution.
Maybe Kamal did have a right to be angry, I noticed a few things that were off to me; like Chidi having to drag the cutlery set placed at Kamal's end and the fact that there was no prompt managerial response for a scene that attracts the attention of other customers.
A new episode drops every Friday on Ndani TV's Youtube Channel. We publish a recap every week before the next episode.