Adeniyi Joseph Omobulejo, popularly known as TAJ, is a Nigerian filmmaker. His short film Kill The Impostor screened on the closing day of The Annual Film Mischief 2023.
In Kill The Impostor, a critically acclaimed writer finds herself in troubled waters, struggling to get her groove back as she deals with self doubt.
Speaking with What Kept Me Up shortly before the screening, TAJ opens up on the conception of the story, the challenges faced during production, making films with his friends and growing with them, and recent inspirations for him as a filmmaker who "mostly consumes films critically".
---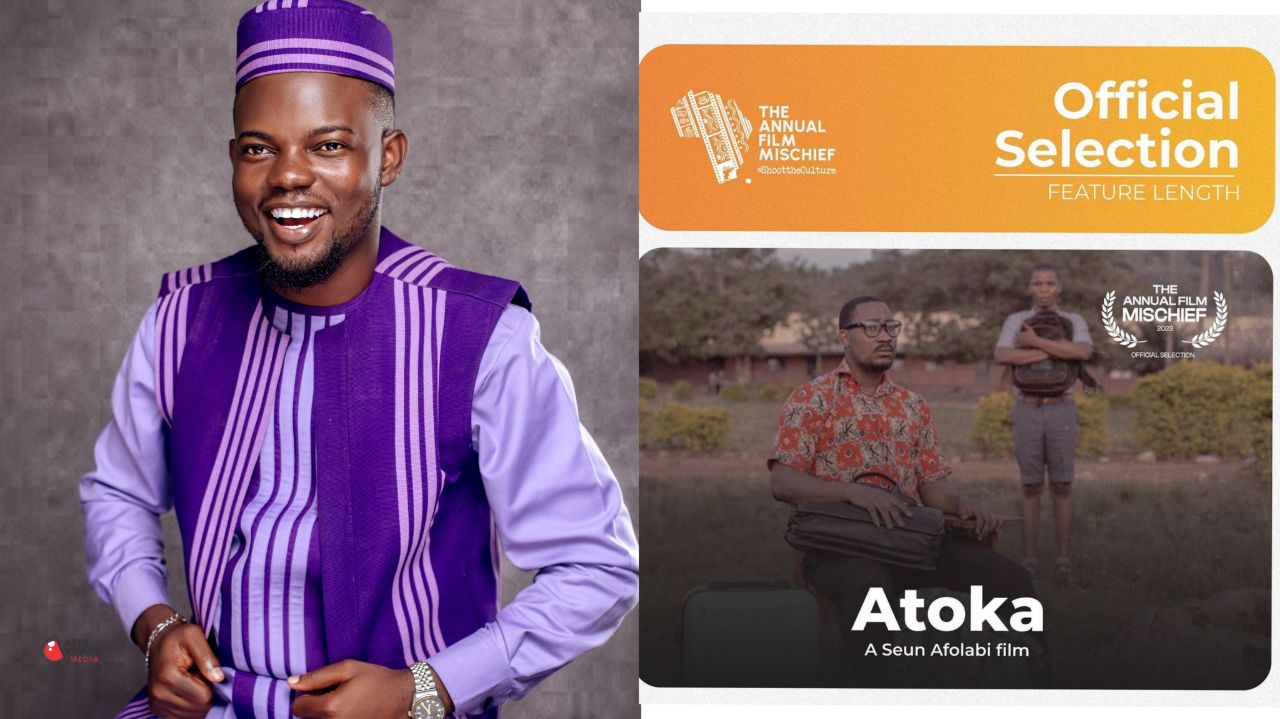 Film Mischief 2023: Director Seun Afolabi Discusses the Personal Experience Behind 'Atoka', The Collaborative Writing and Casting in the Coming of Age Film
---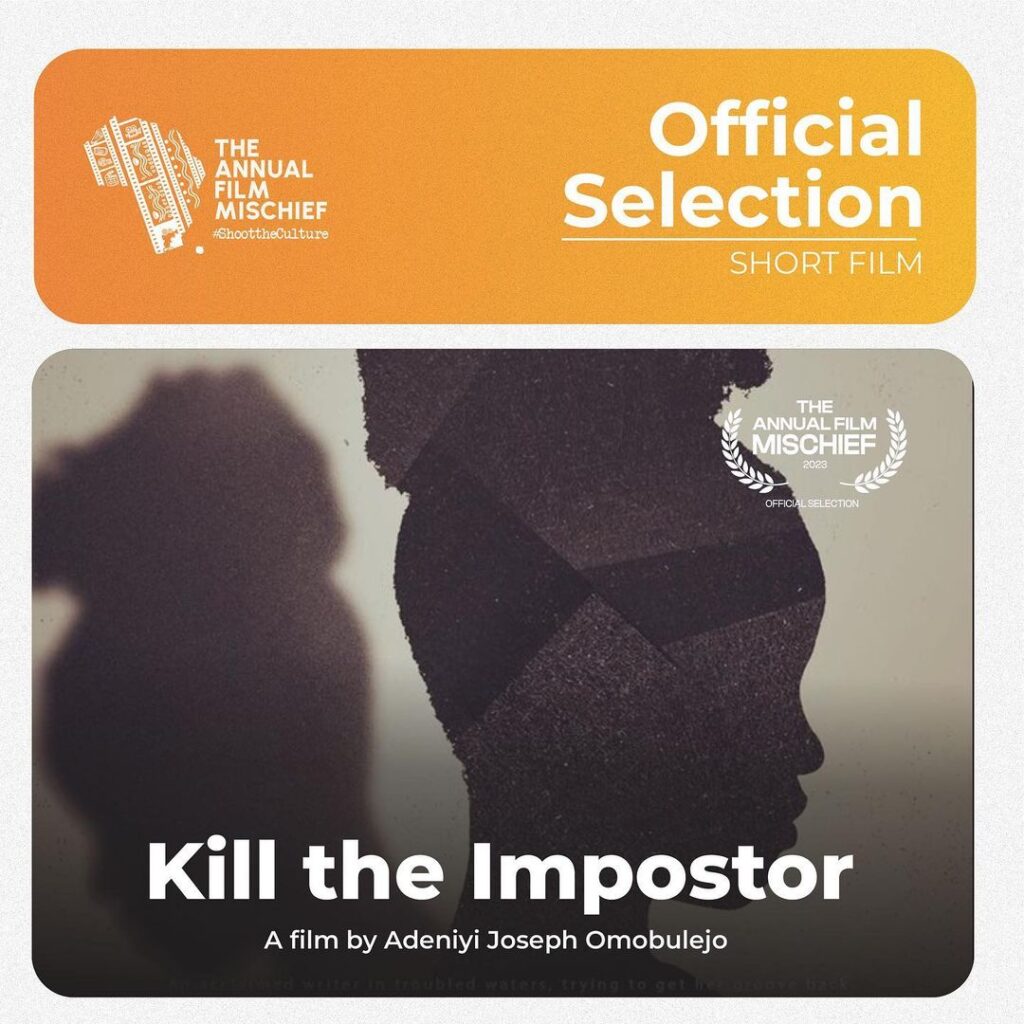 1. What inspired Kill The Impostor?
My wife shared a lovely story she found online with me. It was written by Emmanuel Chinedum. I remember reading it and thinking it would be great to make it into a film and I just didn't let the thoughts go.
The original story had nothing to do with the impostor syndrome or a writer per se, but I like my stories to be important to humanity and it was in that mindset that I was pondering how to make it stronger and I landed on the theme of the impostor syndrome. I wanted the audience to feel how I felt reading the story for the first time and then I surprised them at the end.
2. Were there any impostors you had to kill personally while making Kill The Impostor?
At different times, I have had to deal with the impostor syndrome. Even though I knew I had done quite a bit of good work, I still felt inadequate at intervals and I was looking for projects I could do to justify to myself that I was not a fluke. Even when we were done with KTI, I was not actually sure the story was good enough when I was done editing. I had to share it with my close circle and they helped me see it with a fresh perspective. So I killed the impostor that told me I was not good enough and the impostor that was going to prevent us from even making the film.
3. Asides from impostors, were there challenges you faced while filming or during production?
Well, they were the regular challenges that come with filming in Nigeria, especially Lagos. On the top of that list was securing the space that worked perfectly for the story, we had even paid, only for the agent to call us a day before our scheduled shoot that some people were staying in the apartment for days and we would have to reschedule. 
That was a potential setback, but I told Josh [Olaoluwa], the producer, that we had to use that space because nowhere else in this Lagos was more suitable and we waited till the space became available.
4. You are also a director on Africa Magic show Irora Iya. Is this your first time on such a scale of project? And how has it been handling the scale?
Irora Iya was not my first time. I've previously been involved in a 120-episode show, Elenini, under our production company Nostalgia Media. We applied the lessons we learned from that to make Irora Iya and it's our most intentional work yet on the Africa Magic channel.
About managing the scale, it's really just about having the right mindset and then the right people. No matter how enormous a project is, just start with the right people and your biggest work is done. Trust me, a lot of amazing people worked on that show.
5. How important is it to collaborate with one's peers. This has been a recurring topic within the industry as most people hope to scale up while forgetting to work with their own peers. I would like to hear your thoughts as someone who works frequently with people you call your friends.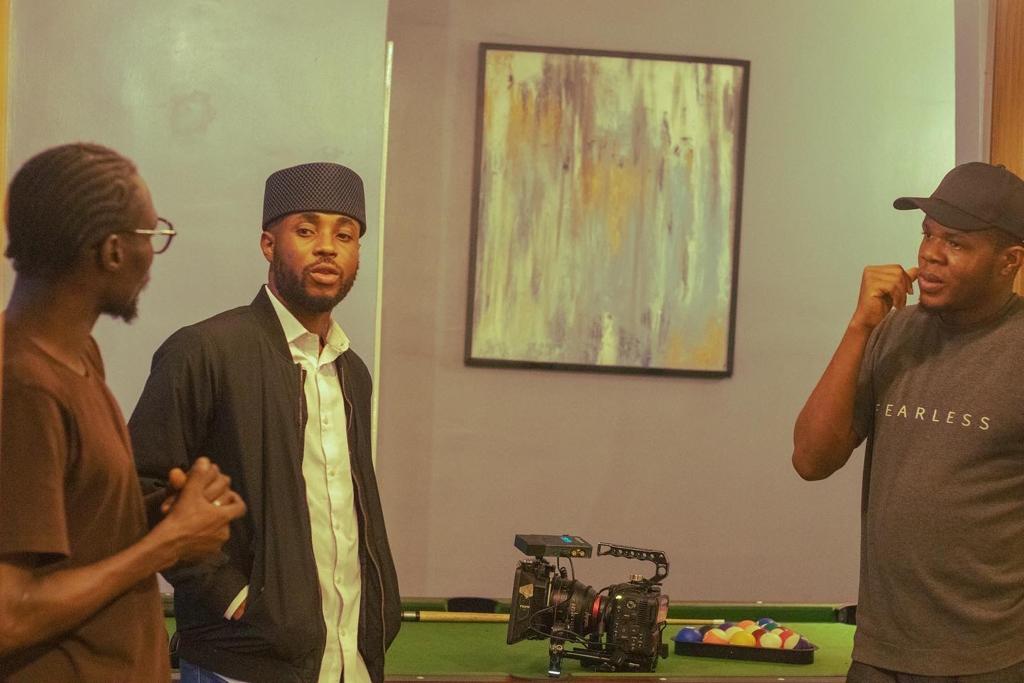 I have made it a mantra to make films with the people I love and that's the reason I have worked with the same set of people all across my projects while adding new people as we go.
Most of my guys were greenhorns when we started and we were learning together on the journey. I was just lucky to have started a little earlier and could put them through certain things and I have stayed with the same people since then, watching us grow and increasing our capacity as a collective.
I am a big believer in collaborative work and it's very evident in the works I have done and the people I have done them with as there is so much space for all of us to shine.
Let me use this medium to shine light on my collaborators: Josh Olaoluwa, Allen Onyige, Nwani Orire, Damilola Aleje, Vincho Nchogu, Precious Iroagalachi, Mathias Aragbada, Faith Omughele, and Morenike Omobulejo. You will always find this mix of creatives on all my projects at whatever budget level.
6. Do you think there is a clearer path for filmmakers to follow today on the way to becoming a filmmaker who might finally land a big project or is it still as shrouded as years ago?
A lot of things that were inconceivable are actually easier to do now with the existence of the internet. Also, getting into film is less strenuous as the responsibility is now on you; whether you want to do it or not and not necessarily on an institution that has to certify you before you can be a filmmaker.
Nollywood doesn't have a gate you have to enter before you can make films, the onus is on you to make good films and explore the existing ways to get the film out and get people talking about it.
Unlike the days of Igodo, Isakaba, Egg of Life, Yemi my Lover, etc, when they had it harder. You couldn't just be a filmmaker then, now it only takes you to decide to be and you will be. But I urge you to be a filmmaker with substance and not one with hype. Sooner than later, your big break will come.
7. Are you a member of the Film Rats Club? If yes, how much has the club helped you as a creative within the industry?
Oh, I am not yet. I would not mind being one because I love what they are doing. Whatever involves film education, conversations, and masterclasses, you have me at 'hey'.
8. What's the most recent non mainstream Nigerian film that inspired you, and in what way(s)?
Before I made Kill the Impostor, I had watched Rehearsal, a short film by Michael Omonua, shot by KC Obiajulu. Mind you, I am a director, cinematographer and editor, so I mostly consume films critically; I loved the presentation of the film, and the intentionality in how it was made. From there on, I knew I was going to be so intentional with my films and that's what we did with KTI, Irora Iya and will continue to do.
9. What should we look out for in the near future from Adeniyi Joseph?
I just want to make stories work and be part of projects that actually have meaning and create impact. I intentionally look out for these projects and stay away from the ones that don't align with my values as a storyteller, because thematic stories make you look like you have sense, meanwhile, it's the story that's just so good. 
Just look out for TAJ making stories work and I encourage you to indeed #ExperienceTAJ.
---
Kill the Impostor screened on the closing day of the second edition of The Annual Film Mischief.
---
The Annual Film Mischief took place from April 27-30 in Lagos, Abuja, Accra and virtually. The film festival was free to attend.
Share your thoughts in the comments section or join the conversation on Twitter.
Sign up: Keep track of upcoming films and TV shows with Google Calendar.