Chima (Timini Egbuson) in a conversation with Jubril (Paul Utomi), out of desperation, describes Nigeria as a sea of sadness, and that is what director Utomi set out to do with Country Hard. This film is a montage of a day in the life of seven individuals, all of whom are the main characters. Films with multiple main characters/POV are not the order of the day but are not unusual in film business. Very few filmmakers have dabbled with this style of storytelling. Quentin Tarantino is one of such with Pulp Fiction (1994) and The Hateful Eight (2015). Another notable mention is Rat Race (2001) directed by Jerry Zucker. And now we have Country Hard (2021), with Paul Utomi credited as the writer, director, and actor in this film.
---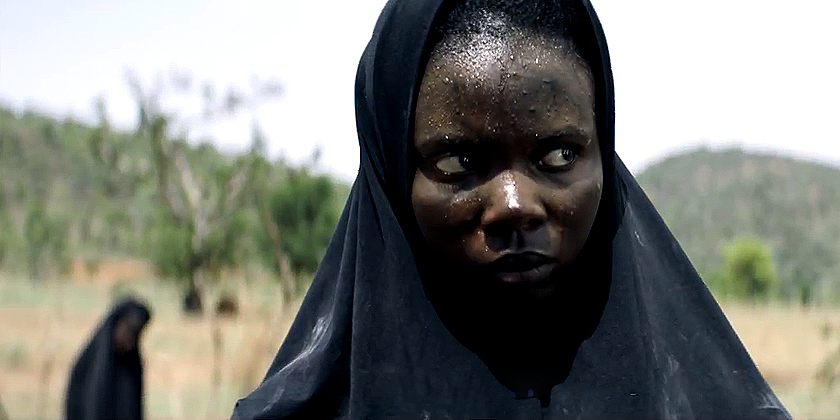 'The Milkmaid' Review: Nigeria's Second Oscar Run Jogs with a Limp
---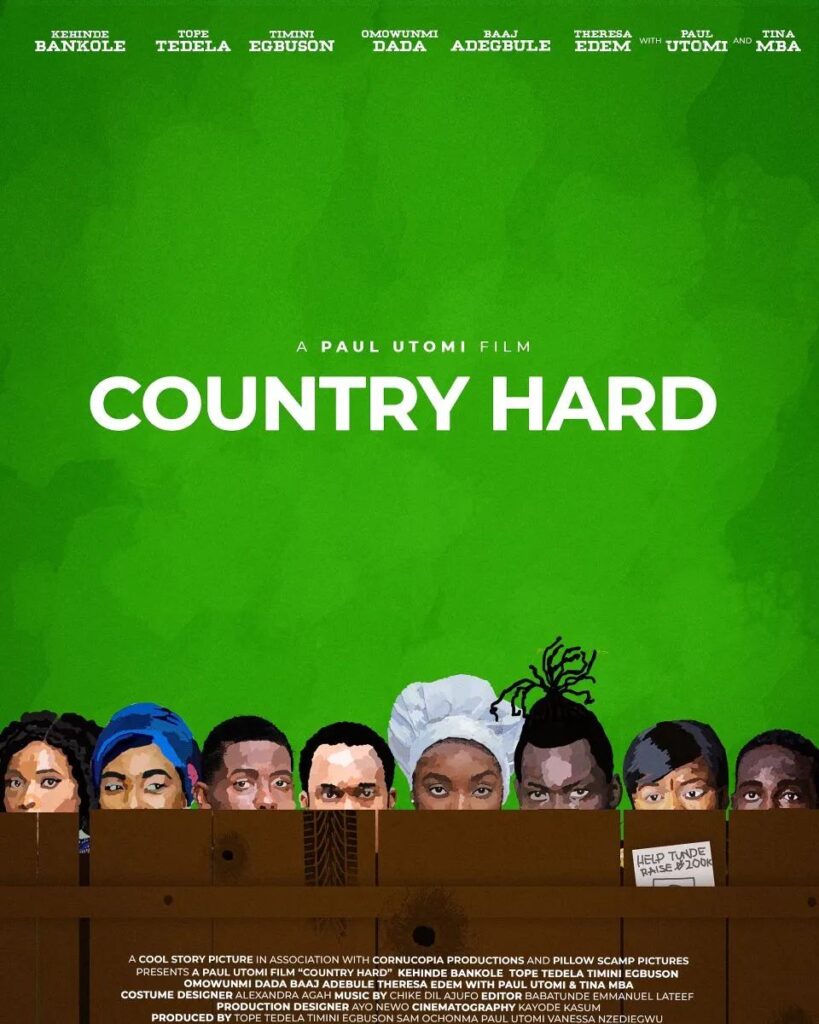 Movies with multiple main characters are closer to real life than those with just one or two main characters. In Nigeria where belief in predestination is central to our existence, fueled by cultural and religious backgrounds, it is easy for people to see the world as "made for them", everything revolving around themselves. "Why did this happen to me?" is a question that falls easily on the lips of many at any slight inconvenience that befalls them. In a country with this kind of social background, Country Hard offers an alternate and true way of seeing things. Another Nollywood film that has attempted to juggle multiple main characters is Kenneth Gyang's 2013 Confusion Na Wa.
Country Hard is a good film, and we start to see this from the opening shot. We are introduced to Dinma, a woman grieving the death of her only child, with a close up that gradually transitions to a wide master shot of the scene, an accident scene. It should also be noted that this was done in a single take, with cinematography handled by Kayode Kasum (Soole).
One of the themes of the film is the Nigerian dream to japa, a characteristic it shares with Oloture (2019) and Eyimofe (2020). All three films touch on different aspects of Nigerians planning to leave the country, and the length they are willing to go to achieve it. In Country Hard, Ochuko plans to japa, a means to escape unemployment in Nigeria. This portrayal is very basic and doesn't scratch the character's motivation, only intention. Those other movies touched both the intention and motivation, and they were not by the character merely saying it, we saw and felt it. 
We also have Tola and Laide, an equally jobless couple, who try to earn an honest living. Things take a turn after we learn Laide is soon to be a father despite his joblessness. He then tries to change his condition upon hearing the news. Laide, on his quest to get a job, breaks the law and makes a decision in the face of a dilemma as an underemployed expectant Nigerian youth. I wish we saw more of Dinma, and understand why things are hard for her other than her grief. Kehinde Bankole as Dinma is graceful, with Treasure Obasi playing Kainene, Dinma's sister.
---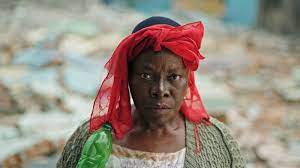 Movie Review: 'Juju Stories' is an Occultic Rhapsody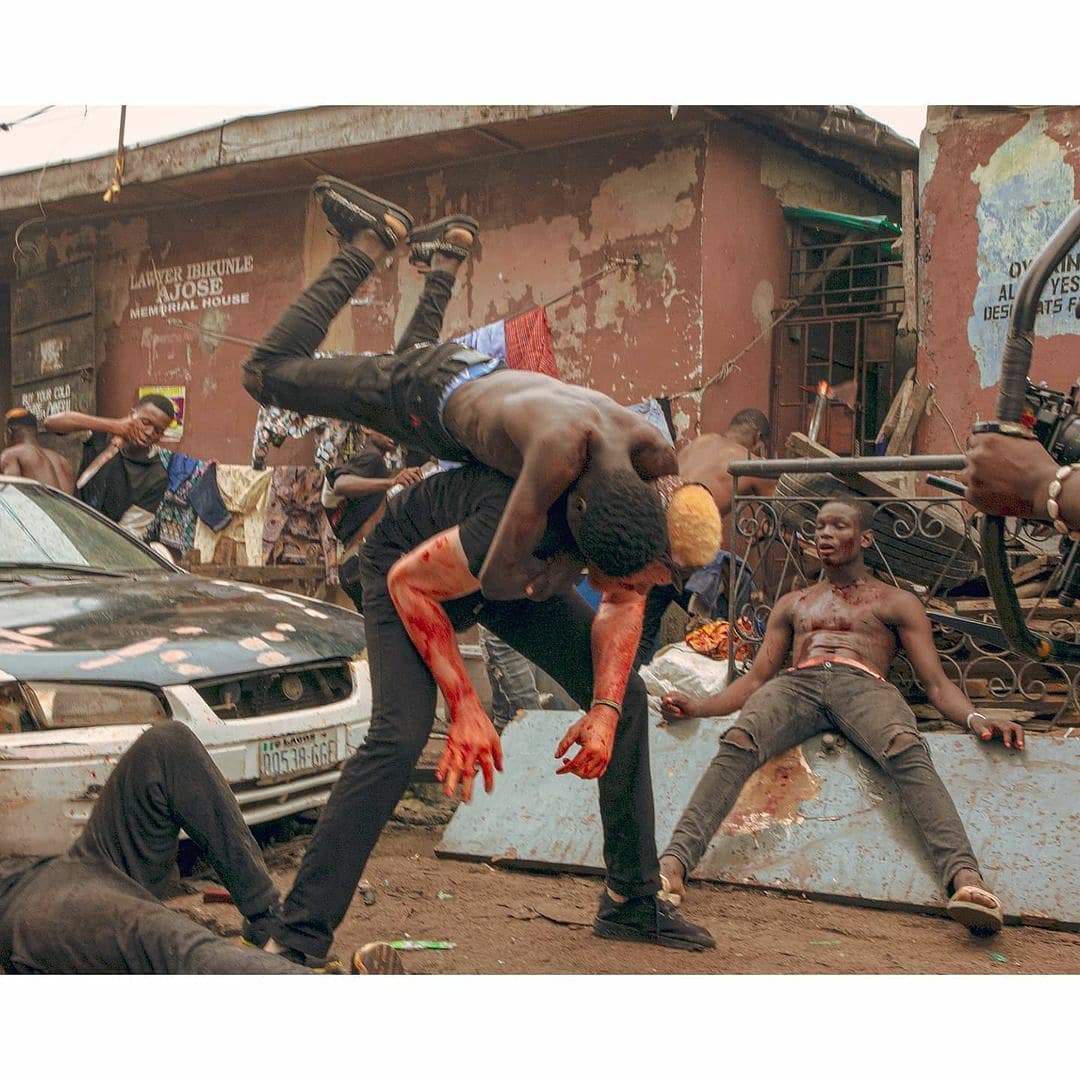 Everything We Know About 'Gangs of Lagos', Jade Osiberu's Gritty Crime Drama Set for Amazon Prime Video
---
Country Hard is a foray into the nature of decisions many make to survive the human condition called Nigeria. The cast of Country Hard mostly gives beautiful performances, but the acting falls off at some point. Overall, the best acting is delivered by Baaj Adebule and Omowunmi Dada (for which she won the 2021 AMVCA award for the best supporting actress) who play the couple, Laide and Tola. Laide fully embodies what it means for country to be hard because his character is suddenly plunged into new responsibilities and dilemmas. And we see him make certain decisions that leave the audience conflicted, like we see with the Kim family in Parasite (2019). The audience is made uncomfortable with Laide; their investment and moral conflict will lie more with Laide than Ochuko.
That only one character fully embodies the central theme of the film says a lot about the writing. While it is intelligent given the fact that it juggles multiple characters, it fails to fully deliver on its promise of the country being hard. The third act/fourth chapter ends up very anti-climatic and offers a soft landing to its characters.
Asides from acting and disjointed writing, another one of the issues with Country Hard would be its sound direction. The use of songs was beautiful until it wasn't. For instance, the drums that overshadow the fight scene between Ochuko and Dinma are brilliant. Other scenes are not so lucky with the sound choices. The emotional dexterity of some scenes and conversations is quickly washed away with some of the ambient music that we hear throughout the film. Another place music works beautifully would be during a life-changing reveal between Laide and Tola. Overall, silence could have been used more.
A scene where Country Hard beautifully uses silence to heighten the tension in the story would be the final altercation between Ochuko and Mama Ochuko (Tina Mba). The onus falls on the silence and acting of the cast to show the awkwardness of the relationship and the resolution. This scene rounds up with some music and continues with more silence later on. That proves to be beautiful. This isn't the case with most of the film as songs are used continuously. Silence could be used to heighten the subjectivity of moments; silence shows the weight of decisions that are made in a film. It could be used to show what our characters are feeling. The first 20 minutes of Stanley Kubrick's 2001: A Space Odyssey, was silent and it no doubt took the audience away from their seat into the story. Martin Scorsese's use of silence, sound, and music in Raging Bull (1980) is a testament to the mastery of all three. We see little control in Country Hard.
In multiple character films, the characters could be pitched towards one goal like in Avengers: Endgame (2018) or pitched against each other like in Rat Race (2001). The latter is the case with Country Hard as we see Nigeria pitch Nigerians against each other. At the end of the film's runtime, the story and the audience's POV are aligned and we all agree that country is hard but maybe not so hard.
Country Hard is forming hard guy on Amazon Prime Video.
Share your thoughts in the comments section or on our social media accounts.
Sign Up: Keep track of upcoming films and TV shows on your Google calendar.
Side Musings
The fight scene between Dinma and Ochuko is the proper definition of "Hell hath no fury than a woman scorned". As funny as seeing a suicidal person battle it out was funny, the fight choreography was also funny. Not the good funny,
Baaj, na only you country hard for oooo.
Ochuko, why you really wan japa? Help us see things from your angle please. Others should also show us why the Country Hard. Your stunt in the final scene doesn't even help your case, as much as you wanted to be redeemed, a good act won't, sway the audience to your side, making your mom's sacrifice worth it could. Sunk cost fallacy could have made the audience sympathetic to your case.