When one considers other brazenly supernatural Surreal16 titles like Shaitan (2017), Juju Stories doesn't sound so peculiar. Like the others, it is earnest about what it offers. Still, the title alone has an occultic allure, the feel that one is about to witness something for the initiated. And that assessment wouldn't be wrong because the directors, Abba T. Makama, C. J. 'Fiery' Obasi, and Mike Omonua are amongst the few bohemian filmmakers Nollywood has spotlit in recent years. Screened at the tenth annual Africa International Film Festival (AFRIFF), Juju Stories continues the line of mystical films the trio have in their filmography.
Mild spoilers ahead
---
Related:
AFRIFF 2021 Day Three: What is Nollywood Doing Wrong as the Industry Awaits an Oscar Nomination?
---
The film, like their 2017 short film, Visions, is an anthology. The first, Love Potion, directed by Omonua, follows a spinster who uses juju on her unyielding love interest. Yam, directed by Abba T. Makama, is a reflection of Lagos' underbelly, as the fate of a street thug who has picked up random money in the street intersects with that of a vulcanizer about to make an immoral decision. Obasi's Suffer the Witch follows an undergraduate who has attracted the romantic interest of a witch. At face value, these are familiar stories of immoral deterrence, but when diluted with a façade of the mundane, the everyday, something different is born, the essence is there but everything else is different.
These stories have always been around, the cast and narrator being the only difference. The essence of Omonua's Love Potion is present in Chimeka Garricks' short story, "I Put a Spell on You", the difference between the two is the narrator and resolution. The unifying question both stories—and this type of story anywhere—ask is what manner of unrequited love would make a person resort to juju. It is, in a sense, an admittance of helplessness. And maybe to be in love is an attempt to resolve that helplessness, maybe not; but in Omonua's story, and the other two stories, unlike Chimeka Garricks', there is a realistic balance to the juju. The realism assuages the rational audience's scepticisms, usually in the final parts of each story. A statement of sort; that even though these stories are culled from childhood frights, they have very adult consequences and amoralities (Karma is non-existent, the universe punishes and rewards randomly.) In Love Potion, Mercy (Belinda Agedah) loses her love interest because in spite of the potion, they do not connect; in Yam, Tohfik (Elvis Poko) runs mad because he hears Amos (Don Ekwuazi), whom Tohfik ate as a yam, pleading to be released in his head; and the last film sees a witch, Joy (Nengi Adoki), thrive with a dotted line of dead victims trailing her, forever in control of Chinwe (Bukola Oladipupo), her helpless love interest. Juju Stories are retellings of known stories but with an impressive maturity.
---
Related: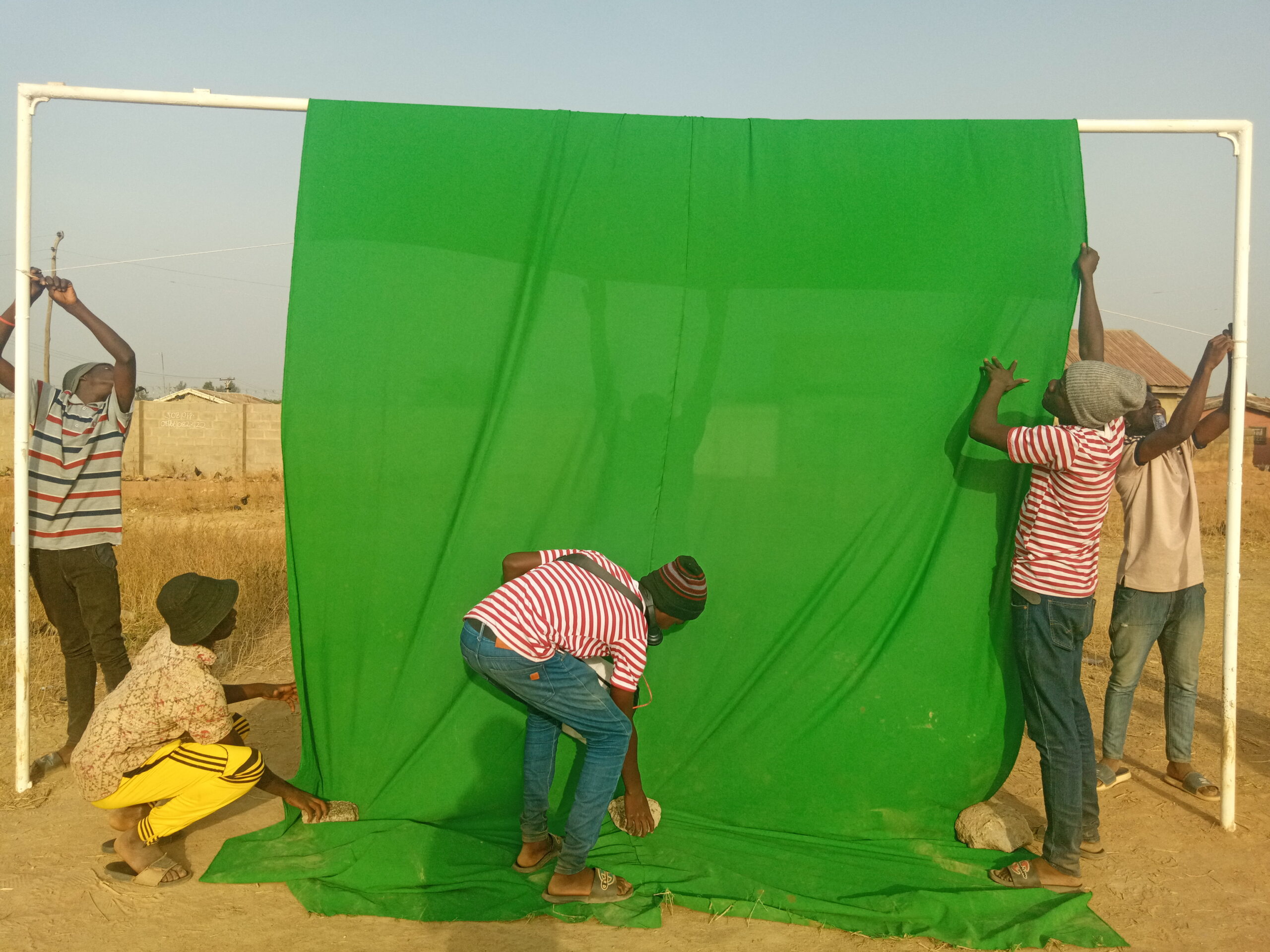 Meet The Critics Company, the VFX Team Behind Kemi Adetiba's 'King of Boys' and Surreal16's 'Juju Stories'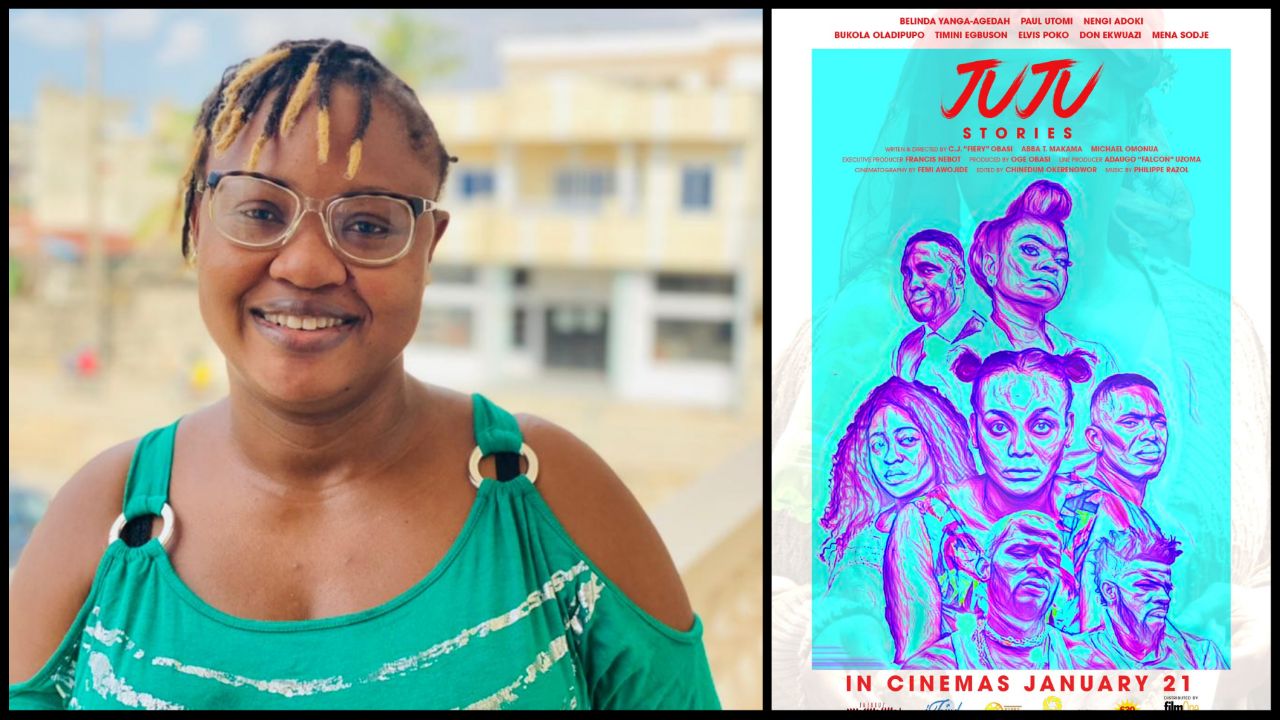 6 Questions with Producer Oge Obasi: Getting 'Juju Stories' to Cinemas, Streaming Alternatives in the Region and 2022 Release, 'Mami Wata'
---
Omonua's portion of the film has calm, mature transitioning and smooth, ordered shots reminiscent of his counterpart, Makama's The Lost Okoroshi. Omonua's thoroughly everyday characters caught in thoroughly everyday things, who smoke and handle what they smoke not to show class, but as a consequence of addiction to smoking— 'dis one (her smoking) I no fit leave' Mercy says to Paul Utomi's character, Leonard, when he asks of her addictions. And these actors who anchor the leads for the three shorts bring restraint to their depiction of character; aptly so because the characters, like us, are stunned by the impossibility of the situation they have found themselves in. What to say of Mercy, the aspiring novelist, who has made a love potion; or the university undergraduate who is convinced her roommate is a witch?
Somewhere in the opening scenes of the film, Mercy references Haruki Murakami, a Japanese mysticism novelist, and the tone of the whole film is set; a shot of Edvard Munch's famous 1893 painting, "The Scream", opens and closes Abba T. Makama's second story; and Jordan Peele's iconic sunken place couch shot in Get Out is replicated in the third, C.J. 'Fiery' Obasi's story.
This is all without mentioning the orderly influence of Wong Kar Wai (In the Mood for Love) in the shots and the chaotic influence of Darren Aronofsky (Requiem for a Dream) in some other shots. And there are the classical compositions from Johann Strauss II's "The Blue Danube " to our very own Wurld in the final story. It looks like name-dropping, but as a friend mentioned, these 'easter eggs', like the juju stories themselves, are left there by the filmmakers only for the initiated. When one encounters them, like the juju itself, for a moment they are unrecognizable, then childhood remembrance overtakes one and, when that remembrance mixes with the cultured, adult Nigerian mind one now has, one cannot help but ask, "no be juju be dat"?
Rating: 8/10
You can share your thoughts in the comments section or on our social media accounts.
---
Keep track of upcoming films and TV shows with Google calendar.
---
Side Musings
The overall acting is quite good.
The third act feels slow for some reason I cannot term.
There is an impressive control over the practical effects, e.g. when Amos turns into a yam and when Ikenna (Timini Egbuson) gets in an accident.
Ten/Ten for referencing Haruki Murakami, caught me completely off-guard.
Juju Stories is now streaming on Amazon Prime Video.