Anthonieta Kalunta's proficiency in enacting her role as the cool-headed but vigorous lead character Aisha, in Desmond Ovbiagele's critically-lauded movie, The Milkmaid, is so spell bounding that it won her accolades and awards.
The Milkmaid tells the story of how Boko Haram, the extremist group that has destroyed Nigeria's northeast and some countries in West Africa, kidnapped more than 250 schoolgirls in 2014 from the town of Chibok. In the 2020 film, inspired by the iconic photo of two Fulani milkmaids on the Nigerian 10 Naira note, Aisha and her younger sister Zainab (Mariam Booth) are abducted by the extremists but Aisha escapes. The story sees her selflessly return to the lair of their abductors to rescue her younger sister.
---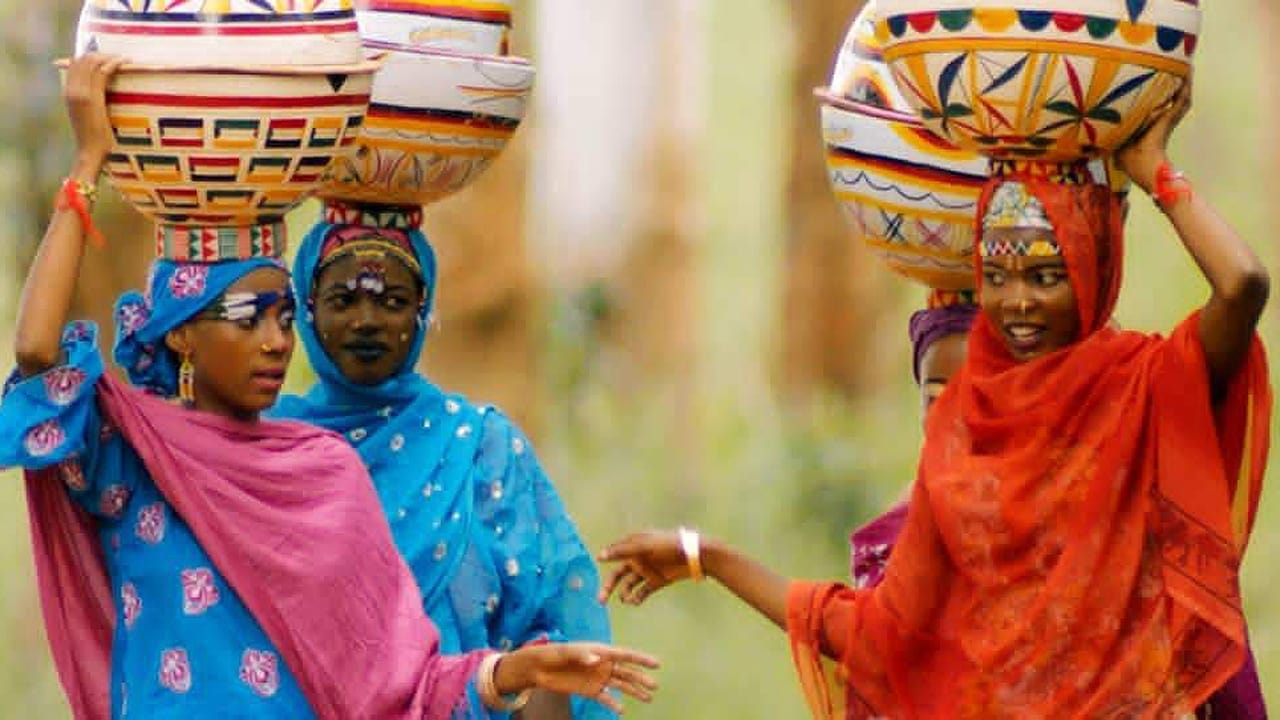 'The Milkmaid' Review: Nigeria's Second Oscar Run Jogs with a Limp
---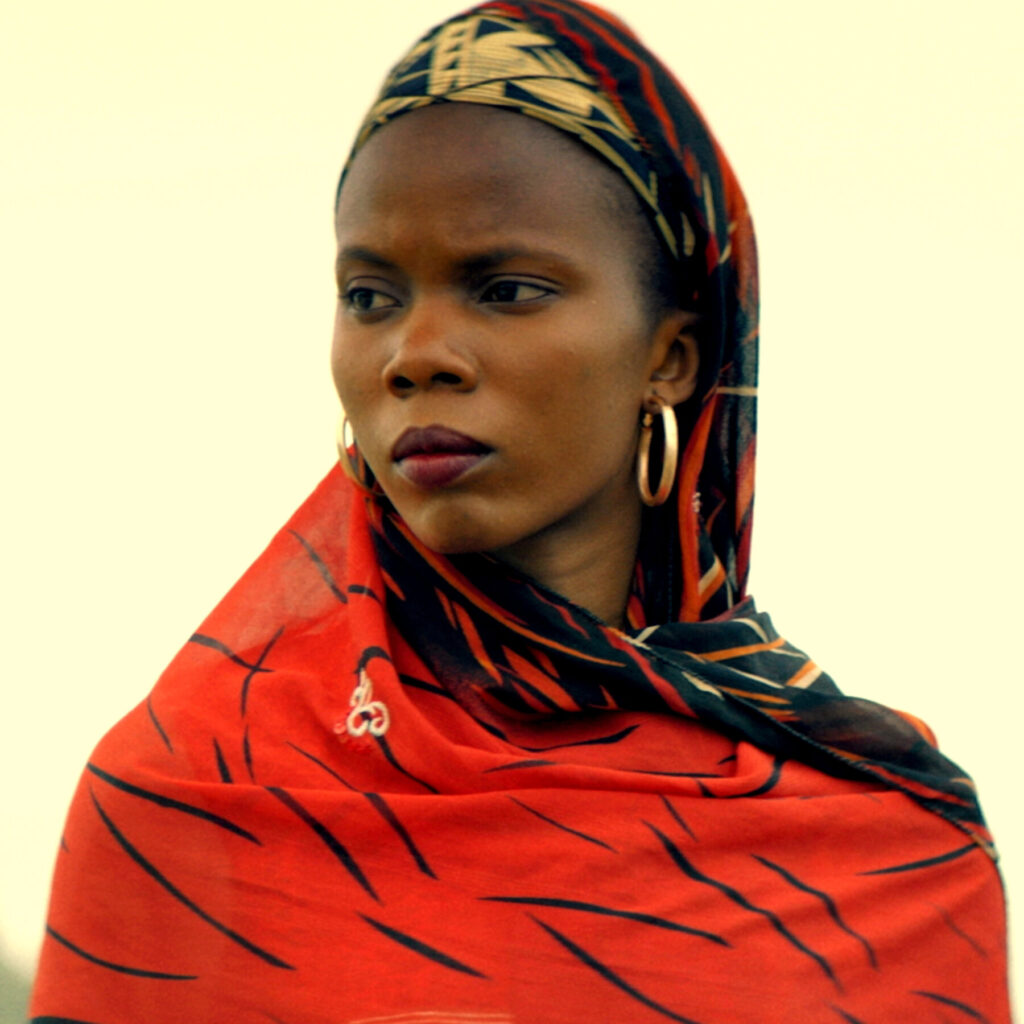 As a Theatre/Performing Arts graduate, Anthonieta Kalunta's transition from stage to screen seems effortless. In a conversation with Michael Kolawole for What Kept Me Up, Kalunta talks about her journey as a performer, her experience on the set of the movie, how she toned down her performance for a better interpretation of her role, her love for true crime, and her plan for the future.
---
You studied Theatre and Performing Art at the university.
Yes. I have a degree in Theatre and Performing Arts from Ahmadu Bello University.
What can you say is the difference between theatre and film?
The most obvious difference, from the perspective of the performer, is that while theatre requires a range of exaggeration depending on the location of the audience, film requires similitude to reality. So film requires a more toned-down performance than theatre.
And in theatre, there is immediate feedback from the audience.
Exactly. So the performer knows when it's a hit or miss immediately in the theatre.
As an actor, what do you expect of yourself as a storyteller?
I expect to always be true to my characters, to never make fun of their situations or feel like I'm better than they are. But to understand why and how they got there and portray it that way.
If I play a drunk girl, I don't want people to see Anthonieta playing a funny drunk girl. I want them to see a drunk girl; if they find it funny in the process then okay.
The ability to embrace a role, no matter how dark or daunting it is, is a trait of a well-rounded actor. What do you have to say about this statement?
I agree because I believe It takes brilliant acting to accept your character, their motives, and their weaknesses; no matter how dark, and portray them truly.
What kind of movies did you watch growing up?
Growing up, I watched Nollywood comedies and loads of foreign kids' content. But what I watched the most were crime shows. My go-to back then were shows like NCIS, CSI and Hawaii Five-0. Now that I'm thinking about it, I'm not sure why I love watching people catch a killer. I think I find them intriguing and just want to see mysteries get solved.
What is the journey you have taken to get to where you are today?
I started acting in junior secondary school when I joined the drama unit for the school fellowship. I really liked it; just about laying different characters and watching the audience's reaction. But at the time I wanted to be a vet doctor. So acting wasn't even a career choice.
Then my brother took an elective in the Theatre and Performing Arts Department and they had a production; so we went to see it and I was blown away.
It was just magical to see the lights go off and when it came back on, the set had changed. Then the songs and the acting. I was 12 or 13 then and I just sat there and decided that whatever the people performing were studying is what I'll study in school.
A few years later, I got admission to study Theatre and Performing Arts and I also performed on that same stage.
But then being an intelligent student, I started to get advice on taking on academics instead of going to waste my time pursuing acting. Honestly, they came from a very good place for those who offered it.
I kind of took the advice at the time.  I started to teach at a secondary school in my final year and continued after graduation. Then I got the role for The Milkmaid and being on set for those three months reminded me of what I truly wanted. 
Kindly describe your background as an actor.
My background as an actor is stage acting. As students, we were trained to use our voices and bodies for everything. No microphones, barefoot, human props; that's the kind of stage acting I was introduced to.
I didn't do much screen acting before The Milkmaid.  And since then I've been learning and my process has been evolving. 
As a performer, do you still feel like a storyteller even though the story was written by someone else?
I believe art is collaborative and as much as a writer has written something, I have the responsibility to interpret it; that way I become a part of the storytelling.
How was it like to play the young and fiery central character (Aisha) in The Milkmaid?
Playing Aisha was an adventure. She was my first introduction to screen acting and so, it felt like walking into new territories. She carried the film for the most part and so it was important to consistently understand what her motives were and be able to portray them truly. In the end, having a supportive production team made it pretty easy to achieve.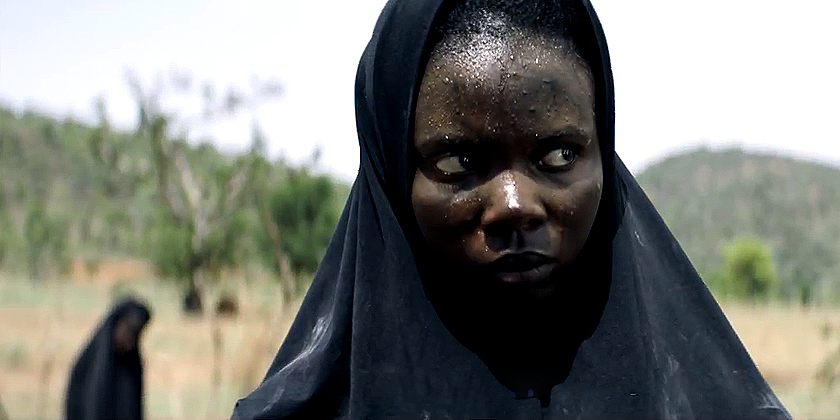 Your role as Aisha wasn't just physically consuming. It was also mentally draining. Did you break down mentally or physically while trying to interpret a particular scene?
Acting requires mental and physical energy. But thankfully, we were able to manage both without any breakdowns while filming.
Which scene was the toughest for you to play?
The movie had me climbing mountains, touching a cow, and getting drenched. Looking back now, I'm not sure I can choose a particular scene to call the toughest.
That means you dedicated yourself to every scene, right?
I definitely dedicated myself to every scene; making sure I was at every point consistent with Aisha's character traits and in tune with her emotions.
You are using your whole body, and you're often sweating, during your performances. It seems there is a bodily aspect to your artistry as well as an emotional one.
I'll argue that one needs a level of physical fitness to be an actor. This is because aside from the mental work, acting is physically demanding.
That's why many actors spend time studying and training. I remember warm-up routines being mandatory back then in school and we used to get upset only to learn that it was important to train us to be able to perform for hours.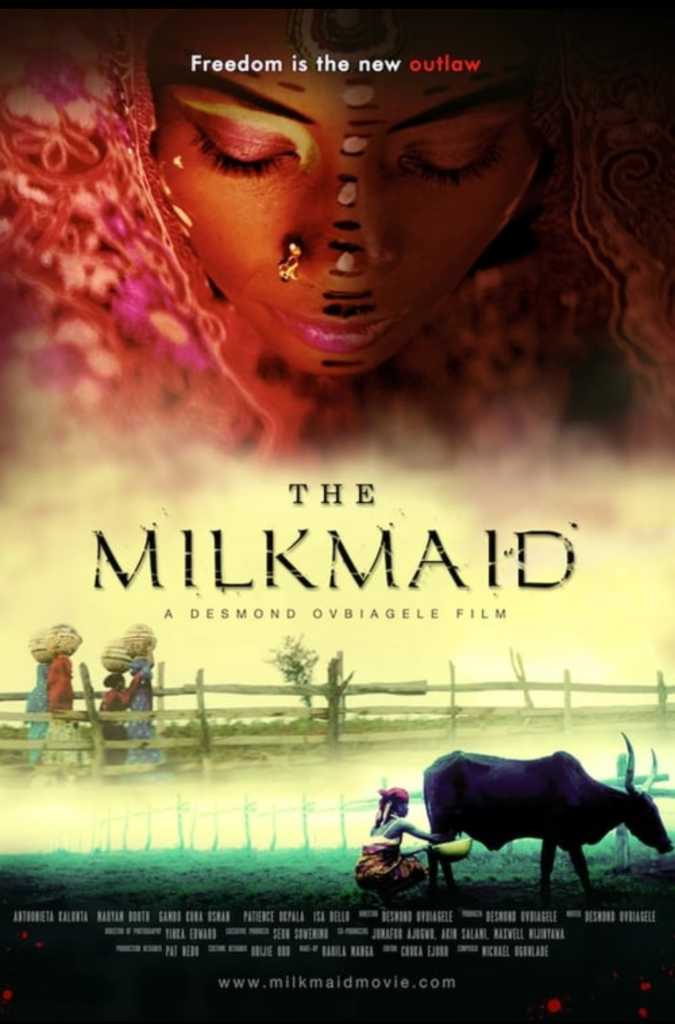 I love how your supporting character Mariam Booth interpreted her role. What was it like to work with her?
Mariam is an amazing person off and on set. The first day we met, we talked and ended up sleeping in the same room. Director Desmond once teased, asking why he was paying for two rooms if we will be sleeping in one.
From day one, our energies matched and I believe it really helped to get our performances up. Mariam is dedicated to her craft and very open to communicating and I'll be glad to work with her again.
---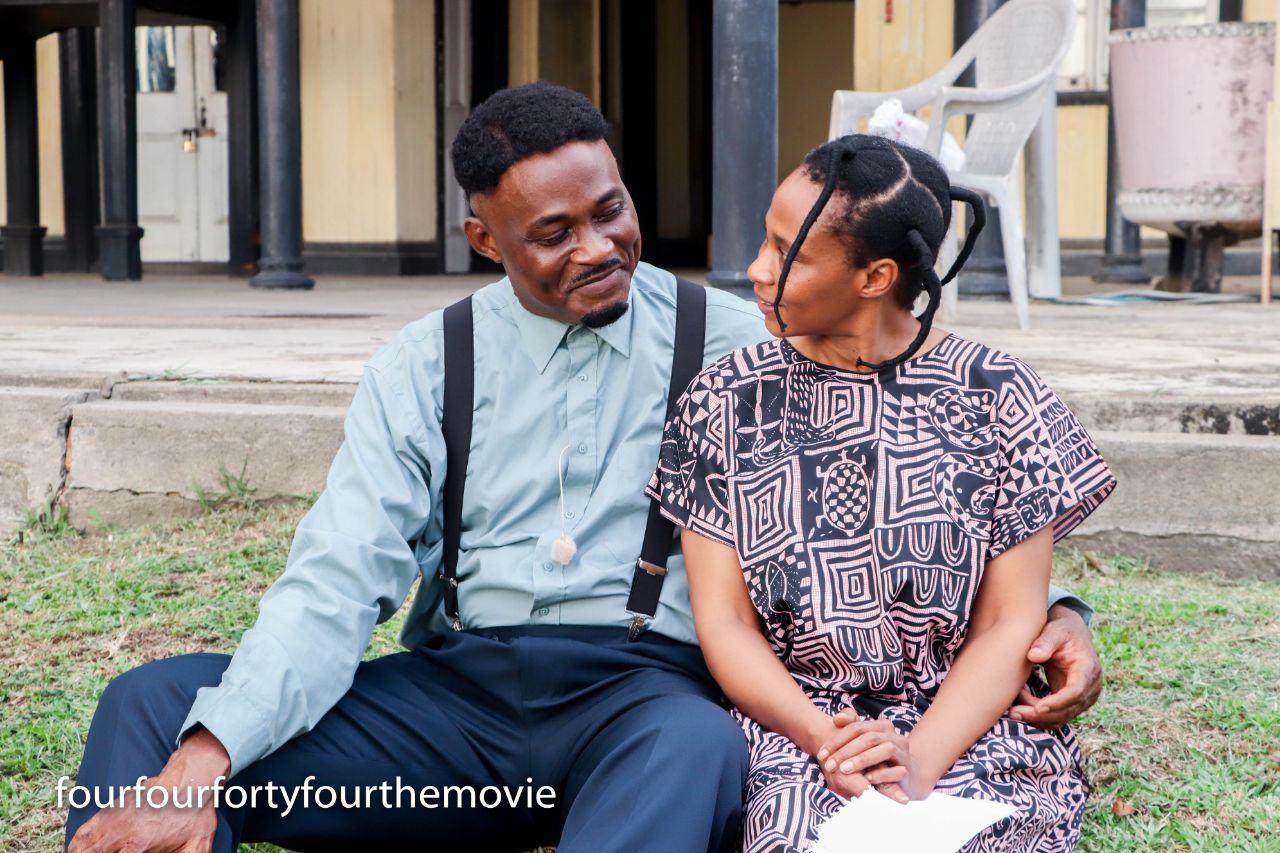 Izu Ojukwu's Period Drama, '4:4:44', Starring Richard Mofe-Damijo and Nse Ikpe-Etim, Sets November Prime Video Premiere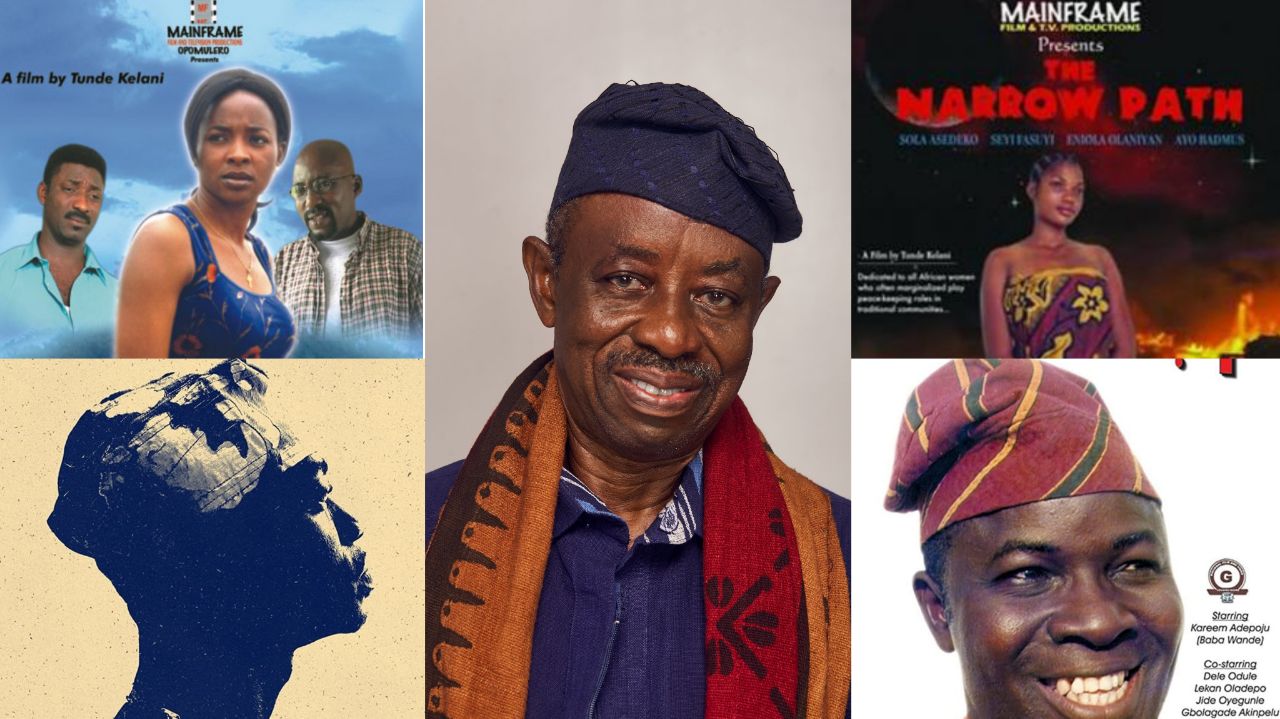 The Maverick Auteur: The Life and Films of Tunde Kelani — A Breakdown
---
I know it's tough to leave a certain role behind after it has been played. How did you jump from Aisha back to Anthonieta?
I didn't take any deliberate steps to detach from being Aisha. But what really helped was that we filmed miles away from home and every single person on the production I had only met there.
So changing the environment and moving away from everyone in the production eased the process of going back to my life as Anthonieta.
What's the most interesting reaction/feedback you've had about your performance in The Milkmaid?
I feel blessed whenever people compliment the toned-down performance. This is because It was my first attempt at transitioning from stage to screen and for people not to see the mannerisms of stage acting trickle down is a huge plus.
What do you usually look for in roles in a movie?
I look out for characters that have different traits, motives or situations from me in real life.
Which story is the weirdest and craziest story you have covered for your True Crime Naija Podcasts?
Phew! We cover lots of really weird stories. Okay, there is this Nigerian story where the boy killed his girlfriend. Then he and his herbalist cut off her body parts and pounded her heart. Then the herbalist made soap from the heart and soup with the other body parts.
The boy gave his mother the soap to bathe with and also gave her the soup to eat. This was intended to make them rich. When he was arrested and his mother found out what she had eaten and used on her body, she was horrified.
Oh my God, that's scary.
Yes, it is.
Which directors would you like to work with?
There are several directors I would love to work with, mostly because I appreciate the kind of stories they like to tell and how they get their actors there.
But I'm honoured to be here when Nollywood has brilliant female directors and emerging ones, so I'll just dedicate this to them. The likes of Mildred Okwo, Jade Osiberu, Kemi Adetiba, Omoni Oboli and Mo Abudu.
Who have you learned a lot from recently?
I have a thing with checking out actors' interviews and BTS so I'll say I've learnt from a lot of people in Nollywood and even out of the industry.
But I'll single out Zendaya because I was recently checking out her episode on 'Actors on Actors' and I realized that it's not uncommon for actors to feel anxious or a type of dread about certain scenes especially when they pull a lot of emotional weight. And it's also great to talk them through with the director and maybe other actors.
Lagos is believed to be where Nollywood resides. Do you plan to move to Lagos to pursue your career?
Moving to Lagos is definitely on my to-do list. And when the time is right, I will.
Can you give us any more insights about the things we should be expecting from you in the months to come?
Among all the projects I'm slated for this year, only one has been filmed, so it's still a couple more months of exciting news and when the time is right and ethical, I'll definitely let you know.
What keeps you up at night?
Besides deadlines?
Yes.
I'll say my dreams. Journaling all the things I'll love to do and checking the ones God has helped me achieve.
---
Share your thoughts in the comments section or on our social media accounts.
Sign Up: Keep track of upcoming films and TV shows on your Google calendar.
The Milkmaid is streaming on Amazon Prime Video.