Although born in Lagos, when he was five, he was taken to Abeokuta to live with his paternal grandparents. While in Abeokuta, he was exposed to Yoruba novels and music. By the time he was nine, he was already reading and writing. Later, he started reading D.O. Fagunwa's books to his grandfather. His first glimmer as a filmmaker started from his childhood ideas of shadows from the headlights of automobiles passing across the wall of his grandfather's compound. He discovered photography in Standard Six when he befriended a boy whose father was a photographer and possessed a box camera. Kelani's interest was piqued by the way the camera froze people in the moments, and followed the boy around the town to understand how the camera functioned.
---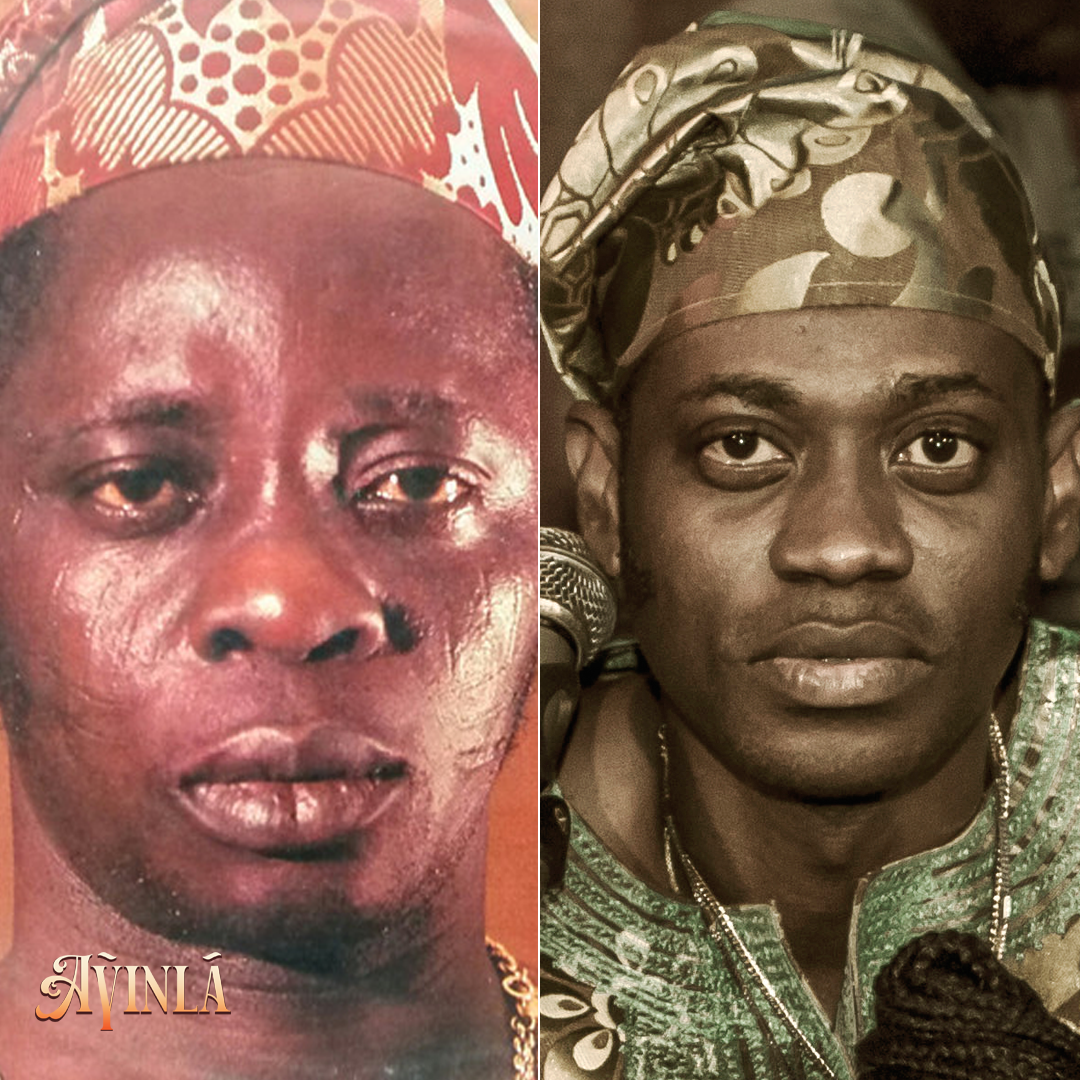 Tunde Kelani's 'Ayinla' isn't Boring—Here's Why the Semi-Biopic Works
---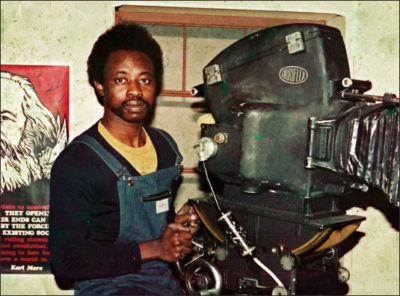 Early Years of Tunde Kelani
While in his first year in secondary school, he bought an all-plastic, one lens, round button Kodak 127 camera. He had some fun with the camera but was quickly fed up with it. In his second year, he and a friend ordered a Rapier Mark II camera from England. When he got the camera, he was fed up with it not long after because it was not the quality he expected. Later in secondary school, his school had an excursion to Obisesan Hall, Ibadan. There, he watched the first production of The Palm-Wine Drinkard, an adaptation of Amos Tutuola's Fantasia novel, adapted by Kola Ogunmola; and later Duro Ladipo's classic, Oba Koso. He never forgot these experiences: they introduced him to the world of acting and performances, they also contributed to what shaped his philosophy as a filmmaker. 
Tunde Kelani is one of the most important filmmakers in Nigeria and Africa. For decades, he has consistently made Yoruba-language films with high cultural and political value. His ability to merge video filmmaking with celluloid filmmaking patterns makes him the most outstanding Nigerian filmmaker and one of the best in the industry. Though his films meet international standards, they are essentially Yoruba films useful for cultural preservation. Adeptly combining traditional Yoruba and Western influences, he has produced features, shorts and documentaries that examine socio-political issues with a unique personal identity.
Before he became known as a revered filmmaker, Kelani was an independent cinematographer at Western Nigeria Television (WNTV) in Ibadan. He left Western Nigeria Television and co-founded a film production studio named Cinekraft. As the studio proprietor, Kelani helmed the productions of films by the foremost Yoruba leading filmmakers like Ola Balogun (Orun Mooru, 1982) and Bankole Bello (Efunsetan Aniwura, 1981). Also, Kelani worked with a crop of the ancient Alarinjo Traveling Theatre like Chief Hubert Ogunde on his film Jaiyesimi (1981). Likewise, he directed the music video for "Adara" (1984), a song by the late Afrobeat maestro, Orlando Julius Ekemode. Years later, he left Cinekraft and created his own film studio, Mainframe, where he assumed the role of a director and churned out classic films.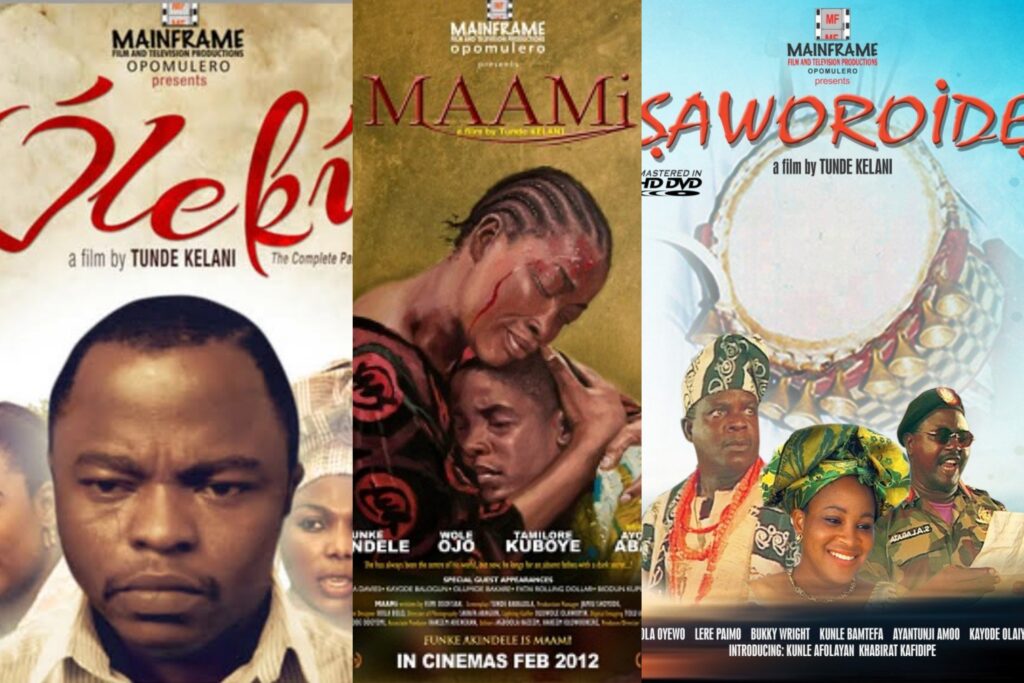 Transitioning into a Director
Kelani has a penchant for the deeply cultural and political in his films. When other filmmakers dabbled into modernist tendencies and produced trifle films for commercial reasons, he developed a unique, idiosyncratic style that upholds Yoruba cultural ethos. These unparalleled cinematic touches can be seen in his filmic oeuvre. Movies like Ti Oluwa Ni le (1, 2, & 3), Kosegbe, Saworoide and its sequel Agogo Ewo, and a few others reflect this. A serial and experienced collaborator, Kelani approached Alhaji Kareem Adepoju, a leading traveling theater actor popularly known by his stage name Baba Wande, to work on a film and the masterful combination of the two veterans produced a brilliant movie.
Kareem Adepoju came up with the idea of Kelani's intriguing debut, Ti Oluwa Nile. With the first installment of Ti Oluwa Ni Ile, Kelani made a grand entry into the Nigerian film industry. The film tells the stories of greed, deception, disdain for the sacred and punishment for evil. In the first part, the lead character, Otun (Kareem Adepoju) connives with Sanya (Gbolagade Akinpelu) and J.P. ( Jide Oyegunle) to sell the sacred land to Mr. Johnson to build a filling station. The king (Dele Odule) hears about the desecration of the sacred land and gets angry. While Kelani carefully orchestrated the storylines, Adepoju shoulders and propels the film with his wiles—he encourages the selling of the sacred land, blasphemes the gods to appeal to his co-conspirators, and when the gods avenge and kill his co-conspirators, he resorts to wiles and theatrics to stay alive.
Tormented by a series of nightmares, Otun runs to a diviner for a solution. The diviner tells him that the gods are tormenting him for his role in the sale of the sacred land. His co-conspirators, Sanya and JP die for their role in the abomination and he is warned that the corpse of the recently deceased must not be buried. Otun connives with a morgue attendant to steal JP's body and hides it. After a lot of trouble, JP's family bury his corpse and the dejected Otun confesses his crime which leads to his expulsion from the community.
The first installment of Ti Oluwa Nile was a critical and commercial success. Parts 2 & 3 were borne out of public demand and "commercial pressure". Part 2 is about Otun's exile, his misfortunes, close shave with death, and his rise to wealth. Political struggle is the major theme in the third installment. After returning from exile, as in his character, Otun, now known as Asinyanbi, angry because he was stripped of his chieftaincy title, forms a coalition with an enraged Prince Adewale (Lere Paimo), a candidate for the kingship position who lost to the sitting Kabiyesi. Prince Adewale lost the kingship position not because he is poor—he is a wealthy cocoa merchant—but because he is illiterate. Asinyanbi and Adewale plot and campaign to upend the Kabiyesi, establish Adewale as the King and reinstall Asinyanbi as Otun. Asinyanbi and Adewale resort to chicanery, they do everything to sway the Judge to sway the judgment in their favour. Eventually, they lose the judgment and the king's reign continues. Finally, the gods strike Asinyanbi. He becomes bedridden. He chokes and dies.
The films are intriguing and defining. Greed, disdain for sacred objects or land, and political tussle are subtle layers of the films. Parts 1 and 3 are firmly rooted in community life and politics. Part 2 is surreal, quaintly artistic, and adventurous. Adepoju's genius as an actor greatly propels the stories. Kelani's keen and astute eyes make the films appealing. Sharing a close-knit relationship with the methods used by the defunct Alarinjo Theatre, the films are didactic, amusing, and cultural. As the closing dialogues between the Kabiyesi and the Diviner reveal, the films preach love for traditional cultural practices and philosophy, while touching on environmental issues and nature preservation.
A Breakdown of Tunde Kelani's Style and Films
A respected auteur, Kelani's films are not only meant to push the Yoruba traditional and cultural practices to the world. They also question and correct some practices that subject the people to untold pain and hardship. In his third film, Ayo Ni Mofe, he questions and corrects how Yoruba traditional doctors treat psychiatric patients. The Yoruba belief in psychosis is rooted in mysticism. It's of the notion that a person suffering from psychosis is afflicted by the spirit of insanity, hence the reasons why the Yoruba traditional psychosis healers confining their patients in a dirty, unhygienic environment, where there are tethered and beaten, with the hope of exorcising the patients. Most of the self-acclaimed psychiatric healers lack training in psychology and other related medical fields. Instead of egging them on in the name of tradition, Kelani corrects them and advocates for the western and conventional treatments of psychosis.
Kelani's films are very different in writing, subject matters and themes. Although there is the occasional return to some subtexts, like corruption, culture, nature, and politics, his central themes are not the same. Besides the cultural outlook of Kelani's film, there are feminist ideal, too. In the short film The White Handkerchief which was later developed into a feature film titled The Narrow Path (2007). In the movie, he carefully examines male chauvinism and how certain traditional and cultural practices inflict pain and agony on women. Kelani decries the Yoruba traditional outlook which emphasises virginity and demands that women must remain chaste until their wedding night.
The Narrow Path focuses on Awero, the most desired belle of Orita Village. Awero is wooed by three suitors—Lapade, the wealthy gold trader from a neighbouring village; Odejimi, the envious brave hunter; and Dauda, the flirtatious city rogue. Few weeks before the payment of her bride price and the fixing of her wedding day, Dauda entices Awero to the bush and rapes her. Now a broken pot (as the film's soundtrack exposes), Awero is dejected and she attempts suicide. Weeks later, her bride price is paid and her wedding night is a mess.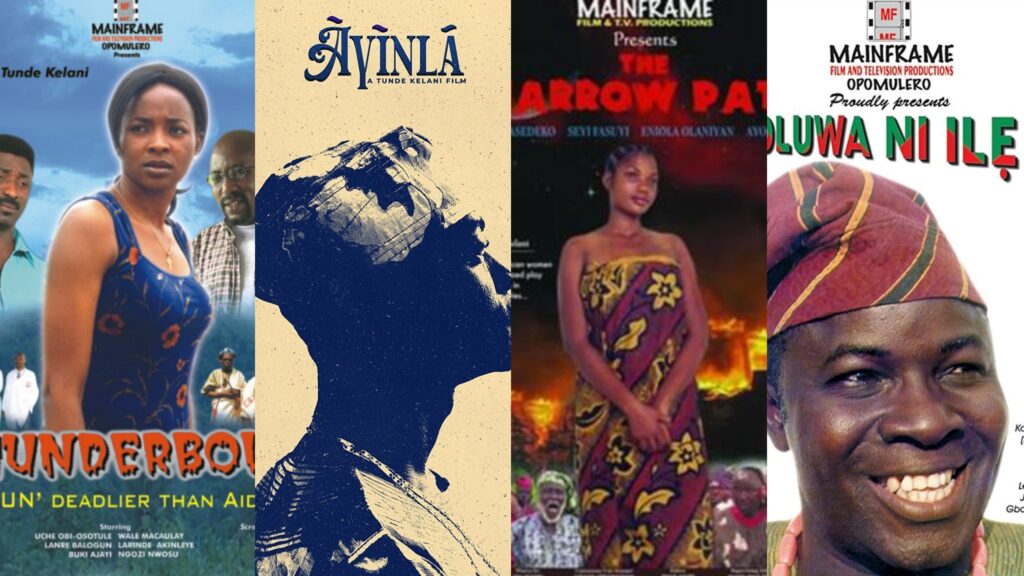 With families and friends waiting outside on the wedding night, expecting Odejimi to come out and announce that his new wife is a virgin. Afraid to tell Odejimi that she is not a virgin, Awero pretends to be sick and; she pleads with him to give her some time to recover before they make love. Odejimi forces himself on Awero, despite her plea. Discovering that Awero is not a virgin, Odejimi angrily stomps out of the room and announces to the waiting crowd that Awero is a "broken pot." This brings shame to Awero's family, friends, and the village. As though the shame and trauma of being raped is not enough, Awero is requested to disclose the name of the man that took her virginity and dances naked in the village as a cleansing ritual. But Awero refuses to dance. Instead, she and other women in the village protest for the war to end.
Since women's virginity can be tested, how do we test the virginity of men who go about villages and towns sleeping with women and depriving them of their virginity? Naturally, this practice is a patriarchal conceit embraced by communities to disgrace and punish young women they deemed promiscuous. There is an imbalance with the practice of emphasising virginity for young women and not for young men. Instead of chastising young men for pressuring young girls for sex, they exalt and praise them for being sexually active.
The Narrow Path is a fascinating criticism of the patriarchal hierarchy that supports the objectification of women's bodies. Well-enacted and directed, Kelani discloses the short-coming of the cultural practices and implore that it should be abolished. Kelani exalts and projects Awero and the village women as lovers of peace, stability, and civilization.
---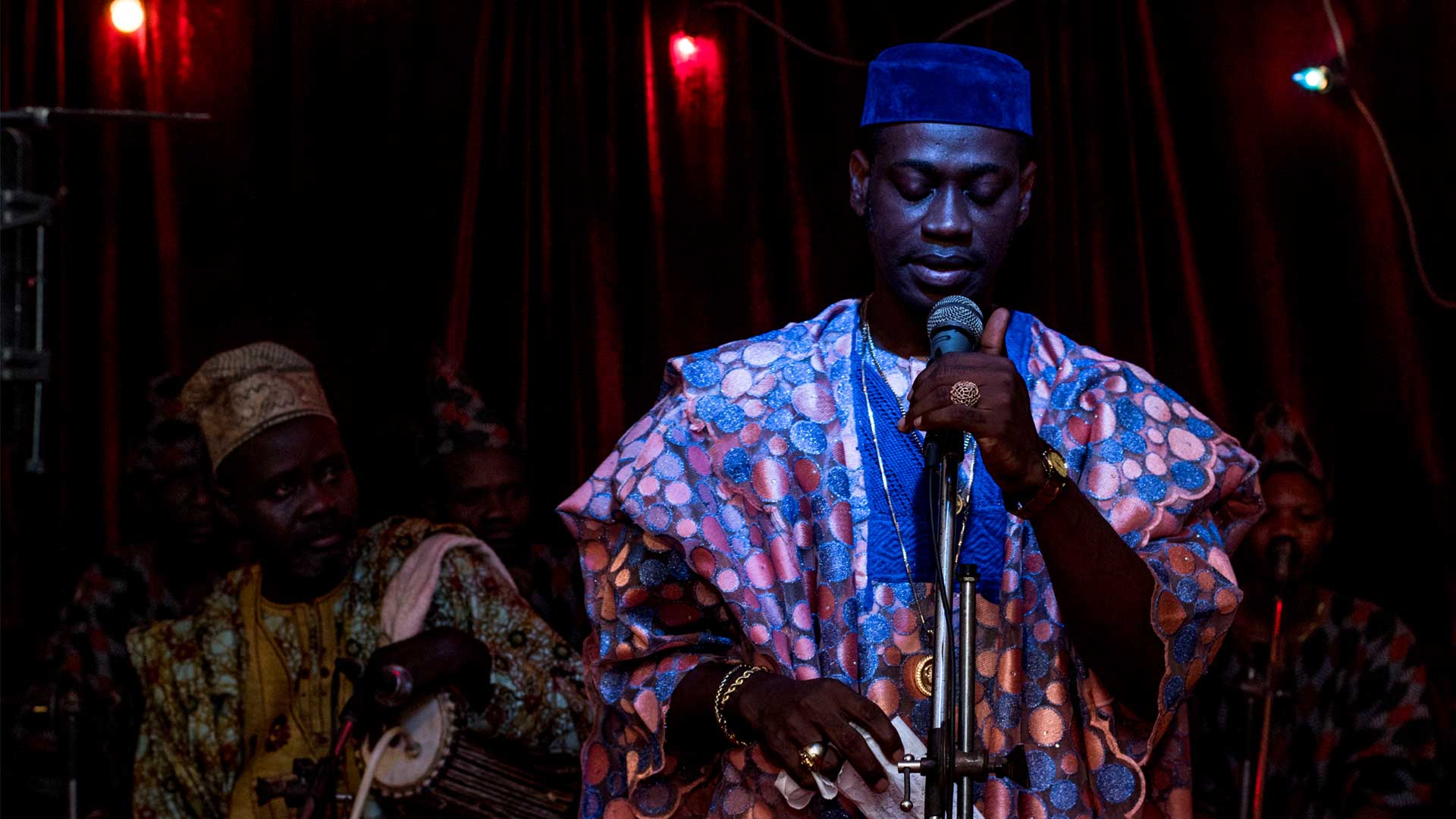 Movie Review: 'Ayinla' and "Chronicles of a Death Foretold"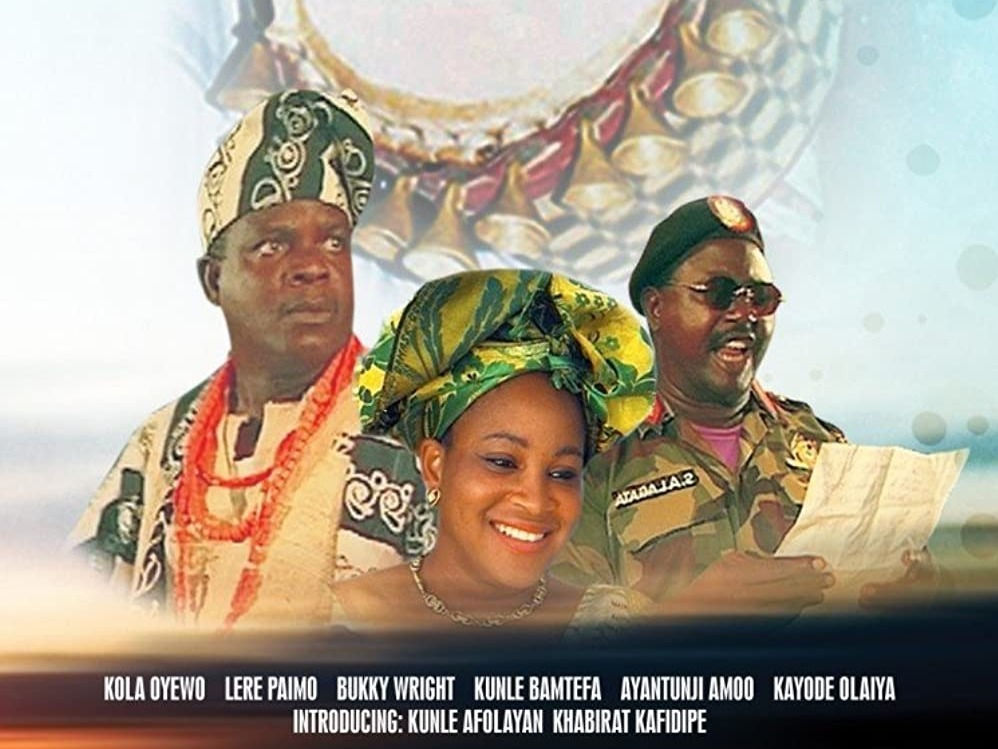 Retro Review: 'Ṣaworoidẹ' and Timelessness
---
As a director, Kelani serves as a bridge between the old and the new. While most filmmakers of his generation considered celluloid filmmaking as high-grade and refused to embrace video filmmaking, Kelani embraced video and digital filmmaking. Always open to change and experiment, he teamed up with Bola Bello to make Yoruba Beyond Borders, a short film that was shot with smartphones. "I am a firm believer in alternative technology for a motion picture in Africa," Kelani asserts in an interview. He later adds that his ancestors used wood, terracotta and whatever else they could lay their hands on to document their reality. "If we do not use whatever we can to document our present reality," he adds, "our children will suffer an identity crisis if they have to resort to archaeology to find out about how we lived in the age of multimedia."
Though Kelani is popular for his feature films, he has made a few short films and documentaries that are as interesting as his feature films. Produced in 2015, Pyrolysis or Paralysis was one of the many documentaries that featured at the 2016 IREP Documentary Film Festival at the Freedom Park, Lagos. The documentary is brief but charming. It focuses on the procedure of charcoal production, how it leads to environmental degradation and results in global warming and climate changes. Here, Kelani changes his style. Experimenting and revealing his love for photographs, he narrates the film through a series of moving still photographs. He uses the images to show how the characters make their way into the forest with tools and machines and chop down trees in large numbers. They gathered the stumps, covered them with dry leaves and sandy soil. They set the stumps on fire and leave them to burn for hours. Later, they return to douse the burning stumps with buckets of water. The result of the process is a large amount of charcoal. The people stack the charcoal in thousands of large sacks. After which they haul the sacks into massive trucks, pickup cars and motor bicycles. The charcoal is meant to be sold in villages and towns, where it serves as fire for cooking and baking. The closing sequence reveals motley pictures of the land, stripped of its vegetation and natural beauty, abandoned and rendered barren.
The documentary is self-reflective and unconventional. It's a visually striking, avant-garde study of humanity's toll on nature. Instead of relying heavily on live human movements and narrative, Kelani carefully inserts the pictures to fit with the voice-over narration. He skillfully blends the narration with the diegetic sounds, aesthetics, and still pictures to emphasize his points. Narrated by the actor and dancer, Segun Adefila, the documentary implores humans to desist from destroying the environment.
No Nigerian filmmaker has collaborated with independent writers like Kelani. His love for independent writers goes back to his childhood love for Yoruba writers and literature plus his relationship with the ancient Alarinjo (Traveling) Theatre practitioners. Seasoned dramatist, film actor, prolific playwright and Yoruba language scholar Wale Ogunyemi wrote the screenplay for Ayo Ni Mo Fe 2. His third film, Kosegbe, written by Pa Akinwumi Ishola, started as a stage play. It was reported that Akinwumi Ishola wrote in longhand, Kelani tidied up the draft, adapted it into a screenplay, made a few structural changes, and added some materials of his own. Ishola also wrote and featured in the classic political thriller Saworoide. In 2002, he and Kelani produced Agogo Eewo, a sequel to Saworoide. Magun: Thunderbolt is an adaptation of a novel written by the respected television personality, poet and writer, Adebayo Faleti. After a casual discussion with the Nobel laureate Prof Wole Soyinka, Kelani made a failed guerrilla adaptation of Soyinka's play, Lion and The Jewel. He refused to release the film because, as Kelani said in an interview, it's below expectations. He would later use it as a demo and beat sheet for Sidi Ilujinle, another adaptation of Lion and The Jewel. Maami is based on a story written by Prof Femi Oshofisan that somehow reflects Kelani's childhood. And for Dazzling Mirage, he adapted Olayinka Abimbola Egbokhare's novel of the same name. 
Kelani showcases his forte as an auteur through his desire to adapt and ingest the creative uniqueness of these writers into thrilling films. Adapting literary texts into films is difficult. To bring the brilliance of the books to life, Kelani often writes or supervises the writing and editing of the screenplays. And during the production, he adeptly directs and helps the cast bring the actions and dialogues in the source materials to life while also maintaining the wit, humour, dramatic verve and essence of the source materials.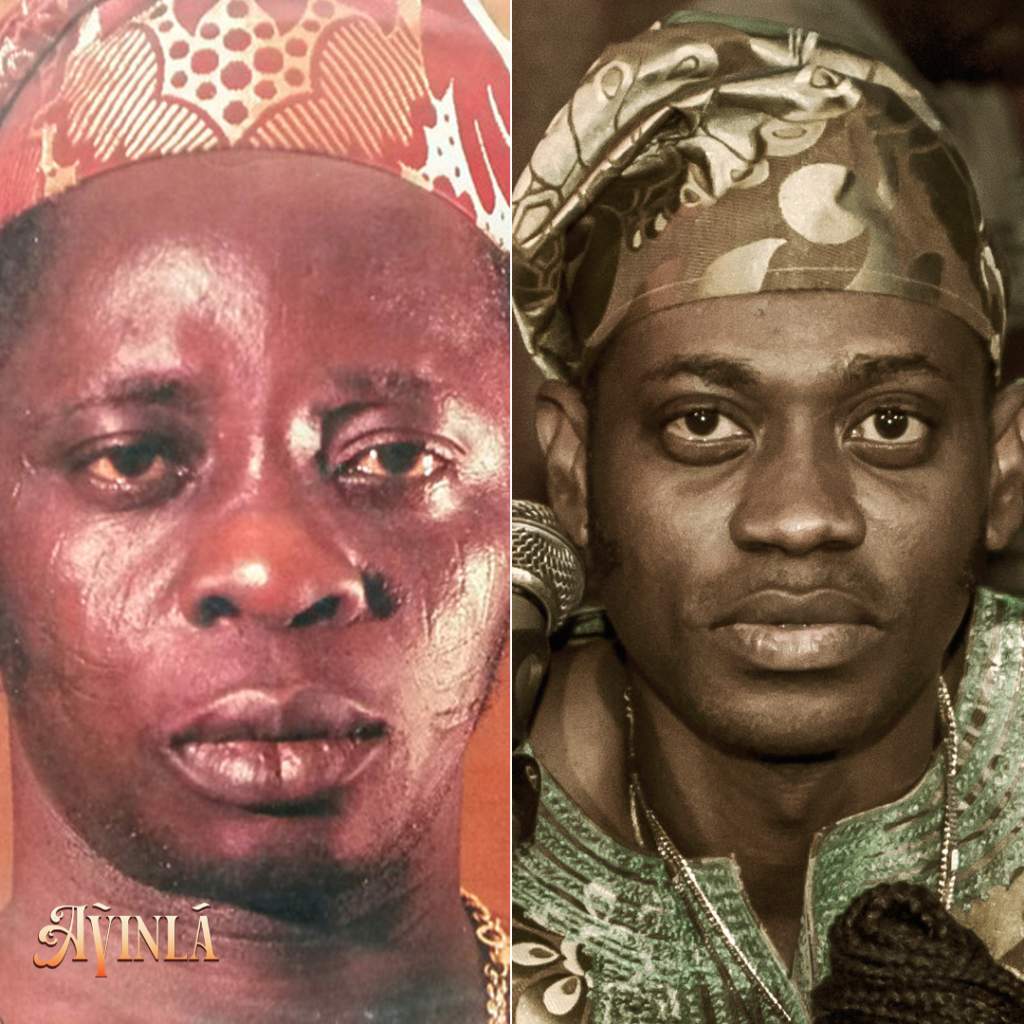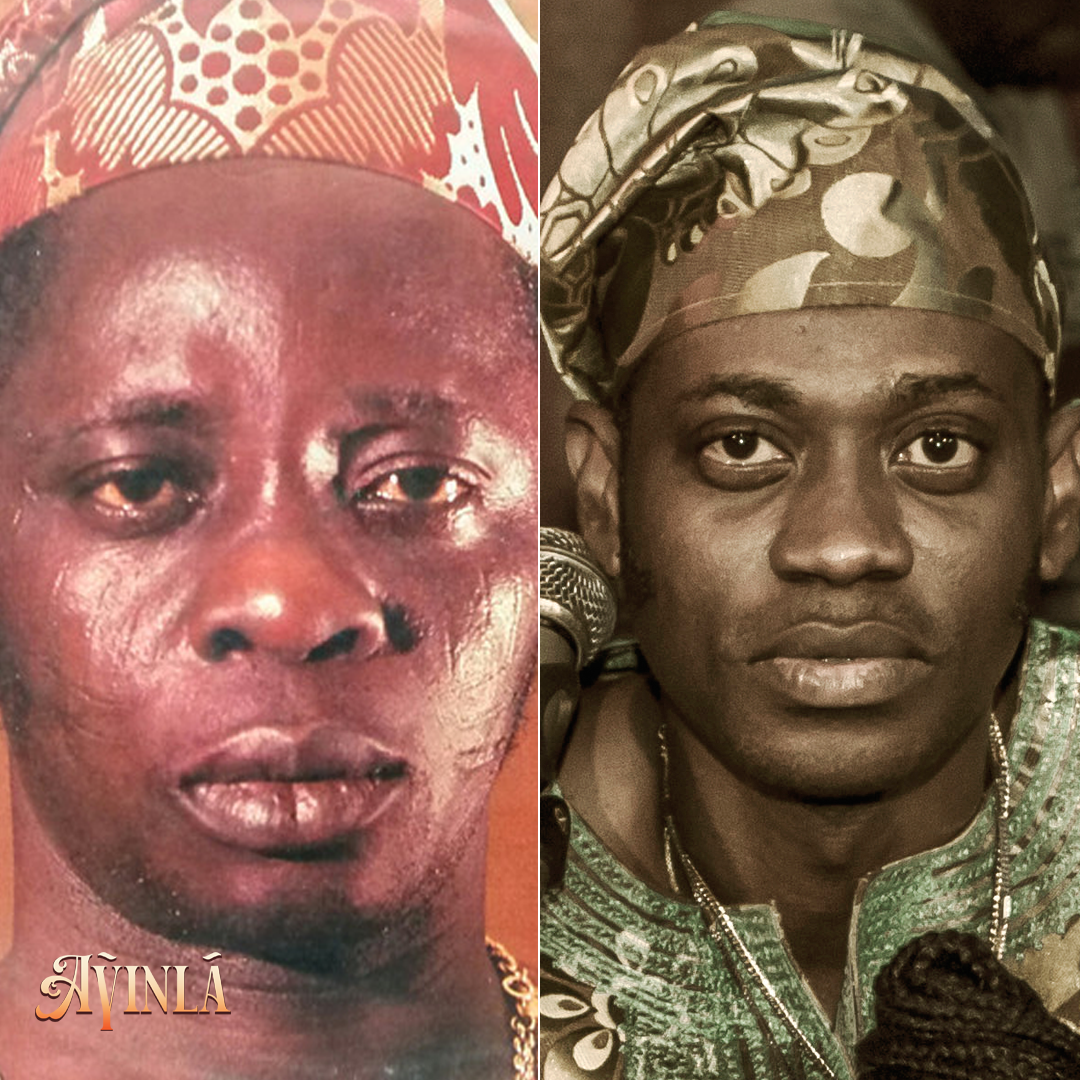 Kelani has made films of different genres; mixing styles, creating a new reality of cinema, and working with independent writers. He has also made some gripping non-biopic films. Yeepa! Solarin Nbo, adapted from Femi Osofisan's stage play of the same name, is a comedy of errors and manners on the honesty and courage of the late educationist, Tai Solarin. His latest movie, Ayinla, is a blend of three artists. The subject is the late Apala music maestro, Ayinla Omowura; the actor is Lateef Adedimeji; and the director: Tunde Kelani. For Ayinla, the film is a form of resurrection. For Lateef, it's a landmark performance in his career. And for Kelani, it's another conquered milestone. With these films, Kelani cautiously connects the past with the present; he blends tradition with modernity for the audience to savour. 
Disguised  as a complex allegory of a community kingship tussle, Saworoide reveals some elements of modern Nigerian politics. Though both films  share the same attributes, Agogo Eewo is more political than Saworoide but not as gripping. Both films are political allegories of the military regime of late military dictator, Sani Abacha and the presidency of Olusegun Obasanjo. Subtly proposing the inclusion of traditional values in modern democratic practices, Kelani uses the mystical Saworoide and Agogo Ewo as objects for swearing and punishments, instead of using the Bible or the Quran.
Kelani is fond of combining stars and masters with up and coming actors in his casting. As an auteur, Kelani creates new stars and revamps old-stagers. As he revamped Adebayo Faleti and Akinwumi Ishola, who were talented writers before they starred in Kelani's films, Kelani made the filmmaker Kunle Afolayan and the actress Khabirat Kafidipe stars. Though a son of a legendary actor, Kunle Afolayan first starred in Kelani's film, before he became a renowned filmmaker himself.
Exalted theatricality, decorative images, colourful costumes, expressive performances and carnivals are some of the features inherent in Kelani's films. Using audio devices like long monologues, poetry reading, chants and incantations, overlapping phrases, refrains and heteroglossia are also invariable elements in his films. All these elements are what make him one of the respected filmmakers and auteurs in Nigeria and Africa.
Reference: Nollywood: T h e C r e a t i o n o f Nigerian Film Genres (2016) by Jonathan Haynes.