All confirmed to be available in Nigeria in November 2023, you will find the titles in four categories, further listed in order of their release dates:
– Nollywood Movies (and some African countries)
– Nollywood TV shows (and some African countries)
– International Movies
– International TV shows
The page will be updated if there are any announced changes.
Track your favourite movies and TV shows directly on your phone calendar.
---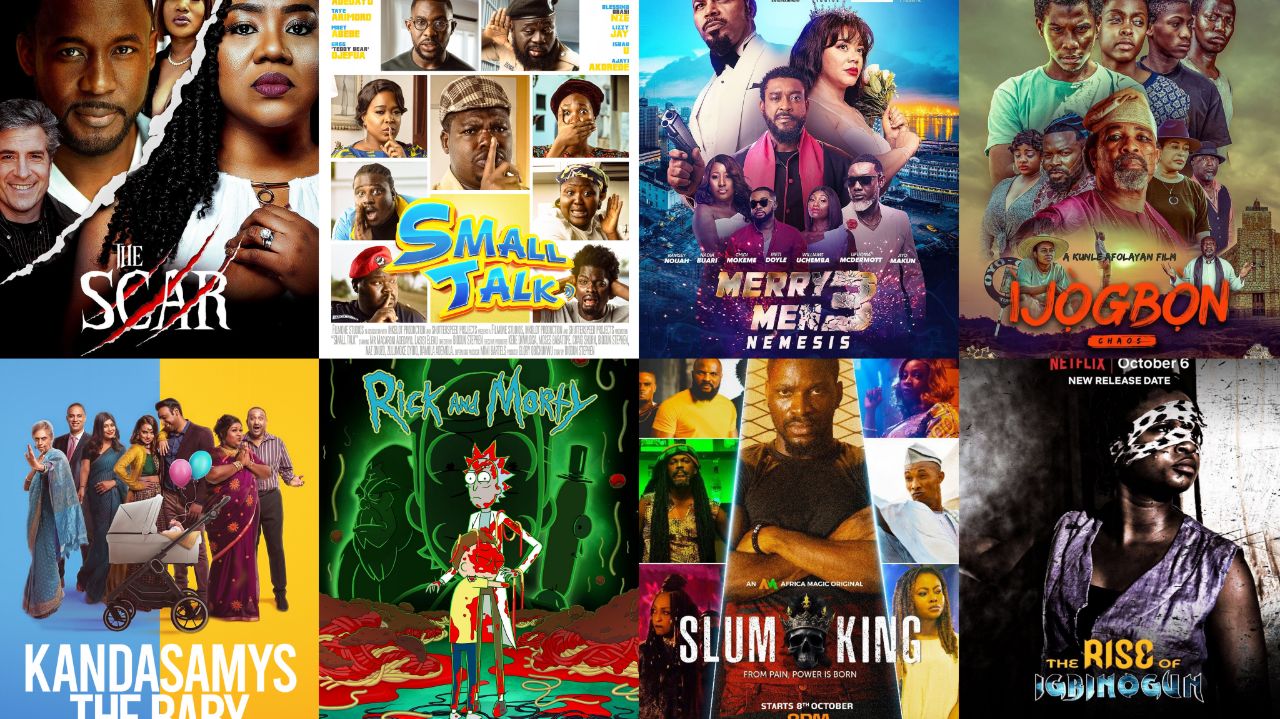 Movies and TV Shows Available in Nigeria in October 2023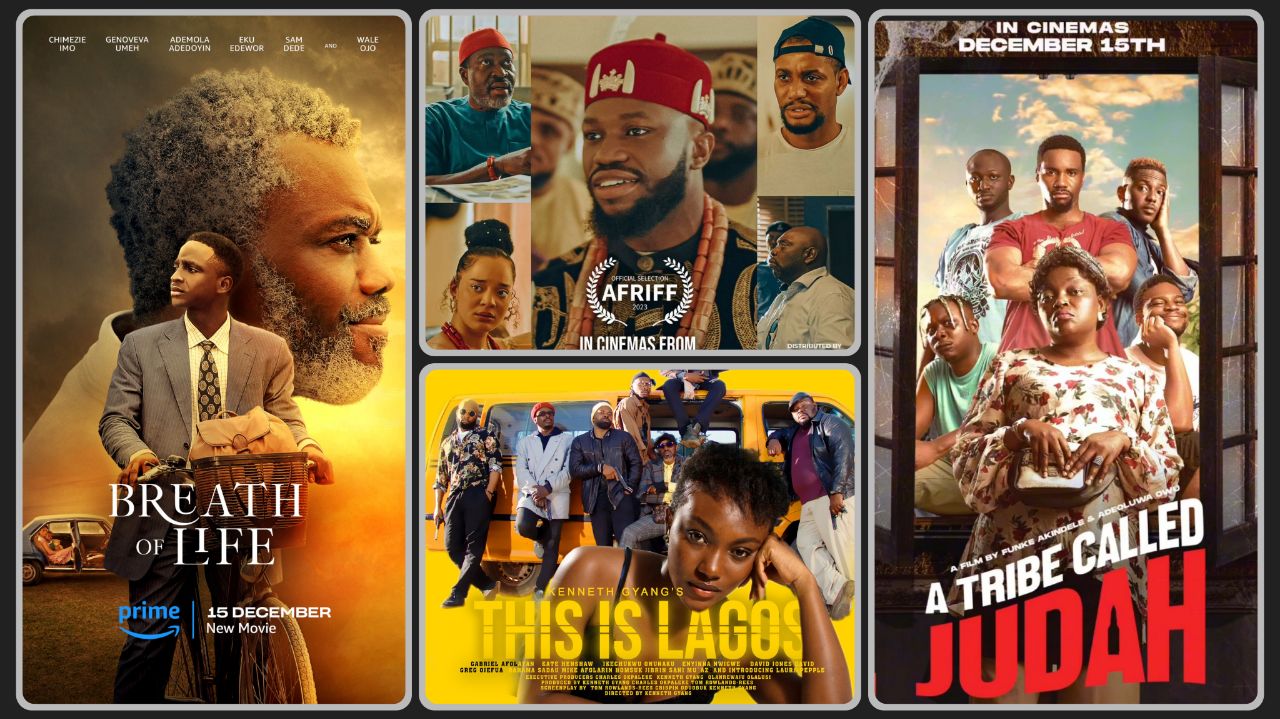 Movies and TV Shows Available in Nigeria in December 2023
---
Nollywood Films Available to Watch in November 2023
November 3
MINEE (Laws of the Street)
MINEE (Lawa of the Street) stars Daniel Etim-Effiong, Ireti Doyle, Segun Arinze, Priscilla Okpara, Ayo Adesanya, and Kevin Ikeduba. Directed by Richard Omos Iboyi, the crime drama will be in cinemas.
Adire
Director Adeoluwa Owu (known for The Griot) brings FilmOne's first original to life. The drama stars Kehinde Bankole in the titular role as a retired prostitute on the run, who moves to a small town and starts a lingerie-making business (made from her signature adire material) which inevitably empowers the conservative women. Her paradise is cut short by Captain (Yemi Blaq), her former pimp whose money she stole to start a new life. Adire will be in cinemas.
Bad Boys and Bridesmaids
Originally released in cinemas in 2021, the Seyi Babtope-directed ensemble romcom will now make its digital debut on Prime Video. Starring Ademola Adedoyin, Elozonam Ogbolu, Nengi Hampson, Idia Aisen, Jidekene Achufusi and Jimmie Akinsola, the film follows the destination wedding of two high school lovers who have nurtured a near-perfect relationship. It's just 3 days to their perfect wedding, high school bffs and comrades are united and it's all going great except, everyone has a history.
November 7
Nganu
Nganu was initially announced to stream on Netflix in July 2023. This Cameroonian film directed by Kang Quintus, the producer of Fisherman's Diary, will be available to stream on Netflix. Starring Hakeem Kae-Kazim, villagers advise an abusive husband to channel his rage in the army. There, he must come to terms with violent urges that have deep and painful roots.
November 10
Praise Party
There is a party at the Thompson's residence. During the festivity, there is commotion, as a young man is killed. Praise Party is a drama starring Hadiza Abubakar, Tina Mba and Kunle Remi. Written and produced by Anuli Ajagu and directed by Obi Martins, the film will be in cinemas.
November 17
Ifediche
A university-trained village girl decides to embrace her roots in the quest to achieve her lofty dreams the big city failed to give her, but first, she has to surmount unforeseen obstacles emanating from her root and the dreams she harbour. Starring Chinelo Rosemary Enemchukwu, Jidekene Achufusi and Chinaza Jasemime Onyia, the family drama will be in cinemas.
Egun
This workplace drama starring Olarotimi Fakunle, Adedimeji Lateef, Gideon Okeke, Omowunmi Dada, Uzor Arukwe, Femi Jacobs and Bolaji Ogunmola. Based on a story by Kayode Kasum and Dare Olaitan, and directed by Carmen Lilian Okoro, Egun will be in cinemas.
The Queenstown Kings
Netflix's latest South African title is a sports drama. After his father's death, a washed-up soccer star returns to rural Queenstown and struggles to connect with his son, a promising player with big dreams.
November 24
Bank Alert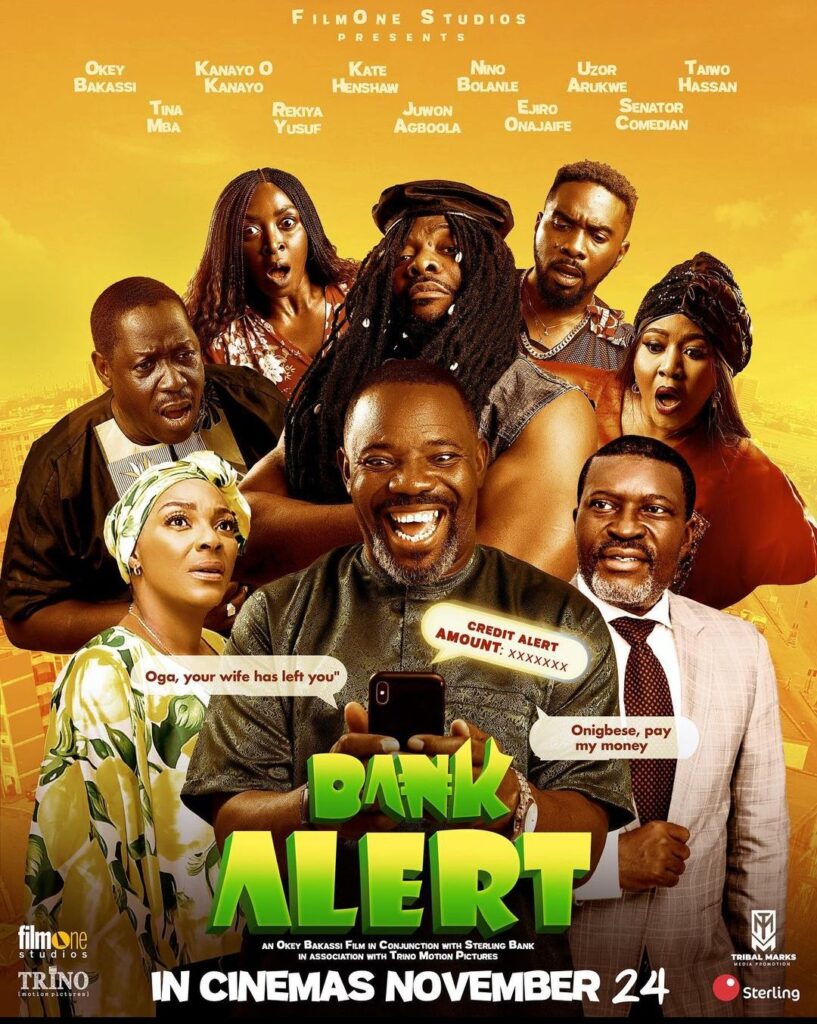 Akay Mason directs Okey Bakassi in the comedian's first film as a leading man and executive producer. Also starring Bolanle Ninalowo, Kate Henshaw, Kanayo O. Kanayo, Taiwo Hassan, Uzor Arukwe and Tina Mba, Bank Alert will be in cinemas.
Coming Soon
Cake
As a new year rolls in, Tomiwa is not holding back anymore, he is going to tell Chalya how he feels about her. He picks the date and sets the scene but just before then, Chalya, calls in a special order, all excited. Her fiancé Theo Maduka has proposed and she can't think of a better person than him, to make her wedding cake. What becomes of Tomiwa?
Cake, a 2022 Nollywood romantic comedy directed by Prosper Edesiri and starring Folu Storms, Tope Tedela, Sophie Alakija and Patience Ozokwor, will be available on Prime Video.
Nigerian TV Shows Available in Nigeria in November 2023
November 8
Spinners S1
Spinners follows Ethan, a 17-year-old driver working for a local gang. Needing to support his younger brother but increasingly disgusted with gang life, Ethan discovers a possible way out via spinning, an extreme motorsport where he can put his driving skills to better use. With a gang war looming, can he turn his life around fast enough? The South African series will be streaming on Showmax.
November 24
Ololade
TNC Africa's long-awaited Yoruba-language series will finally premiere on Netflix. Ololade is a dark comedy that follows two friends who stumble upon money in mysterious ways and start a betting business to achieve their dreams. However, when the true origin of their fortune is revealed, they resort to murder and become entangled in a dangerous money laundering operation. The 6-episode series stars Mercy Aigbe, Mide Martins, Debo Adedayo aka Mr Macaroni, Kunle Idowu aka Frank Donga, Femi Adebayo, Jaiye Kuti, and Debby Felix.
International Films Available in Nigeria in November 2023
November 3
Nyad
Annette Bening, Jodie Foster, and Rhys Ifans star in NYAD to tell a remarkable true story of athlete Diana Nyad who, at the age of 60 and with the help of her best friend and coach, commits to achieving her life-long dream: a 110-mile open ocean swim from Cuba to Florida. NYAD will be available on Netflix.
November 10
The Killer
David Fincher's The Killer stars Michael Fassbender as an assassin who gets embroiled in an international manhunt after a hit goes wrong. The action thriller will stream on Netflix.
The Marvels
Captain Marvel has reclaimed her identity from the tyrannical Kree and taken revenge on the Supreme Intelligence. But unintended consequences see Carol shouldering the burden of a destabilized universe. When her duties send her to an anomalous wormhole linked to a Kree revolutionary, her powers become entangled with that of Jersey City super-fan, Kamala Khan aka Ms. Marvel, and Carol's estranged niece, now S.A.B.E.R. astronaut Captain Monica Rambeau. Together, this unlikely trio must team-up and learn to work in concert to save the universe as The Marvels. Starring Brie Larson, Teyonah Parris and Iman Vellani, The Marvels will be in cinemas.
Journey to Bethlehem
Journey to Bethlehem is a live-action Christmas musical adventure that retells the story of the birth of Jesus. The film will be in cinemas.
November 13
Knock at the Cabin
M Night Shyamalan's Knock at the Cabin is set at a remote holiday cabin, where a young girl and her parents are taken hostage by four armed strangers who demand that the family make an unthinkable choice to avert the apocalypse. With limited access to the outside world, the family must decide what they believe before all is lost. The 2023 horror thriller will be available on Showmax.
November 14
The Pope's Exorcist
The Vatican's chief exorcist uncovers an evil unlike any he's faced when he investigates the possession of a boy living at an ancient Spanish abbey. Previously in cinemas earlier this year, the horror film will now be available on Netflix.
November 17
The Hunger Games: The Ballad of Songbirds and Snakes
The dystopian scifi action franchise returns with a prequel to The Hunger Games (2012). This installment stars Tom Blyth, Rachel Zegler, Peter Dinklage, Hunter Schafer, Josh Andrés Rivera, Jason Schwartzman, and Viola Davis. The Hunger Games: The Ballad Of Songbirds & Snakes will be in cinemas.
November 24
Napoleon
Napoleon is an upcoming epic historical drama film directed and produced by Ridley Scott. Based on the true story of Napoleon Bonaparte, depicting the French leader's rise to power as well as his relationship with Empress Joséphine, the film stars Joaquin Phoenix as the titular character and Vanessa Kirby as Joséphine. Napoleon will be in cinemas.
Wish
Wish is an animated Disney film that follows a young girl named Asha who wishes on a star and gets a more direct answer than she bargained for when a trouble-making star comes down from the sky to join her. Wish will be in cinemas.
November 26
Sarafina!
The South African musical drama celebrated its 30th anniversary earlier this year with a re-release in cinemas. In this month, the film will be available to stream on Netflix. For the uninitiated, Sarafina follows Soweto schoolgirl Sarafina who faces prison and torture as she fights for freedom in apartheid-era South Africa.
November 30
Family Switch
A family descends into chaos days before Christmas when a rare cosmic event causes the parents to swap bodies with their teenage kids. Starring Jennifer Garner and Ed Helms, Family Switch will be available on Netflix.
Renfield
In Renfield, Nicholas Hoult stars as the tortured aide to history's most narcissistic boss, Dracula, played by Nicolas Cage. After lifetimes of servitude, forced to procure his master's prey and do his every bidding, Renfield is ready to see if there's a life outside the shadow of the Prince of Darkness. The 2023 comedy horror will be available on Showmax.
International TV Shows Available in Nigeria in November 2023
November 3
All the Light We Cannot See S1
In the final days of WWII, the paths of a blind French girl and a German soldier collide. Based on Anthony Doerr's Pulitzer Prize-winning bestseller, the series will be available on Netflix.
Invincible S2
After an earth-shattering betrayal, Mark fights to rebuild his life. In the face of apocalyptic threats, he discovers new allies and wrestles with his greatest fear – that he might become his father. The animated superhero series returns on Prime Video with weekly episodes.
November 8
And Just Like That S2
The second season of The Sex and the City reboot will be available on Showmax.
November 16
The Crown S6 (Part 1)
The sixth and final season of The Crown, which follows the life and reign of Queen Elizabeth II, will be released by Netflix in two installments: the first four episodes on 16 November 2023, and the remaining six on 14 December 2023.
November 17
Maxine's Baby: The Tyler Perry Story
Maxine's Baby: The Tyler Perry Story is a nod to his mother's love, and is a tender and intimate portrait of visionary and innovator Tyler Perry: his harrowing but faithful road to the top of an industry that didn't always include him. This series about the life of the filmmaker will be available on Prime Video.
November 22
The Squid Game: The Challenge S1
Immersed in the world of "Squid Game," 456 real players put their skills — and character — to the ultimate test for a life-changing $4.56 million prize. The reality competition series will be available on Netflix.
Track your favourite movies and TV shows directly on your phone calendar.