Director Kenneth Gyang takes a brief look at scaling up with EbonyLife Studios, co-directing Netflix's first original Nigerian series and makes the case for nudity as a narrative device.
Many things can go wrong when making a film, most especially in the filmmaking clime of Nigeria. And everything that could go wrong showed up during the making of Kenneth Gyang's first feature film, Confusion Na Wa, a 2013 indie film starring Ramsey Nouah, OC Ukeje, Ali Nuhu and Gold Ikponmwosa. The filmmaker has detailed these challenges in a series of tweets over the years and a popular thread on indie Nollywood Twitter where he shared lessons to be learnt from the experience, which included insufferable computer malfunctions, police trouble, a constant lack of funds, and distribution headache despite a best picture win at the 2013 AMAA. 
---
'Blood Sisters' Review: A Bloody Promising Affair Between Netflix and EbonyLife
---
Before picking up a directorial assignment in mainstream Nollywood, Kenneth Gyang patiently bided his time to seek a fitting creative partnership that would present the right story. During this period, he further sharpened his creative skills at training programmes around the world, while also developing an international tribe. In 2016, he was at the first Ouga Film Lab where he won a pitching competition and got into EAVE European Producers Workshop. In 2018, he attended another filmmaking program at the University of Southern California courtesy of the US Embassy.
The perceptive filmmaker would go on to make Nigerian-Norwegian film The Lost Cafe within the same year and proceeded to direct other projects for EbonyLife, like episodes of political drama Sons of Caliphate, legal drama Castle & Castle, and the well-received Oloture in 2019. With potentially more in the pipeline, Gyang can boldly say that he is fully well underway into his desired career. His most recent efforts can be seen in two episodes of Blood Sisters, Netflix's first original Nigerian series.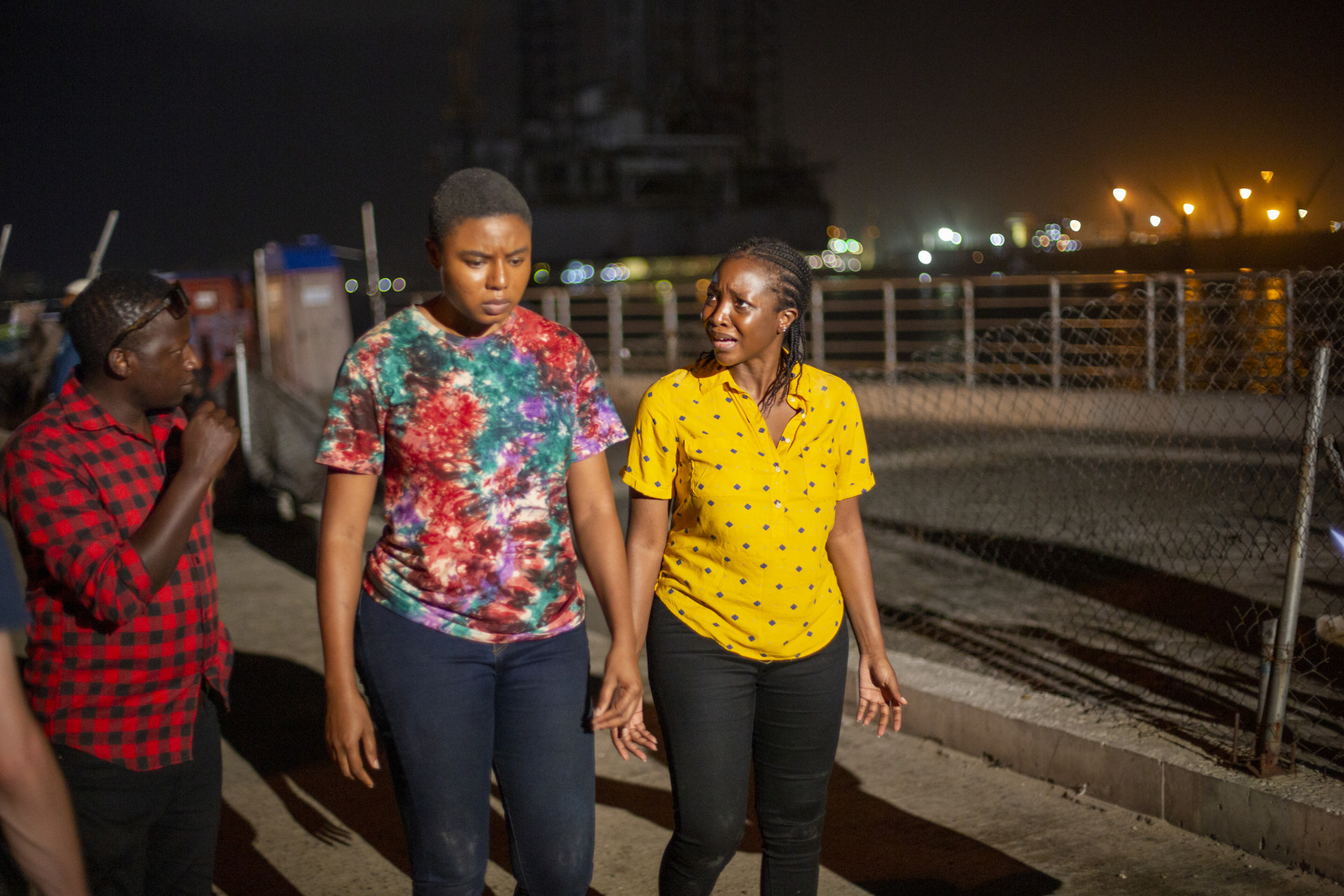 Blood Sisters is a story of Sarah (Ini Dima-Okojie) and Kemi (Nancy Isime) who must go on the run after an incident that results in the death of Sarah's husband-to-be (Deyemi Okanlawon). Co-directed with Biyi Bandele (Half of a Yellow Sun), in this crime thriller created by Temidayo Makanjuola (Money.Men.Marriage), Gyang's visual prints are clear in the gritty pulsating final two episodes of the limited series.
Discussing with WKMUp on what the step up to directing for EbonyLife, one of the biggest studios in Nollywood founded and chaired by Mo Abudu, Kenneth Gyang explains how his approach relied on using the same abilities that he acquired as an indie creative saying, "for you to be a good filmmaker, you need to actually have some creative juice in your brain. And if you don't have the talent to use little budget to make really compelling films that will get your voice out there, then I don't really think that you can excel when it comes to big studio films because viewers get tired of watching archetype characters, so sometimes it needs to be really deeper than what you would normally get from the studios", naming Tarantino, Alfonso Cuarón, Alejandro González Iñárritu and Christopher Nolan as people who first excelled as indie filmmakers before scaling up with the backing of big studios.
On a studio-backed project, the filmmakers have more of almost every resource at their disposal. Working on an EbonyLife-Netflix budget would be the dream of an average Nollywood filmmaker, but should every filmmaker wait, as many filmmakers out there believe, for such level of finances before attempting to tell a well-crafted story. Gyang, who worked with a 15,000 euros grant to make his first feature, defends the fact that more money is needed to make better films. "But what is really true is the fact that you have to show that you have the creativity to make very good films," he says. "It's not always about money. I always feel that if you're a creative – as a filmmaker, you can be able to tell really good stories without really following the generic way of storytelling that we have here, in some movies."
Every filmmaker would agree that one thing that an increased budget grants is the command of more stars in their project. Blood Sisters boasts a star-studded cast—including the taciturn Ramsey Nouah whom according to the famous Twitter thread opted to act in Confusion Na Wa for free and "contribute equipment to the production"—as almost every EbonyLife project, but this time all coming together to deliver— which has been one of the biggest praises of the limited series. Even when not helped by the script in some moments, the high-flying cast manage to compensate for their characters.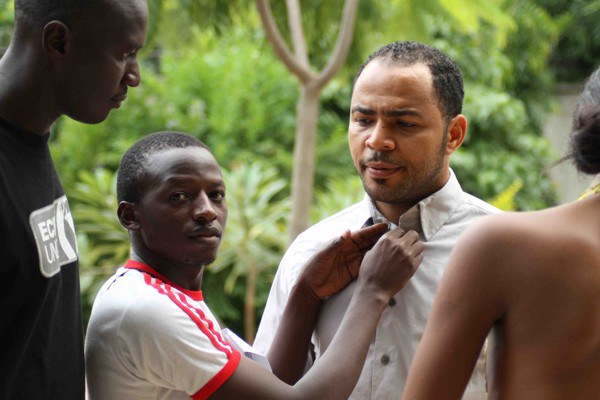 "It was really cool connecting with Ramsey again since Confusion Na Wa but it always feels like we've been working together because we are very good friends and even when we are not working on set together, we are developing some other thing," says Gyang on their reunion. The director has a lot of praises for Nouah, describing his movie star persona and screen presence as attributes to behold, which they also exploited in Blood Sisters as the trusted family 'uncle'. Explaining how he approached directing Kate Henshaw, Gabriel Afolayan, Kehinde Bankole, Daniel Etim-Effiong, Uche Jombo, Keppy Ekpenyong-Bassey, Wale Ojo, Segun Arinze and, even, Toyin Aimakhu, Zack Orji and Joke Silva who had cameo roles, Gyang says, "about working with movie stars, I think I have always worked with movie stars even when I started at a very young age when I was working with BBC on Wetin Dey as I was just coming out of film school. I've always felt that if you really know what you're doing, you will always command the respect of the stars and that's what has always been the case for me in my career." 
Many things still remain tightly kept secrets in Nollywood, mostly regarding processes (casting, for example) and data results. Nonetheless, with such a number of veterans and stars, one must have wondered how the creative team managed to bring them together and find the right fit for every character, except breakout star Genoveva Umeh (One Lagos Night), who plays the addict last born of the Ademola clan, handpicked by Gyang after being convinced by her abilities during his time as an instructor at EbonyLife academy. For the rest, Gyang says, "usually with the big studios we have a list of people to get in touch with if they have some of the traits that we look for in a character. So we call them for a read. And we film them and try to work out the screen chemistry they bring for a particular character, that's how it happens." 
---
WKMUp Quiz: Which 'Blood Sisters' Character are You?
Film Mischief 2022 | 6 Questions with Akorede Azeez: Applying for the Netflix-UNESCO Competition, Experience as a Film Rat and Finding Her Voice as a Filmmaker
---
Having more resources to work with doesn't mean problems do not still spring up. In the episodes—"The Hunt" and "The Catch"— that he had to shoot, Kenneth Gyang reveals the most challenging scene to shoot, "I would say that the most challenging scene would be filming around Makoko, because it is such a very complex sequence with a lot of things happening at the same time. Since we were scheduled to film it in two days and, serious planning went into it such as drawing tactics and storyboarding while thinking about the fire and how it would affect the other shacks around it. On the day of the shoot, we had to use the canoe to paddle. Despite being a really hot day and really complex to shoot, I'm just glad that the sequence turned out right."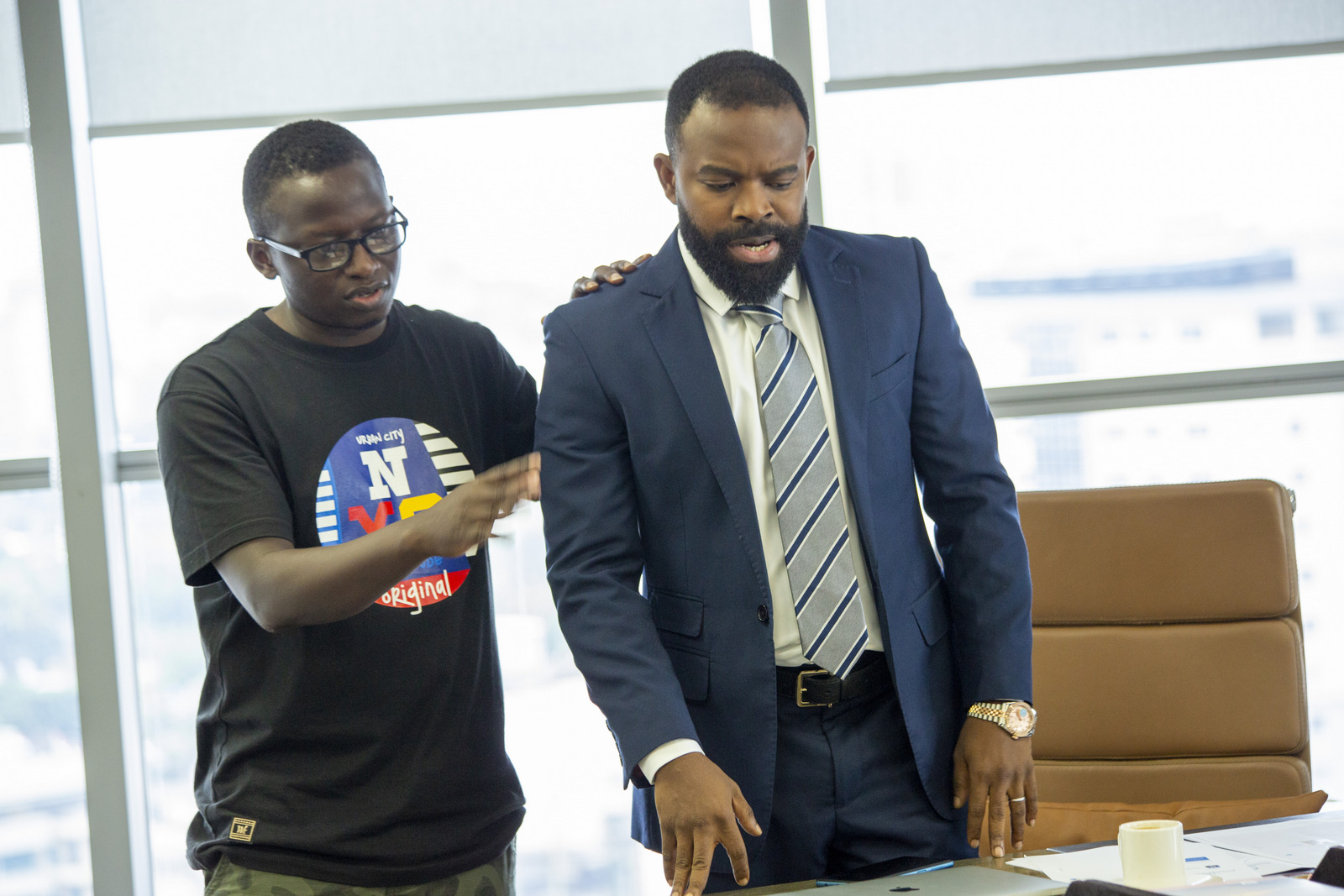 Blood Sisters has opened to general positive audience reviews and mostly positive critical responses. Amongst the audience in a largely conservative Nigeria, the major criticism against the movie has been the nudity and violence that the 4-episode series embraces, seen as "unnecessary". While Gyang understands their frustrations, he believes that it works. Using the scenes which mostly appear in his episode as examples, he asserts: 
"These are narrative devices that we sometimes have to use. For instance, the shower scene with Timeyin's character was supposed to show the inhumane treatment she's received all through the time that she's been at this extreme Christian rehab and her journey is about what she's going through and how she turns out at the end of the day. And in between, there has to be things that would make her a very complex character and we can't actually have a complex character with just appearance and dialogue, right? And even the case of Olayinka and her relationship with Femi. Olayinka is basically from a different background than the Ademola's and she is trying to earn her place in that family using one of them whom she considers weak. So sex, a sort of extreme device being used, shows how she is actually holding Gabriel Afolayan's character. Without it, would you actually believe this character? I really don't think so though. In a nutshell, I would say that nudity was a technique that was used to aid our storytelling because we needed to show where these characters are coming from and why they are doing the things that they are doing and how they are in the particular situation that they are in." 
Criticism in Nollywood, falling under renewed engagement and interaction, from fans and critics alike, gained momentum after Niyi Akinmolayan's Chief Daddy 2 (also an EbonyLife production for Netflix), which opened the first day of the year and a floodgate of hammering from disappointed fans. However, many viewers consider Blood Sisters— which showed signs of EbonyLife's promising affair with Netflix— as a redemption for the Nigerian production company.
As an active Twitter user, Kenneth Gyang, who also witnessed the January 1 events, says, "what I found laughable about the outrage is that I don't really think that Chief Daddy is any different from most of the films that have been coming out in that genre. So personally, it has always been the way that some of the big comedies in Nigeria always treat characters. And I just didn't understand why it was about Chief Daddy, because most of the big films that are being celebrated in Nigeria are almost always that way."
So, how did Kenneth Gyang, a filmmaker rich in cinematic sensibilities, co-shepherd Blood Sisters, Netflix's first original series in the region, to a global success, finding itself in 9th place under the English TV category after 4 days. "You can't definitely say that there are any elements that are infused to maintain quality filmmaking in Blood Sisters over other Nollywood projects than the fact that many times we don't have the right characters, which has nothing to do with certain elements being infused. It's basically following the universal way of storytelling and character creation," as he was probed to share elements other filmmakers can learn from the EbonyLife 'remontada'.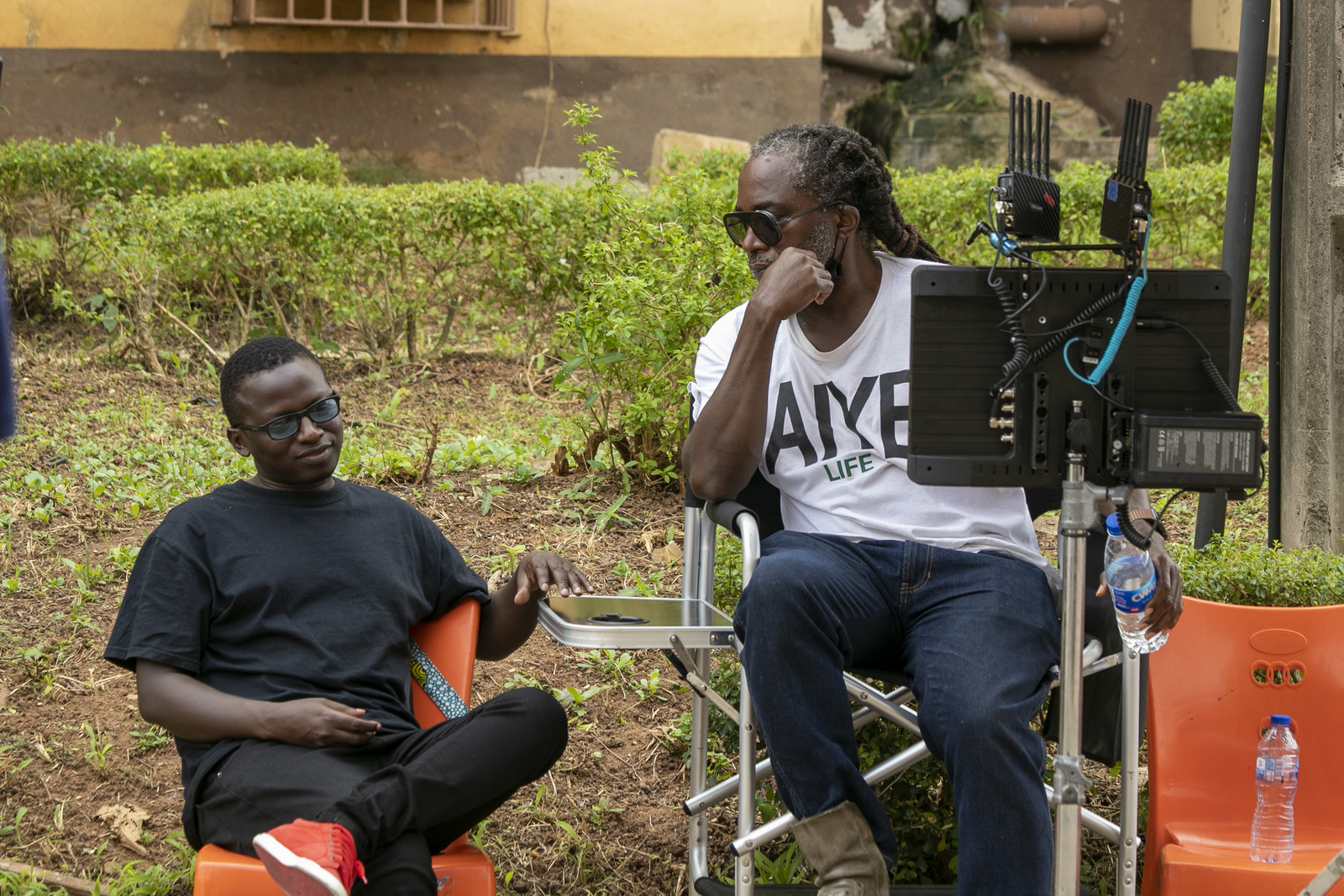 With at least 11 million viewing hours recorded already, there are surely many other stories that Nollywood can potentially export to the rest of the world. "Landing in the global Top 10 is a testament that we can tell really huge global stories. And personally it is a triumph for me as an independent filmmaker because we've always talked about telling the right story that will travel. And so with Oloture travelling really widely and then with this one, it just shows you that when we tell stories that other countries can relate with, it will be a win-win for everyone. So I don't think there are particular stories to tell, it depends on how you tell it. You could tell a very good comedy, like one of my best films is actually a comedy, My Cousin Vinny, a really well-written film with characters I could relate with and I think it was made in 1992. So most times, it's not a comedy problem. It is about how you write the characters and what sort of journey you take people on with it. So I can't really say there's a particular formula to storytelling, I just believe that people should always use the universal approach, that's all", says Kenneth Gyang when quizzed over stories that we can still export as a creative country.
Responding to a final question on what the future holds for him as a filmmaker, he says, "yeah, I'm a filmmaker so I always create. I've been developing something with my company, Cinema Kpata Kpata, which is a film collective. We've recently gotten rights to huge materials that I can't really talk about now. And yes, of course, I'm still working with the big studios, like EbonyLife Studios and we have a couple of projects that we are working on at the moment," in what signals a sustained partnership between Mo Abudu-led EbonyLife and an astute Kenneth Gyang.
Blood Sisters is currently streaming on Netflix.