Kelechi "The Performer" Udegbe is a multiple award-winning actor and producer, whose work span film to TV, in projects like Officer Titus (2013–2017), Collision Course (2021), The Black Book (2023), The Trade (2023), and The Herbert Macaulay Affair (2019), among others. Recently, he portrayed the lynchpin character of Jabi in C.J. 'Fiery' Obasi's critically-acclaimed Mami Wata, a black-and-white fantasy film in which he served as one of the executive producers, a bold move miles ahead of his humble beginnings.
"I was very shy as a child," the actor first reveals about his Nollywood experience, in an exclusive interview with WKMUp. "But when I'm standing in front of the camera, I don't have any iota of shyness. Except when it comes to taking pictures." Udegbe took his first step into the world of acting in 2005, when he completed a certificate course in acting at the Pencil Film and Television Institute (PEFTI). Subsequently, he made his major lead role debut in Super Story: Behind the Smile (2007), the beloved TV series produced by Wale Adenuga, the founder of the film institute.
"I wanted to have some kind of background, to understand what film is all about. So, I went and I got my role," the actor says of the experience. "Initially, my dad wasn't happy. Back in those days, it was all, 'Go and read your book, you're not serious!' if you didn't want to be a lawyer or something like that. But my sister told me I was good, and I thank God for her. The kind of family I come from, if I was a bad actor, she would have told me. Later, when my father saw my first films on TV, he gave me money."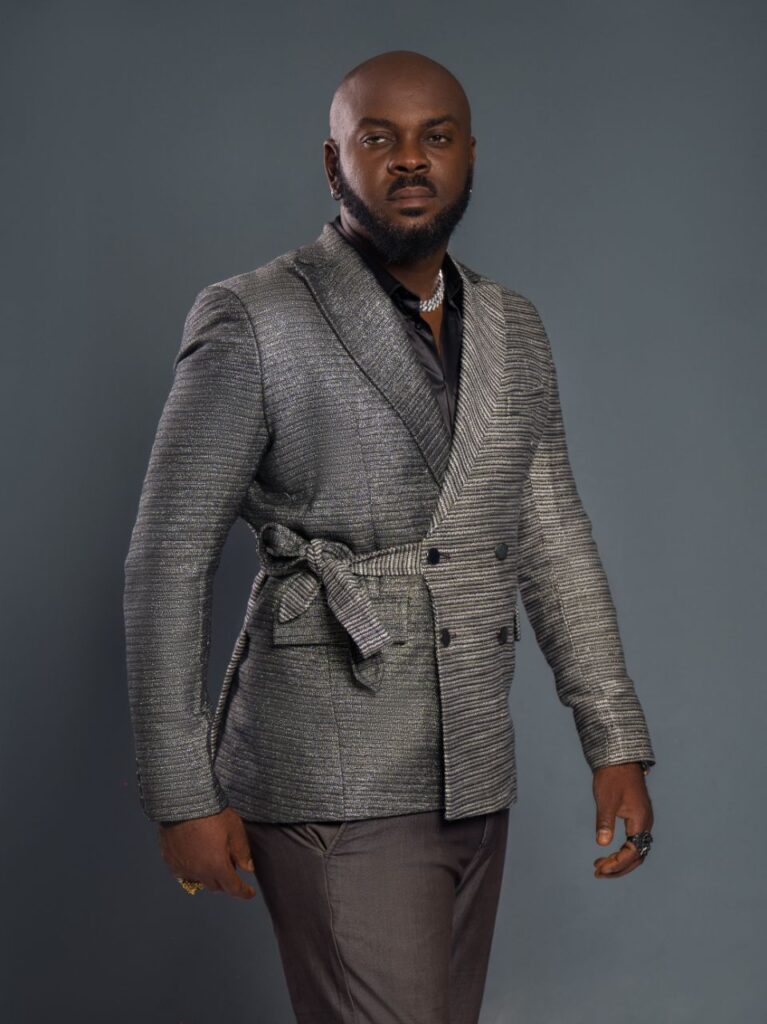 Presented with the idea of roads left untraveled, I start delving into why he chose acting instead of treading a more conventional path like his father would have wanted. He muses, "I used to be in love with cartoons growing up, and I don't know. There are so many impossible things you can do as a cartoon character—no impossibilities—do you get? And I really liked mimicking voices," hinting at his lesser-known career in voice-over acting. "I also watched a lot of sitcoms as a child." He paints a vivid picture of the foundations of his passion, citing Martin Lawrence and Will Smith as his influences from the sitcom world.
Other actors he draws inspiration from include Denzel Washington, Richard Mofe-Damijo, Ramsey Nouah, Angelina Jolie, Ijeoma Grace Agu, and Gabriel Afolayan. However, influences only make up a fragment of Udegbe's creative process; mostly, it has to do with the unique way he sees the world. "I have a very visual mind," he explains. "When you tell me a story, it's easy for me to put myself in that situation. My mind creates a lot of stuff, and acting is an outlet to push it out. If I wasn't an actor, I would be a musician." It's interesting to note that Udegbe once dabbled into music, and still likes rhymes and wordplay till date.
With such creative depth across artistic mediums, one is tempted to assume that performing must come like the flickering of a switch, but what the actor shares on how he develops his roles speaks more to hard work and skills complemented by his innate talent. "I don't think I can describe myself as a method actor," he remarks, "but I like to put myself in the character. I read through the script a couple of times, then I focus on my character. 'Who is this person?' 'Where did he come from?' Someone who grew up in a loving home is quite different from another person whose dad and mom are always fighting. 'What kind of school did the person go to?' 'What is the love language of this character?' 'How does he express anger?' 'Where does he live?' Someone who stays on Banana Island will have a different mindset from someone who lives in Ajegunle. Most characters are complex."
He uses his role in Mami Wata as an example. "At his core, Jabi is actually fighting for the growth of his community, but he doesn't know how to go about things. So, you can't just conclude that this character is a villain or a hero, you need to find the balance by taking a closer look at the environment and circumstances. Ask yourself, 'How do these things affect the character?'"
Production set-ups and costumes also help Udegbe bring his characters to life, as do his co-actors."The way my sparring partner gives it to me determines how I'm going to respond," he clarifies. "so it's dangerous sometimes when you're working with someone who misses their cues or doesn't deliver their lines the way they're supposed to."
Praise for Udegbe's craft started pouring in 2013, when he made Nollywood Director Charles Novia's list of the Best 5 Nollywood Actors for his formidable performance as the titular character in Officer Titus (2013–2017), an NdaniTV comedy series, which catapulted him into the limelight and earned him his second consecutive AMVCA nomination in the Best Actor Comedy category. The first nomination was for his role in Horn Free Day (2014), a short by Stanlee Ohikhuare, with whom Udegbe has also worked on projects like Kpians: The Feast of Souls (2014), Stupid Movie (2014), and Behind the Wheels (2017), the first film Udegbe ever produced, which also earned him a 2017 Best of Nollywood award in the Best Supporting Actor category.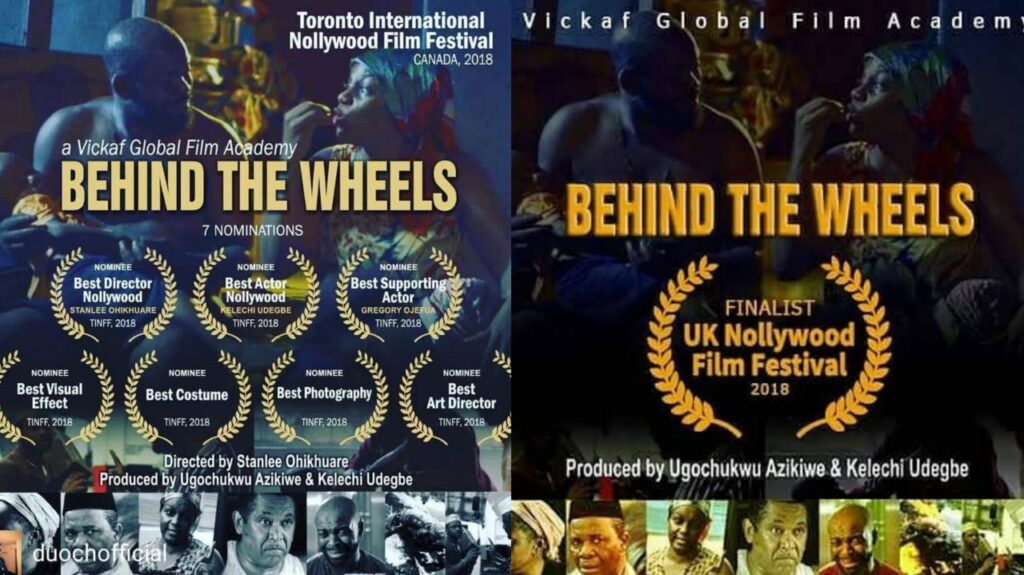 The laurels do not end there. The actor's accolades also include an AFRIFF Globe Best Actor award, an AMAA Best Actor in a Supporting Role award, a Best of Nollywood Best Actor in a Lead Role Award, and two additional AMVCA nominations, making him a four-time nominee at the Multichoice-organized annual show. "It's one thing to be a good actor and another thing to have the numbers," he explains. "The numbers often affect the value of the brand. For jury awards like AMAA and AFRIFF, I think I have like a 99% chance of winning. But AMVCA is a [public] voting thing, so I'm always happy to just be nominated. Generally, I see awards as something to encourage you. They may not always be monetary, but they make you feel seen."
Udegbe, who faced several challenges in getting roles, once considered bleaching his skin. "With the cameras and equipment we had back then, it was easier to capture fair people. It wasn't really a matter of who was better at acting. But what if I'd done it and I still wasn't getting the kinds of roles I wanted? I wouldn't have been happy with myself. Now, things are better. We shot Mami Wata, and there were so many dark people in the cast. Now, the world wants to hear our stories, so whatever did not work in my favor before is working to my advantage now."
---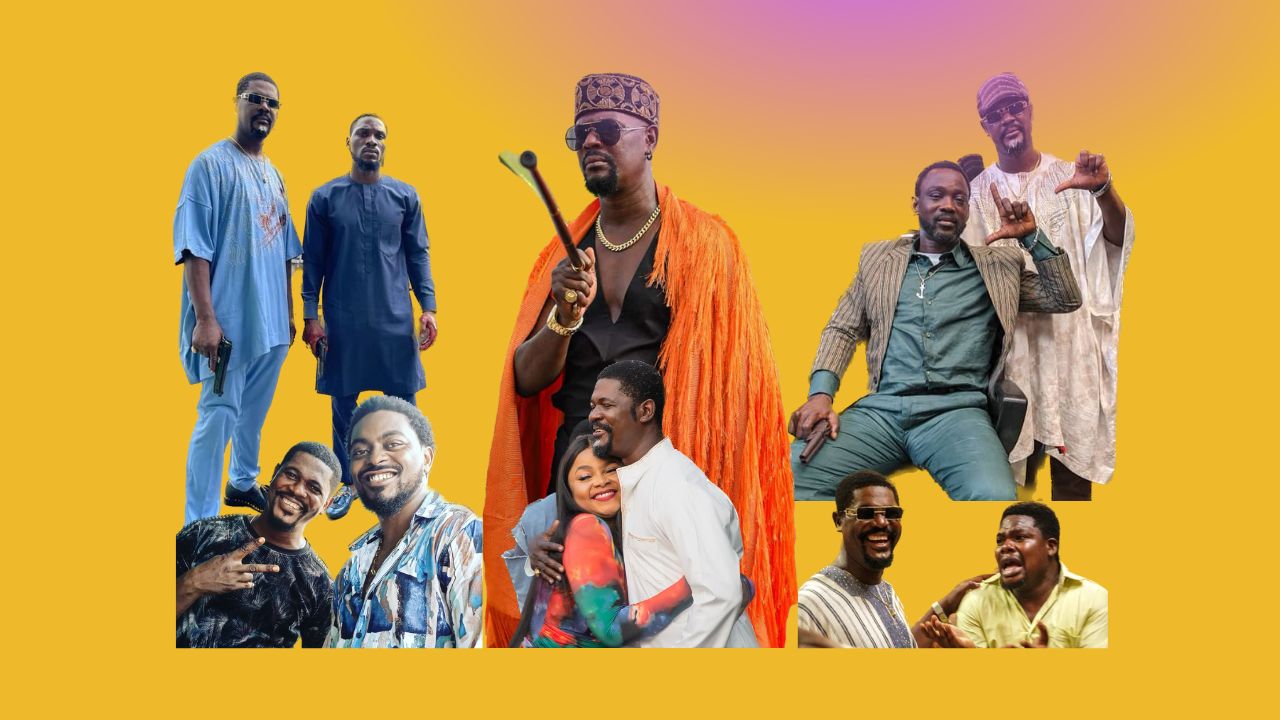 From Stage to Screen: The Artistry of Olarotimi Fakunle Knows No Bound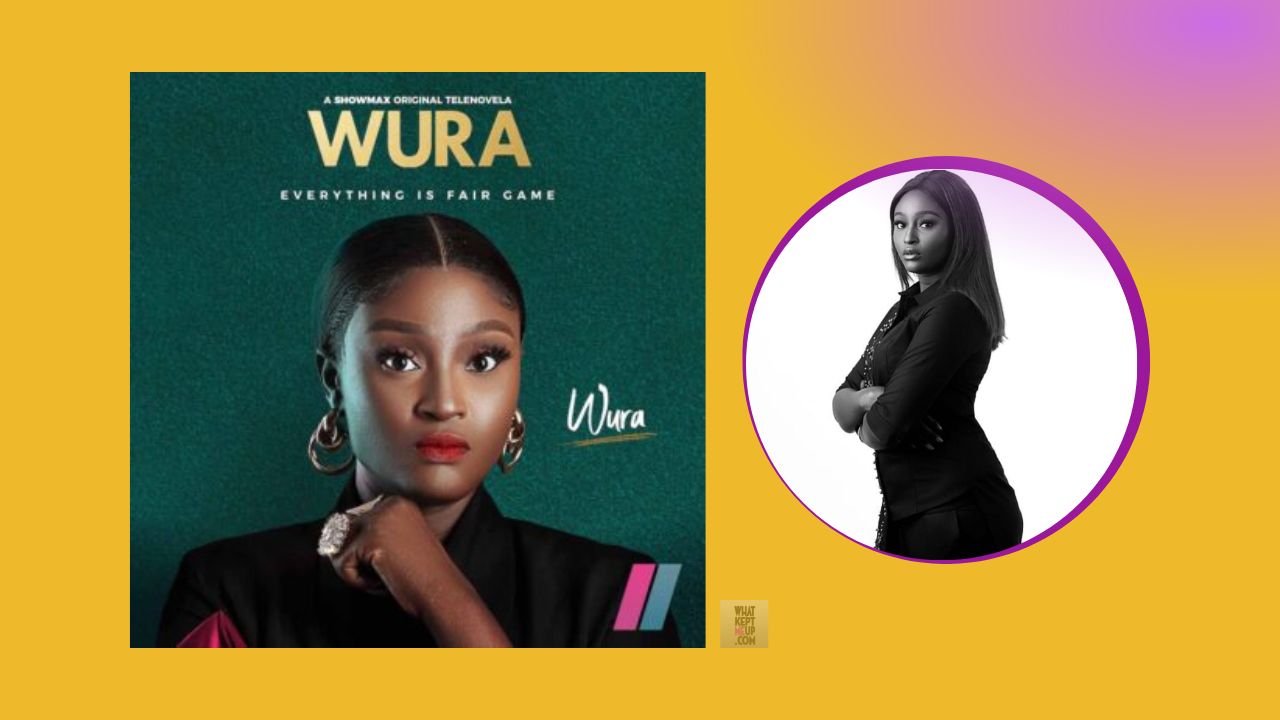 Scarlet Gomez on Playing Television's Most Notorious Character, WURA, on the Titular Showmax Telenovela
---
As more opportunities begin to open up in Nollywood, he sees a greater need for actors to be more deliberate when navigating the industry. "Going from location to location takes time. Sometimes, you feel an emptiness inside of you. We actors have personal lives too; you have your family, friends, and other interesting things in life aside from acting. But you can easily get carried away by the lifestyle, and, in the next 3 or 4 years, you'll probably just be like, 'What have I done with myself?' So, with each job offer, you have to ask yourself, 'What does this do for my brand?'"
Udegbe's own answers are evident in how many of his projects seem to address strong socio-cultural issues, like police brutality in Collision Course (2021), depression in GuguruTV's Let Me Tell You A Joke About Depression (2022), and dyslexia in James Amuta's documentary Genius in Disguise: Demystifying Dyslexia (2023), among others. "Film, most times, is all about entertainment for people, so it's difficult to always also talk about societal issues," he says. "But every opportunity I get, I like to do that somehow, somewhere, because whether we like it or not, a lot of things happen that we ignore or don't talk about. When I was doing Officer Titus, yeah, people laughed, but there were issues behind the laughter. That's one thing I'm passionate about."
Curiously, I bring up his penchant for portraying policemen in some of his most notable projects. "It's just something about trends," the actor states. "At some point in my career, I worked more with comedy roles, then I did Officer Titus, and people would look at me like, 'Guy, are you sure you're not actually a LASTMA official?' Later on, I did Collision Course."
Digging a little deeper, he adds, "I think it's one of the penances of being good at what you do that you run a greater risk of being typecast." Udegbe, who dreams of a reverend father or pastor role, highlights some of the other challenges of his profession. "If you're doing a 9–5 job, at least you're very sure at the end of the day that your salary will be paid. It doesn't work like that in this industry. Some months are better than others, but sometimes you may not get any work in, like, 6 months meanwhile, people are hailing you in the streets: 'Hey, big boy! Drop something for us!' Whereas, somebody who is not on screen is a billionaire, but nobody knows."
Clearly exasperated, he shares more of the undue expectations society places on actors. "Apart from the impression that you have a lot of money, there's the scrutiny. People are always like, 'Who is he dating?', 'Oh, he's coming out of his house with a fake Versace', you can't even enter Mama Put in peace because you don't want to trend online. Sometimes, the characters you don take a lot out of you, and there's this idea that actors always have relationship problems. People have relationship issues all the time. Go to the courts, you'll see many people's kids and marriages there every day. But if it's an actor, people will always want to talk about it. Your life is now somehow. These things always make me wonder, 'Am I doing the right thing?'"
With many cards stacked against actors, it is only natural to wonder if The Performer has ever considered quitting. "I've thought about it about one million, one hundred and onety-one times," he says humorously. "I will probably still wake up tomorrow and think about quitting. But I love what I do. I like taking on new characters, the creativity of it," he waxes poetic. "I want to be able to make the kinds of films I want to make, to do work that brings me some top-notch international recognition, you know, get paid pounds, dollars, and euros." His voice deepens with emotion, "Also, I want to do my own films, make my own stories, through my own production company. You have to be intentional if you want to do all that."
Udegbe's frequent collaborations with filmmakers like Ohikhuare, Amuta, and Obasi are an aspect of that intentionality that comes to light in the interview. "I worked with them [C.J. and Oge Obasi] on their first film, Ojuju. From there, we just became friends. I first thought Mami Wata would be something spiritual like that, but after reading the script, my mind was blown. I respect C.J.'s craft, and I always want to work with him." Udegbe was later tapped as one of the film's executive producers.
Mami Wata, Nigeria's International Feature Film entry to the 96th Academy Awards, premiered at the 2023 Sundance Film Festival, where Lílis Soares won the Special Jury Prize in the World Dramatic Competition for its cinematography. It has been to the UK, North America, Germany, Switzerland, Australia, Austria, the Czech Republic, and Brazil, among other foreign territories, bagging accolades across the board. Now, it will represent Nigeria at the 2024 Oscars, in the International Feature Film (IFF) category.
"Mami Wata is a movie on its own, men!" Udegbe says excitedly. "It's artistic but also commercial. It's one of those films that paves the road for aspiring filmmakers in some way. It's the right push, encouraging them to do different kinds of genres while raising awareness that if you're not able to succeed in a market with this film, there are other markets. The international market is seeing more of what we've been able to do, and we have a lot of streaming platforms like Netflix, Prime Video, and Showmax now. Our productions these days are much better as well. All we have to do is get our act together internally so that we can really be seen." The actor, who had previously produced Imoh Umoren's The Coffin Salesman (2019) and Stanlee Ohikhuare's Behind the Wheel (2017), elaborates, "The growth is stunted because everybody is just doing one thing. We went outside with Mami Wata, and they loved it. Now, it has come back. It's like when Genevieve Nnaji did her film, Lionheart. Someone has to come forward to allow a path for others, to show people that we can do different kinds of genres."
Inspired by the success of Mami Wata himself, Udegbe plans to do more producing in the future. "I have some personal projects I'm working on, but I'm still setting things in motion," he states cryptically. In the meantime, he'll be gracing our screens with upcoming projects like James Amuta's Black Harvest (2023) and Lonzo Nzekwe's Orah (2023), both of which screened at the recent Toronto International Film Festival. He'll also be part of Yemi Morafa's murder mystery The Party.
Having walked us through his Nollywood journey, The Performer leaves a final note to aspiring actors, based on his considerable experience. "First of all, find something that brings in money so that you can pay your bills as you go around for auditions. Then, be consistent. Learn how to establish yourself as somebody who brings in value. To do that, you have to take acting seriously because if an actor doesn't believe what he says, other people won't either." Lastly, he advises as the curtain falls, "Allow the character to take you. Don't resist or try to fight it. Be that character."
Join the conversation in the comments section or on Twitter.
Sign Up: Keep track of upcoming films and TV shows on your Google calendar.