The jury members and film selections for the upcoming edition of The Annual Film Mischief—a film festival for independent filmmakers— have been confirmed.
This year's jury, headed by Nwakaego Boyo, an award-winning actress and producer who has 30 years of experience in consulting, producing, and financing films and media content, will include other filmmakers across Africa. The jury includes Ghanaian filmmaker Amartei Armar known for TSUTSUƐ, a short film that was selected for the Cannes Film Festival in 2022; Ugandan filmmaker Loukman Ali, who is behind The Girl in the Yellow Jumper and Katera of the Punishment Island, a Netflix Folktale Reimagination; Ghanaian film editor Magdalene Morton, who has worked on a number of music videos for Efya, Manifest ft Burna Boy, Sarkodie, Cina Soul; and South African cinematographer Kabelo Thathe, who worked on titles like Vaya (2016), The Ghost And The House Of Truth (2019), and Rise (2022). 
---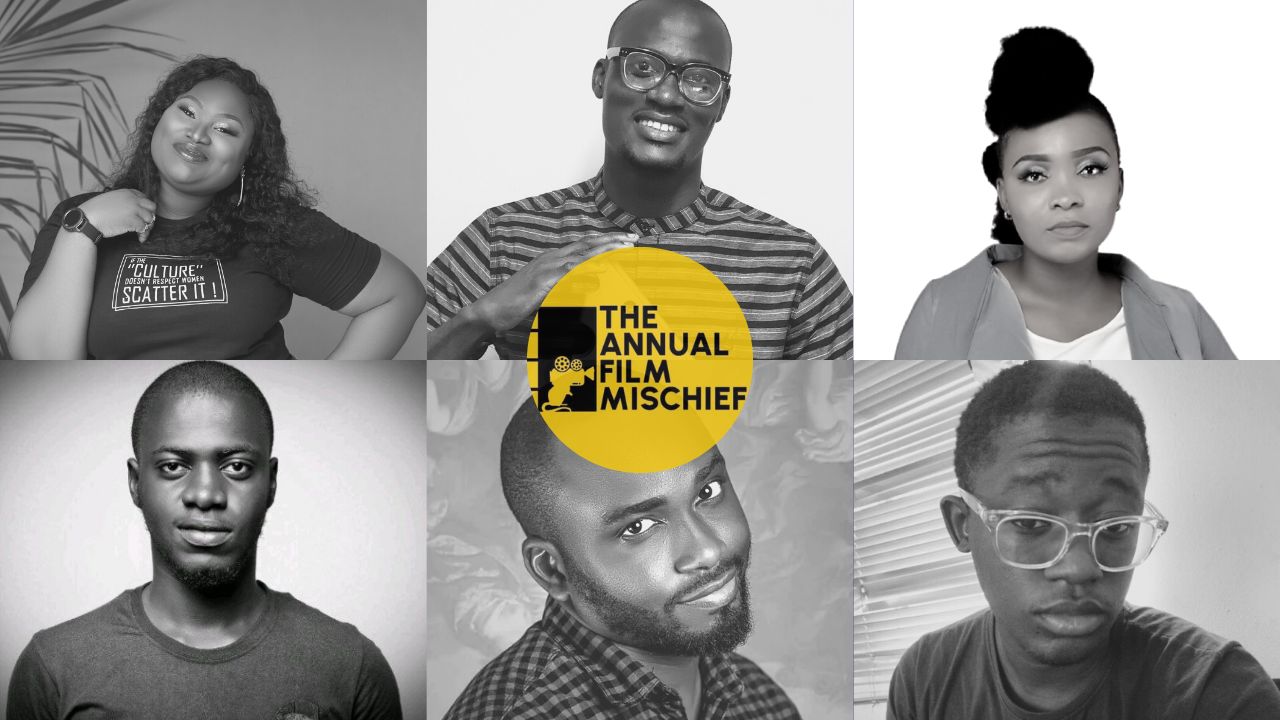 Film Mischief 2022: Screenwriting in Nollywood, 6 Professionals Share Their Experience
---
Set to take place from April 27-30, in a format that has now been expanded to include films from other African countries, the upcoming sophomore event will host physical screenings in Lagos, Abuja and Accra, themed #ShootTheCulture. (Register for free here)
Furthermore, 22 films have been selected to wear the ShootTheCulture badge. They include short films that have made waves on their festival run recently, like Gbese, Ogun Ola, The Broken Mask, Samaria and My Mama Na Ashewo. Documentary titles will also be an addition to this year's selections.
See the full lineup below
"What I find particularly exciting is the crop of filmmakers we are showcasing this year. Nothing says Young & African quite like that vibrant push towards global acclaim. TAFM is truly honoured to be a part of that narrative," shares one half of the festival director duo, Uche Chika Elumelu, in reaction to this year's selections that were picked from thrice the number of submissions received in the debut year.
In line with their first year tradition, there'll be a day dedicated to virtual screenings and mischief sessions/discussions with industry professionals on interesting topics.
One of such discussion panels is a planned annual conference in partnership with Impact Hub Lagos's Creative Fridays platform—tagged FilmTech Conference— that will take flight at this year's edition. The topic for the conference is "Innovation For Local". Ojie Imoloame, Executive Director, shares their vision for the conference, "the one-day conference is for key creators & innovators, startups and other stakeholders in the FilmTech space. We will spotlight the growth of local solutions to local problems in the African film industry. The goal of this conference is to discuss initiatives that will pave the way for a globally competitive talent pool to effectively compete in the 4th revolution".
#ShootTheCulture is a call to action for African filmmakers to tell stories that reflect and celebrate their uniqueness in an innovative and global way. "It also refers to unlearning the things we have come to accept as norms, as well as attitudes that often limit us as creatives. Disruption is now the new normal and in order for us to remain competitive in the Global M&E conversation, we must forge our own path and present images from a variety of different perspectives, embracing innovation and technology," says the festival team in a press release.
"As Film Rats is dedicated to promoting film education and documentation towards improving filmmaking in Africa, this year, we dared to capture the stories of filmmakers across Africa, spotlighting them and their works. This is very important to us, to activate the spirit of celebrating unique styles and storytellers who go the extra mile to shoot the culture and redefine the narrative of the African experience," reveals Film Rats Founder, Chukwu Martin.
The inaugural Annual Film Mischief, tagged Less is More, was a four-day hybrid event led by festival director Taiwo Egunjobi. The jury members last year were Damilola Orimogunje (For Maria Ebun Pataki), Ifeanyi Chidi Barbara (Riona, Battleground), Tolulope Itegboje (Awon Boyz) and James Omokwe (Riona).
The Annual Film Mischief aims to bring its audience a selection of quality low-budget independent films and the doors will now be open to filmmakers in other African regions (home and abroad).
The festival is free for all to attend. Register here
TAFM is a program of The Film Rats Club. The film festival is proudly sponsored by Viva Cinemas Nigeria, Impact Hub Lagos, Albantsho & Cadbury PLC. Our official media partners are BellaNaija, WhatKeptmeUp, Phoenix Tribe, In Nollywood, Nollywire, Tech Economy, Radio Now, The Casting Place, Kraks TV, Take One Productions, Tobide Productions, Coalians Photography, Jide Pounds Ibitoye, SwitchFocus, GhMovieFreak, WineGrey Media and Games Hut.
Share your thoughts in the comments section or join the conversation on Twitter.
Sign up: Keep track of upcoming films and TV shows with Google calendar.