The inaugural edition of The Annual Film Mischief is forging ahead with its planned hybrid festival format for quality low-budget independent films in Nollywood, running from March 17-20. Today, Film Rats Club, the initiative behind the festival founded by Chukwu Martin, unveiled its full lineup, schedule and jury members. The lineup includes the screening of critically-acclaimed Eyimofe (festival opener), Tomisin Adepeju's The Appreciation, Paul Utomi's Country Hard (festival closer), Chukwu Martin's Mr Gbenga's Hard Drive, Taiwo Egunjobi's (festival director) In Ibadan, Korede Azeez's (a shortlisted candidate for the Netflix-UNESCO short film prize) Play, amongst other projects that include a number of short films. See the full list below.
---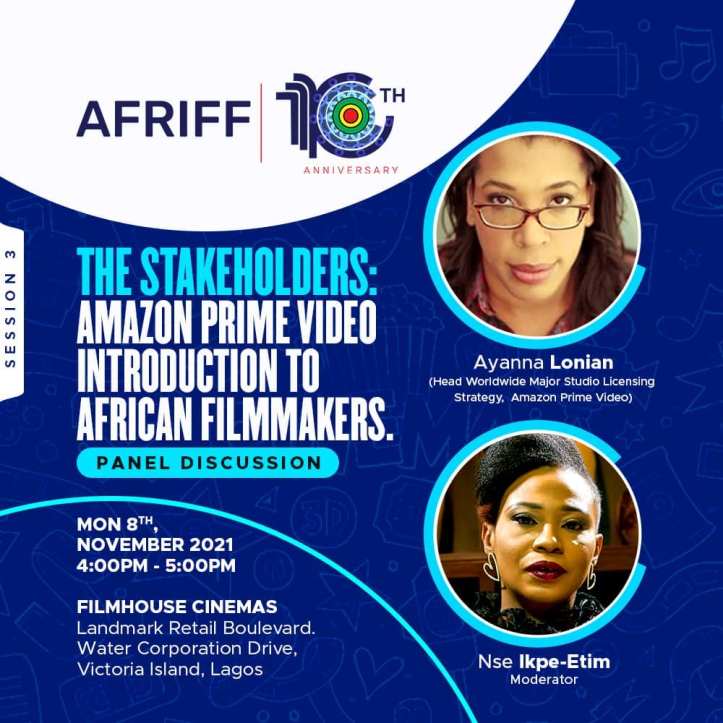 AFRIFF 2021 Day Two: Amazon Prime Video's Strategy to Rival Netflix in Sub-Saharan Africa
---
This year's festival, themed 'Less is More' will celebrate low budget films with unique narratives and styles, will take place both in-person (Lagos and Ibadan) as well as virtually and can be attended for free after an online registration. Apart from film screenings, the program also includes Q&A sessions with creators, Roundtable conversations, panel sessions and seminars. A special segment, known as The Yellow Project, is an innovation that caters to students from universities all over Nigeria to encourage them "to hone their skills, and help display their creativity to a larger audience."
Taiwo Egunjobi (In Ibadan) serves as director of this year's debut event. The announced jury members are Damilola Orimogunje (For Maria Ebun Pataki), an indie filmmaker particularly familiar with the festival pathway; Ifeanyi Chidi Barbara (Riona, Battleground), a TV head writer with more than 50,000 minutes of TV under her belt; Tolulope Itegboje, an independent producer and director behind Netflix-licensed documentary Awon Boyz; and James Omokwe, award-winning director and producer known for Ajoche and Riona.
In a mission statement by Martin Chukwu, founder of Film Rats Club, he says, "Film Rats Club is dedicated to promoting film education towards improving film making in Africa. We decided to host a festival to showcase the talents within the club and also shine a light on brilliant filmmakers within the continent. The theme "Less is More" was chosen as our maiden theme because we want to inspire, especially, in young filmmakers the audacity to make unique films under the challenges of meager resources and also offer our members the platform to showcase and promote their works. We are immensely proud of the diversity of our submissions. We not only celebrate the filmmakers amongst us but the different crop of talents who contribute to cinema. I am grateful to our festival project team who have worked round the clock to make this festival a reality. We are excited to draw the curtains on our first ever film mischief and we invite you to come witness and share this experience with us."
The Annual Film Mischief Cheese Pick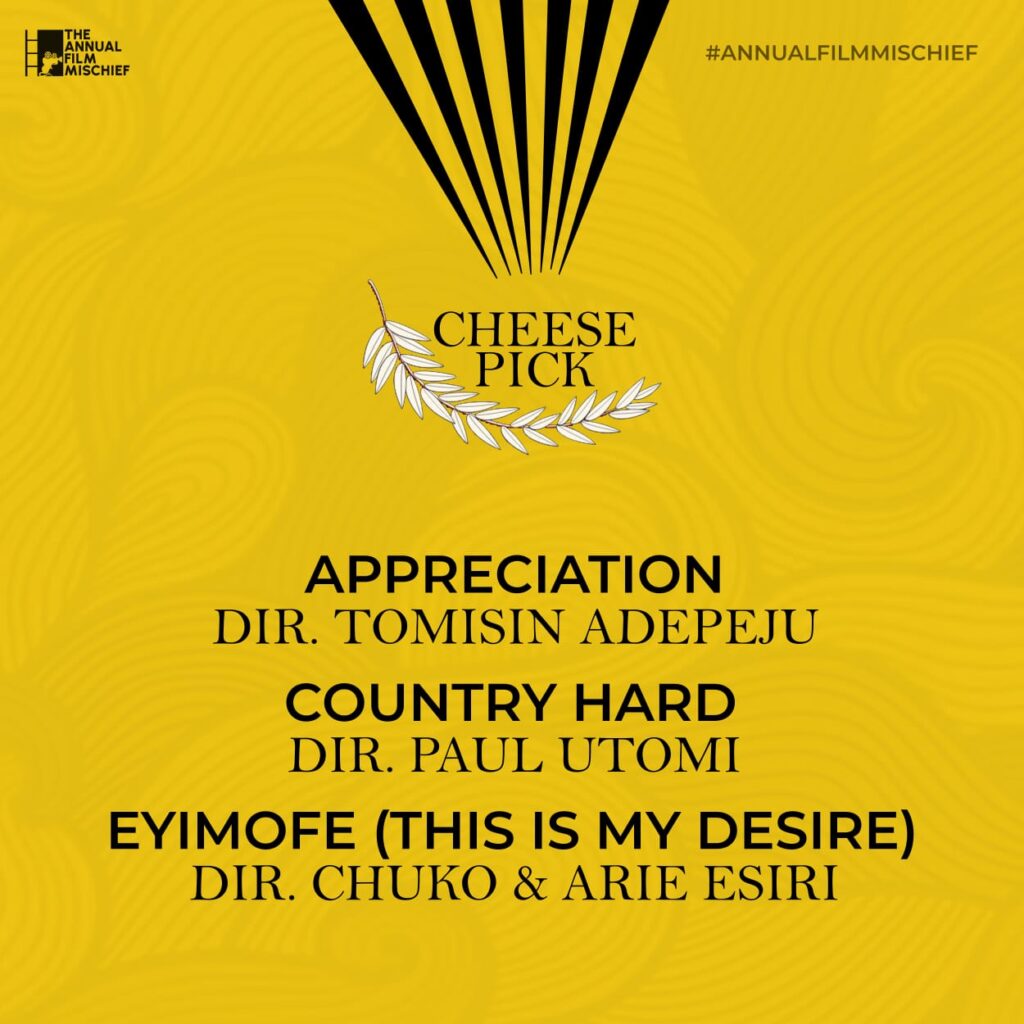 The Annual Film Mischief Official Selections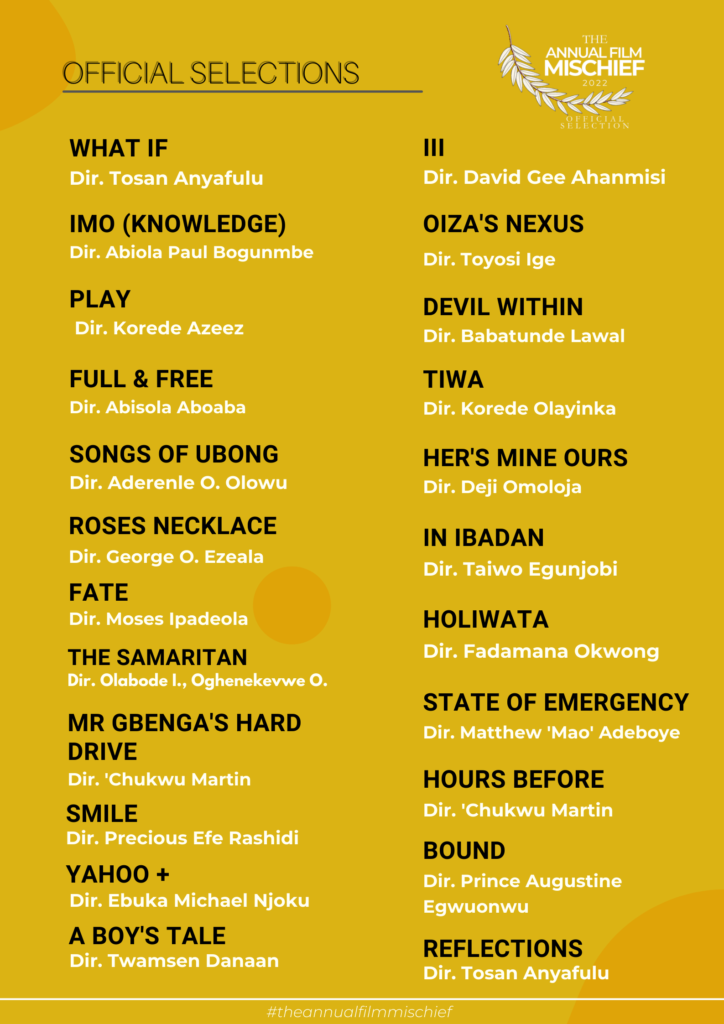 Watch the festival trailer here.
The Annual Film Mischief Festival runs March 17-20, 2022.
Stay on top of the latest news from the festival on our website, on Twitter and on Instagram.