Juju Stories, the 3-part anthology film by Surreal16, is finally on streaming– it was released on Amazon Prime Video on October 7. The stories feature a lot of magical realist elements, combining the mundane aspects of Nigerian society with the seemingly metaphysical.
---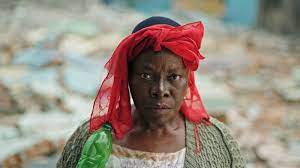 Movie Review: 'Juju Stories' is an Occultic Rhapsody
---
In this review, the critic describes Juju Stories as "tales about magic sans any magic." Rob Rector at Film Threat says the film features "vignettes that explore the more magical elements of Nigerian culture," and the reviewer at Movie Freak mentions that even though everything looks "simple and real" on the surface, the atmosphere of the film recalls that of The Twilight Zone, the anthology television series created by Rod Serling.
But it is not only by showing the slightly surrealist slant to our everyday dealings in Nigeria that Juju Stories excels– in true postmodernist fashion, it also references other works of art, from painting to classical music and literature.
Olamide Adio, writing a review of Juju Stories after AFRIFF 2021, notes that the references serve as 'easter eggs' in the narrative; viewers who are 'initiated' are thus rewarded with their discovery.
Sometimes, while watching a film, we can be so engrossed as to miss elements like these, which typically enrich our enjoyment and understanding of the story, even though they are only tangentially connected to the plot. In case you missed some of them, the following is a list of references in Juju Stories.
1. Cats and Haruki Murakami
Writing for The Guardian, Alison Flood notes, "Cats make regular, enigmatic appearances in Murakami's fiction."
Japanese author, Haruki Murakami, is famous for, among other things, his love for cats. The creatures turn up frequently in several of his works. The main character of his 2002 book, Kafka on the Shore, Kafka Tamura, makes a point of never passing a cat in the street without petting it. A cat even takes centre stage in his 1994 novel, The Wind-Up Bird Chronicle. The main character, Toru Okada, is looking for his cat who has gone missing– a cat whom he loves more than any of the women he comes across in his life.
Michael Omonua uses this element of a missing cat in "Love Potion", a story about a young woman, Mercy, (Belinda Yanga-Agedah) who uses juju to force a love interest (who is already affianced), to fall in love with her. The missing cat belongs to her neighbour, a character who is essentially an enigma, from the very words that come out of her mouth to the cat she seems to always be looking for.
According to this essay, "Mercy is Omonua's metaphorical cat who has wandered on her own path, leaving her human companion without any regard to emotions or feelings."
At the end of the day, her neighbour does not find the cat, and Mercy does not find what she's looking for in Leonard (Paul Utomi). The fantasy appeals to her, nevertheless, even at the very end.
2. The Scream and Edvard Munch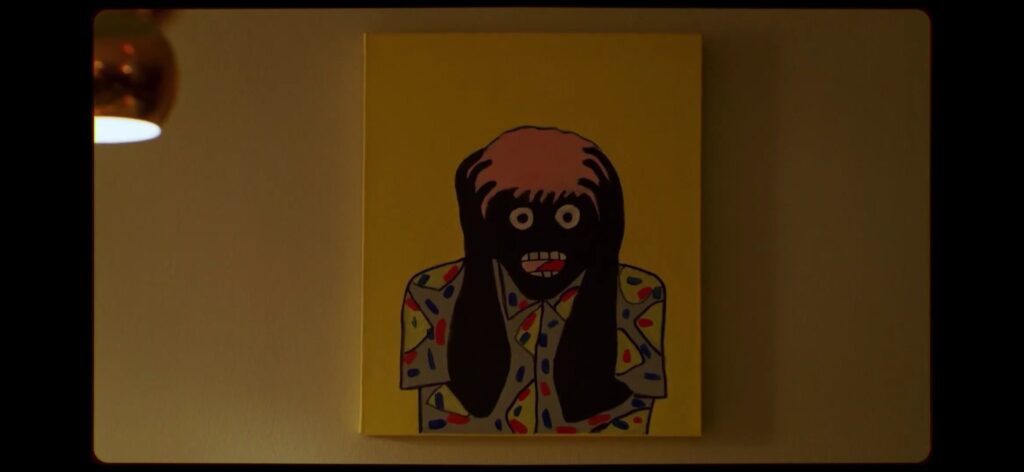 The film occupying the middle segment of the anthology is "Yam", directed by Abba T. Makama. It begins with a shot of an imitation of Edvard Munch's 1893 painting, The Scream, in the centre of the frame. According to Munch, he made that painting once when he sensed "an infinite scream passing through nature."
Edvard Munch was a Norwegian painter who specialized in expressionism and symbolism. His paintings such as Anxiety, and the 1895 series called Love and Pain, usually featured characters experiencing intense mental anguish. The Scream has become one of the most iconic images in Western art and society.
In "Yam", Makama, like Munch, seems to be capturing the anxiety of the human condition as experienced in Nigeria. The chapter seems to be channeling a scream passing through the country, emanating from deep in the souls of citizens. Makama had this to say about his work in a 2016 interview with The Guardian NG:
"Satire comes easy for me considering how enigmatic Nigeria is; there's so much juxtaposition. You walk out of a mansion and right in front of the gate there's someone selling agege bread to the gate man. So much suffering and smiling, as Fela would say."
This contrast is seen in the relationship between the upper-class people and the ordinary citizens: when the man reads from the paper that people have been turning to yam after picking up money from sidewalks, the woman's only response is: "Do we even have sidewalks in this country?" The lower class people live in a jungle where things such as justice and fairness are alien concepts while those who can afford luxury are shielded from such horrors.
The suffering of the common man is so far removed from their reality that their only experience of it comes from news reports and paintings.
3. The Void, Under the Skin (2013) and H.P Lovecraft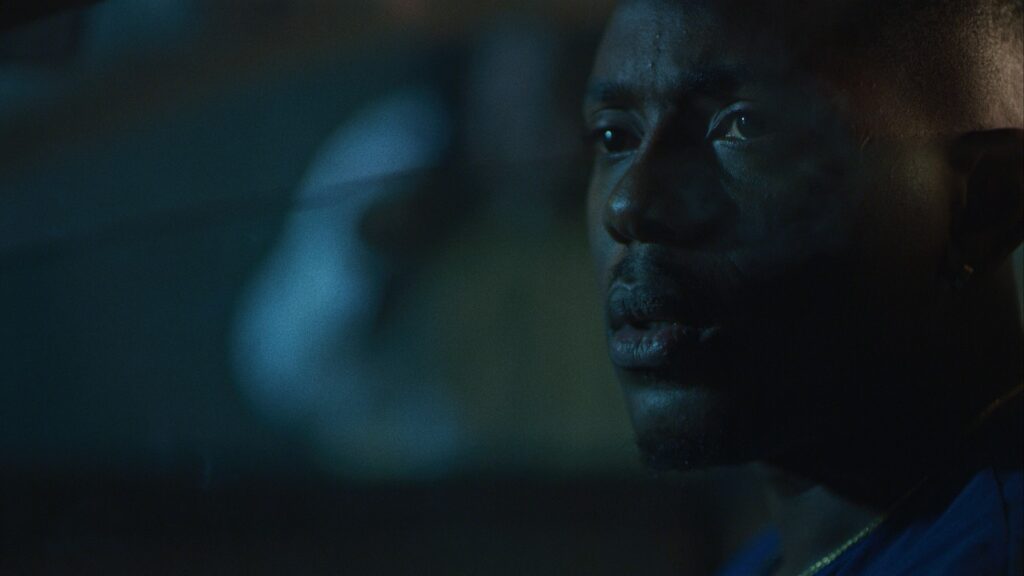 In C.J 'Fiery' Obasi's segment, "Suffer the Witch", Chinwe (Bukola Oladipupo) finds herself in the snare of Joy, her roommate who turns out to be a witch– Joy, who with plastic smiles, unnerving gazes and thinly veiled threats, digs her claws deep into Chinwe.
At the start of the story, Chinwe wonders how Joy always gets to places ahead of those who were on their way before her, or how she could know of things that hadn't even been whispered to anyone. While they're in their room one evening, Joy, in the most casual, inoffensive manner, asks Chinwe why she hadn't told her that a particular guy from their class, Ikenna, had called her.
The next day, Joy sees Ikenna on campus and tells him she'll kill him if he doesn't treat Chinwe right. And not ten minutes later in the runtime, Ikenna is dead. The way Obasi shows his death is inspired by the scenes from Jonathan Glazer's 2013 science-fiction film, Under the Skin, where an extraterrestrial who has taken the form of a human woman (Scarlett Johansson) lures men back to her lair, and traps them in a dark, mysterious void, where they remain forever, like flies in amber.
Thematically, there is some similarity or parallel between what leads to the death of the men in Under the Skin and of Ikenna in "Suffer the Witch". In both films, an unknowable, formidable entity, has mesmerized these men and what should be a relatively normal encounter with a woman turns into one of terror and death.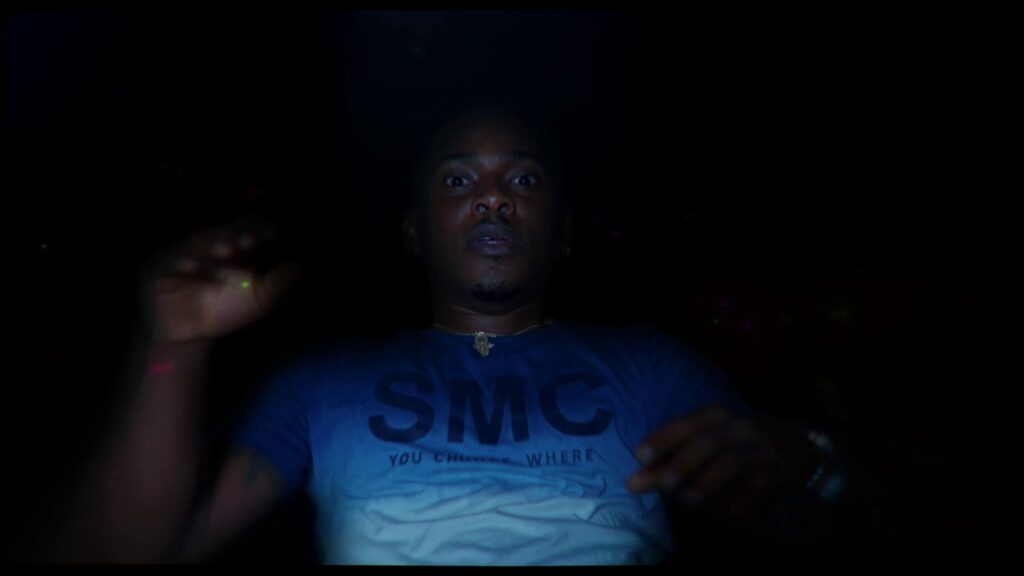 In "Suffer the Witch", a strange woman (who has appeared in different roles across all three films) taps the window of Ikenna's car and points to his dead body by the side of the road.
Soon, Ikenna's spirit or essence is falling into a bottomless void and is quickly enveloped by darkness. A similar shot can also be seen in Get Out (2017) in the scene where the protagonist, Chris, falls into the sunken place. This scene is also reminiscent of the works of H.P Lovecraft, a science-fiction writer whose stories featured humans facing off against eldritch monsters and cosmic horrors way beyond their understanding. In Lovecraft's stories, the good guys don't win.
C.J 'Fiery' Obasi also takes a page from his book, in his decision to end the story ambiguously, without Joy receiving the slightest form of retribution.
---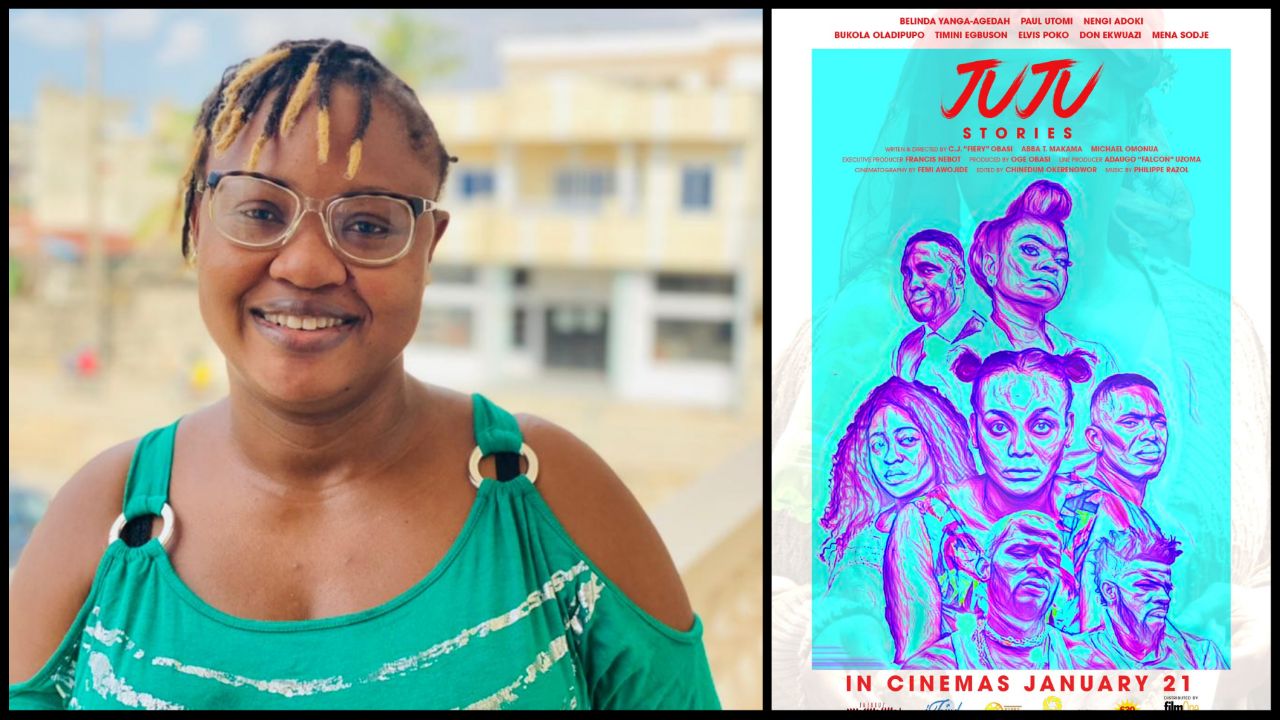 6 Questions with Producer Oge Obasi: Getting 'Juju Stories' to Cinemas, Streaming Alternatives in the Region and 2022 Release, 'Mami Wata'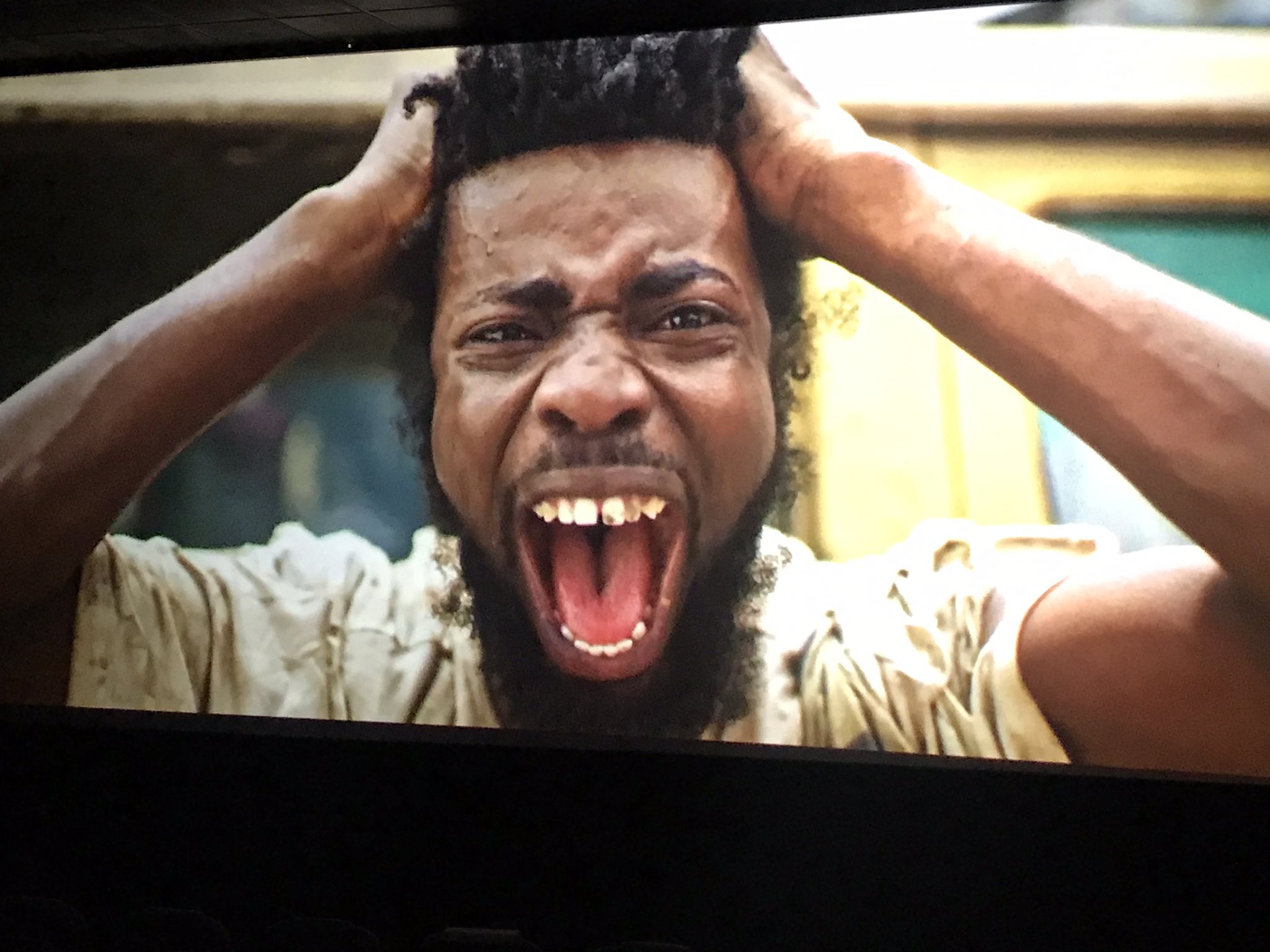 'Juju Stories' (Yam): Magical Realism at its Finest
---
4. Phillip Strauss II and The Blue Danube
"The Blue Danube" is arguably the most famous Waltz ever written. Phillip Strauss II was initially commissioned to write it in 1865 but couldn't get to it due to other commitments. However, when Austria was defeated by Prussia in the Seven Weeks' War in 1866, he revisited his commission and composed a bright and delightful waltz song to lift the citizens' spirits– an antidote to post-War depression.
In popular culture, the waltz has been featured everywhere from Stanley Kubrick's 2001: A Space Odyssey (1968) during the scene where a spaceship docks with a space station, to Squid Game (2021- ). It is even the unofficial anthem of Austria.
Makama uses the composition in "Yam", during the scene where the street urchin played by Don Ekwuazi is in a bar, enjoying the little pleasures the money he picked up can offer. It represents a sort of calm before the storm, and "The Blue Danube" is used to signify that. It is also used to contrast with the setting and the atmosphere of the story. "The Blue Danube" is a happy waltz– it was written to lift people out of depression– but the story Makama tells in "Yam" is anything but.
This is another feature of postmodern filmmaking– juxtaposing opposite tones and story elements for effect.
5. Darren Aronofsky and Requiem for a Dream (2000)
In "Yam", also, the director, really leaning into the formalist-heavy approach of surrealism, employs some shots reminiscent of those in Aronofsky's 2000 film, Requiem For A Dream.
Like "Yam", Requiem is also something of a cautionary tale, exploring the descent into madness of a couple of characters. Roger Ebert said of it, "Anyone under 17 who is thinking of experimenting with drugs might want to see this movie, which plays like a travelogue of hell."
"Yam", also, is inspired by the different versions of the urban legends told to children in Nigeria. Although, both films rise above the level of being mere public service announcements.
The scene that feels reminiscent of Aronofsky is the one where the vulcanizer after eating the yam which was really a human being, begins to hear his voice and turn his room upside down. The high-angle of the camera, its fixed, unflinching gaze and the use of jump cuts remind one of Aronofsky's hip-hop montage.
6. In the Mood for Love (2000) and Wong Kar-Wai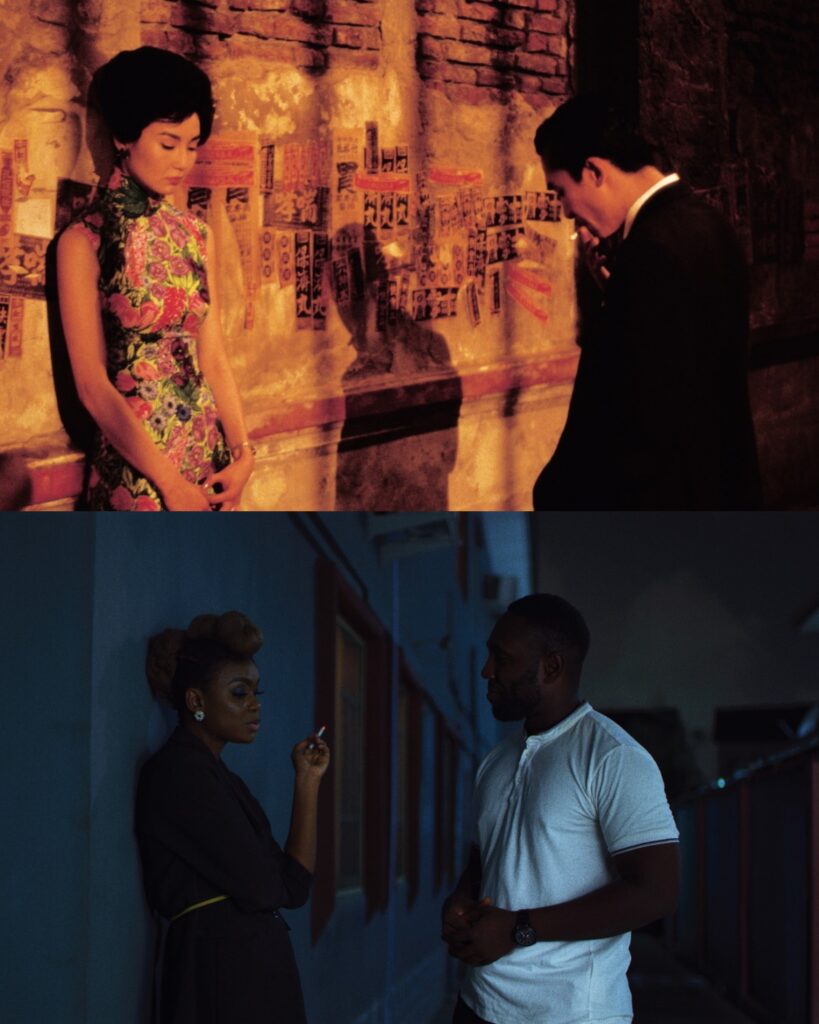 In every sense of the word, In the Mood for Love is a modern classic. Written and directed by Hong Kong filmmaker, the inimitable Wong Kar-Wai, the story is centered around a journalist, Chow Mo-wan (Tony Leung) and Su Li-zhen (Maggie Cheung) who become enamored with each other when they move into the same building and their spouses begin cheating on them.
It was voted second place on the BBC's list of the greatest films of the 21st century (simply making your way through this list is a cinematic education in itself). In the Mood for Love (or Faa Yeung Nin Wa) is a tale of desire and loss, beautiful and melancholic, and echoes of it are heard in Micheal Omonua's part of Juju Stories.
In "Love Potion", there is a shot which recalls one from In the Mood for Love. In the former, Mercy and Leonard have met at a party and are getting to know each other; in the latter, Su and Chow have finally come to terms with the fact that they love each other and they say as much. The only problem is that if they go further with their feelings, they will be no better than their cheating spouses.
While "Love Potion" is a story about love that was never there, and thus cannot be, even with the assistance of juju, In the Mood for Love is a story of love which is present and verbally communicated by both sides, but which cannot become a reality due to peculiar circumstances. An intriguing parallel indeed.
---
Share your thoughts in the comments section or on our social media accounts.
Keep track of upcoming films and TV shows with Google calendar.
Juju Stories is currently streaming on Amazon Prime Video.