Ebinpejo Lane, located in Idumota Market Lagos, recalls a departed age in Nigerian film distribution history. Film posters in places like Ebinpejo Lane, Iweka Road in Onitsha, and Pound Road in Aba, which were marketplaces, were convergence points for distributors to select films to take to video clubs across the country. Although chaotic, these posters, with their flashy pictures and star-studded ensemble, help customers decide which films to watch. And the pattern worked. However, in recent years,  Nollywood film posters have departed from those seemingly disorganized film posters. And heralding that divergence is Iyebiye Adeitan, known as Kaizen Kreativ, who organized a two-day film poster exhibition from September  29-30 tagged, "It is a Big Swerve From Ebinpejo Lane ". 
Originally, the title of the exhibition was Canvass (with double "s"), which captures Kaizen's dual intention. With his artistic efforts, Kaizen hopes to canvass people to a new narrative about film posters in Nollywood. At the same time, he wishes to display his canvas —works of art, to the audience. However, days before the official announcement of the exhibition, a change occurred. Scrolling through the picture-friendly Instagram, he read fragments of a long-held conversation with an acquaintance, and the sentence, which became the new title for the exhibition, stood out: "It's a Big Swerve from Ebinpejo Lane." And that was it. 
Taking place in Pinpoint Media workspace, the exhibition featured eleven film posters. They range from Kaizen's reimagination of some Nollywood classic posters: Tade Ogidan's Owo Blow and Diamond Ring, Ebun Oloyode-directed 'Bela Pupa, and Andy Amenechi's Egg of Life. Following this closely are posters representing present-day Nollywood films: Uduak Obong Patrick's Clearly,  I See You, Damilola Orimogunje's For Maria Ebun Pataki, Fatimah Binta Gimsay-directed Ijo,  Tomi Folowosele's Hours Before, Moses Ipadeola's FATE, Chukwu Martin's Mr. Gbenga's Hard Drive, and Tunde Kelani-directed Ayinla. Despite being created for different filmmakers and stories with distinct artistic visions and subject matter, what ties these posters together is Kaizen's delicate attention to detail. The posters are, in the words of Kaizen, "a visual metaphor". 
After the two-day exhibition, Kaizen detailed his motivation for curating the exhibition. "I have always had a long-term goal of owning a museum where people can come to see Nollywood artefacts. I want people to be able to look back and say that in this era in Nollywood, these were what was obtainable", he said. Additionally, he wanted to stop being incognito. "I wanted to exhibit my face too. For the longest time, I've been anonymous. So I think it's time I showed the world the face behind the posters", he added.
For those attuned to Kaizen's illustrative and abstractive film posters, one will notice another defining thread among them. The designs often serve as a marketing tool and as a visual art of storytelling. With "one poster at a time", Kaizen has been able to create a balance between aesthetics, telling a story, and marketing. His posters often capture scenic references from films to create an illustration. 
---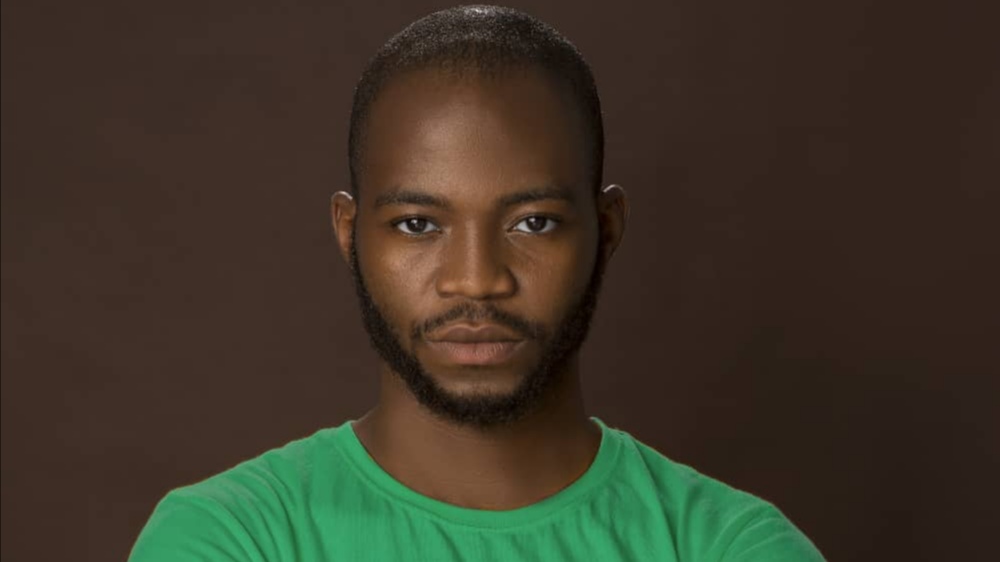 Film Mischief 2022: Meet Iyebiye 'Kaizen Kreativ' Adeitan, Creative Visual Designer Behind Your Favourite Nollywood Posters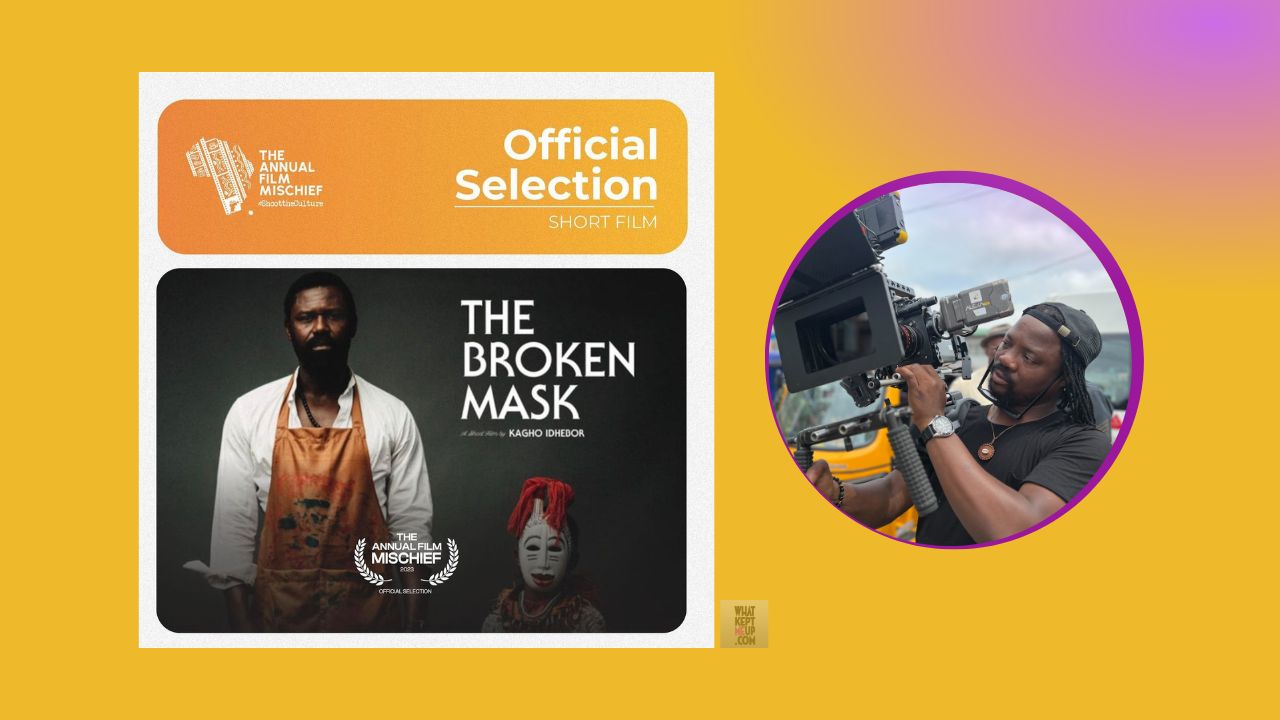 Annual Film Mischief 2023: 'The Broken Mask' Director Kagho Idhebor Discusses His Topical Award-Winning Short Film, Admiration for Festivals, and the Storytelling Future of Africa
---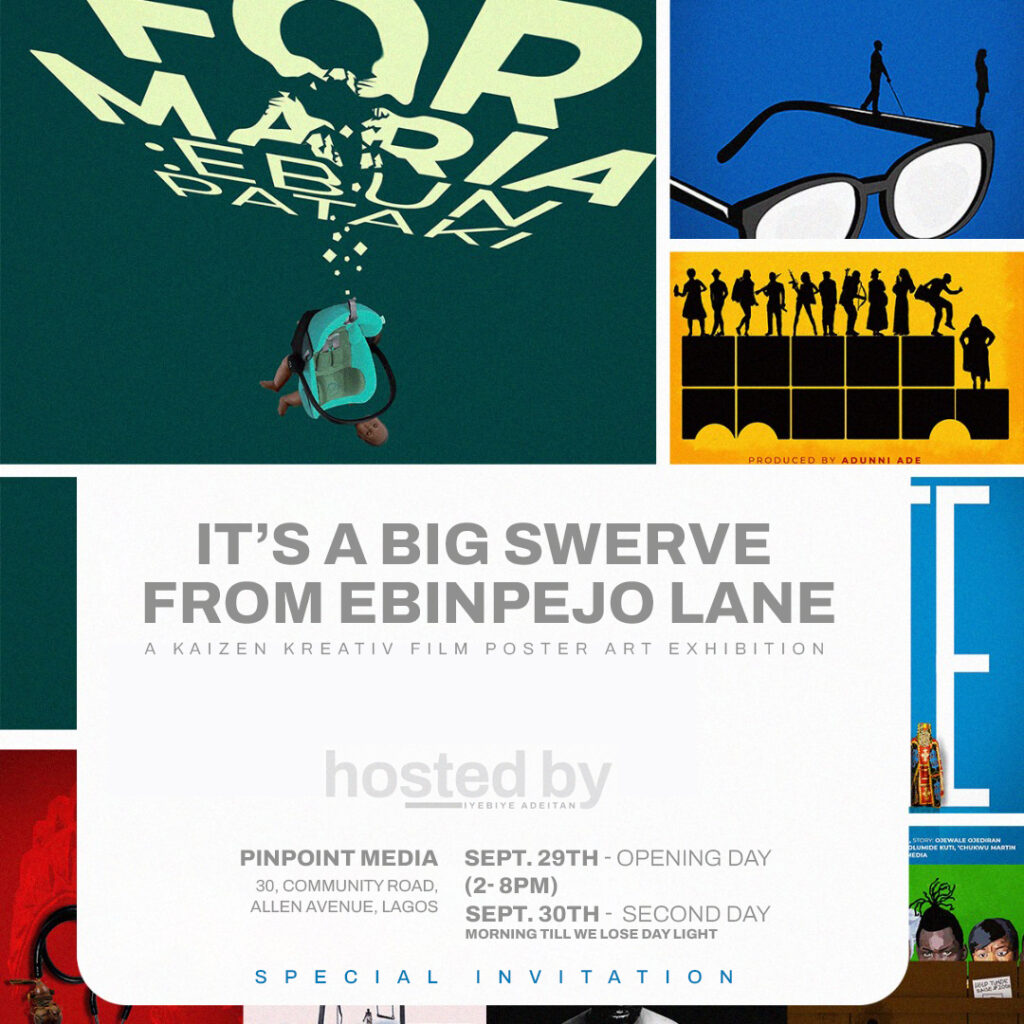 The art exhibition had guests filtering in in pairs. From filmmakers and friends of Kaizen, each of the audience had interesting comments to share about the pioneering art exhibition. Nigerian filmmaker Moses Ipadeola opined that more interesting and unimaginable layers and perspectives are unfolded when an artist presents their creation for audiences' interaction and interpretation. "Conversation that goes beyond the filmmakers' knowledge is continued this way, giving further insights and knowledge into the world of the films in which posters are being exhibited." Speaking on the importance of the exhibition to Nigerian cinema, Ipadeola gave some insightful comments. With this exhibition, "Poster designs will be taken more seriously and delicately as an art on its own. And dedicated poster designers will get elevated to a pedestal. Exhibitions like this will emphasize the importance of film poster designers in the film production process, and how beneficial it can be to involve them from pre-production to post-production process."
Nigerian actor Nonso Ekemezie commends Kaizen's first-time film poster exhibition in Nigeria. "The importance of this exhibition, to the Nigerian film industry, is the fact that it helps document a lot of these film artworks, " he said. Going forward, Ekemezie hopes that in subsequent editions other film poster designers in Nigeria will collaborate with Kaizen in displaying their works too.
Tomisin Aderuku, a Nigerian filmmaker based in Burkina Faso, attended Kaizen's event with a friend and the exhibition evoked nostalgic memories of when VHS tapes were our gateway to home movies. "The significance of attending this exhibition extends beyond personal interest. It offered me a unique cultural and historical perspective, allowing me to witness the transformation of the Nigerian cinematic landscape, particularly from the iconic Ebinpejo lane, which once served as the bustling marketing hub for Old Nollywood," he told me. 
Spotlighting the exceptional works of independent Nigerian filmmakers, who are often overshadowed by the glamour of mainstream Nollywood productions, Aderuku is happy seeing these exhibited film posters. "Exhibitions like this inherently serve as a magnet for artists, fostering an environment where conversations about the art form in the Nigerian space can flourish. I firmly believe that Nigerian cinema has stepped into a new era, ushered in by films like Mami Wata, and this exhibition is playing a vital role in spotlighting lesser-known auteur filmmakers, further fueling this cinematic wave." 
For film enthusiasts and friends of Kaizen who attended the exhibition, different works, for distinct reasons, stood out to them. For Ipadeola, it is For Maria: Ebun Pataki, Mr. Gbenga's Hard Drive and, FATE.  For Ekemezie, it is,  For Maria: Ebun Pataki – for its morbid portrayal of the film's subject matter, Diamond Ring – for nostalgic reasons, and FATE – for how Kaizen used the typography to capture the religious intonation in the film. And for Aderuku, it is Moses Ipadeola's FATE poster art that particularly struck him. 
Evident in Kaizen Kreativ's works, his illustrative posters represent a necessary detour from the posters of Ebinpejo Lane artists. This might appear to be a playful reference but Richard Williams's (Ramsey Nouah) words, "What do you think this is? Nollywood? We don't do those things anymore" uttered in Living in Bondage: Breaking Free, captures Kaizen's unorthodox departure from the Ebinpejo Lane's posters. 
---
Share your thoughts in the comments section or on our social media accounts.
Sign Up: Keep track of upcoming films and TV shows with Google Calendar.