Iyebiye Adeitan, popularly known as Kaizen Kreativ, is a Nigerian creative visual designer and illustrator. A graduate of Federal University Oye Ekiti, (FUOYE) with a BA in Theatre and Media Arts, Kaizen Kreativ has grown what started off as a hobby into a sought-after skill. Kaizen Kreativ has designed movie posters from Ayinla, Mr. Gbenga's Hard Drive, Soólè, Rehearsal, Ijó, Ilé Owó and most recently Obara M. These are just a few of Kaizen Kreativ's works in the industry, a visual artist who is also into brand identity design, editorial design, product design UI/UX, iconography and music art.
His works have indeed spoken for him as he has gathered award nominations, which include his poster for the film, Efunsetan Aniwura at the Toronto International Nollywood Film Festival (TINFF) in Toronto, Canada, an Empire Award and most recently Cannes Short Film festival in France 2022. Adeitan, as a Film Rats Club member, has reaped the fruits of being in a space filled with other up-and-coming industry players, where one has access to resources that could be compared to being in a film school. In this lengthy profile, the man behind Kaizen Kreativ, under Kaizen Studios, discusses his hopes of leaving a significant mark in this era of Nollywood one poster at a time.
---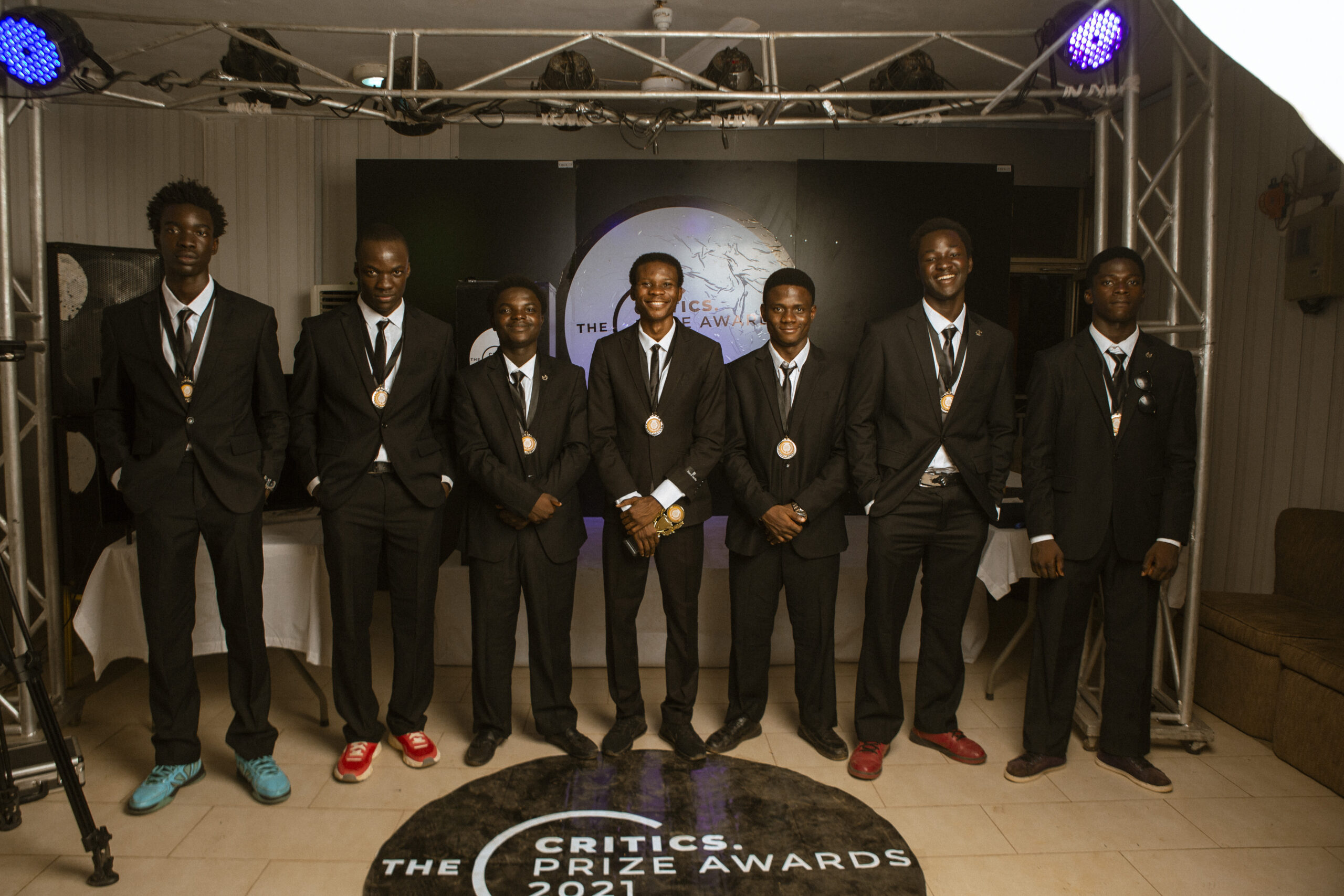 Meet The Critics Company, the VFX Team Behind Kemi Adetiba's 'King of Boys' and Surreal16's 'Juju Stories'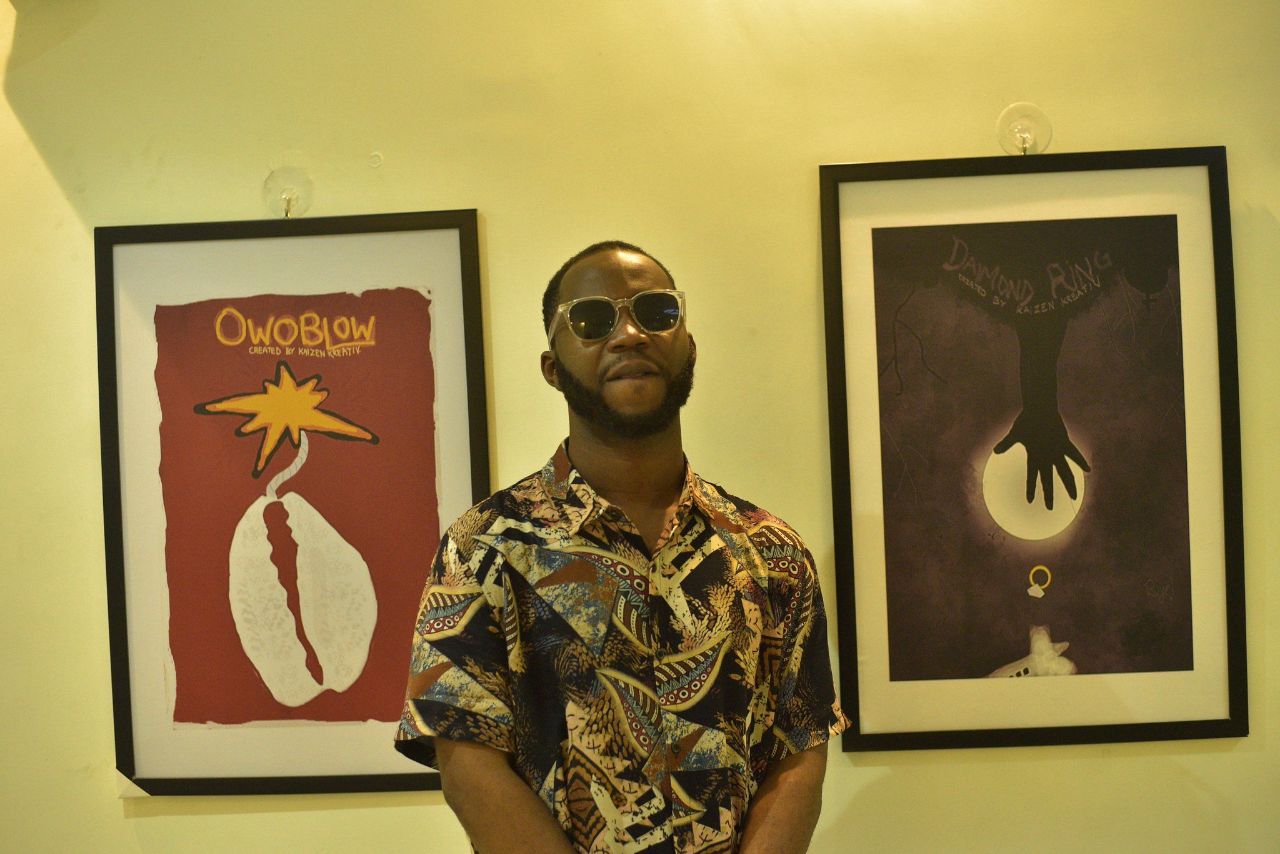 Iyebiye 'Kaizen Kreativ' Adeitan's Nollywood Film Poster Exhibition is a Big Swerve From Ebinpejo Lane
---
Also, when such posters are coming from their favorite actors or favorite producers they don't have a choice. I believe Nollywood audiences will take what we give them and once they are used to it that's it.
Getting to know Kaizen Kreativ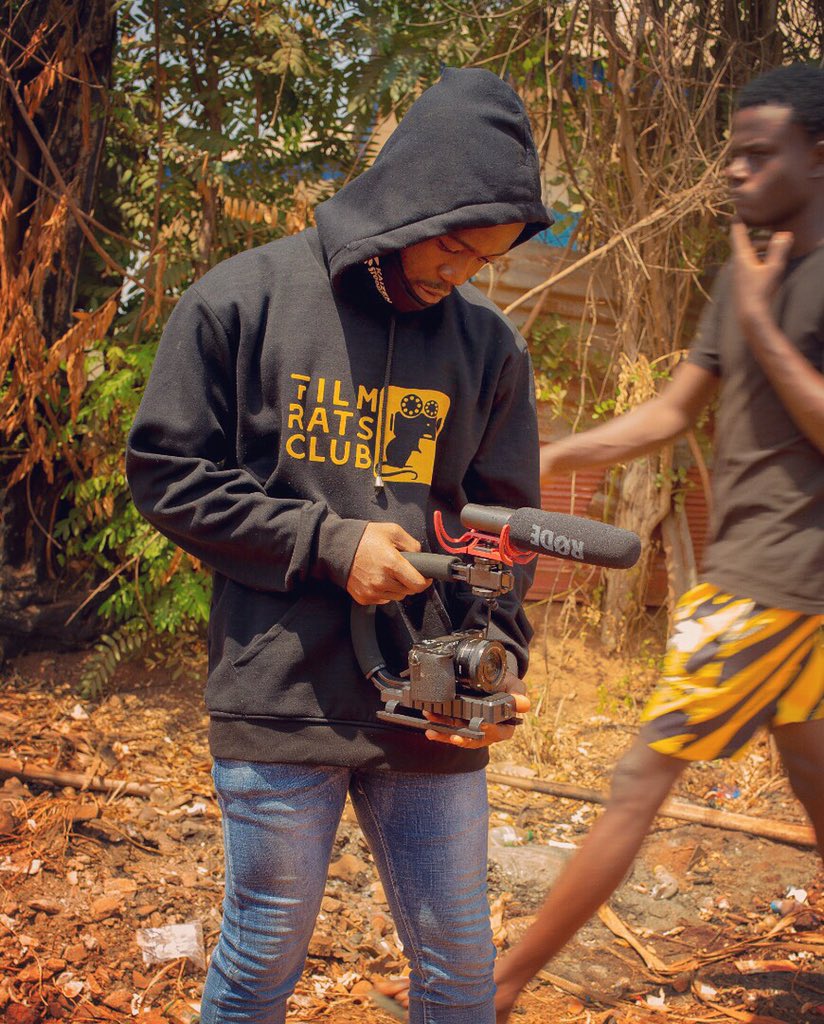 Thank you for agreeing to this interview. Who are you for those who do not know who Kaizen Kreativ is?
My Name is Iyebiye Adeitan popularly known as Kaizen Kreativ and for those that do not know me too, I am called Kaizen Kreativ because that's my Twitter and Instagram handle and that's the brand name. I am a poster designer and illustrator.
How can you describe what you do to a 5-year-old?
I use colors to paint pictures. (laughs)
How did the journey into illustration start?
Six years ago, I started doing pencil work, basically, I have always had this passion to paint and do creative stuff. I started making film posters, I didn't start with illustration, I started with normal, regular film posters. And I wanted to, in line with my vision or my passion, change the way Nollywood posters are seen and perceived in and outside the country. That has been the dream and I took the road less traveled by, which is illustration. Although there are fine artists, there are digital artists who once in a while dabble into film posters but there is no expertise in that area, there are no people who are full-time poster illustrators. I am not sure we have any, aside from Kaizen, not to brag. So that's how illustration started for me because I wanted to be different, I wanted to make film posters that were unique, that will stand the test of time. I like history and studying film history. I discovered that posters were a huge part of a film's lifespan because they can always refer back to a poster because of how unique they are, how iconic they are. Some of them go to museums, some of them are auctioned, and are being hung on walls and till tomorrow we still have that iconic The Godfather poster, that's celebrated every year. I think this year was the 50th year. We still have that poster, redesigned, reinvented but then it's always there because it's iconic and the credit still goes to the first designer who did it, so those were the kind of things I was envisioning for Nollywood films. That was how it started, so I started working with Chukwu Martin, who encouraged me to make some illustrations for him. The reception was good and then I started to train myself in that line, read books, studied designers from everywhere in the world, to improve myself.
How's it been so far as an independent creative in an industry where we don't have that many people yet?
I feel like I am lonely (laughs). It has not been easy because this idea of illustration posters is kind of new to Nollywood. There are art-house directors, there are indie directors, and indie producers that like the idea of illustration film posters and abstract film posters, but then once they start going to cinemas, having to do publicity, they are scared of making illustrations, they are scared of making abstract film posters because once the face(s) of their favorite actors is not there it will not sell. But then, with my only little experience and research, it has been proved wrong. I have worked on a Nollywood film project where my services were required to just create an illustration poster for the film amongst other posters whereby we had the popular people to sell the film. The reception these posters received has made me rethink; people actually like these posters, these posters actually arrest the audience. I have just come to conclude that Nollywood audiences don't know what they want and we as creatives generally need to try and do what we want to do first and see what the outcome will be. While I know things are changing, I believe that with time things would change and I am just hoping that one crazy director will use an illustration poster as the main poster for his film and use it to push publicity, while popular faces might be in the film but won't be included on the poster, just a crazy move. Lastly, it has not been easy, in terms of getting clients, trying to convince new people, which has made me conclude that my type of clients would find me and I have taken solace in that.
Kaizen Kreativ's experience in Nollywood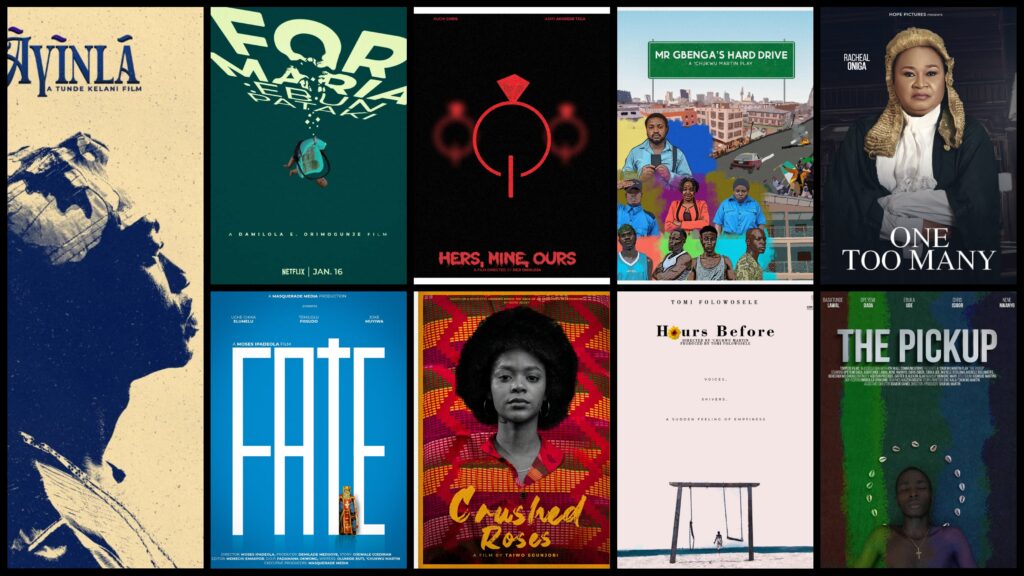 Can you share some of the works you have done and with whom?
I have done some photography poster projects because I do them, but illustration posters are my forte, so that's what most people know me for. I also take on cinema projects. So I worked on Funmi Wolder's Efunsetan Aniwura, my first cinema project, which came out in January 2020. I worked on the Ayinla production, directed by Tunde Kelani. I worked with a colleague, Rex posters and I created an illustration poster for Ayinla. I have worked with Micheal Omonua of the Surreal16 Collective, a short film that's in next year's Oscar category for short films, so probably my Oscar is coming very soon. I have worked with Kayode Kasum on a couple of projects actually, the first time working with Kayode Kasum was on Soole, then Ile Owo and Obara M that's currently in production stage. I have worked with Biodun Stephen of Shutter Speed on a project I cannot disclose right now because it's not yet out. I have worked with a couple of Nollywood directors but those are the ones I can remember right now.
What's your most favorite work and why?
I think my favorite work is Ayinla's poster as the work is very personal to me because I grew up on Ayinla music. While I was growing up I spent a lot of time with my grandma and she really liked Ayinla, she choked us with Ayinla music. So when I heard that TK was going to direct this film, it brought back memories and I imagined what it would be like to see Ayinla. I had neither worked with TK nor Jade Osiberu before, I just put a tweet out that I will make sure I work on Ayinla's poster because I really wanted to. It was my dream come through when it happened so yeah I think it's my favorite work. The poster is iconic and vintage. Adedimeji Lateef embodied the character. I think that's why I will say it's my most favorite work because there is this personal feel to it.
What are the challenges that come with being a poster illustrator in Nollywood?
The challenge is that you don't get work every day, it's not every time they call you because everyday Nollywood is always shooting; one filmmaker is planning to shoot tomorrow, one is planning to end today, another one is planning to shoot tomorrow, and when they want to make their poster what comes to their head is not a poster illustrator, although that is changing but these are the challenges. For example, Kayode Kasum—a director I have worked with 3 times—launched his film with an illustration poster and went ahead to create other publicity materials, in a sign that shows the industry's gradual acceptance for illustration posters. Nevertheless, what remains a challenge is that a lot of people shoot films every day and the demand for poster illustration is not very high like other posters.
Was society receptive to your type of work, because we were already used to seeing certain posters in Nollywood for a long time?
Well, we are already used to it, so it took time. A lot of my friends, when I started, were always the ones gassing me up on my Instagram, leaving comments like "this is a banger". I was always doing fan posters, freestyle work and all that before I started getting commissioned. But then the reception is encouraging now. Also, when such posters are coming from their favorite actors or favorite producers they don't have a choice. I believe Nollywood audiences will take what we give them and once they are used to it that's it.
How much convincing do you have to do to sell a more abstract design compared to a usual poster that just has the faces of the actors?
Well, I don't think I was convincing people. Like I said there are producers, art-house producers and filmmakers that see these posters for Hollywood films, Turkish films, German films, French films and they have liked it, so when most of them stumble on my page and see that a Nigerian does this for Nigerian films, they are like "wow interesting". I didn't have to sell myself. I was just doing my thing, posting them on my page and filmmaker friends reached out to me, "oh help us do this thing for a certain amount of money". But then I was building a portfolio, I was building relationships, so I would not say I was convincing people. I think the first illustration poster I did that attracted people was Ayinla and after Ayinla a lot of popular producers started liking the idea of getting an illustration poster. So now I don't know if it's that they like the idea or that it's a "copy copy" thing but sometimes it's in the relationship we work that I know that this person just likes the idea of an illustration poster, but they don't really value the work. So yeah, I didn't really convince them it was just like a ripple effect.
Back to your work and helping readers understand your process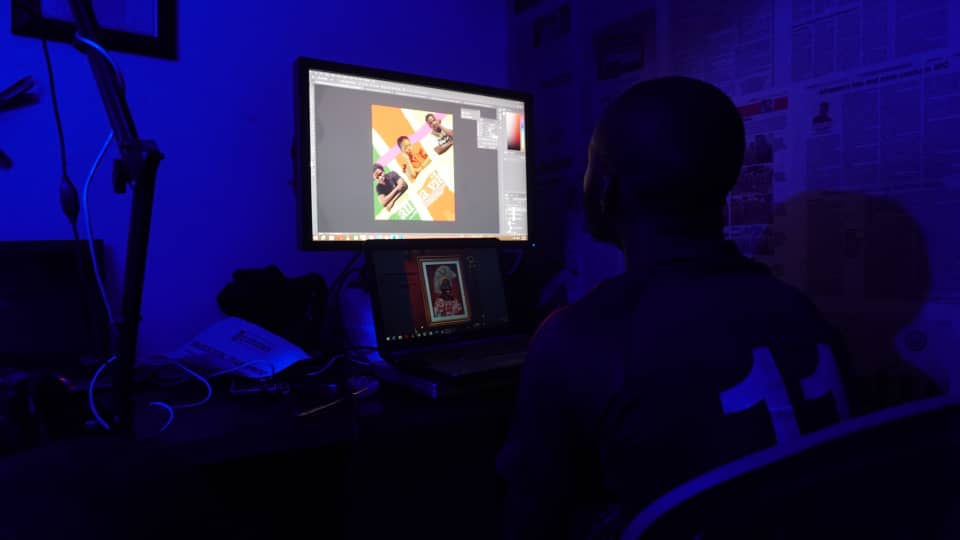 Creative freedom: How creative can you get with your work or is there usually a particular demand already placed by the producers/directors, or an already expected output?
So, it depends on producers and the directors, it depends on what they want but usually, I have full creative freedom. Sometimes they come with their idea and sometimes they share their story, from which I need to create my idea, so I have the creative freedom to create whatever I like and also most times they come with poster references, their preferred color scheme, desired output, but most of the times they go with my direction. Most of the time I get 100% creative freedom because you know illustration posters are special in a way that you can't really box the creator and dictate their process. It's different when you can tell an actor to stand and fold his arm; it's very easy for you to do all of that and just send pictures to the designer and tell him to join the picture together, make them stand beside each other and then the poster is done. While illustration posters are a peculiar type of art, you can explain the story to me and what I am seeing is different from what you are seeing and what I create would be better than what you've envisioned or probably enhances what you have envisioned.
Which software do you currently use to work?
I use Photoshop to work and sometimes I work with the help of Adobe Illustrator. And there are times I combine both.
From conception to completion, how long does it take to design an average poster?
Seven days, I outline the story, start creating mood boards, decide how I want the composition to be, decide what type of font I want to use for the title, then I start working on the main poster itself on the ideas I have created. So, a maximum of seven days and it will be ready.
Do you say no to some projects? If yes, why?
Yes, I say no and I say no because you can smell a troublesome client from far away and from our first conversation I already know this person is going to be trouble, so I find the possible best way to say no, I can't take this project. Sometimes they are asking for something I cannot offer and like I said earlier I take on cinema projects, I take on web series projects whereby I organize photoshoots for actors with a concept in mind and I take those pictures and I work on the posters. So most of the time when I turn down a cinema project or web series project, it is because producers are nonchalant and don't prepare for post production. Publicity, advertisement, and marketing are part of post production after your film has been edited, gone through sound, color grading and all. So, they don't prepare for post production hence they don't remember they would need publicity materials until later and when you request that they get actors back, they say they can't get them because they are celebs, they have other jobs and all those things. So what you are left with are Instagram pictures that one film has used four to five times on their poster. They expect me to go and screenshot those posters and those pictures and still use them—a picture that does not have anything to do with this new story, does not have anything to do with the film, which does not work that way. There are other amateur designers that take on those jobs, they don't mind going to Instagram and finding a random picture of the celeb and just joining one and two together to come up with the poster. Most of the time when I say no it's because of lack of access to quality materials which will result in color grading being different. But illustration projects, No I have not turned down any illustration project and that's because I don't need to take pictures or anything. They just come with the story vision, poster references and I work.
How do you feel about the Cannes short film nomination?
I think I got the news on the 3rd of January, we just started the new year and starting the new year for me was very rough. I had just moved to a new apartment and spent on a whole lot of things. Feeling so drained and having a lot of stuff to do, I was suffering from impostor syndrome, then the producer had told me she just sent the mail. I felt so happy because it's a big honor to be recognised by Cannes, one of the biggest film festivals in the world and out of over 100 film posters, my film poster was part of the top 8 or top 6 which felt amazing. It seems like I am probably doing something significant, it's one thing to dream and it's another thing to see that dream come to fruition. It made me so happy and I felt fulfilled in some way. Although I didn't win the category, it came with a plaque.
What's your take on the Film Rats Club initiative in the country?
I joined the Film Rats Club in 2018. I think the club's initiative is a very good one for up-and-coming independent filmmakers that are just finding their feet because the club houses quite a number of industry players that are actually doing the thing, that can actually make things happen in the film industry, so it's a very good platform that I would advise independent filmmakers to take advantage of. Being a member of the club, you can have access to a pool of resources because Film Rats Club is like a film school where you learn from each other on a daily basis. So, I can boldly say that whatever I am is because of the Film Rats Club.
What should others hoping to join the industry as creative visual designers learn/do?
Nollywood is a very lucrative industry, it's one of the booming industries in the country right now despite the whole economic meltdown; people are still going to the cinema to see films, people are still producing films, investors are coming to the industry. But for visual designers hoping to join the industry, I would speak from my own little experience: don't be in a hurry to impress anybody, just focus on developing and honing your skill, and focus on being confident in your craft because in the long run you are going to need it when you start dealing with certain type of clients, those people you term as big filmmakers. You can't be in front of somebody like Afolayan and you're jittery, being not sure of yourself, not knowing what it entails to have a conversation about films— yes as visual designers you should see a lot of films that's one of the things Film Rats Club has helped me with because before I joined I was watching films, but there were some type of films I had not been seeing. So the Film Rats Club opened my eyes to a whole lot of films I should have seen but I had not seen. Read books; books on design, books on art direction, books on directing itself, books on production design, and books that touch posters, yeah they are everywhere—Hollywood posters, Bollywood posters, Turkish posters, and Japanese posters, because all these posters are made in a different kind of way with their peculiarity. So reading and learning from all these mentioned posters will open your eyes beyond where you currently are, it will open your eyes beyond Nigeria so you will see how things are done elsewhere. Also, posters from other African countries, especially East African films, their posters are very good and other African posters basically have posters that are way different from Nollywood and this is part of the things Kaizen Kreativ is trying to change. You have to read and must be up to date because the world is a global village, you are not competing in only Nigeria again, it's a global competition now. Afrobeat is outside there, Tech people are outside there—the competition is not national again, it's a global competition, so you have to know what's going on outside the country and what's going on in the world.
Apart from film poster illustrations, what other forms of creative designing do you do?
I also do brand identity design, editorial design, product design UI/UX, and iconography. There are a lot of other types of designs, I do music art, those cover art for songs. So yeah that's pretty much it.
Should we expect diversification from Kaizen Kreativ?
Yeah, Kazien Kreativ is under an umbrella name Kaizen Studios, it has a film production arm, it has a design agency arm and then it has photography and music production arm, so those are the diversification you would probably see in the nearest future but for now because of lack of manpower, other factors and Nigerian factors, we are sticking to Kaizen Kreativ creating film posters in Nollywood because I actually started out as a filmmaker and I designed my film posters. I have done a couple of short films and that was what led me to join Film Rats Club. Doing these posters which some people liked, I had to chill on producing short films because of the Nigerian financial factor. So in the near future, if I don't produce my own films I might take on art director, set decorator or anything to just beautify production sets and to create aesthetics to films.
Any other future goals and plans?
All these posters I create I feel that's not the end for them, so I am open to do art exhibitions for my posters, old and new, do auction sale and see the proceeds go to orphanage homes, give back to society because that's the dream. Also, some of my works will probably be taken home or be sitting in a museum or maybe someday in Nigeria we can build our own museum and call it Nollywood museum and then keep these posters there for generations coming to see, because that's like a major reason I am doing what I am doing, to serve as a historian for Nollywood: when generations from now experience see some of these posters, they are able to catch a glimpse of what it was at a certain Nollywood area. It's a big job to do but God will help us, so it's not going to be one art exhibition; there will be subsequent events, so just look out for an art exhibition by Kaizen Kreativ. And of course, NFT sale, which I have started, NFT's run the world now. Visual designers and illustrators are all going into NFT and I am not going into NFT because everyone is, I just feel like there is opportunity there too, so why sit down and watch others go into it and I can't. Due to that, I am looking to launch my Genesis NFT collection very soon. So watch out for Kaizen Kreativ in the meter verse.
What has been keeping you up recently? (movies,TV series, books, music, podcasts) Kindly share some recommendations for us.
I have been listening to a lot of film podcasts and there is a particular podcast on Sundays by Fatimah Binta Gimsay, I just discovered it so I have been binging that on Spotify and movies I have been keeping up with are a lot of East African films, and films from around Africa basically: Moolaadé, This is Not a burial It's a Resurrection, Atlantique, and Rafiki.
---
If you would like to learn more about Iyebiye 'Kaizen Kreativ' Adeitan and his work, check him out on Instagram and Twitter. He would also be glad to answer more questions.
Would you like to gain insight into other (non-acting and non-directing) Nollywood roles, let us know in the comments or interact with us on social media.
---
The Annual Film Mischief is a hybrid festival celebrating quality low-budget Nollywood films from March 17-20. More interviews with other filmmakers and creatives in the industry and film essays will be published during this period.

Join the conversation on Twitter: #TAFM22