Chiemeka Osuagwu explains to WKMUp his approach to penning The Blood Covenant, tackling a theme Nigerians are familiar with, and what he believes Nollywood screenwriters could do as they navigate a cold industry—even viewers could help, all it takes is one comment.
---
Osuagwu draws from personal experience for a familiar topic—money ritual— that has been tackled frequently in Nollywood, for which the industry received huge criticism from the government. As a TV writer who has over 600 hours under his belt, he has worked on web series MTV Shuga Naija; AfMag's Hush, Unbroken, and Enakhe, Forbidden; as a head writer on Rok's Man Pikin; and recent Netflix animation addition, Ladybuckit and the Motley Mopsters. With this work experience, our interviewee also shares some work ethics and tips for other screenwriters, "while you are doing commissioned work, always take time to do personal work because that personal work is your baby. It's like going to the gym and working your muscles."
Produced by Inkblot Studios, The Blood Covenant—Osuagwu's first theatrical film—co-written with Naz Onuzo (Superstar) and directed by Fiyin Gambo (The Wait), follows three friends (played by Tobi Bakre, Uzor Arukwe and Shawn Faqua) as they slip into money rituals, but how do they navigate their lives from there with their new stream of wealth and the demands that come with it. Tackling contentment, shame and pressure, Chiemeka explains using a prayer, "we will never see our mate and dodge", from a secondary school teacher, "thinking of people who do money rituals, there is usually a tinge of shame. The shame of who they are compared to their mates who have done better than them. These are people who look online and covet what other people have. So basically, the idea of contentment in oneself was very interesting to me."
---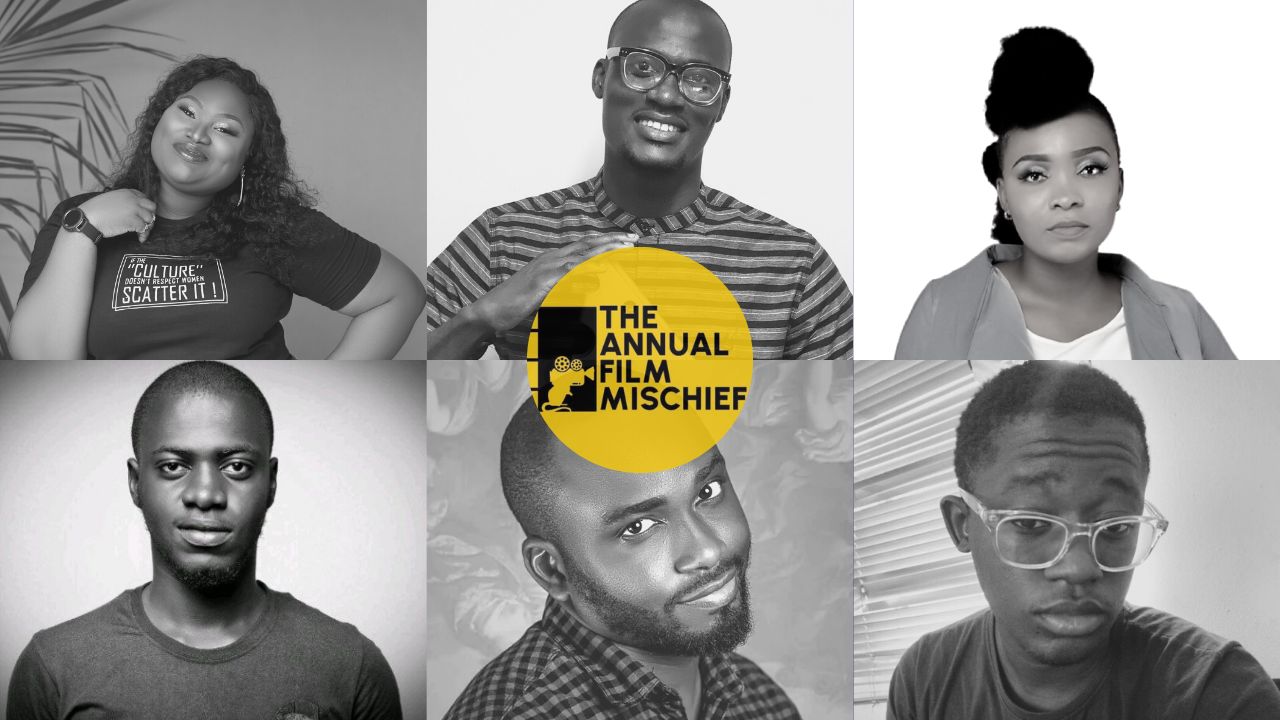 Film Mischief 2022: Screenwriting in Nollywood, 6 Professionals Share Their Experience
---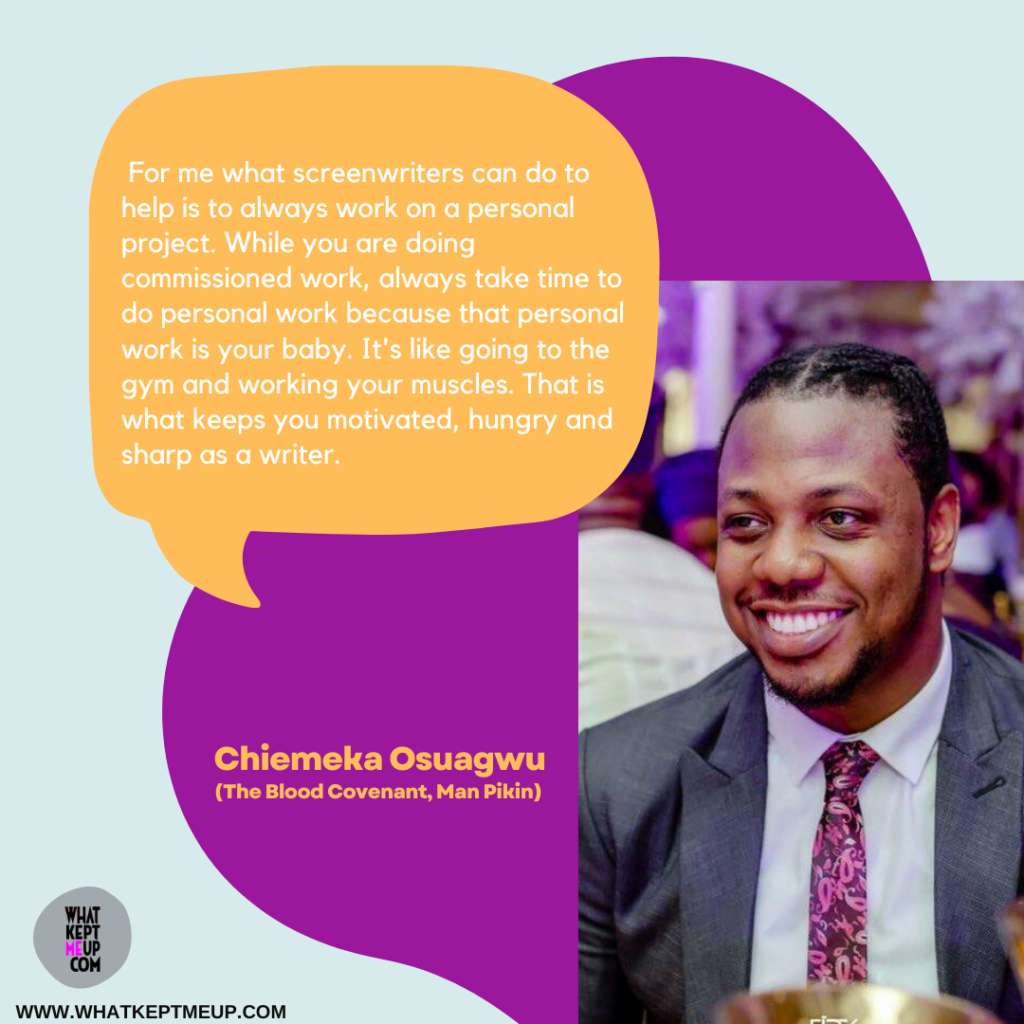 This interview took place on Skype and has been edited for clarity.
---
In a recent social media post, you talked about the male leads and how their characterizations partly stem from your personal life. Beyond traits that you had in you already, what are other references—older films or external experiences — that birthed The Blood Covenant and its characters?
My PHE teacher in secondary school would say a prayer to us that we will never see our mate and dodge. I had always wondered what it meant. Did it mean I would be ashamed and run away from my mates? Or did it mean that no matter who I am or where I am at in life at that moment, I will still be proud that I am a human being? Whether or not someone was richer than me, I wouldn't think less of myself. So I always thought it was either that or I must not be poor so I won't be ashamed around my mate. As I got older, I really understood what it meant. It meant that I would be a confident person, such that I will never be ashamed of who I am as a person, always striving to be better but never ashamed of myself. That idea struck a chord in me because thinking of people who do money rituals, there is usually a tinge of shame. The shame of who they are compared to their mates who have done better than them. These are people who look online and covet what other people have. So basically, the idea of contentment in oneself was very interesting to me. I was inspired by Four Lions, obviously because it's a film about a bunch of guys who are misguided and decide to be terrorists.
Like I said, the money ritual film is Nigeria's version of the gangster film as we do not have gangster films. We have films like King of Boys but we do not have many. And when I say gangster, I mean an equivalent of it. A film that people in the street can relate to. In an American low-income area, they see a young Italian man that was poor in the streets, does something considered evil, rises up in the world and still continues to do evil things even though you empathised with him when he had nothing. In Nigeria, the only films that have such an emotional journey traditionally are the money ritual films, where you have the young boy who tries to hustle and when things aren't going right for him, he tries to make some money and it consumes him physically, spiritually and emotionally. I was inspired by the film Blood Money from the 90s. I read a lot of articles and stories and documentaries on money rituals, that was what I consumed. I already had an interest in money rituals and all the materials I consumed were a big inspiration in trying to craft a narrative.
Going to screenwriting in the industry. We recently interviewed a number of screenwriters at a festival who spoke on various challenges in the industry for screenwriters. In your opinion, can you mention one major challenge and what could be a proposed solution?
There are many huge challenges. The challenge of shitty pay to be specific. There is the challenge of lack of adequate writing time. When you don't have time, you rush and that affects you as a writer. You have to stick with the first idea you have even though it doesn't work perfectly because it is what you have been conditioned to do. For me what screenwriters can do to help is to always work on a personal project. While you are doing commissioned work, always take time to do personal work because that personal work is your baby. It's like going to the gym and working your muscles. That is what keeps you motivated, hungry and sharp as a writer. Because if you keep doing everything fast, you will experience burnout. But that is for the writers. If i am talking about the industry as a whole, it's credits. Because most of the films that are promoted on Instagram do not have writer's credit. They credit everyone, they credit the makeup artist. And everyone is important, but to not credit the person who birthed the story is disrespectful, and it happens too often in the industry. I think the only thing that can be done to stop it is calling people out. When you see someone has posted a film that is about to come out and there is no screenwriter credit, comment under it "who wrote this film?", "Where is the screenwriter?", "We need to know who wrote this script." Most people that are not in it do not understand the challenges of what it means to write. They do not understand the barriers that are there or the problems that people have to deal with. If your contract is decent, it will be written there that you will receive credits for the work you have done. People need to take the contract seriously.
Thank you for that. From your experience in the industry, how do you view screenwriter-director relationships in Nollywood and how does it affect production? For example, in other industries, we know certain duos who frequently collaborate as writer-director. How is that in Nollywood?
That question is very broad. There are directors who work with a writer once and just keep working with that writer because they understand each other. There is a synergy there. If you have that kind of creative partnership, it is rare, but if you do, it is cool. There are many writers who never meet the people that direct their films because the writer is more connected to the producers. It is the producer that hires the writer. But for writing-directing collaboration, I worked on films that I have written but wanted to work on intentionally to experience life on set. I think writers should go on set, especially Nigerian writers. They should find a way to get on set and understand the filmmaking process in Nigeria. It is also a great way to break down what a line means. So it's easy to get clarification. There are some producers who want the writer on set for that reason. The writing and production are always very separate but having a writer on set or working directly with a director and having constant communication, I think, makes the entire project have greater synergy. And I think usually everything comes to a better conclusion that way.
---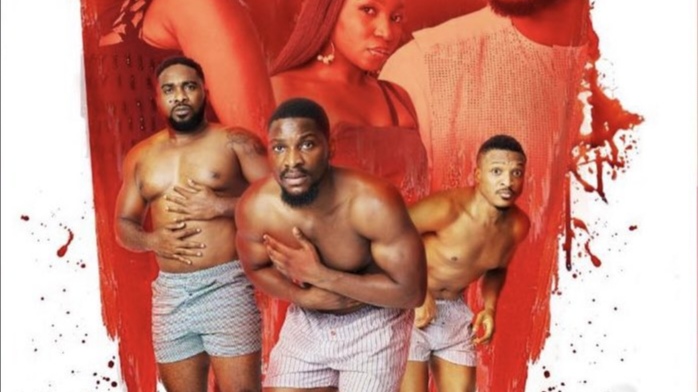 'The Blood Covenant' Review: Fiyin Gambo-directed Money Ritual Story Arrives Weak and Disappointing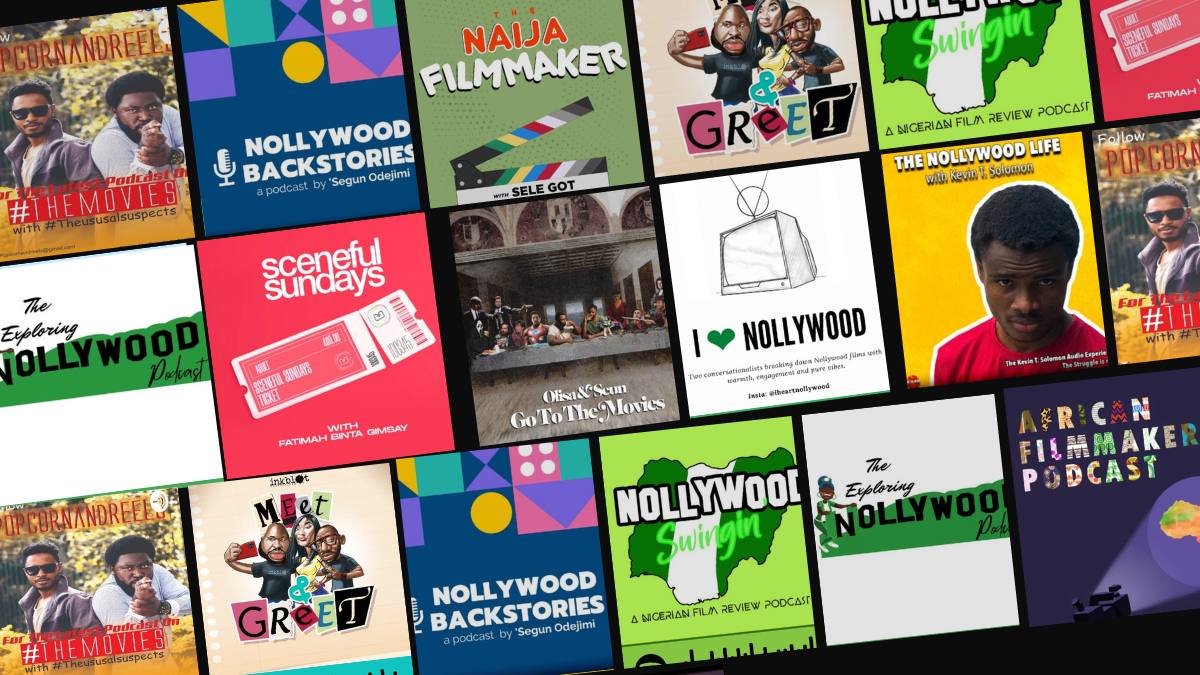 11 Nollywood Podcasts to Add to Your Library
---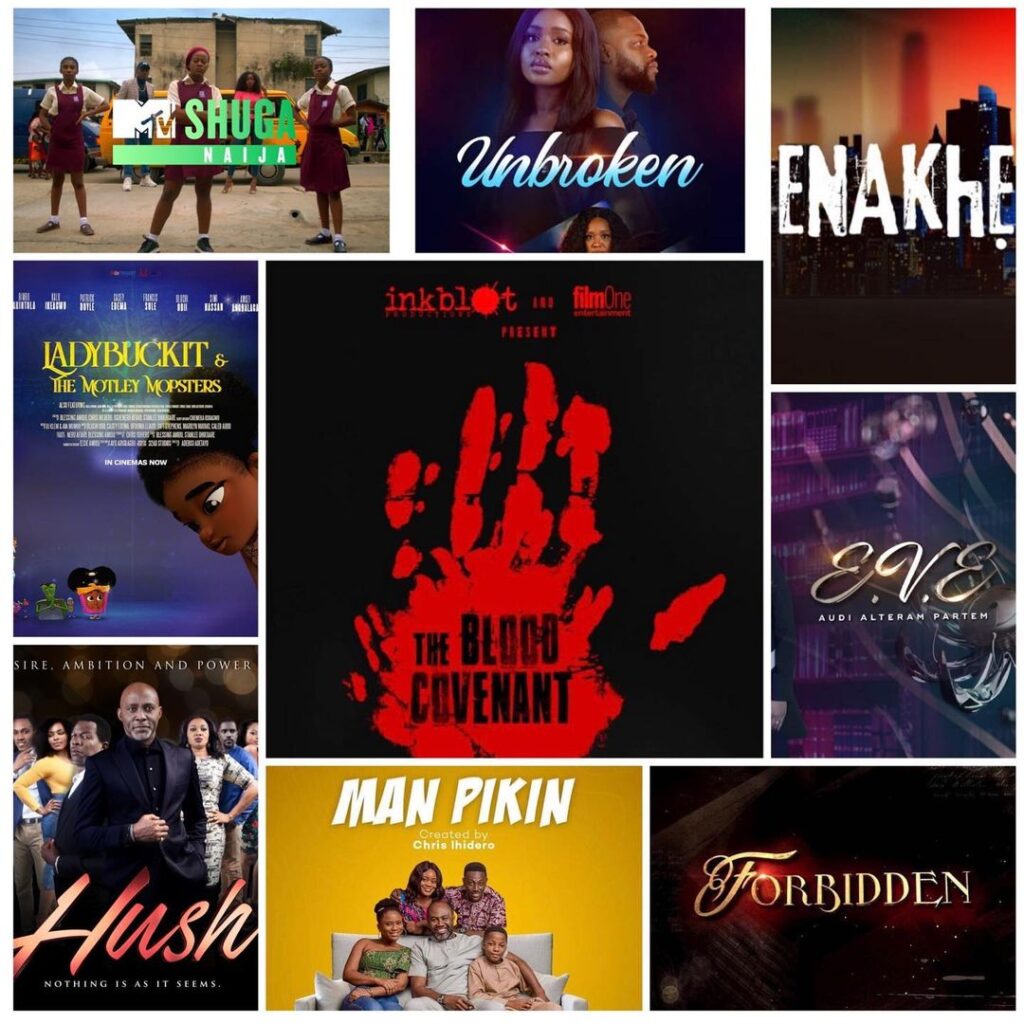 As a TV writer with over 600 hours under your belt, how does it compare working in TV and in film in Nollywood?
The main difference is that TV is faster. Well, it depends on the type of TV. When you are working on African telenovelas like Hush or Unbroken or Enakhe, you are doing a lot of intense work and you have to have a lot of focus and a lot of openness because TV writing is a collaborative experience. When writing for TV, you are in a room with a bunch of writers and all your ideas are being amalgamated. No one owns anything so there is no pride. You have your head writer. Thankfully, I have worked with only head writers that are incredibly competent and understand the story process. So when you have someone like that, you have to trust that the decision being made is the right one because the head writer is the one that makes the final decision on what enters your TV series. Do you get me?
Yeah
So it is very collaborative in that sense where you get a lot of good minds coming together to boil down a story to its most important, essential theme, and there is no place for pride in it.
Most of the work in writing film is very different because if you are a sole screenwriter, most of the story is coming from you and it is more of a streamlined vision as compared to everyone bringing ideas. Because TV shows are big, they have more characters, and they last longer. The shows we are talking about, have 260 episodes. That's 130 hours of content. You cannot have one person come up with 130 hours of content. You need good ideas from everywhere.
The Blood Covenant is your first cinema film, right?
Yeah, first theatrical release. I have written TV films.
Was there any special approach or preparation you took into writing this first theatrical release?
The approach I usually have is to figure out the story first, and who your characters are. As you do that, you figure out what you want to see. From there, you put your characters in your story world and let them move. Give them some structure, give them some guides but you do not control the character because it is the ego that makes one do that. So that's basically how I go about it. I determine the story as a whole from top to bottom. I do a lot of research. And then, when I am given a deadline, I'd say maybe 70-75% is story work and research. The 25% is scripting for my first draft. After that, we'll start reducing story work to 60% and maybe scripting to 40%. Then for the final draft, story will probably be 30% and scripting is 70%. So that is what I have in my head that I do over and over again whenever I write a film.
Are there upcoming projects that you can share with us?
I am the head writer of a sitcom showing on ROK, called Man Pikin, produced by Pinpoint Media. The second season is coming soon. The first season finished airing either in December or January. The fanbase has really grown and it has found its audience, which is always a great thing with TV, finding your audience. I get messages from people all over Africa and the UK that have watched it and it is always a great day when I get such messages. I have a short film that I made which at some point this year, I would put out. I made it with my producer and business partner, Ruby Igwe under our company Section 13 Entertainment. We make films, corporate videos, basically production and directing under that banner. These are the 2 projects I can speak on. The one I am doing right now I cannot speak on till next year. I do not speak on projects until the first promotional materials come out. It's out of respect to the producer and everyone working on it. I am not going to jump the gun and speak on a show where the owners of the shows have not spoken, which is one last thing I think writers have to learn.
Thank you for your time.
The Blood Covenant is currently in cinemas.