Spoilers Ahead
You've seen this show before. Probably under a different name. Maybe it was called Elite, and set in Spain. Or Riverdale and set in the US. Or Sex Education, and set in the UK. The point is Far From Home drowns in all-too-familiar tropes found in the High School drama subgenre, give or take a few blends and changes. And yet, from the title of this review alone, I bet you can tell that I didn't enjoy this show as much as most people, or as much as I'd have loved to. That's only because Far From Home, an Inkblot Production, is a Frankenstein's monster of a series, with good as well as questionable parts, and every time I was having fun with the story, there was almost always something around the corner to sour the experience.
---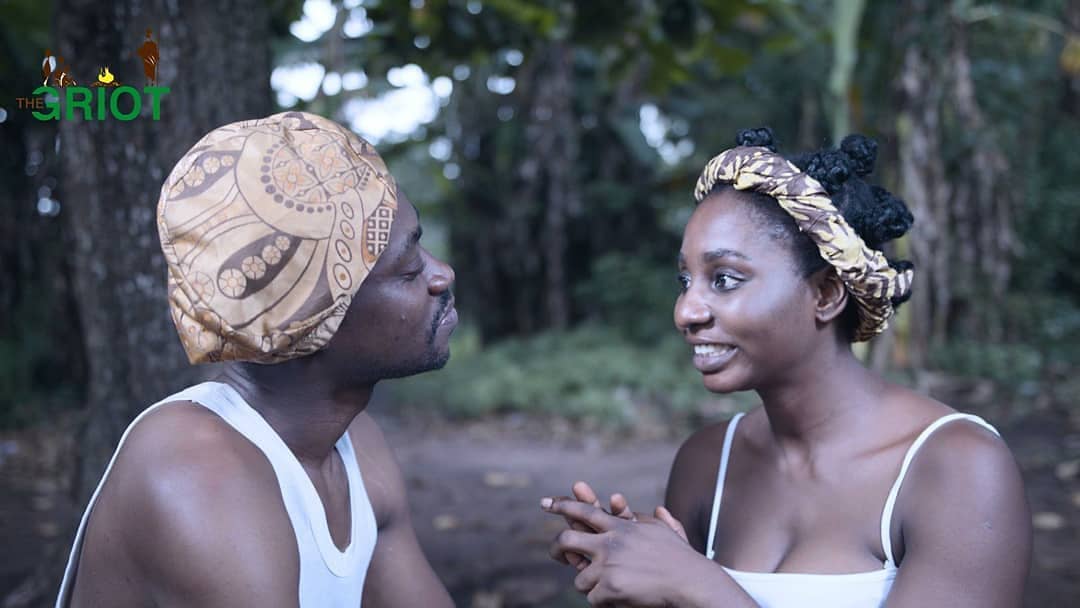 'The Griot' Review: An Enjoyable Storyteller's Woes Boosted By the Acting Performances
---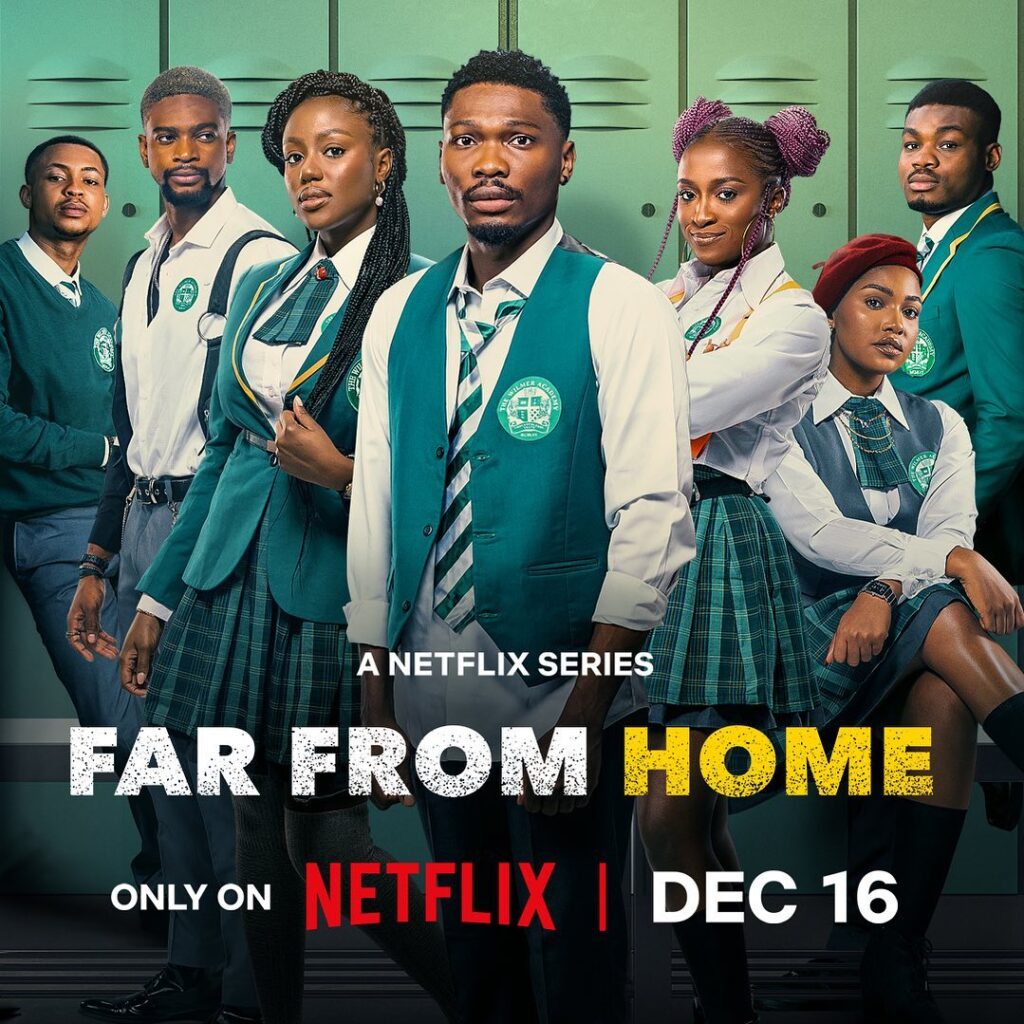 Ishaya (Mike Afolarin) is a teenager from the poor parts of Lagos where people struggle to make ends meet and cover their basic needs. Like his father, he is a visual artist, with a real knack for creating hyper realistic portraits. Unlike his father, he has big dreams and a desire to change his fortune in life. Because of this, he enters and wins a competition to work with one of the best artists in the world. But the program is taking place in London and he cannot afford the expensive trip. Seeing this as his ticket out of obscurity, he begins to save up some money. Ishaya works menial jobs, cleaning houses, working as a busboy and even selling his drawings to make as much money as possible. Filling out the rest of his world are his girlfriend, Adufe (Gbugbemi Ejeye); his sister, Rahila (Tomi Ojo); best friend (Moshood Fattah), mother (Funke Akindele) and ailing father (Paul Adams).
One day, Ishaya returns home to find out that his mother has taken the money he has been saving up for London to cover his father's medical bills. This, in combination with a number of factors, sets the plot in motion: Ishaya decides to go to Wilmer College on a scholarship (what was originally his sister's dream) to get the 10,000-dollar grant that will be given to the best-performing student. But even that turns out to be a dead end because, like the school bursar explains, after deducting money for books and uniforms, only 5,000 naira is left. It seems like our protagonist cannot win; disappointment lurks at every turn.
Then, when he steals 150,000 naira from his boss, Oga Rambo (Bolanle Ninalowo), the latter responds by abducting his sister and forcing her to work as a stripper at his club, an establishment called RUSH. His ex-girlfriend, Adufe, who has now become a favourite of Oga Rambo, gets Ishaya an audience with him. Ishaya promises to pay them back by selling drugs to the students in his new school, some of whom he'd caught in the bathrooms earlier getting high. By this point, we're a quarter of a way into the second episode, titled, "No Way Out", and one can sense that things are about to get interesting. And they do.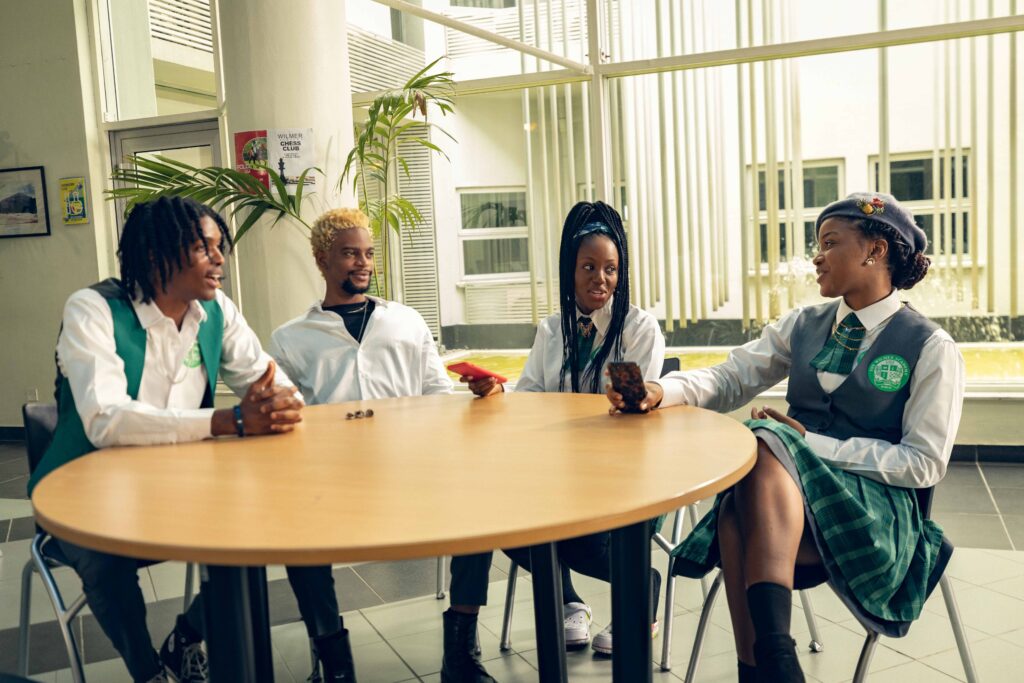 The best thing about Far From Home is its plot. A lot of the characters aren't that well-rounded, and the world of the story seems, for lack of a better word, plastic. However, the writers are able to, in what is essentially a series of magic tricks, convince the audience that the story means more than it does because they aren't thinking much about it in the moment; most of the plot points are either extremely contrived or so undercooked they seem to appear out of nowhere. Take Adufe for instance. Suddenly, after saving his life, she hates Ishaya so much she is willing to kidnap his friend, to get back at him? There are quite a number of characters in Far From Home, and on a very basic level, sufficient for dramas meant to be binged, they are able to keep the audience entertained. Whether the characters' motivation is compelling or not is a different story entirely; the show simply provides the feeling of watching a Rube-Goldberg machine at work– a lot of hassle to make a very small point.
There is a sense of rising tension throughout and very rarely does any moment slow down the overall momentum. This is both a good and a bad thing, but more on the bad later. It's good because like I mentioned earlier, it keeps people invested, at least in the moment. Whether the show has any staying power remains to be seen. By staying power, I am of course referring partly to its rewatch value (when did you last hear someone really miss the King of Boys series so much that they wanted to watch it again from scratch?) and to the quality of the series going forward.
Compared to contemporaries like Euphoria, Far From Home isn't too heavy on a particular style or aesthetic. The cinematography, however, is one of its high points. From the way the school is photographed, with its too-pristine-to-be-true hallways and imposing structure, to certain character moments, such as the scene where Ishaya is informed by the bursar that he would only be going home with 5,000 naira (the show needed more goofy elements like this), the camera leads us through this world partly with confidence and partly with the hyperactive demeanor of a child experiencing a sugar high.
There are two overhead shots that stood out to me. The first one is when Ishaya starts attending Wilmer College and the camera's overhead view highlights just how small he is compared to his surroundings– a visual depiction of his fish-out-of-water status. The second is of Ishaya collapsing in a toilet after his dreams of getting the 10,000 dollars have been crushed. It is brief, but serves as a way to punctuate the moment and draw out the character's reaction. The overhead shot here really sells his devastation. "I don't have a choice," he says at one point; Ishaya is between a rock and a hard place and time is running out.
The show also excels in its choice of language. Compared to some other Nollywood projects where similar language choices are made, this show manages to mix pidgin, slang, and Yoruba, with some finesse.
---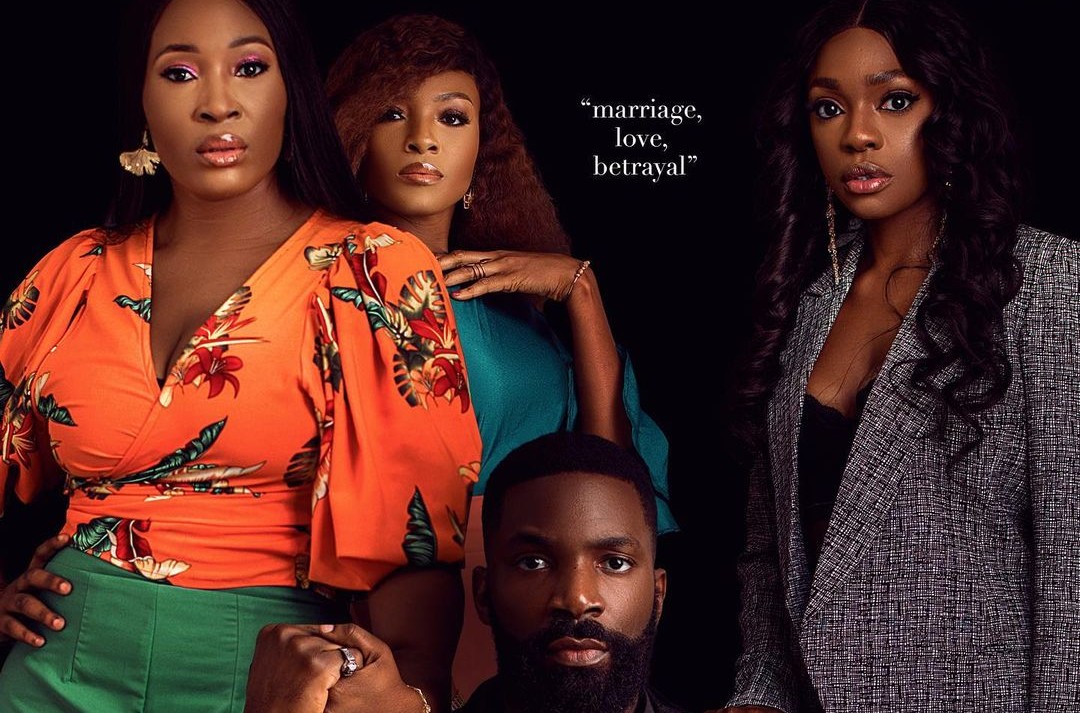 'Weather For Two' Review: Is This a Joke?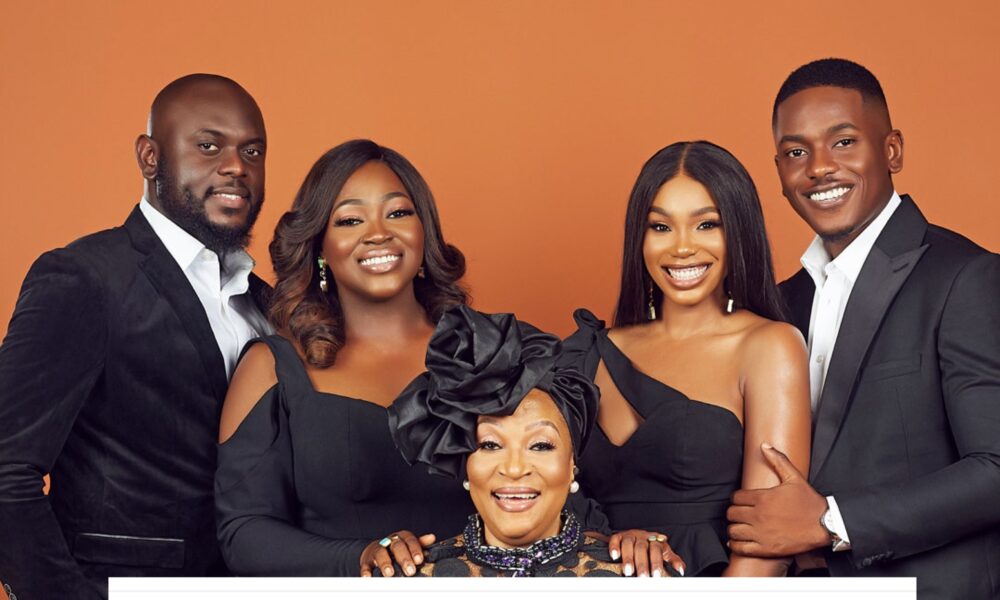 NdaniTV's 'Skinny Girl in Transit' Begins Production, Sets 2023 Return for its 7th Season.
---
However, the strengths of Far From Home also somehow double as its weaknesses. The airtight, Rube-Goldberg plot makes for a good thriller, but not necessarily a good drama, which is especially telling since Far From Home is supposed to be a young adult drama, or at least that's how it was marketed. Drama benefits a lot from ebbs and flows. Loud moments of conflict and tension are best followed at some point by quiet scenes where the story catches its breath and gives the audience an opportunity to chew on the themes as well as other story elements, or simply appreciate the style. Far From Home doesn't seem to place much premium on these kinds of moments and everything feels unnecessarily dialed up to 11.
This isn't to say it's not an enjoyable time. Like Blood Sisters, what it has going for it, is a plot that can keep people entertained for episodes at a time. After all, the overwhelming majority of viewers are going to binge watch the entire thing, and the reason it's going to be easy to do that is because, for the most part, the story progresses in a way where you do want to find out what happens next.
For example, the second episode ends on a cliffhanger, teasing the death of the main character. But of course, in stories like these, main characters aren't disposed of barely halfway through the runtime, so the entertainment value is gleaned less from a genuine worry about the fate of the character and more from how he will get out of the web of trouble he has found himself.
In Far From Home, the tone doesn't switch wildly either and that's commendable in itself. I half (actually, totally) expected the finale to devolve into a gruesome shootout with school hallways littered with bullet casings and blood, but, unlike Soole, Far From Home reins in any tendencies to deviate stylistically or tonally from what has already been established; the weapons used in the climax are non-lethal and the sigh I heaved was one of relief.
Created by Naz Onuzo and Dami Elebe, the whole 5-part series also feels rushed, almost as if the writers couldn't wait to get to the end, but the end (and indeed, the latter half of the series) is more underwhelming compared to the first. A kidnapping subplot is introduced, and when all is said and done, Ishaya doesn't have to pay too heavily for his actions. This makes it feel less like a heartfelt show about a boy bestriding the threshold of high-society high school and the culture of the streets, and more like a soap opera, the kind found on Zee World, slated for a mind-boggling number of seasons and interested purely in melodrama at the detriment of any character-driven story.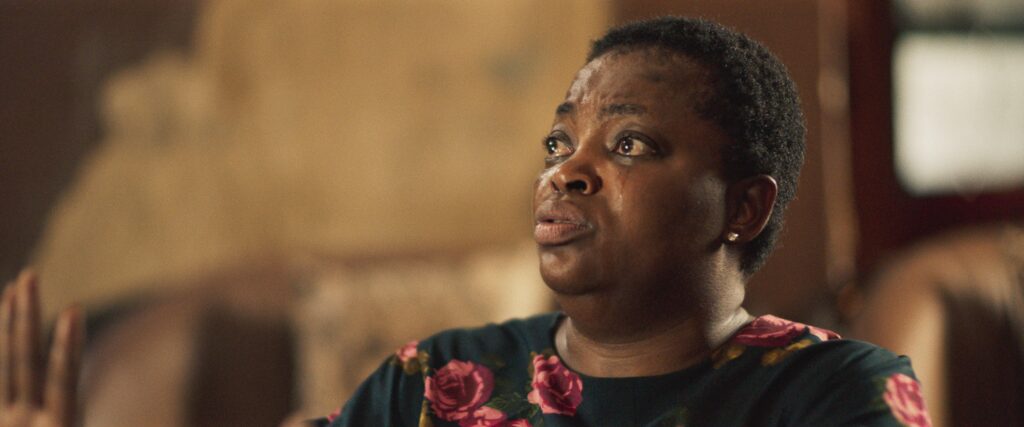 Another consequence of a hurried story apart from the loss of quiet moments is also a lack of opportunities for actors to shine. Funke Akindele (Omo Ghetto: The Saga), not an amateur actor by any chance, doesn't get much to do here and neither does Adesua Etomi-Wellington (The Set Up 2). The series is content to harvest ideas and scenes wholesale from other YA drama films/series such as the love triangle, high school sports like football and cheerleading, the final ball/prom where things 'go down', among other things; however, what it forgets to do is breathe any sort of life or even uniqueness into its portrayal. One rule of thumb in screenwriting is to make even your minor characters memorable somehow. Maybe they're funny. Maybe they're dangerous. Maybe they're secretly a wild card. There has to be something about them that makes them remain in the audience's consciousness after the credits roll.
Richard Mofe-Damijo (Christmas in Miami) gets to play the concerned father in addition to the no-nonsense school administrator and oily socialite, and it helps to see him in different lights. But why give a role to Etomi and not let her show her acting chops (I couldn't tell you anything worthwhile about this art teacher except that character description: "art teacher at Wilmer", and yet Adesua is chosen to play such a thinly-sketched character as if putting an A-lister in such a role does not only highlight how little attention was given to the characterization)? Why box Akindele in a one-note role, depicting a far-from-complex portrayal of a heartbroken mother? Some of the younger actors are definitely ones to watch though. I particularly enjoyed the performances delivered by Gbubemi Ejeye (AMCovenant) and Moshood Fattah (Battle on Buka Street). Hopefully, going forward, the story can give them even more opportunities to shine.
The biggest failure of Far From Home, however, is that for all its plot gymnastics and production value, there seems to be a gaping hole where a heart should be. I am not denying that some very talented people have given their time and effort to this project, just that, at the end of the day, I'm not sure what said project was about. I'm referring here to the theme(s). What is Far From Home trying to say exactly? Glitz and glamour aside, what is its thesis statement? It has everything from drugs to mental health problems to kidnapping to cheating in exams to the usual portrayal of most rich people (and their children) being the worst, and we've seen all these things before; so, what is Far From Home saying about any of it?
The screenplay, like the final product, is a mixed bag. Sometimes, it's fair, and other times, it sounds like an older person's idea of how teenagers talk. It is not alone there. It shares that quality with other shows in the Teenage/Highschool Movie Industrial Complex namely, Riverdale, the Gossip Girl reboot, Pretty Little Liars, 13 Reasons Why, and The Secret Life of an American Teenager.
Like I said, for the most part, you've seen this show before, and probably liked it better when it was called something else. At the end of the day, Far From Home is this messy because it has an identity crisis. It doesn't know what it wants to be, whether a breezy high school story about young love and opportunity in the vein of similar stories set in developed countries or a commentary on the stark difference (and uncanny similarities) between the rich and the poor in Nigeria.
Here's hoping the series takes a different turn in the next installment.
Far From Home is streaming on Netflix.
Share your thoughts in the comments section or on our social media accounts.
Sign Up: Keep track of upcoming films and TV shows on your Google calendar.
Side Musings
Doesn't Molly/Ecstasy have side effects that would not only be noticeable to teachers and adults but would also severely impair the students performance in school the following day? How was half the student body using Molly on a steady and managing to keep that under wraps? Was anyone addicted? Did they do anything incriminating while under the influence? Why introduce a story element such as having teenagers on Molly and not do anything with it, whether for social commentary or even just basic story consequences?
Is it me or does the gang forgive Ishaya too easily? Some rich kids have just found out that he had one of them kidnapped for ransom and they are willing to almost immediately go along with his plan? And not just his friends but also the school? In what world do they not deliver him to the police immediately? How did they get a change of heart all of a sudden and decide to help the poor boy, especially after all the trouble he's caused, which include but are not limited to, cheating in the entrance exam, forging a transcript, dealing drugs in school, and indirectly being responsible for the laboratory going up in flames? At the beginning, the receptionist (Linda Ejiofor) acts so rudely to Ishaya and Rahila, you'd have thought they were her servants, and yet at the end, she is present with Ishaya when the police storm RUSH to arrest Oga Rambo, complete with a look of concern on her face. Give me a break.
Rambo goes from being an already cartoonish, moustache-twirling villain to a complete joke of a character when he decides to visit Wilmer College. Since it is kidnapping he has on his mind and not murder, how does storming a school for the wards of the powerful and influential sound like the best way to go about that? Of course, soldiers were sent in as soon as possible, armed to the teeth. And yet he acts surprised when he hears the sirens. Wasn't that to be expected?
Did the writers intend for Ishaya's parents to be portrayed in such a less-than-loving light?
Far From Home is simply the latest in a line of confidently half-baked Nollywood stories, not the messiah people seem to think it is. We have been clamoring for more Young Adult stories in our cinemas and on streaming, but not like this. We can create compelling stories. I know we can. Spiritless portrayals like this aren't going to cut it. We can't pat ourselves on the back too hard for creating Riverdale 2.0.
.