2022 in Nollywood was a year with a little bit of everything; blockbusters, family flicks, thrillers and lots of drama, as well as comedies of course; along with several collaborations that will set the sail for a global Nollywood. Last year, we were brought into the uniquely chaotic worlds of Ageshinkole, Osa Wonda, Ishaya and Queen; met iconic duos like Ihunnaya & Oluchi, Sarah & Kemi, Akin & Wale, Saro & Arolake; and touched on various social topics like in Kosiso, Mide and Derin's worlds.
Likewise in 2023, Nollywood is waiting to spoil us with a wide range of variety. On one hand, this year will offer gritty crime thrillers like Gangs of Lagos and No Man's Land. Then doing a whole 180°, Nancy Isime and Deyemi Okanlawon will show us the strength of love in a world of uncertainty that a global pandemic presents in Akay Mason's Love In A Pandemic.
MTV's Shuga Naija will also return with its fifth season to continue its aim of sensitization around crucial teen topics. From FilmOne Entertainment and Film Trybe, a reboot of Zeb Ejiro's hit 1996 film Domitilla. Uzoamaka Aniunoh and Evelyne Ily Juhen will usher us into a story of West African folklore in CJ Obasi's Mami Wata; and Joke Silva will become Funmilayo Ransome-Kuti in Bolanle Austen-Peters' biopic on the Nigerian heroine. The lineup looks like a promising year for Nollywood and we cannot wait.  
---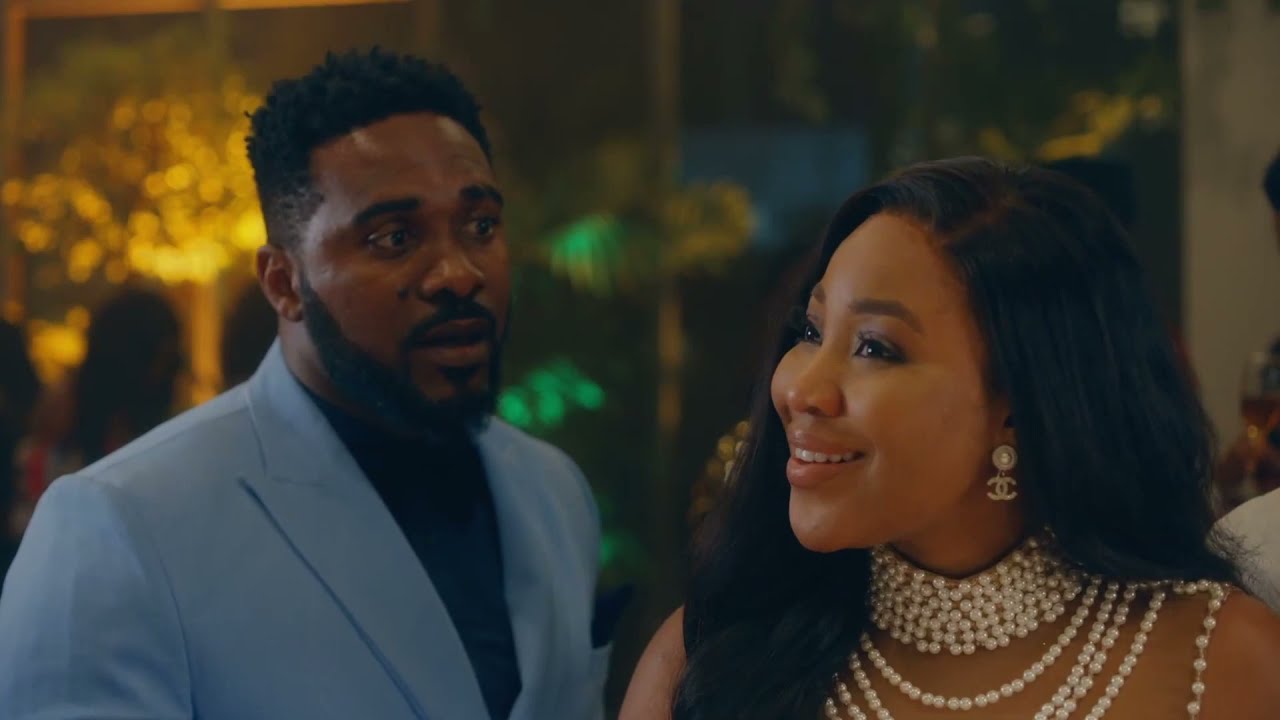 2022 Nollywood Cinema Films Already Streaming on Netflix and Prime Video
---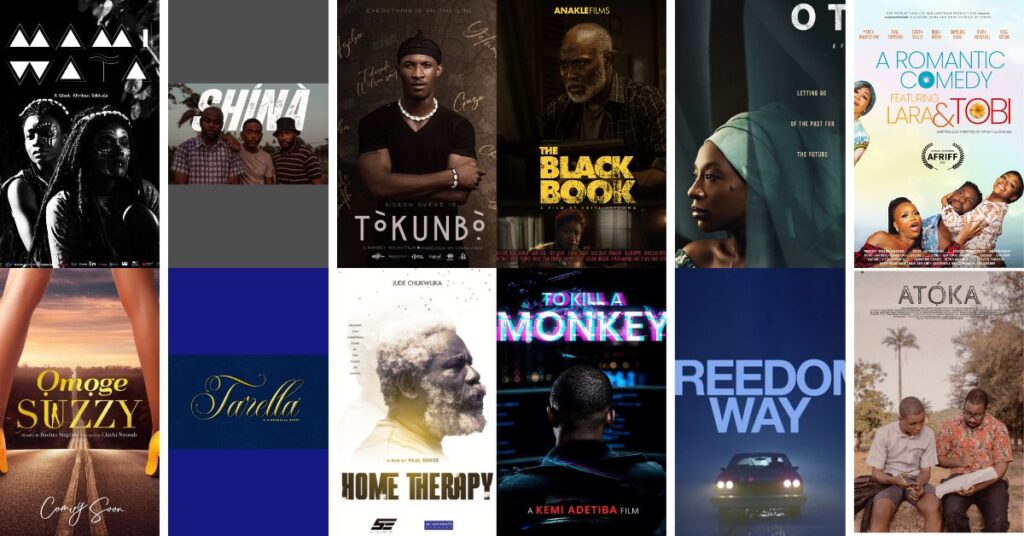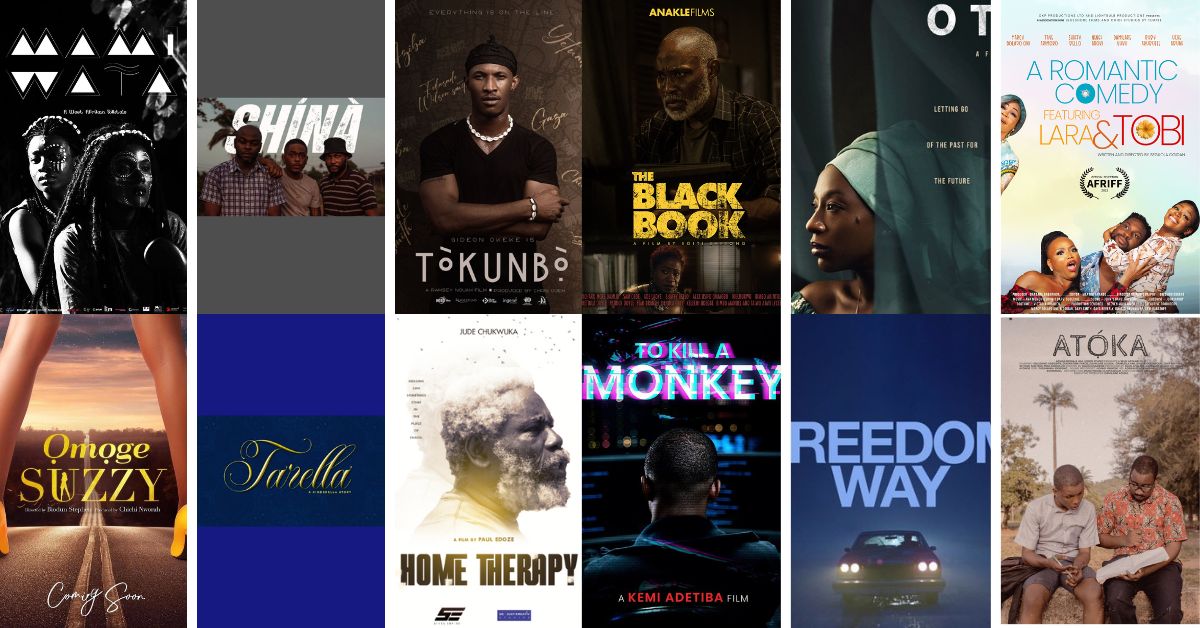 Here are some of the Nollywood films we are looking forward to in 2023.
In alphabetical order.
About a Boy
A writer on a deadline thinks he's found a muse when he meets an interesting woman. He develops a relationship with her but the reality isn't exactly as they both think. It was directed by Diji Aderogba as his feature directorial debut. It was written by Adio Solanke, produced by Funmi Mustapha and features Chimezie Imo (Choke), Olumide Oworu (Far From Home), Bolaji Ogunmola (Progressive Tailor's Club), and Funmilayo Mustapha. The film won the 8th NollywoodWeek Prix du Public (Audience Award) in 2021. There are no details on its general release yet, but several films at the same festival have gone on to be licensed by Netflix. 
All the Colours of the World are Between Black and White
Directed and written by Babatunde Apalowo, All the Colours of the World are Between Black and White was selected for its world premiere at the Berlinale 2023, competing for best film by a first-time filmmaker. Bambino (played by Tope Tedela) and Bawa (played by Riyo David) meet in Lagos and hit it off immediately. During their long trips around the city, they develop a deep affection for each other. But in a society that considers homosexuality taboo, they feel the pressure of social norms.
Produced by Damilola Orimogunje (For Maria Ebun Pataki), the film also stars Martha Ehinome Orhiere (The Pretty Ones are the Loneliest), Uche Chika Elumelu (The Wait), and Floyd Anekwe. Director Apalowo hopes the film gets to be seen by Nigerians after its festival run in order to "spark meaningful conversations" and "inspire empathy".
A Romantic Comedy Featuring Lara and Tobi
"Fate works her magic as obsession tangles with true love." As the title suggests, the film is a rom-com. Written and directed by Segilola Ogidan (A Naija Christmas), it stars Marcy Dolapo Oni as Lara, Taye Arimoro (Memories from the Other Side), Shaffy Bello (Shanty Town), Nengi Adoki (Juju Stories), Damilare Kuku (The Wildflower), Ruby Akubueze, Uche Abuah. It is produced by Barbara Babarinsa and screened at AFRIFF in November of 2022. 
ATOKA
In what would be new waters in Nollywood, Seun Afolabi's ATOKA follows Wale (Soledayo Adegbite), a down-on-his-luck young man who relocates with his wife (Damilola Oni) to his hometown for a glimpse of hope, given the loss of his job in a renowned organisation. However, things take a dramatic turn when he has to implore an unconventional teaching approach to help a failing student (Oluwatobi Fakos) reach his full potential or risk losing all hope in humanity.
Written by David Osarieme, Damilare Aguda, Razak Olayiwola (Anikulapo), Joke Muyiwa (Swallow), Seyitan Adeyemi, Femi Ademiluyi, and Iwalola Adekugbe join this coming-of-age drama co-produced by Aguda Media and Hill Vision Studio. ATOKA will head to festivals before an eventual release on a streaming service.
Breath of Life
Set in the 1950s, Breath of Life follows a man who has lost his sense of purpose until an encounter with a young man changes his life and destiny. It stars Wale Ojo as Timi Johnson, Chimezie Imo as Elijah and Genoveva Umeh as Anna.
Also starring are Tina Mba (The Set Up 2), Sam Dede, Sambasa Nzeribe, Eku Edewor (also serving as producer) and child actor Melly Atari. Breath of Life is Prime Video's first commissioned Nigerian feature film and it is produced by Nemsia Films. 
BB Sasore (God Calling), the co-founder of Nemsia Films is on-board as its writer and director. A lot of work has been shown to go into the film's set design and costume to capture the time and mood of the story. Principal photography for the film was wrapped in September 2022. Although no release date has been announced, it should be expected this year on Prime Video.
Charlie and the Boys
After serving one year of a six-year prison sentence, Kanayo O. Kanayo, playing Charles Omokwe, plots his revenge in this heist film directed by Sele Got. Realizing he was betrayed by his employer, Charlie plans to steal back a priceless 14th-century artifact with the help of his crew while staying one step ahead of the law.
Starring alongside Kanayo O. Kanayo (Living in Bondage: Breaking Free) are Tina Mba (The Setup 2), Sani Mu'Azu (King of Boys), Seun Ajayi (The Lost Okoroshi), Loud Voice, Erica Opia Bale (Loving Rona), Lantana Ahmed (Halita), Gloria Lemmy Johnson (4th Republic), Folake Akinfewa, Ozioma Onodigbo, Fredrik Skog, Mårten Skog & Peter Sivlér. Charlie and the Boys is eyeing a 2023 release.
Domitilla
This reboot of the 1996 classic of the same name is directed by Zeb Ejiro and follows four prostitutes who must join forces to survive. This would mark Zeb Ejiro's cinema comeback. Ejiro's Zeb Productions is working with FilmOne Entertainment and Kayode Kasum's FilmTrybe on the project which began filming in November, two years after the first announcement. A first-look teaser was released in January, featuring Ejiro Onojaife, Uzoamaka Aniunoh, Teniola Aladese, and Onyinye Odokoro. Also starring are Elvina Ibru, Stan Nze, Seun Ajayi, Deyemi Okanlawon, Iyabo Ojo and Chiwetelu Agu. Domitilla was written by Musa Jeffrey and Nonyelum Obi, and will open in cinemas in Easter.
Freedom Way
Freedom Way follows various stories: three young men (Timini Egbuson, Bucci Franklin, Ogranya) who are trying to save their start-up after a sabotage; a bike man (Debo "Mr Macaroni" Adedayo) who has to find ways to provide for his family after losing his source of livelihood; a doctor (Taye Arimoro) struggling with his conscience and a police couple (Femi Jacobs and Bimbo Akintola) with a tough choice to make when they end up on different sides of the law.
This would be Olalekan Afolabi's directorial feature film debut. Blessing Uzzi is on the production team as writer and producer. Other cast members include Meg Otanwa as Funke and Sophie Alakija as Temi. Shooting wrapped in October and at this time, there is no set release date. 
Funmilayo Ransome Kuti Biopic
FUNMILAYO; THE LIONESS OF LISABI (a working title) is a biopic of Funmilayo Ransome-Kuti that will be produced by BAP Productions and directed by Bolanle Austen Peters. It will star Joke Silva as Funmilayo Ransome-Kuti, Kehinde Bankole, Ibrahim Suleiman, Omowunmi Dada, Roland Obutu, Adunni Ade, Dele Odule, and Adebayo Salami. The movie is said to have cameo appearances by Funmilayo's grandchildren acting as their own parents. Bolanle Austen Peters has hinted at a 2023 Netflix release on her Instagram.
Gangs of Lagos
Tobi Bakre, Adesua Etomi and Chike will give us a best friend trio of Obalola, Gift and Panama in Jade Osiberu's Gangs of Lagos, and even grittier they are going to be on the streets of Isale Eko. Co-written by Kay I. Jegede (Lara and the Beat) and Jade Osiberu, Gangs of Lagos follows the lives of these best friends who grew up on the streets. Other cast members include Demi Banwo as Bolaji, Chioma Akpotha, Yvonne Jegede, Bimbo Ademoye, Tayo Faniran, Damilola Ogunsi, Eniola Badmus, Iyabo Ojo, Funke Williams, Yhemo Lee, Zlatan, Maleek of Ikorodu Bois, Adebowale 'Mr Macaroni' Adedayo, Black Camaru and Alabi Pasuma. Prime Video has since acquired the movie and it is set to be the first Prime Video original from Nigeria.
Home Therapy
Cinephiles can look forward to seeing Jude Chukwuka in a lead role in Home Therapy, a divorce drama directed by Paul Edoze and produced by Emmanuel Izuoba, Brotherhood assistant director.
Home Therapy is centered around a retired emeritus professor, Henry, played by Chukwuka, who is going through a rough divorce with his wife. Through Henry, we are able to explore other characters, as each character takes us on a journey of self-discovery. Home Therapy deals with issues faced in everyday life.
Joining Chukwuka (Man of God, A Naija Christmas, Castle and Castle) in this life drama are Jude Orhorha (Half of a Yellow Sun, Twins in the Forest), Chioma Okafor (Aki and Pawpaw, Love and Duty), and fast-rising stars Joseph Chuks and Prince Buchi Onigwe. While release details have not been announced, we are keeping our fingers crossed for a 2023 release.
Insecure
The story of a woman (Beverly Naya) who, trying to win her husband (Efa Iwara) back, gets tangled up in crime. This psychological film is directed by Benn Nwokike and produced by Abdul Tijani Ahmed. It also stars Darasimi Nnadi (Obara'M) and is confirmed for release in 2023. 
Inside Life
Directed by Clarance Peters and co-written by Olumide Kuti and Tonia Chukwurah, Inside Life is a gritty drama that follows the lives of characters who are connected by a series of unfortunate events, causing them to meet at an unlikely place.
The limited series, which screened at AFRIFF 2022, stars Jide Kosoko, Meg Otanwa, Gabriel Afolayan, Scarlet Gomez, Gregory Ojefua and Uzoamaka Onuoha. It has screened at several international festivals over the last year and a general audience release should be expected this year.
Jolly Roger
The film directed by Walter "Waltbanger" Taylaur follows Brume (Daniel Etim-Effiong) who encounters two police officers. The noir is a mix of crime, romance, thriller, and dark humour. It also features Toni Tones as Najite, Deyemi Okanlawon as Dammy, Frank Donga as Felix, Tina Mba as Mama B and Toyin Oshinaike as Yaw. It was written by Tunde Apalowo and world premiered at the Nollywoodweek Film Festival in 2022.
L.I.F.E
Produced by Judith Audu Productions, L.I.F.E tells the story of two females Ema (Omowunmi Dada) and Yinka (Efe Irele) who are not satisfied with their career, and wish life treated them differently, until it eventually does. The film directed by Uyoyou Adia (Hey You!) has been in the works since 2018 with its then working title, 24 Hours. Principal photography has been concluded on the film and first-look images were released last year. 
Love in a Pandemic (February 10)
This Akay Mason (Elevator Baby) film follows Bolanle (Nancy Isime) who meets the man of her dreams, Alex (Deyemi Okanlawon), but it's amidst the COVID-19 pandemic. Would their love survive?
Love in a Pandemic also stars Teniola Aladese, Ronke Odusanya, Uche Montana, Eso Dike, and Uche Obunse. This would be Bleeding Art Production's first feature project. It will open in cinemas on the 10th of February.
Mami Wata
Based on West Afrikan folklore, Mami Wata has been a long time coming since it was first announced by writer-director C.J. 'Fiery' Obasi (Juju Stories) in 2016. We originally had it among our movies to anticipate in 2022. Since then, we have learned that the plot follows two sisters Zinwe (Uzoamaka Aniunoh) and Prisca (Evelyne Ily Juhen) who must fight to save their people and restore the glory of their goddess.
Post-production has since been completed on the film which had its world premiere at the Sundance 2023 Film Festival (setting a record for the first film of a homegrown Nigerian-based filmmaker to be selected by the festival), competing in the World Cinema Dramatic category and returning home with a cinematography award after rave reviews.
The film's score is said to be written by Tunde Jegede, and performed with the NOK Orchestra. Mami Wata is a B/W fantasy thriller produced by Oge Obasi and will be distributed in Nigeria by FilmOne. 
Meeting Funmi's Parents
Written and directed by Kevin Luther Apaa (Dinner at My Place), this romantic comedy set in both Nigeria and United States tells the story of Funmi (Omowunmi Dada) and her interracial romance with Jason (Roman Thomson). Her father is against this and tries his all to break them up. It also stars Timini Ebuson as Ayo. The release plans are unknown.
Mikolo
The live-action CGI family kids' adventure movie directed by Niyi Akinmolayan is aiming for a 2023 release. The cast will include Pamilerin Ayodeji, Fiyinfoluwa Asenuga, Yvonne Jegede and Daniel Etim-Effiong. Niyi Akinmolayan is also on the project as the writer to be produced by Anthill Studios. Currently in production, details about the plot are yet to be released. 
MTV Shuga Naija Season 5
MTV Shuga returns with its fifth season produced by 1Pod Pictures led by Isioma Osaje and Temidayo Makanjuola and a writers' room of Kemi Adesoye, Chiemeka Osuagwu, Tamara Aihie, Fatimah Binta Gimsay and Sonia Irabor. Adesua Etomi-Wellington as Sheila, Tomiwa Tegbe as Wasiu and Sharon Jatto as Simi will be returning in the new season, while Genoveva Umeh, Susan Pwajok, Gbubemi Ejeye, Maggie Osuome, Kanaga Jnr, Lexan Peters, Ilooise Omohinmin, Kem Ajieh and Chioma Edak have been announced as the new cast members in a season that will touch arranged marriage, toxic masculinity, the aftermath of a COVID-19 death, gender-based violence and a relationship complicated by HIV.
Shooting wrapped in December and the new season will premiere in 2023. According to reports, MTV Shuga Naija will premiere on MTV Base, BET, SABC and NTA, followed by YouTube and Facebook. All MTV Shuga seasons will be available on Netflix and Safari.com after their TV broadcast.
My Big Fairytale Naija Wedding
We do not know a lot about this story but it is apparently a dramedy trilogy written by Xavier Ighorodje and Donald Tombia. It is produced by Giant Creative Studios (behind Shanty Town), directed by Dimeji Ajibola and stars Ini Edo as Mojisola and Ramsey Nouah. Filming started on the film in July 2022.
No Man's Land
Plot details are still mostly unknown but the story is returning to the street, to tell a story about the street and for the street with Femi Branch, Sola Sobowale (Gold Statue), Omowunmi Dada (Ayinla) and Seun Kuti in the cast. One thing we do know is that we are already feeling really bad for AY, set to be played by one of many newcomers, Waris Rasheed. Co-written by Blessing Uzzi and Caleb Okereke, No Man's Land is Uzzi's directorial feature debut. Shooting wrapped in September of 2021 and it has since gone to and completed post-production. A first-look poster was released in November 2022.
---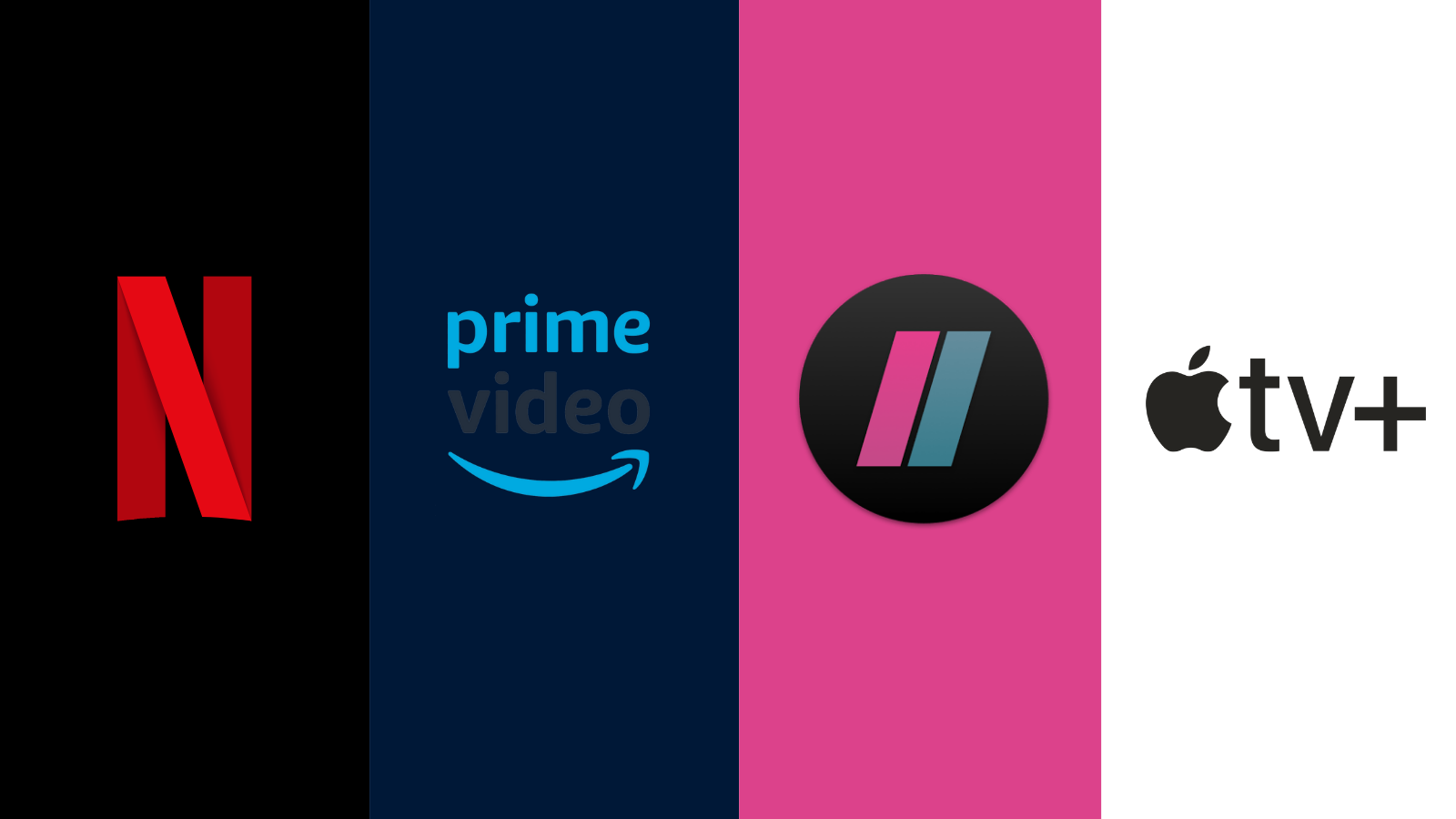 Streaming Services in Nigeria: Subscription Price and Details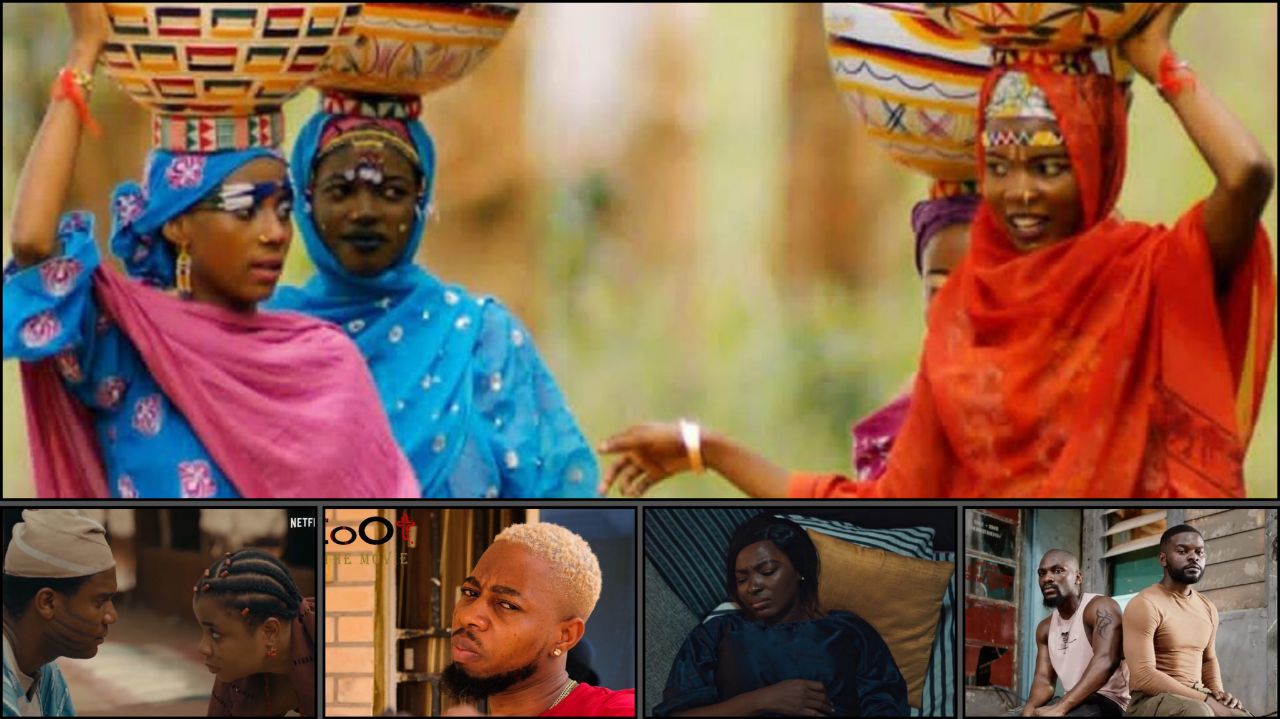 2022 Critics Poll: The Best Nollywood Films, According to 21 Nigerian Critics from Around the World
---
TNC Africa's Ololade
TNC Africa's Ololade is a Yoruba language series that tells the life of two friends; Shina, a teacher and Lateef, an auto mechanic playboy in Lagos who both mysteriously run into some money and decide to run a business. The series will star Femi Adebayo, Mercy Aigbe, Mide Martins, Liz Da-Silva, Jaiye Kuti and Damilola Oni who are well-known acts from the Yoruba industry as well as Kunle Idowu (Frank Donga), Adebowale Adedayo aka Mr. Macaroni, Oluwatobi Olubiyi aka Oli Ekun, Debby Felix, and Ayanwale Olanrewaju. Ololade is directed by Adeniyi Joseph Omobulejo aka TAJ and has wrapped up filming in early 2022. 
Omoge Suzzy
Directed by Biodun Stephen (Breaded Life), Omoge Suzzy is "a beautiful comedy story" reuniting one of the top directors of 2021 with our best performer of 2021, Bimbo Ademoye, who plays the titular Suzzy. Ademoye describes it as "nothing short of humour". Scripted by Xavier Ighorodje for Giant Creative Studios, Nollywood is no stranger to this genre and viewers can be ready for another addition to the collection. Other stars include Bolanle Ninalowo (Far From Home), Debo Macaroni (Ayinla), Uzor Arukwe (The Blood Covenant) and Toyin Abraham (Prophetess). It has been acquired by a streaming platform, and more details should be released soon.
One Too Many
Directed by Kayode Kasum, the story follows Adesuwa (Dakore Egbuson-Akande) trying to save her son, Otas (Chimezie Imo) from 'one too many' injustices in the corrupt justice system. The cast also includes Omowunmi Dada as Ehi, Jide Kosoko, Tope Tedela, Kelechi Udegbe and Funsho Adeolu. It is produced by Atinuke Akande and Joy Grant Ekong for Hope Pictures. It screened at AFRIFF in November 2022. 
Onyeegwu
Football is Alex's life and life as Alex knows it is about to end. Zubby Michael as Alex goes on a spiritual journey to reclaim his place. The comedy-drama is written by Victor Alabi and based on a story by Uche Jombo who is also the director, produced under Uche Jombo Studios with Jerome Weber as its artistic director. The first teaser was released in February released. It stars Chioma Chukwuka Akpotha as Obiageli, Emeka Nwagbaraocha as Ahanna, Zubby Michael, Nancy Isime, Lateef Adedimeji, Broda Shaggi, and Ini Edo.
Otiti
In Otiti, formerly titled 'Umuemu Oseme' (The Sins of the Father), we follow a seamstress, Otiti (Gina Castel), who takes care of her ill father who abandoned her as a child. The cast also includes Charles Etubiebi, Tunde Daniels, Chimezie Imo, Obi Maduegbuna, Yinka Davies, Toritseju Ejoh and Racheal Enem Issac. It is directed by Ema Edosio Deelen (Kasala!) and co-written by Chijioke Ononiwu and Ema Edosio Deleen. It debuted in Nigeria at AFRIFF in 2022.
Shina
Directed by Muyiwa Adesokun and Carmen L. Ike-Okoro, the thriller was filmed in 2022 and is currently in post-production. It stars Timini Egbuson as Shina, and Neo Akpofure as Donald, Tope Tedela, Shawn Faqua and Kelechi Udegbe. It was written by Muyiwa Adesokun and other contributing writers; Toluwani Obayan, Amaka Chidioka and Ife Olujuyigbe, who worked on the script for over a year. It is produced by Feyifunmi Oginni with Film Trybe Production.
There is currently no set date for its release.
Sugar Rush 2
A sequel to the 2019 Sugar Rush movie directed by Kayode Kasum. Adesua Etomi, Bisola Aiyeola and Bimbo Ademoye will reprise their roles. Caribbean filmmaker Khris Burton will be directing this sequel which began principal photography in October and is still in production.
Sista
In this film written and directed by Biodun Stephen, a single mother (Kehinde Bankole) will be forced to face her past in this story about love, betrayal and sacrifice. How far will she go to protect her children from this past? It is produced by A3 Vehemently Films in collaboration with Shutterspeed Projects. Sista also stars Akintola Adeoluwa, Adediwura Adesegha, Adedamola Adewale, Bisola Aiyeola, and Deyemi Okanlawon. It already screened in London in November 2022. The film was originally scheduled to be released in cinemas in 2022, but according to reports it has now been acquired by a streamer.
Something Like Gold
Another attempt by Kayode Kasum (Kambili) at a rom-com, featuring Sandra Okunzuwa, Kunle Remi, Teniola Aladese and Mercy Johnson-Okojie. It is produced by Green Wealth Productions and Film Trybe. Very little is known about the plot details.
There is no set date for its release but according to Instagram posts, it should be expected this year.
Suspicion
Written, produced and directed by Tosin Igho, the thriller will take on the origin story of the lead in his 2008 short film The Suspicious Guy. Suspicion will explore the lives of victims of ritual practices and promises to be an action-packed movie. The principal photography began in September. It stars Stan Nze as Voke, Uzor Arukwe as Rogba, Omowunmi Dada as Chisom and Kalu Ikeawgwu as Mr. Tony.
Tarella
Set in the mythical Kingdom of Akkaya, Prince Nosa and Tarella, played by Okawa Shaznay and Timini Egbuson, must overcome numerous obstacles in their quest for Happy Ever After in Lolo Eremie and Kayode Kasum's Tarella. We've all seen countless iterations of the Cinderella story and we are excited to see how the African Cinderella Story will do with this trope.
The Black Book
Editti Effiong is making his feature directorial debut with this film about a father who is looking for justice after his son was killed. Not much else is known about the film but it features Richard Mofe Damijo, Ireti Doyle, Femi Branch, Ade Laoye, Sam Dede and Denola Grey. The Black Book was made possible by a million-dollar budget, the first of its kind in Nollywood, and it boasts being the most logistically advanced adventure film in Nollywood. Also, we hear there is even a sniper scene and Nollyphiles should look forward to all the action!
The Naija Job
The Naija Job is an adventure heist movie directed by Femi Ogunsanwo and written by Dare Olaitan. Exploring the heist, action & crime genres set against the backdrop of big city politics, the film stars Baaj Adebule, Joselyn Dumas, Antar Laniyan, Ade Laoye, Omowunmi Dada, Daniel K. Daniel, Teniola Aladese, Frank Donga, Nonso Odogwu and Bimbo Manuel. The Naija Job (a working title) is executive produced by Adedayo Amzat, Tunde Leye and Femi D. Ogunsanwo. A release can be expected this year.
That Other Side
Uyi (Baaj Adebule), a 'reformed' hustler desperate to raise an amount of money, returns to his hometown, Benin City and finds himself trapped in a warehouse with his estranged best friend, a corpse, his pistol wielding girlfriend, a witch doctor and a bag of money. Lota Chukwu also stars as Jazz (Jasmine Idehen). It is directed by Victor Sanchez Aghahowa. That Other Side screened at AFRIFF 2021.
The Stone Drew Ripples
Written and directed by Orimz (Choke), the film aims to tackle a social issue. It follows the life of a middle-class Nigerian family who is trying to save their youngest child who has a chronic illness. Produced by Rebelus Productions, the cast includes Meg Otanwa, Jasmine Olarotimi, Tina Mba and Zainab Balogun. The film was written by Belema Don-Pedro, Olanrewaju Adeniran, and The Ink. First-look stills have been released but there is no set release date for this film. 
The Weekend
Six years after Sylvia, Daniel Oriahi and Trino Motion Pictures return with The Weekend. The plot details are still unknown but it is said to touch on themes like family, heritage and trauma with a political undertone. Principal photography was wrapped in December 2022. The project stars Keppy Ekpenyong-Bassey, Bucci Franklin, Gloria Anozie-Young, James Gardiner, Meg Otanwa, Uzoamaka Aninuoh and Brutus Richard. It is produced by Uche Louis Okocha and directed by Daniel Oriahi. 
To Kill a Monkey
In 2022, Kemi Atetiba announced the title of her new project To Kill A Monkey on her Instagram page. According to the filmmaker, she is "branching out and exploring something really different and pushing my creative limits". Since then auditions have been held for some Adetiba Visuals projects. Release details remain unknown.
Tokunbo
In this Ramsey Nouah-directed action flick, Tokunbo (Gideon Okeke) is an ex-smuggler "caught in a race against time and a web of lies, politics and crime". It is produced by Chris Odeh. Other details remain unknown.
Share your thoughts in the comments section or on our social media accounts.
Sign Up: Keep track of upcoming films and TV shows on your Google calendar.